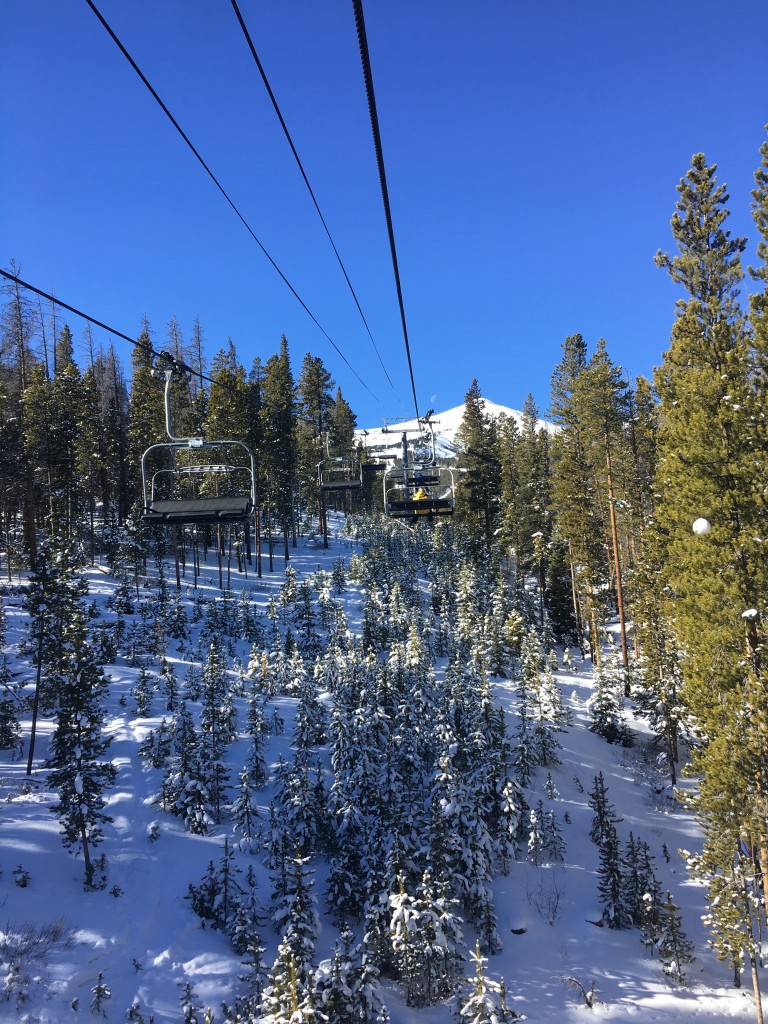 It's been about a month since I returned home from our trip to Colorado and I realized I never shared a recap here on the blog! If you have followed any of my other travel guides (Re-read your favorites: Drinking Around Disney World, Lake Como, and Croatia)  you know that most of the photos are iPhone quality. Since I work so much I really try to use vacations to unplug and relax so I don't always have my camera on me to capture blog content. I know, it's not ideal and it is something I'm working on!
Every year, Tom and I plan a trip to celebrate each other's birthday and this year we choose Breckenridge, Colorado! In the past we've opted for Disney World, Newport, Nashville and Boston, so this was the first time we've explored out west. This was the first time we've ever been to Colorado and it was such an amazing experience. Honestly, I wish we could have spent more time there.
Before we get into it, I will say that I did get Altitude sickness while we were there even though I tried to prepare for it! I drank a ton of water before the trip and while we were there but I was still exhausted and a bit nauseous here and there. Nevertheless, it didn't ruin my trip and I still had an amazing time! Like all of my travel guides, the below includes where to stay, what to do, what to eat and what to wear. I hope you enjoy!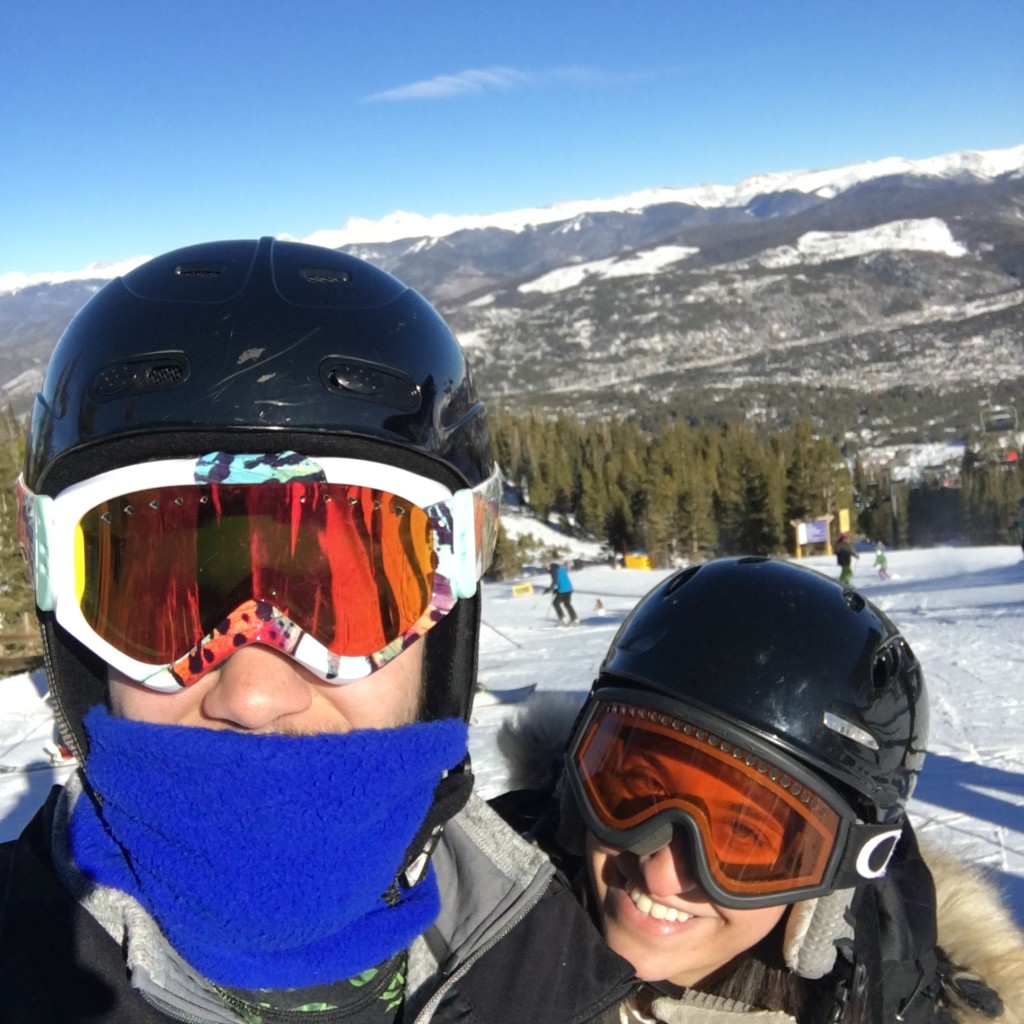 Where To Stay: 
Knowing how little we were going to be in the hotel, we really went for the cheapest option that was A) walking distance to the mountain B) had a jacuzzi and C) had a complimentary breakfast. Yes, that jacuzzi request was mine! Since it was December, I knew I'd be dying for some pool time. The breakfast request was Tom's. Ever since our Italy trip, this has become one of his hotel manditories. With these preferences, we settled on staying at The Village Hotel, which was a fantastic choice. The rooms were simple, yet comfortable. Between the two of us we had one huge suitcase, my skis, Tom's snowboard and a duffle bag. We didn't find it necessary to pay for additional storage for our ski equipment and still found the room pretty spacious.
The Village Hotel was steps away from Peak 9, which is a beginner slope but easily connects to Peak 8 and Peak 7, which are a bit more difficult. That said, I would still 100% recommend staying on Peak 9 because it was also walking distance to the quintessential Breckenridge Village. Each night we were steps away from a ton of restaurants and bars without having to take ubers or public transportation, so it really was the best of both worlds.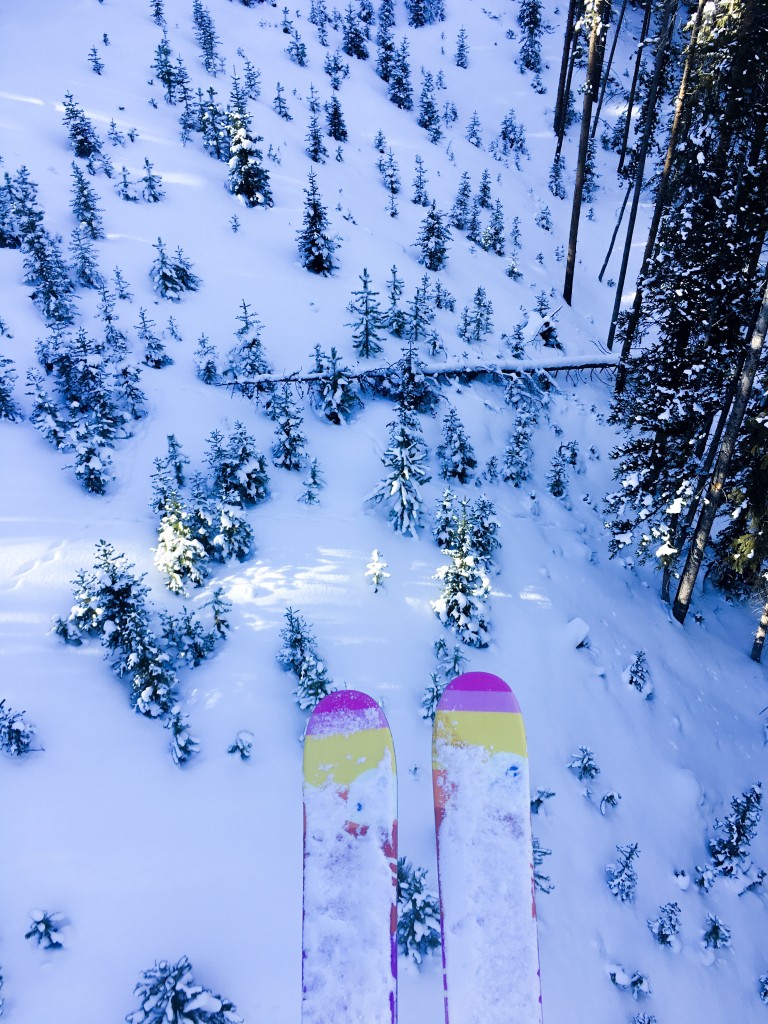 What To Do: 
Obviously we were there to ski, so that is what we spent the majority of our time doing. Each day we were on the slopes by around 9-10a and stayed on the mountain until around 3:30-4 (which is when the mountain closes). We did hear that Keystone Mountain (about 20 minutes away) had night skiing, if you want to spend even more time skiing and snowboarding! 😊
Before we get into the other (many) activities there are, I'll give you a quick mountain review. We know we went during the off season (it is recommended you visit in January/February), but we wanted to take advantage of the low crowds and we are usually off to VT starting January. However, there were limited trails over, so we'll definitely being choosing a weekend in January and February next time (yes, there will be a next time!). However, if you are like us and have never skied out west conditions were still fabulous. Seriously, even though everyone was complaining by the few trails and poor conditions, it felt like a great day if we were up in Vermont.
When we weren't skiing we were likely eating (more on that later). However, we did spend some time exploring the village and it was the cutest thing ever. The day we arrived it was snowing and FREEZING! This was early in December, before I knew what freezing really was! That said, we shuffled from shop to shop to keep warm. Just like most ski villages you can find shops like Patagonia, The North Face, and Marmot in the village, but you can also find local ski shops that I actually found more fun to explore. ALSO, this was the best way to meet a few locals. Being a New Yorker through and through, I was so happy to interact with some genuinely delightful people.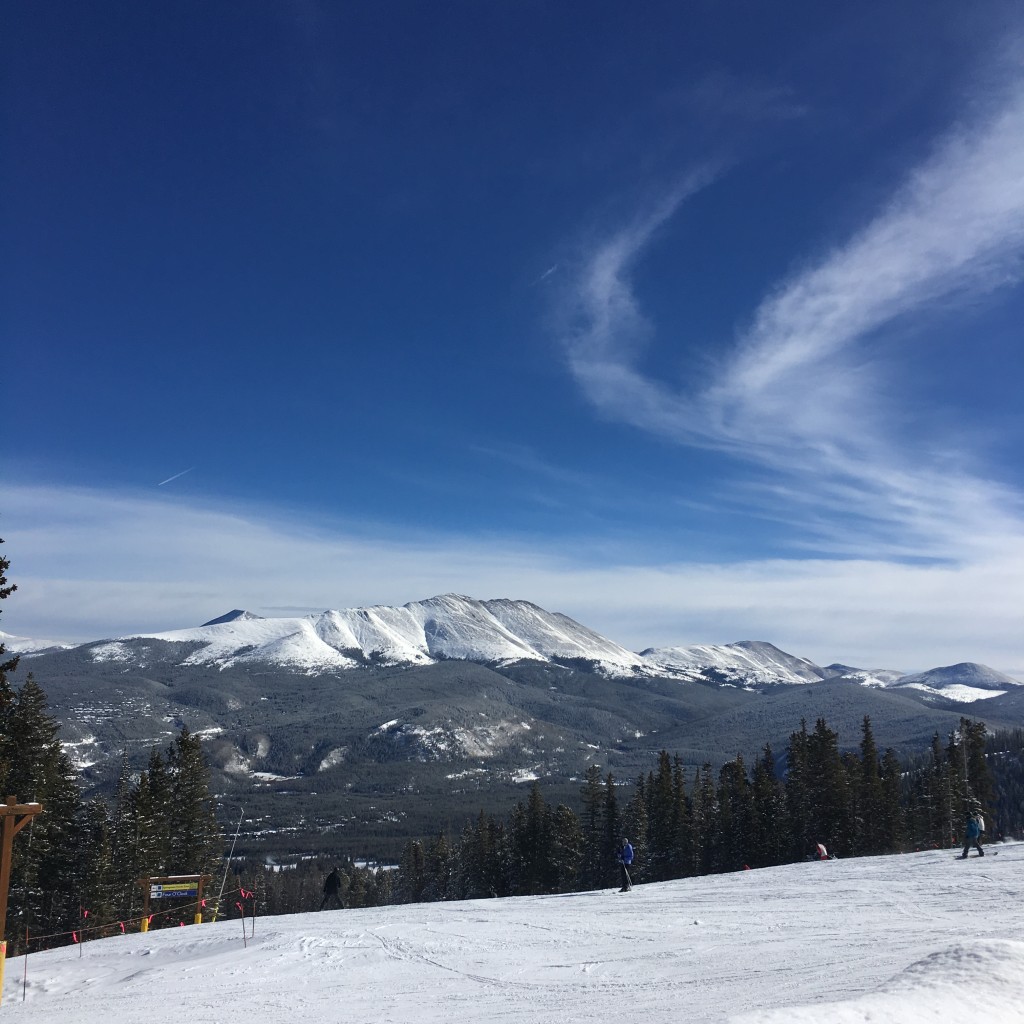 What We Ate
Okay, so next to skiing this is what we spent the majority of our time doing. If you haven't noticed, this is how most of my travel guides sound like. 😋 Between our dinner each night and our Aprés Ski choices, we dined at some pretty amazing places. When we arrived we were both starving so we asked for a recommendation for the best burger in town and headed to Flipside. After scarfing down our burgers and fires we definitely agreed that it was the best burger in town (before even trying the others!). We loved it so much we had to stop ourselves from going back during our short trip because we really wanted to try all of our options.
Our second night was our 'date night,' even though the entire trip was really just an extended date. After enjoying Apres Ski at Coppertop Bar (which is right of Peak 9) we hit up the jacuzzi at the hotel and then headed to The Hearthstone Restaurant. This restaurant came the most recommended from friends and blogs that I read before our trip. The Hearthstone Restaurant is within a Victorian-style house and makes for a perfect candle-lit dinner. The ambiance is homey, upscale, but not too over-the-top. Tom was wearing Jeans and I was wearing one of my flannel dresses, so it definitely wasn't too fancy. We definitely over-indulged here with mussels, a cheese plate and of course we both got steak. If you are looking for some local cuisine, this is definitely the place.
On our last day, one of my longest and best friends, Alex, and her husband, AJ,  who moved to Colorado earlier in 2017 met up with us for some Aprés Ski & Dinner. We started our Aprés Ski at T-Bar, which is at the base of Peak 9 and is definitely the place to be if you are looking to have a good time when you are on the mountain. As pictured below, they have shot-skis at the ready and of course we needed to give it a go. This is our happy 'before' picture, I will spare you the 'after' picture that includes me wincing at the taste of whiskey.
After our Aprés Ski we went back to the hotel to freshen up and rest a bit before headed to Twist for dinner. Since we had a few snacks at T-Bar we opted for some appetizers and a bottle of wine. From Philly Cheesesteak Egg Rolls to to the Green Bean Mac & Cheese everything was phenomenal. I think this might have been my favorite night of the entire trip because not only did we get an amazing meal, but it was so refreshing to catch-up with Alex. Major props to our boys for putting up with our high school nostalgia!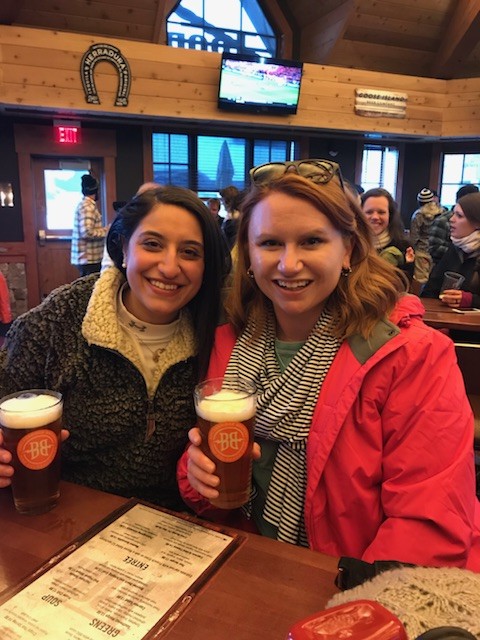 What To Wear
As mentioned in yesterday's blog post, I spend most of my ski trips being comfortable in a sweater and leggings. I did try to bring a few more nicer outfits on this one since I knew we would be celebrating our birthdays and meeting up with friends, but since it was so cold it honestly wasn't even worth it. I'm not even trying to promote ThePreppyMAG Boutique right now, but my 'What You're Wearing To The Mountains' and 'What You're Wearing To The Park' scarves were my most-worn-accessories throughout the trip. I would grab one every time I went outside and wrap up in warmth!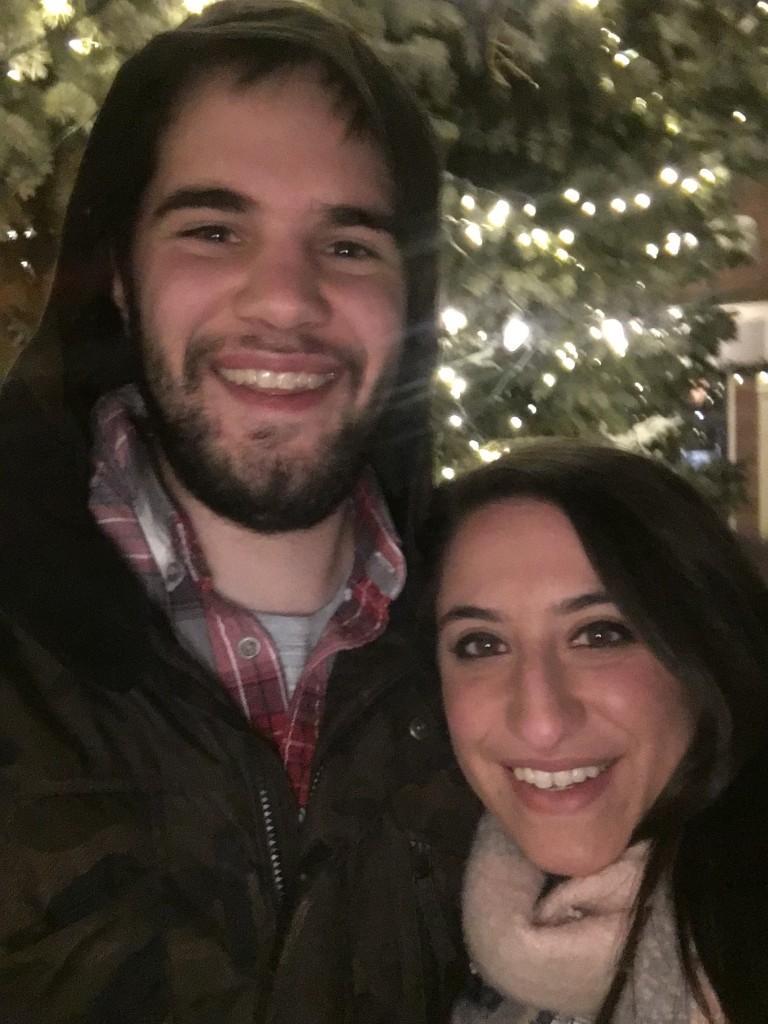 Woof! That was a long one. This was definitely an unforgettable trip and we are already planning our next visit. If you have any questions or other Breckenridge recommendations, I'd love to hear them in the comments. 👇