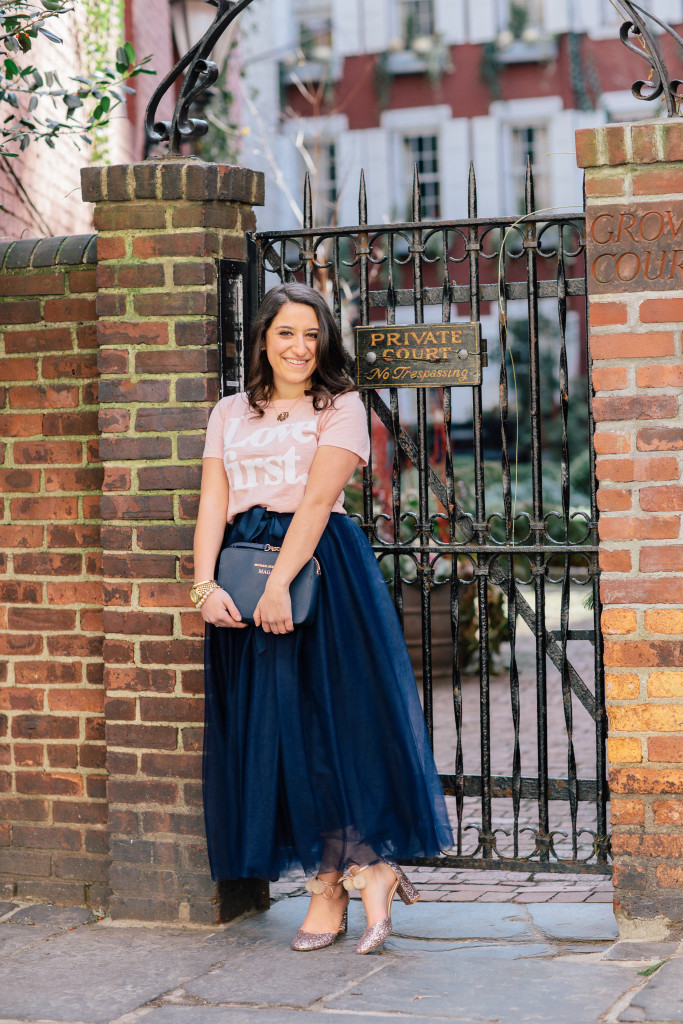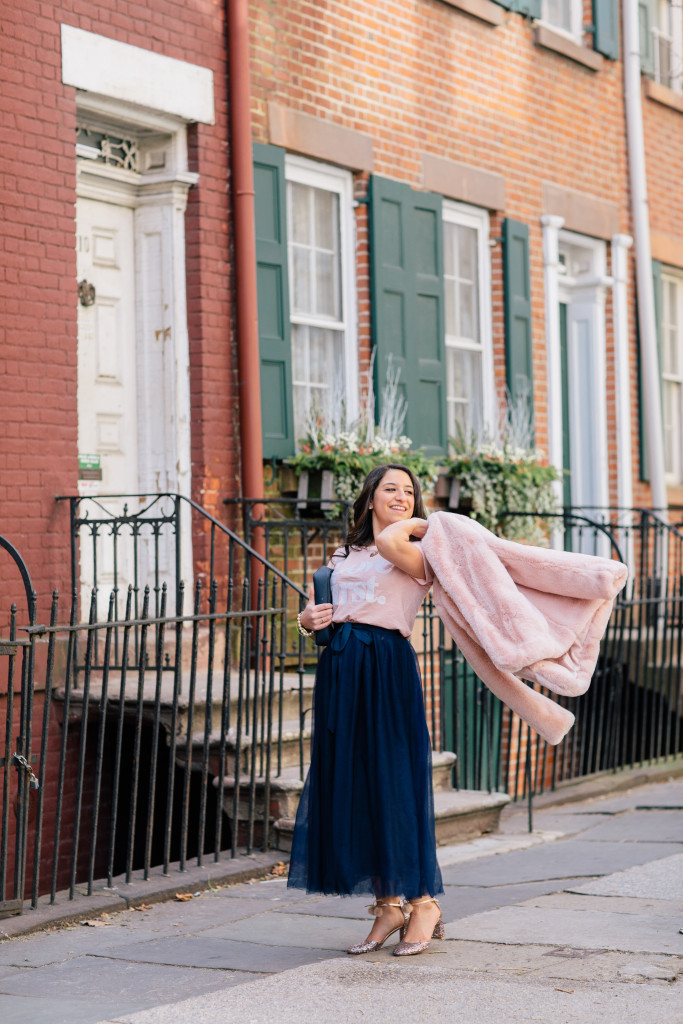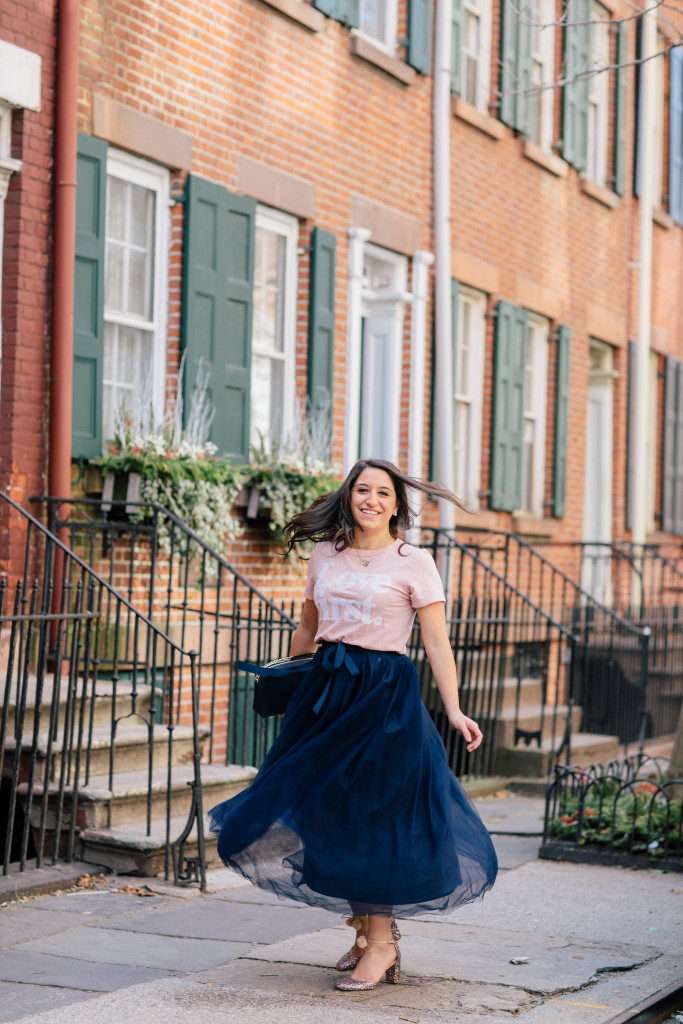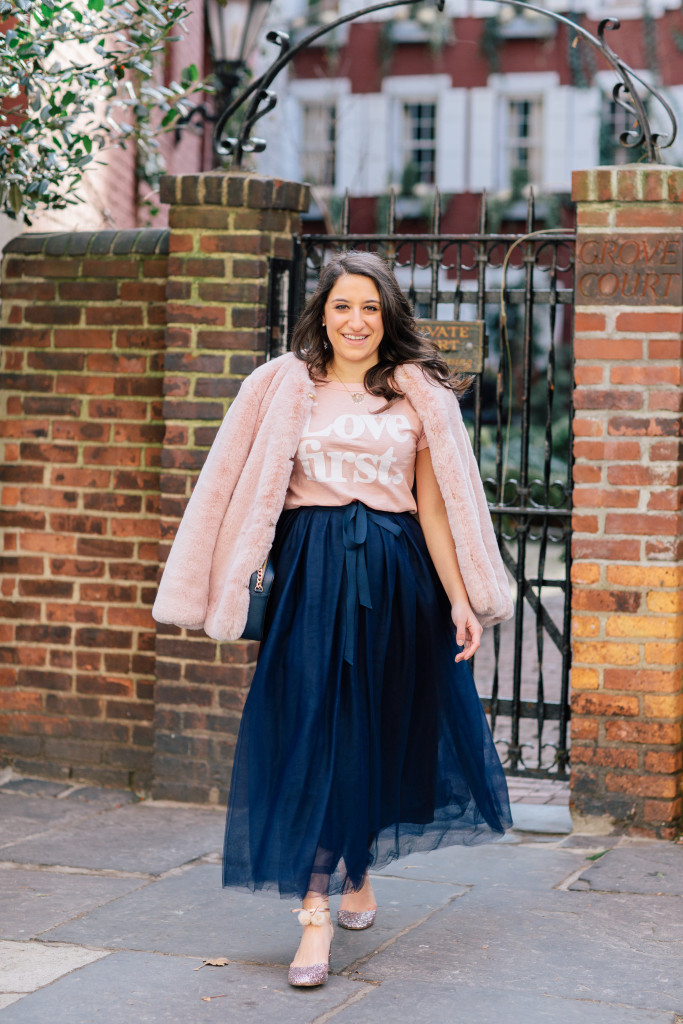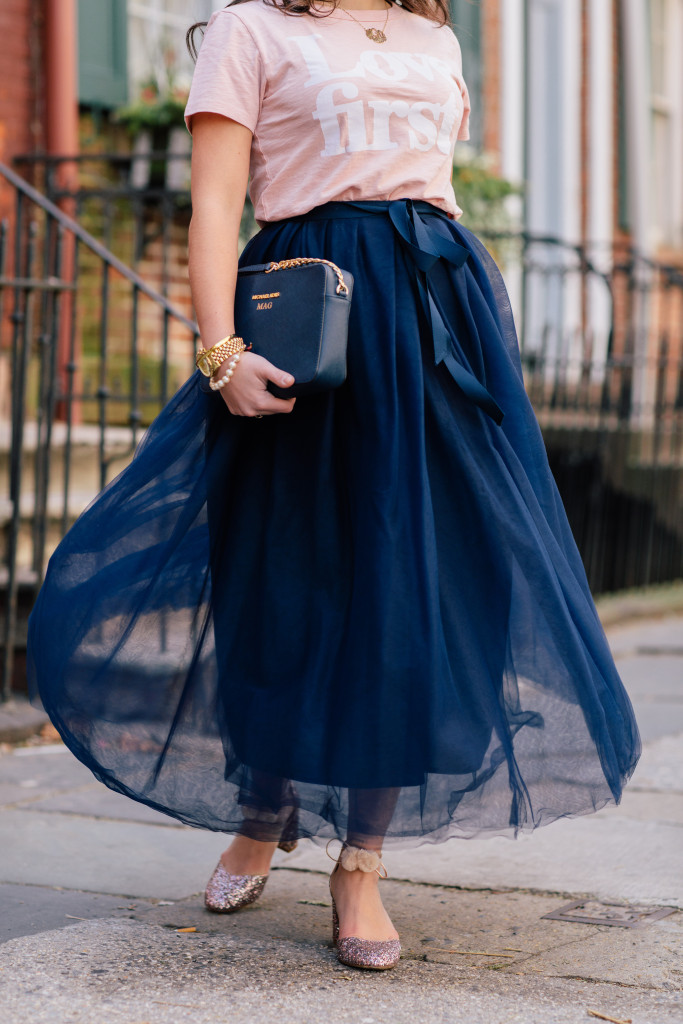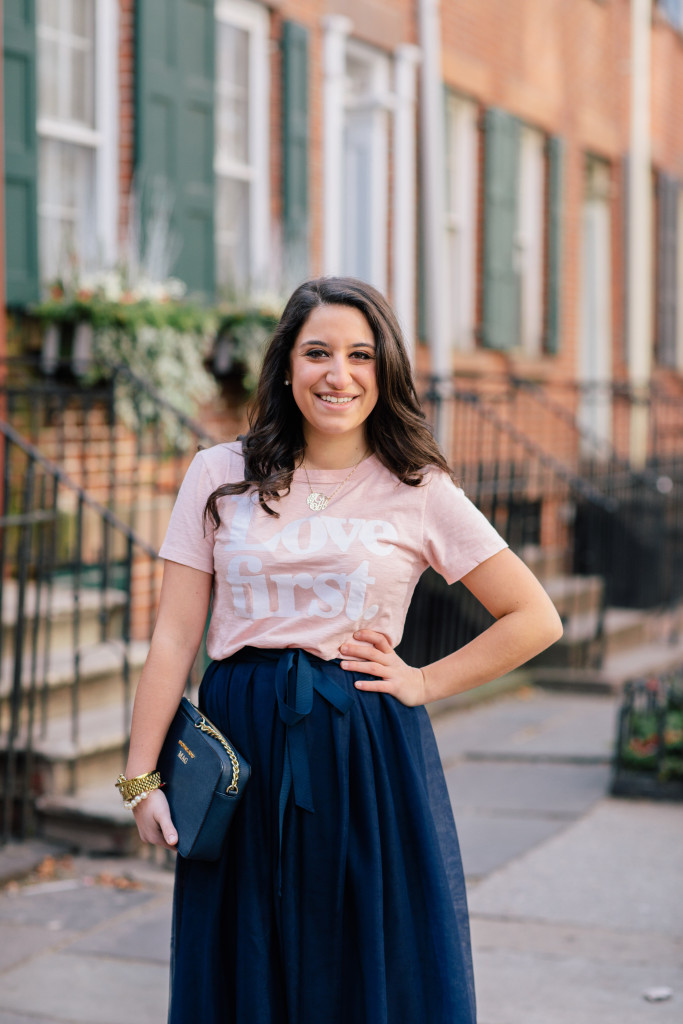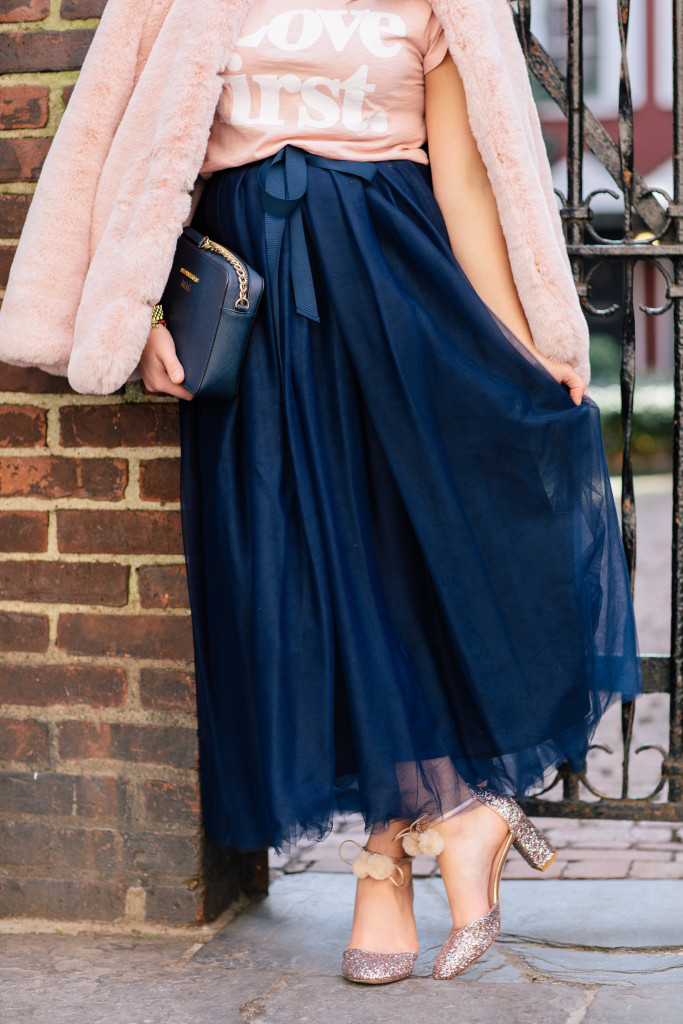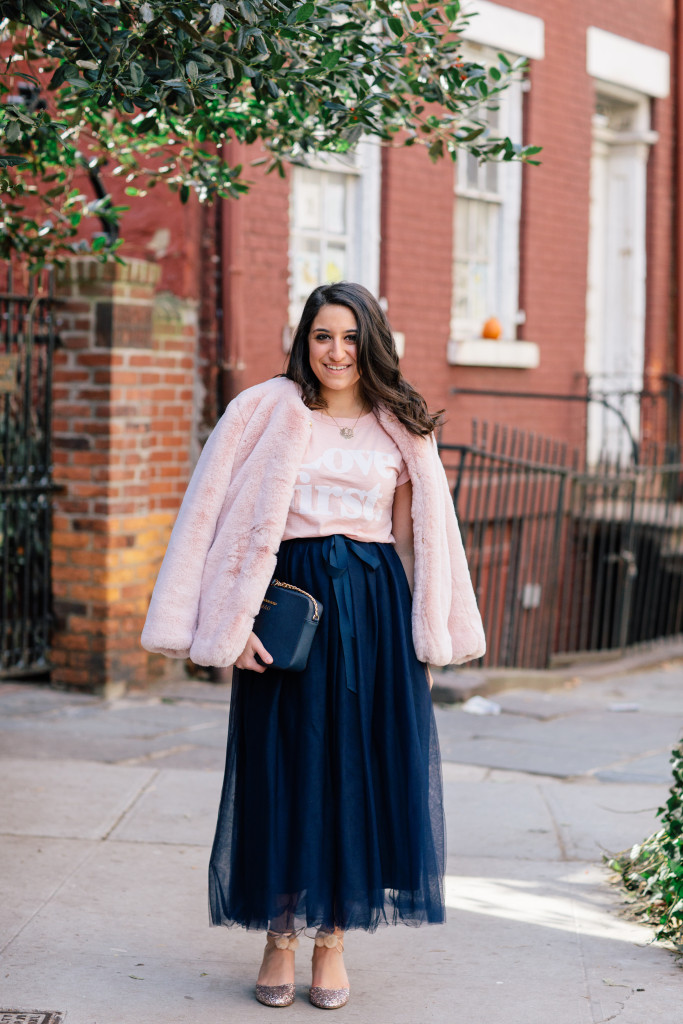 Top (J.Crew) ON SALE! | Skirt (J.Crew) ON SALE!
Coat (Gap) ON SALE! | Shoes (Kate Spade) | Bag (Michael Kors)
Bracelet (KJP) | Bangle (Kate Spade) | Watch (Michael Kors)
Monogram (Marley Lilly)
It's Monday and the start of Valentine's week! Last week was a doozy, hence why things on the blog were a little quieter than normal. This week might be just as crazy, but at least there is a big, bright, shiny three-day weekend waiting for me at the end of it! Of course, I'll be heading back to Stratton for a weekend of skiing (& family time!).
So onto some Valentine's Day fun! Tom and I tend to lay low since every restaurant and movie theater is packed out and very unenjoyable. That said, I won't be wearing anything close to what I'm wearing here for Valentine's Day. Usually our Blue Apron post-work dinner and wine night require something a lot more comfortable. 😂
Regardless of how you are spending your Valentine's Day, I hope you take some time to celebrate all of the love that you have around you. Whether it be chocolate-covered strawberries my brother always sends me, the flowers from my dad, my annual Sigma Kappa Galentine's Day dinner or a wine night with Tom, it is the one day (honestly, should do it more often) to appreciate all of the love around me. Hope you enjoy some style inspo for the big day!
What I'm Wearing
Top (J.Crew) ON SALE! | Skirt (J.Crew) ON SALE!
Coat (Gap) ON SALE! | Shoes (Kate Spade) | Bag (Michael Kors)
Bracelet (KJP) | Bangle (Kate Spade) | Watch (Michael Kors)
Monogram (Marley Lilly)
If I've said it before, I've never meant it until now. I'm OBSESSED with this outfit, It includes everything that I love in fashion– 1) It is super girly and feminine 2) the pink & blue combo is my favorite! 3) it includes some sparkle ✨  While I won't be wearing this outfit on actual Valentine's Day, it is always a fun holiday to get a little festive for. Whether you are wearing red and pink from head-to-toe or have any heart-shaped accessories ready to go, I've always dressed up a little for the day.
First and foremost, let's talk about these glittered shoes. These are some of my favorite statement shoes in my collection! For some reason, they  give me total ballerina vibes, which always makes me pair them with a tulle skirt. I only find a few occasions to wear them, but I love how the heels aren't too tall, they are surprisingly comfortable, and can be worn all year long. Don't worry, those cute little fur pom poms slide right off the straps for summer.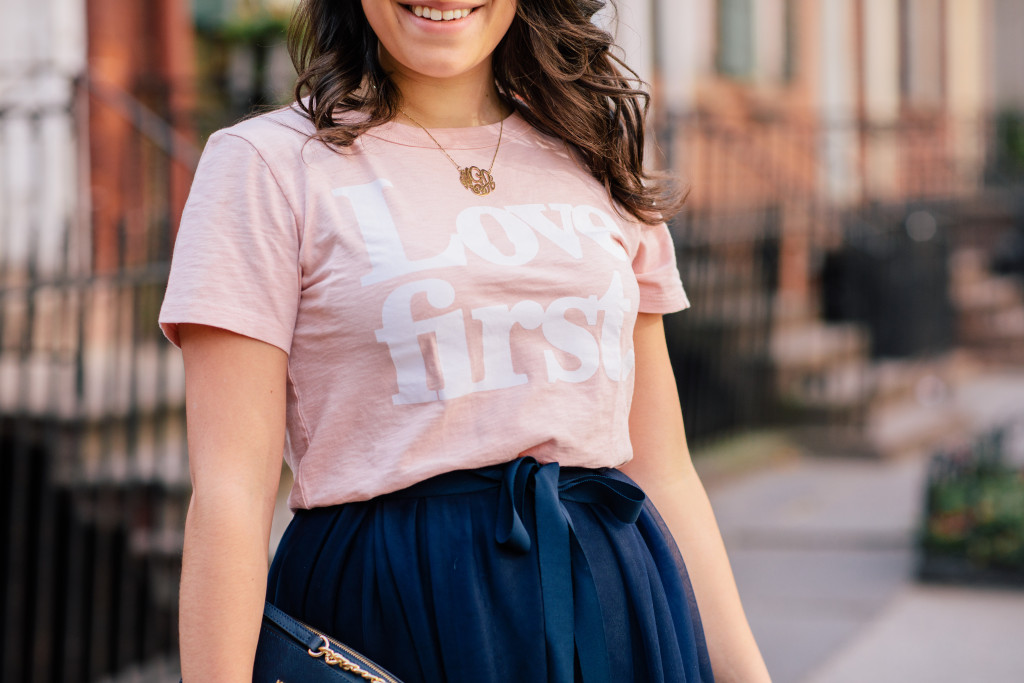 I think this part-causal, part-formal outfit depicts my personal style PERFECTLY. Most days you can find me me in a t-shirt and jeans, since I work in a very causal environment. BUT, when I have the opportunity to dress up a little you can find in me bows, tulles, and feminine colors like pink, lavender, red, etcetera.
Of course, this outfit is almost completely J.Crew. When I saw this tee shirt I knew I had to have it. The motto is perfect for Valentine's Day, but also a great sentiment to keep in mind all year long. I've had this skirt in my closet for a few months, and I just couldn't nail down how to style it. For Christmas, I thought about pairing it with a festive flannel and over the summer I was thinking about just a plain white v-neck tee. Regardless, I always knew I wanted to keep it casual on top to make the tulle a little less formal.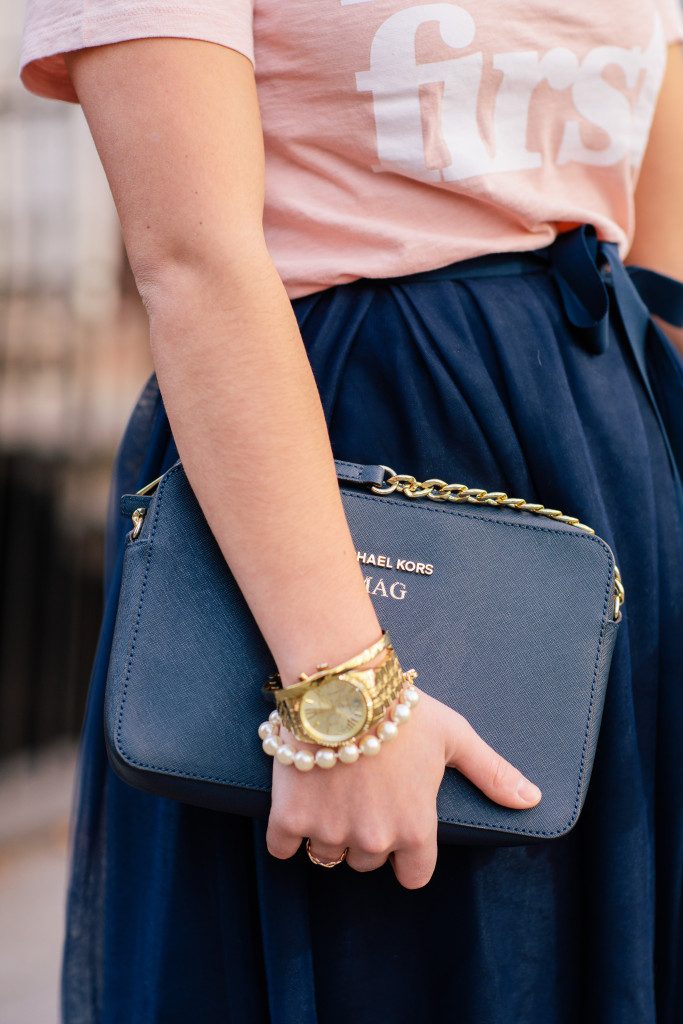 Would love to see some of your V-Day-inspired looks in the comments! Wishing you the best Valentine's Day!