How are the holidays here already? Got a preppy guy or gal in your life? Check out these ideas that would make perfect holiday gifts for your favorite prepster! I'm especially loving the Tie Bar tie and pink gingham bracelet. Happy Holidays!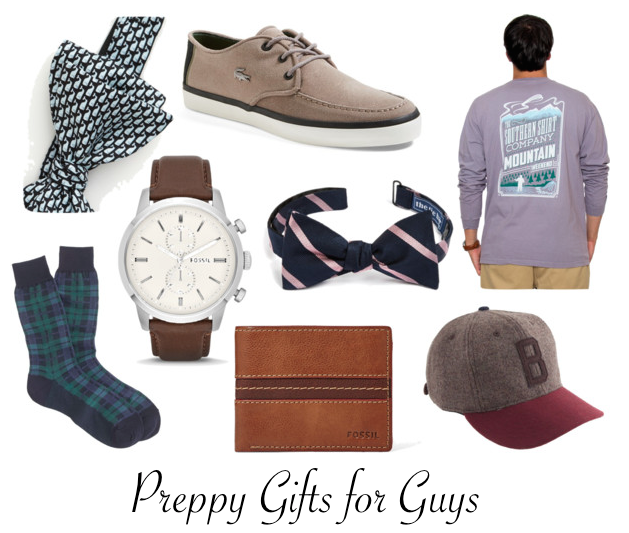 Vineyard Vines Bow Tie // For the guy who wears the whale proudly.
Sneakers // A classic sneaker for a casual weekend or walks to class.
Long sleeve tee // To go with those sneakers for a weekend of chilling in the mountains.
Socks // The coziest socks ever in the preppiest pattern ever.
Watch // Every guy needs a leather watch.
The Tie Bar Tie // Real men wear pink. Pink and navy is a classic preppy combo.
Wallet // A leather wallet hold up, and it goes with everything.
Baseball cap // What guy doesn't want a baseball cap? The tweed makes it even better for cooler temperatures.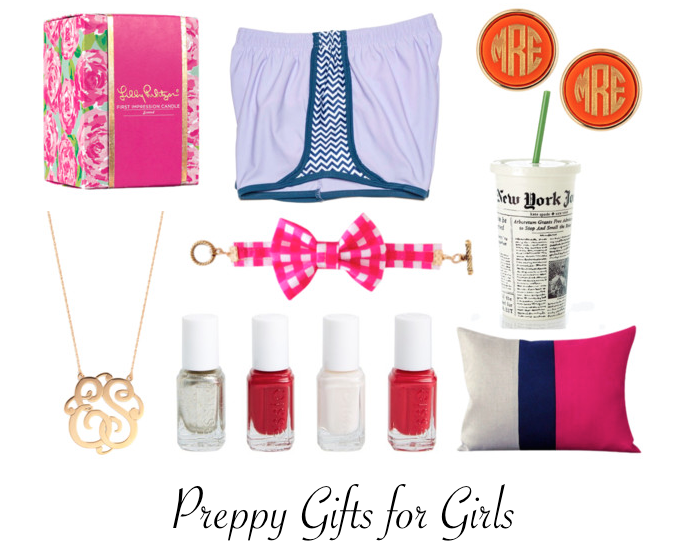 Candle // Her room will smell good and look extra pretty with this Lilly Pulitzer print.
Shorts // Krass & Co. shorts add a preppy flair to the traditional gym shorts.
Earrings // Blocked monogrammed earrings. Need I say more?
Necklace // A monogrammed necklace is an essential to any preppy girl's outfit.
Bracelet // Rounding out the jewelry essentials is this adorable pink gingham bow bracelet. Again I say, adorable!
Tumbler // She can make headlines carrying around her favorite iced beverage in this Kate Spade tumbler.
Nail Polish // The final touch to any holiday outfit is a set of pretty nails.
Decorative Pillow // Any girl's chic apartment or bedroom needs a pink and navy pillow.