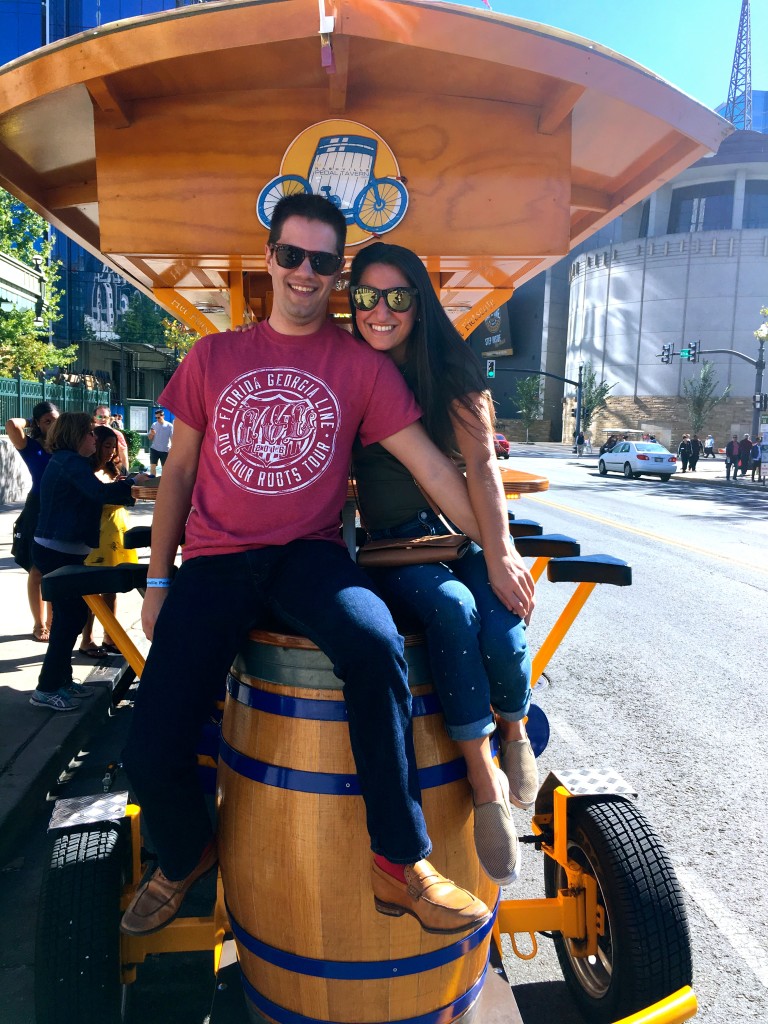 I love the beginning of the year because it is time to plan for all of those PTO days! 2016 was full of fun travels– a few trips to Florida, Cape Cod and even a spontaneous trip to Nashville (pictured above). 2016 was the year I learned how powerful a few days off can really be. Time to free your mind from work and normal NYC craziness is truly a gift.
I've already started 2017 with a sprint with three trips in January ?. But, with a fresh batch of PTO days to use, I'm planning for some more exciting adventures! If you have any recommendations for these destinations, please, please, please SHARE!
January:
1| White Sulpher Springs, WV–  I celebrated the New Year at the Greenbrier resort with family. For a girl who definitely should have been born in the south, this resort melted my heart with southern charm and luxurious experiences.
2| Napels, FL— I enjoyed a few days in Florida at the beginning of January with my high school besties. It was the best way to start 2017!
3| Stratton, VT– I make various ski trips each year and so far they have been a blast!
February: 
4| Stratton, VT– I'm headed to Stratton TWICE in February. Stay tuned for a travel guide that includes my favorite places to eat, DRINK and shread powder. See here for some VT-inspired fashion. 
March: 
5| Austin, TX–  I'm headed to SXSW with my agency (360i). I'm overwhelmingly excited to experience this industry event, but may be more excited for the tacos! ?
6| Orlando, FL– I'll be celebrating my baby sister's 21st birthday in Walt Disney World! I'm BEYOND pumped!
April: 
I guess I'll have to go to work this month. ?
May: 
7| Italy– This will be my first trip to Europe EVER! I'll be visiting Rome, Venice, Florance, Milan, and Lake Como.
8| Switzerland– While in Lake Como we'll be hiking the Alps in Switzerland!
June: 
9| Hampton Bays, NY– I'll be missing the official start of summer since I'll be in Italy, but I'll make up for it in June, July and August!
10| Virginia- This one is still TBD, but I'll be celebrating one of my high school friend's bachelorette!
July: 
11| Martha's Vineyard, MA— After such an amazing time last year during our day trip to the vineyard, Tom and I are hoping to take a long weekend!
August: 
12| Maryland– Again, another TBD trip, but I'll be celebrating that same friend's wedding!
September: 
13| Palm Beach, FL– It is grandpa's birthday month!
October: 
14| Charleston, SC– This destination has been on my list for YEARS and I think this is the year I make the trip. Again, another place that will be perfect for my summer state of mind.
November: 
It's birthday month! This one is special and still in the works. Stay tuned!
December:
15| Stratton, VT– back on the slopes!
Woof! I didn't realize how many trips I have planned until I started to write the blog post. Hoping to recap each of these experiences here with my recommendations and experiences! Stay tuned!