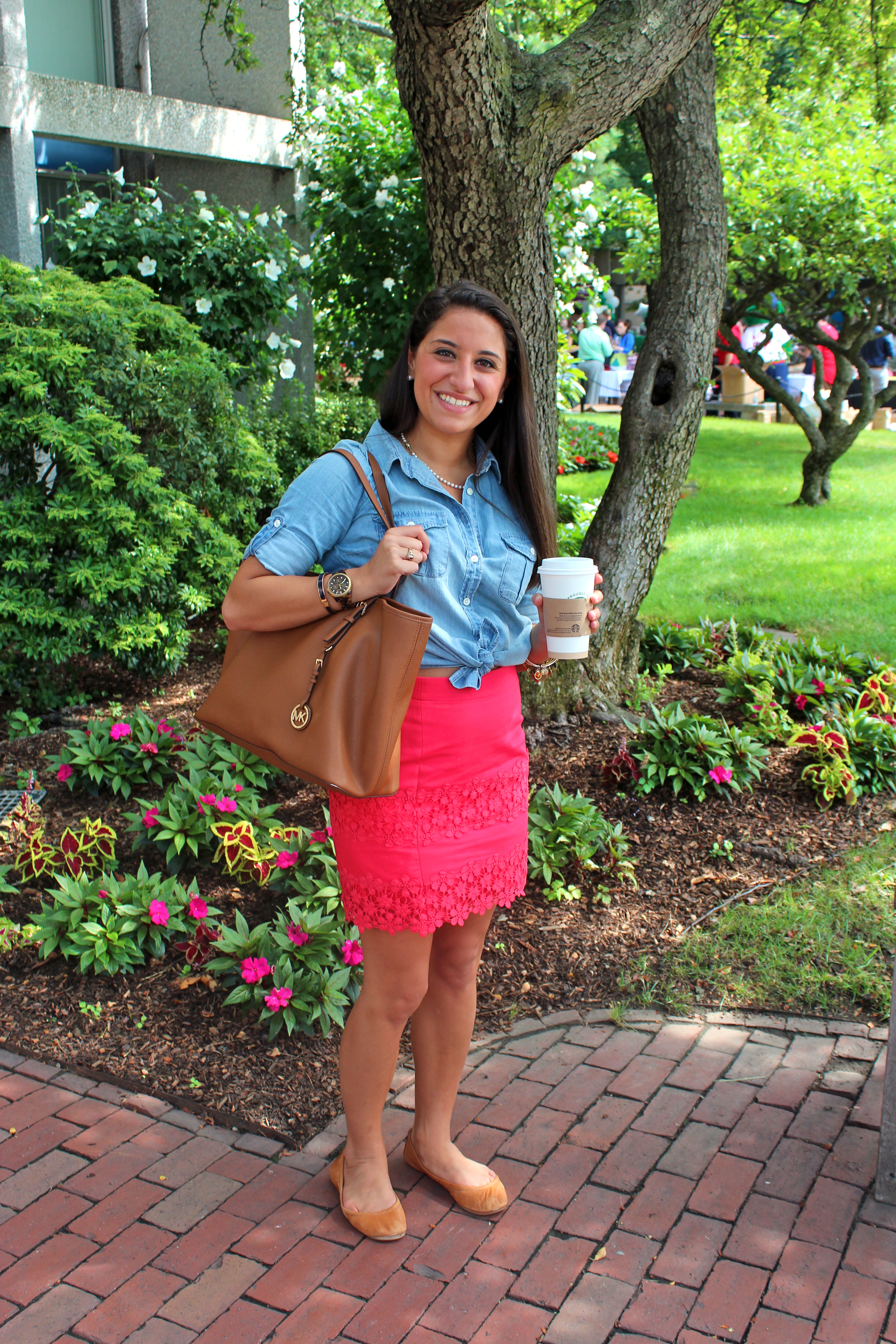 Top (J.Crew) Skirt (J.Crew) Handbag (Michael Kors) Shoes (Tory Burch) Watch (Michael Kors) Bracelet (C.Wonder)
Boston University is back in session and Commonwealth Avenue has transformed into a runway. One of the things I love about BU is that the stereotypical sweatpants and a tee college attire is not the norm. Most students dress up nicely for class whether it be jeans or a skirt we are presentable. If you ask me, dressing for success is definitely a thing.
Each first day of school since Kindergarten I have worn red (something my mom told me was good luck) and yesterday on my last day first day of undergrad was no different! I paired a J.Crew mini pencil skirt with a chambray top. At first I was going to tuck in the Chambray top but I thought it was a bit too business casual so I tied it up right above the skirt. This gave my outfit a dressed up yet casual look. Check out my pinterest page on How To Wear Chambray to get inspired! I am loving the new tie-up chambray look because it is perfect for the Summer-Fall transition. The first day of classes can be tricky because it is still hot out yet you don't want to show up in your daisy dues and crop top that you lived in all summer. Pairing a nice skirt with a chambray shirt is both trendy and cool.
Next lets talk accessories! To add to this outfit I added a luggage leather accent both with my new Michael Kors handbag and my Tory Burch flats. If you are still looking for a tote for your books go buy this bag now!! Not only is it beautiful but it has plenty of room for your books and has a special laptop pouch (caution: the black bag does not have a laptop pouch). This accent also gives my ensemble more of a fall look! As far as jewelry is concerned I went with simple pearls and my normal arm party but I would love to see this outfit dressed up with a gold and tortoise shell statement necklace!