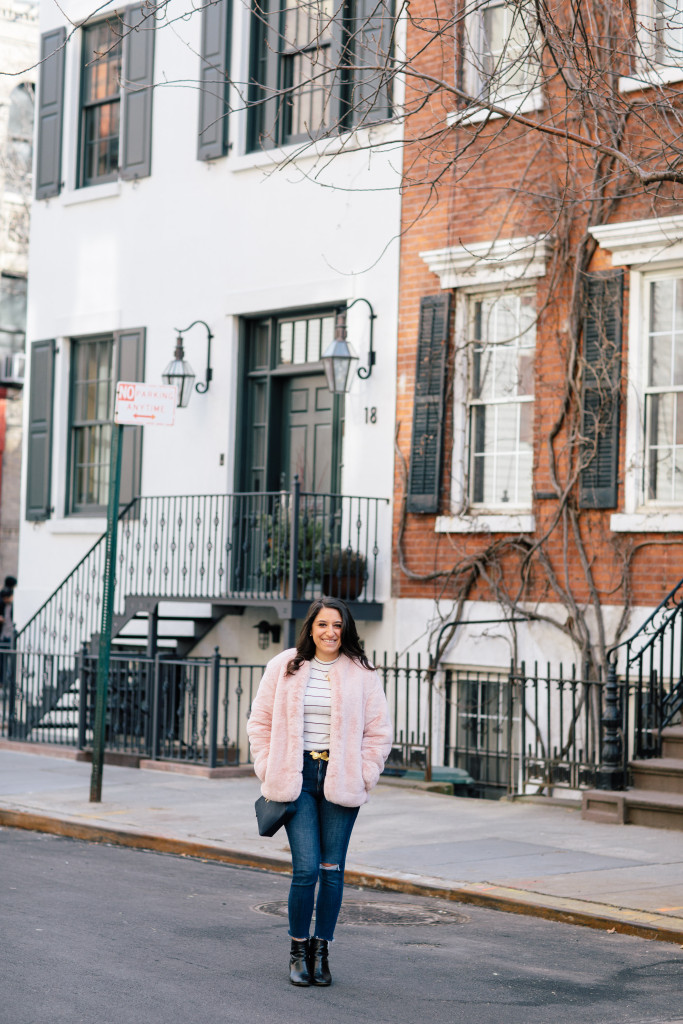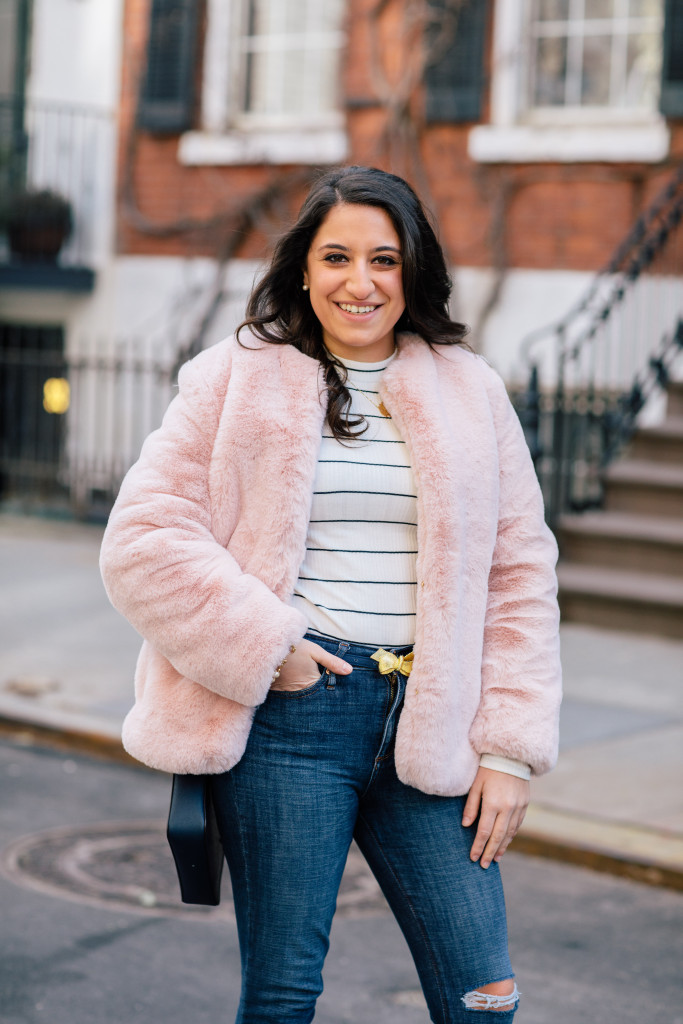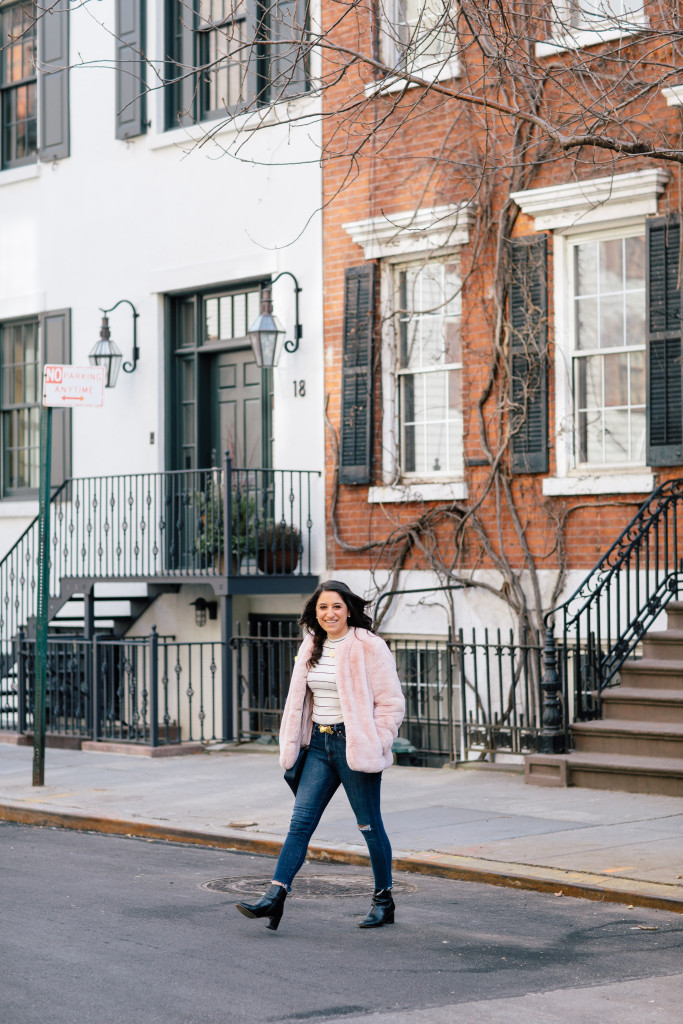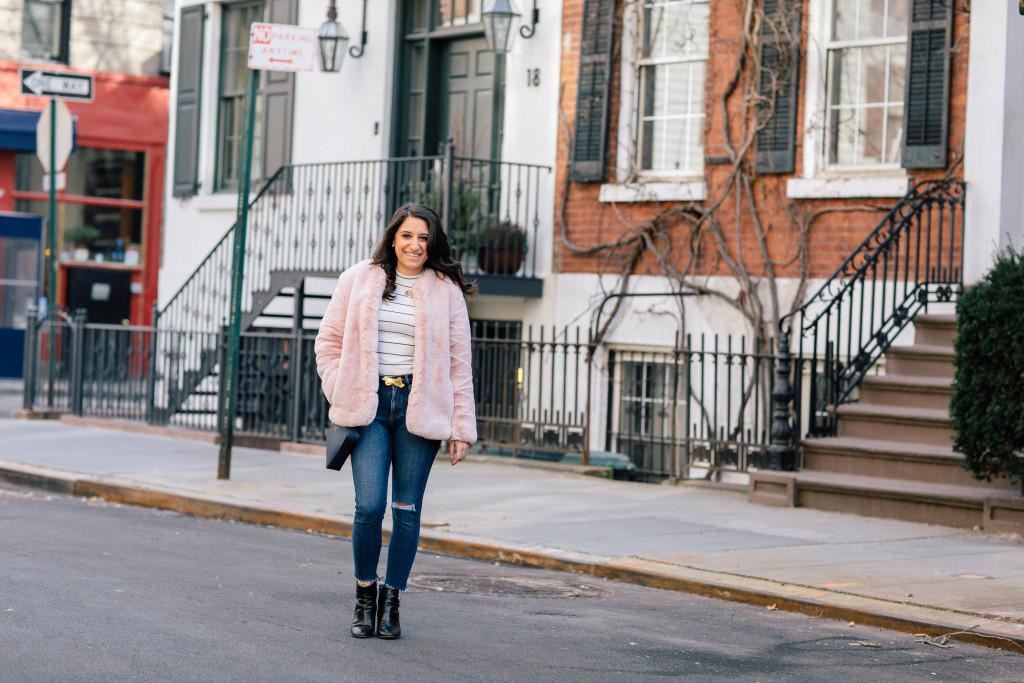 Coat (Gap) | Bodysuit (J.Crew) | Jeans (Gap) | Belt (Lilly Pulitzer)
Bag (Michael Kors) | Shoes (J.Crew) | Monogram (Marley Lilly)
Hello, hello and welcome to the first Valentine's Day post on the season! Valentine's Day isn't one of my favorite holidays because of all of the love (which isn't too bad either 😉), but because I can wear all the pink I want without being massively judged! Not that that really ever gets in my way…
 Over the years, my Valentine's Day has become increasingly more low-key and I think this year I may be getting my wisdom teeth out that day, so definitely more low-key than normal. Regardless, if your plans are causal, you are usually looking for something simple that feels festive, but isn't over-the-top. Over the next few weeks, I'll be sharing some inspiration to get you ready and dressed for that perfect night. Whether you are spending it with your boo, girls or solo!
What I'm Wearing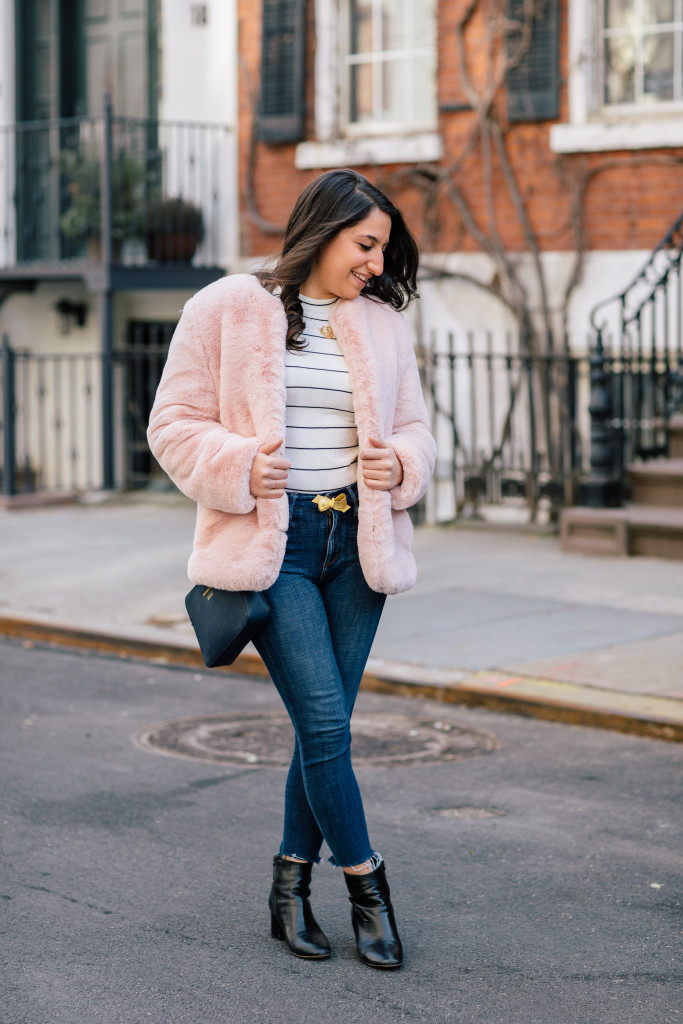 Coat (Gap) | Bodysuit (J.Crew) | Jeans (Gap) | Belt (Lilly Pulitzer)
Bag (Michael Kors) | Shoes (J.Crew) | Monogram (Marley Lilly)
This outfit is EXACTLY what I'm talking about when I say festive, but not over-the-top. At the core, this outfit is just a pair of jeans and a bodysuit. It is the coat that really gives it that Valentine's Day feeling because who doesn't love an outfit you can wear multiple times. I've already worn this outfit a few times since it's been so warm here in New York, but I'll definitely be putting it on repeat to transition into spring.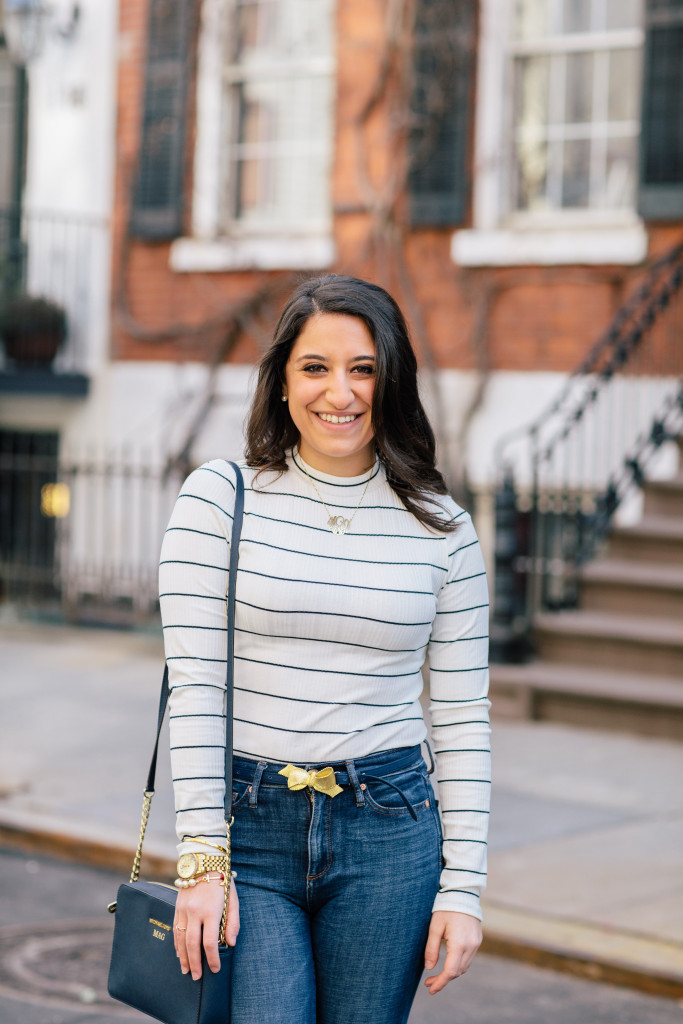 So, I'm not usually one to wear a bodysuit. That is usually more of my sister's territory. I don't know why, but I always thought they'd be super uncomfortable, but of course I was wrong! This onesie trend is something I can definitely get behind. If you haven't jumped on the onesie train yet, J.Crew have a ton to choose from. I love this one because it is simple and can be styled a thousand different ways, but they also have ones with ruffles (currently 65% off!), buttons and more.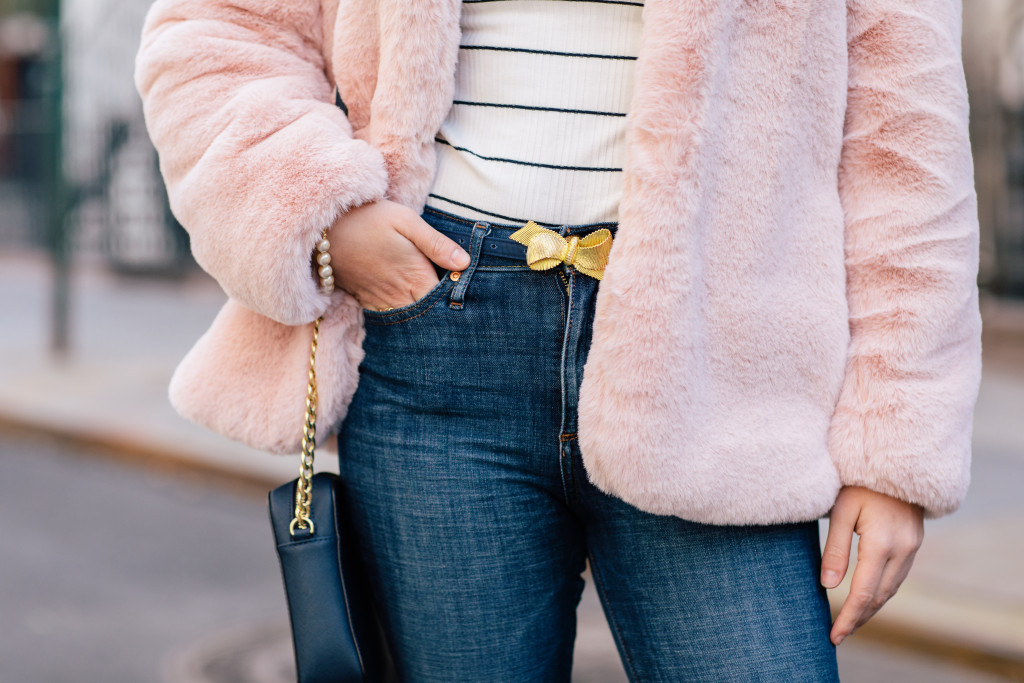 Okay, now back to why this outfit is so perfect for Valentine's Day. First and foremost, Valentine's Day is on a Wednesday this year, so you'll be coming straight from work so you'll want to keep it as easy and simple as possible. Since I work somewhere pretty casual, this option works for me. But if you're not as lucky, it might be easier to wear a skirt or dress.
For me, I want Valentine's Day to be as easy as throwing on a pink faux fur coat. Not only is this coat super glamorous and feminine it is also deceivingly warm. I've actually been wearing it a good amount this season after I convinced myself I needed it in my faux fur roundup earlier this month.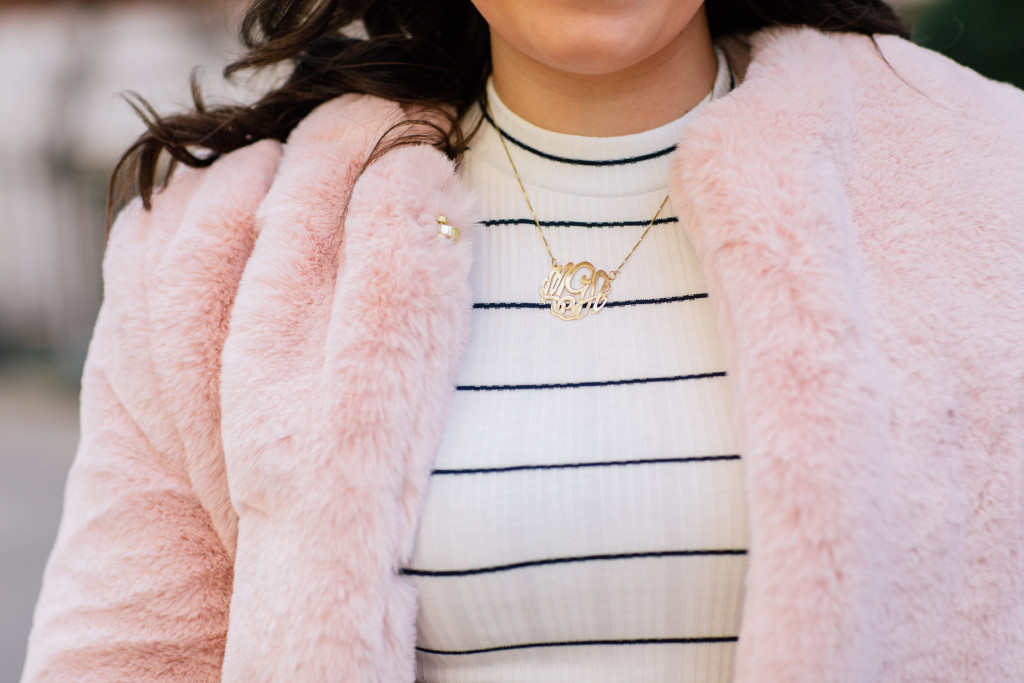 Once you get over the bodysuit and coat, this outfit is made with my closet staples. If I've said it once, I've said it a million times– the Gap is the only place you should be buying jeans. I've worn plenty of pairs from other stores, but they just aren't as comfortable and flattering. I don't know about you, but I find uncomfortable jeans just unbearable. Seriously, I would rather wear a trash bag than wear uncomfortable jeans. Okay, so do you get how passionate I am about this pair? 😂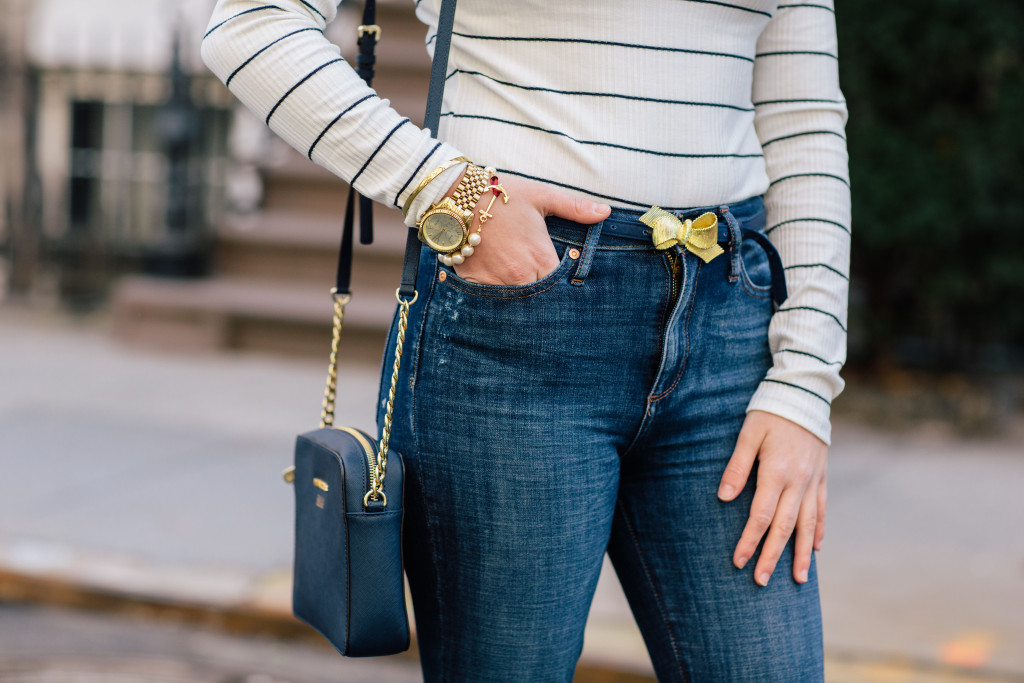 In addition to jeans, I also consider this bag, belt and shoes my season stables. Since I wear high-waisted jeans pretty much exclusively, a cute belt is a must-have. This one is actually old from Lilly Pulitzer, but I found similar ones here and here (under $15!). It works so well since I'm always using navy as a neutral. Also why this bag get so many uses ALL year long.
Actually, now I have a question for you. How do you feel about the blavy trend (mixing black & navy)? Historically, I've never been a fan because black and blue remind me of a bruise, but I actually don't think this looks too bad. What do you think?