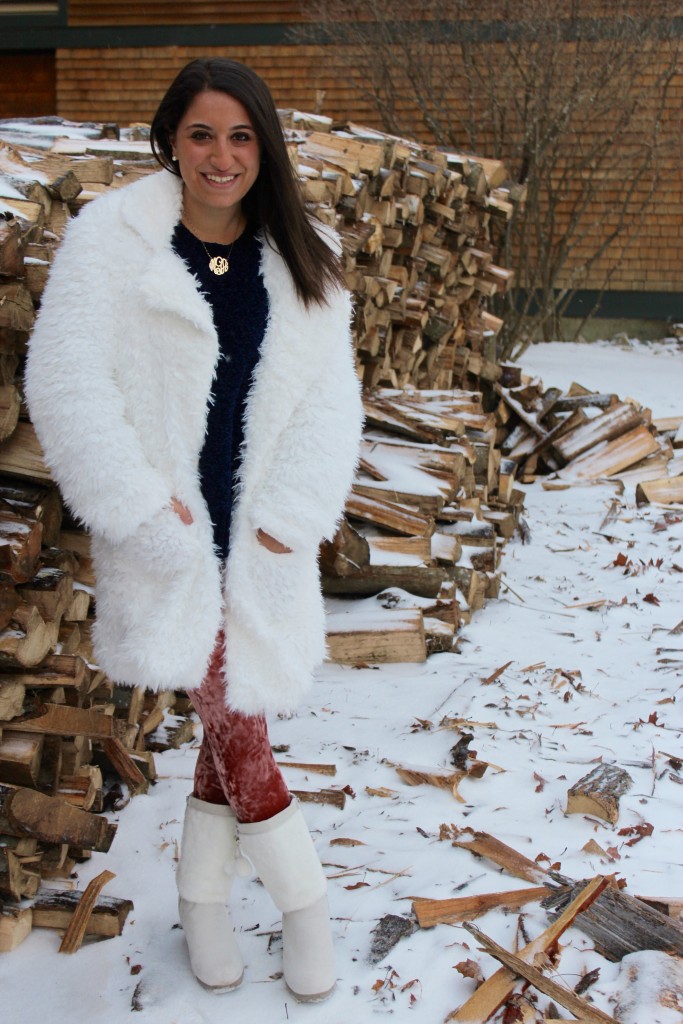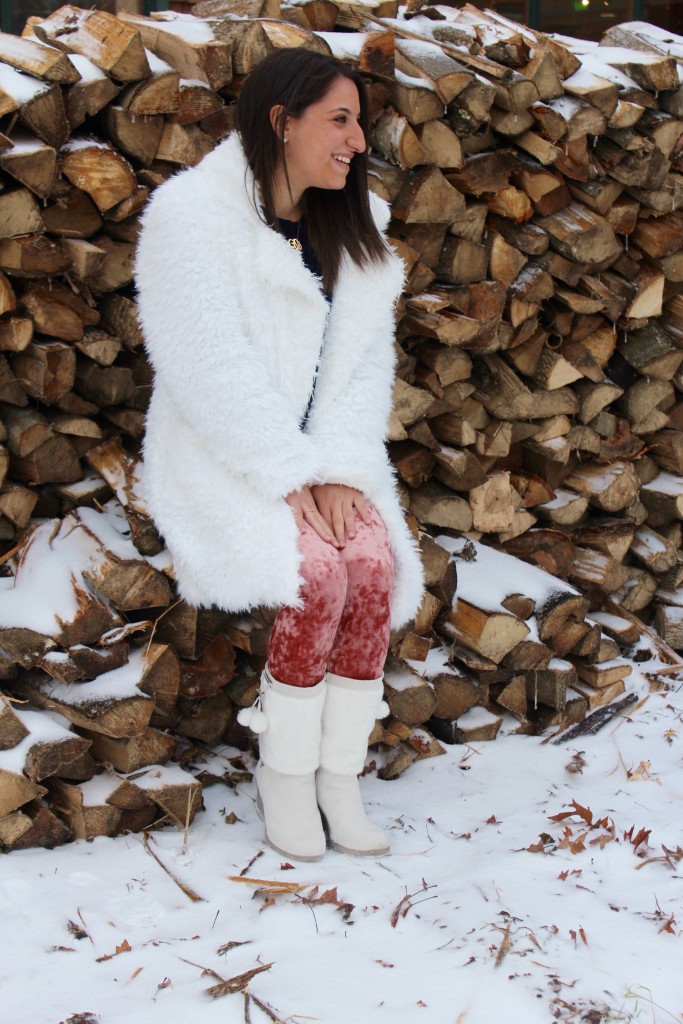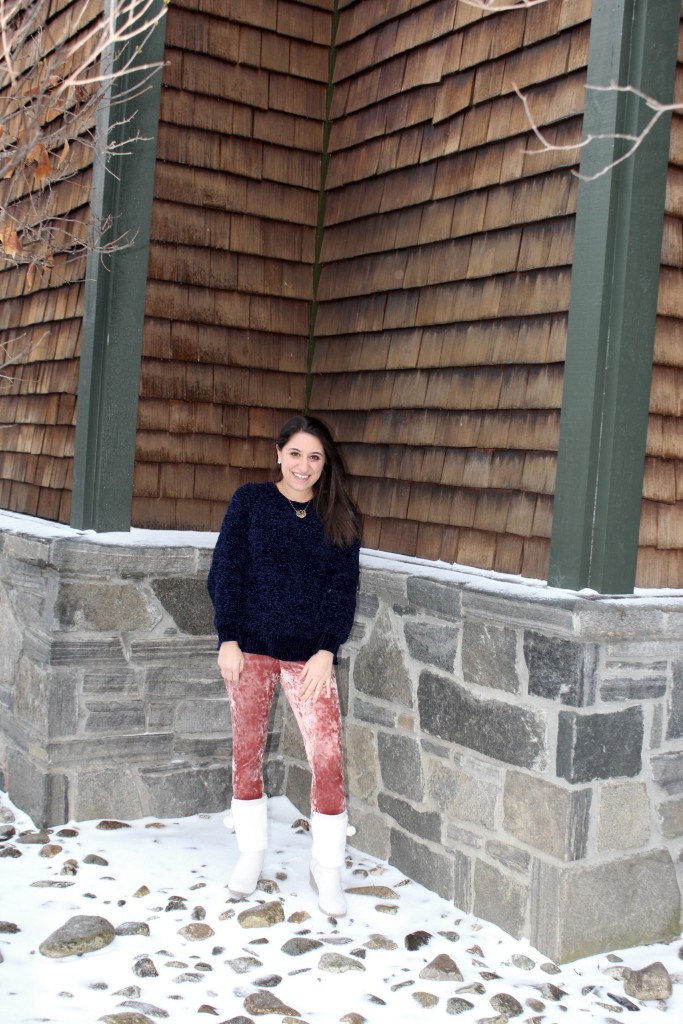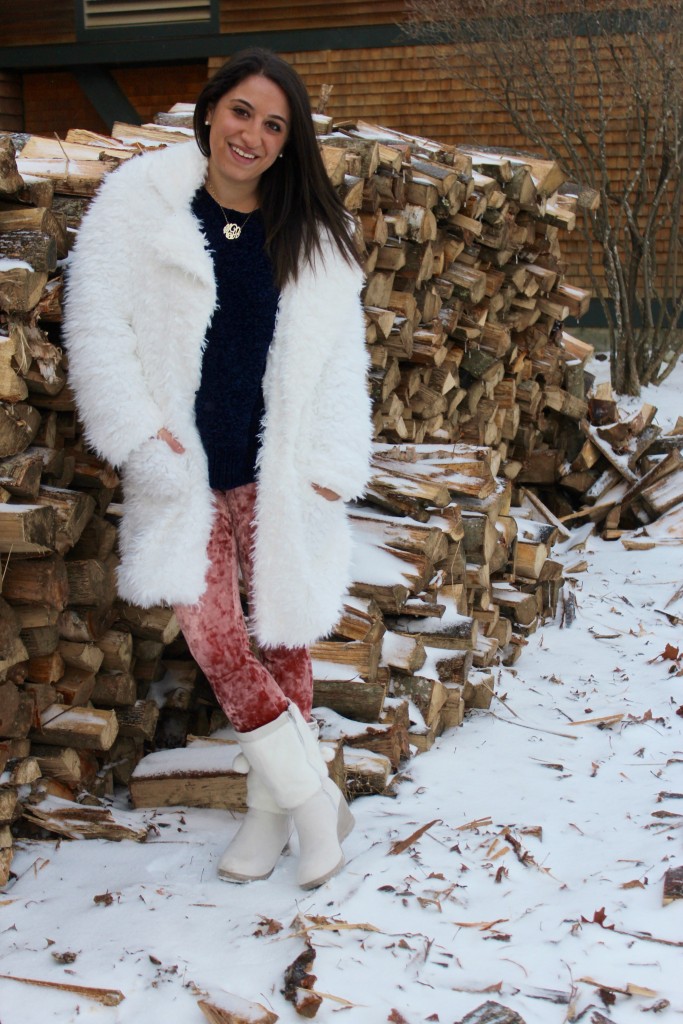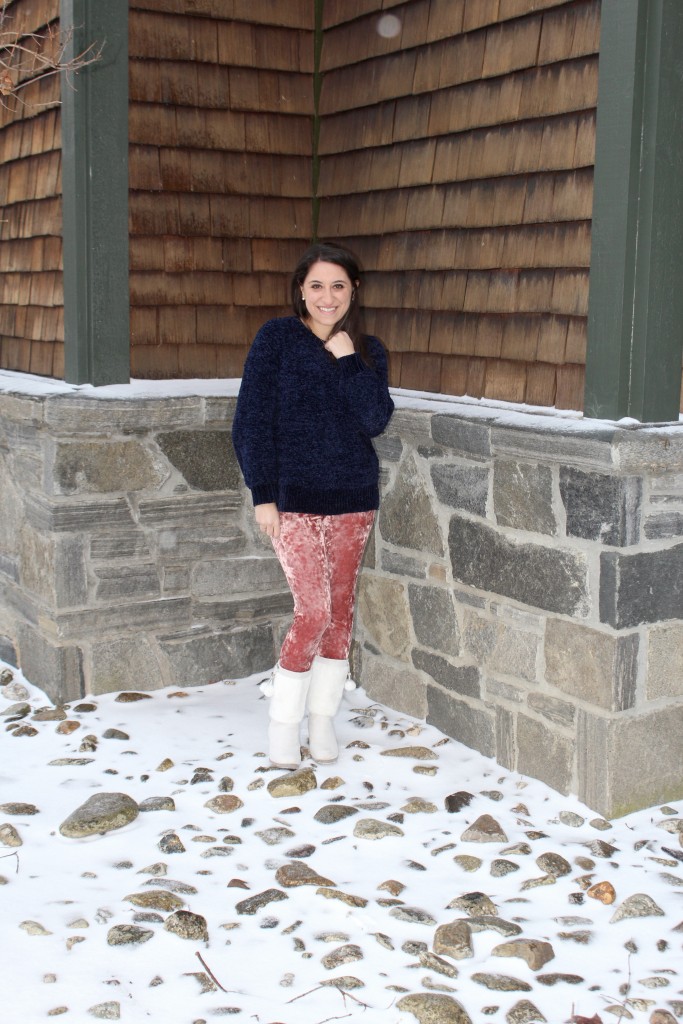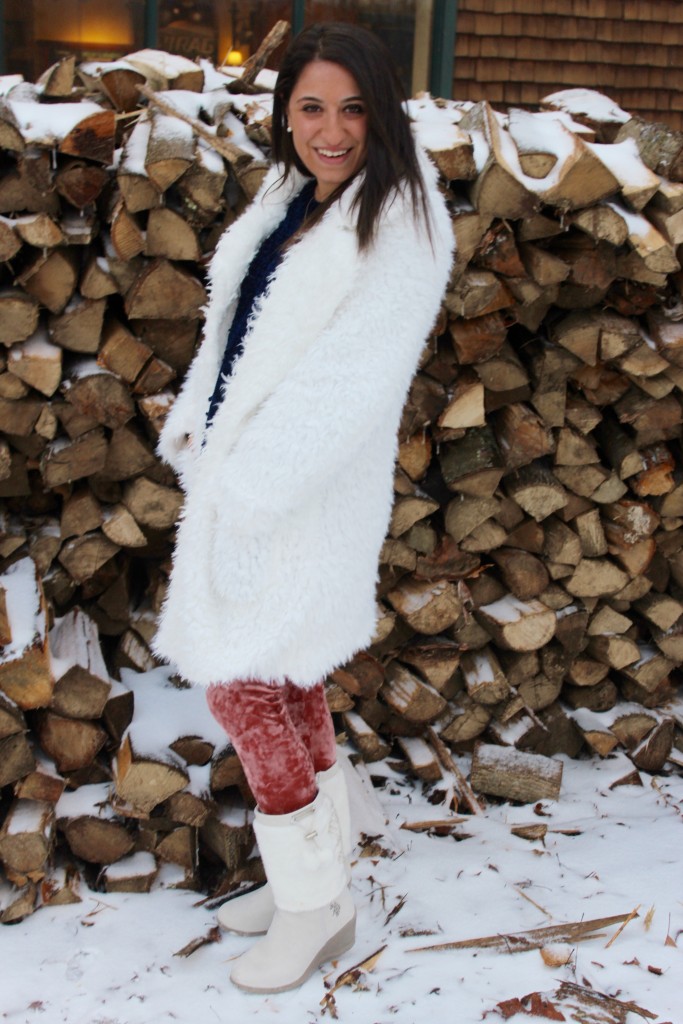 Sweater (ASOS) | Leggings (Aerie)
Coat (Nasty Gal) | Boots (Ralph Lauren)
Happy Friday!! Who is ready for another winter weekend? This is one of the few weekends that I'll be lounging around the city, so I'm excited to get my apartment in order and catch up with friends I haven't seen in a while. I always find myself caught between wanting to go up to Vermont and just wanting to relax and reset on these winter weekends. Does anyone ever feel like they just need to stay in the same place for a little bit? I get this feeling constantly.
That said, these photos were taken last weekend in Vermont. When I usually go up to the mountains, I spend most of my days skiing and I haven't had much time to explore the area surrounding Stratton Mountain. Since last Saturday was rainy and gross out, my family and I decided to explore Manchester (about 15-20 mins. away from Stratton) and it was absolutely beautiful. From the idyllic cafes to the designer boutiques and delicious restaurants, I was so pleasantly surprised. And kinda sad that I haven't explored the area sooner!
Of course, you know that everything revolves around food for me. So I'll give you my two tips! 1) we went to Christos' for a quick lunch. It was just a quick pizza lunch, but it definitely passed this New Yorker's pizza standards! Highly recommend. 2) We hit up the 'Chop House' at the Equinox hotel for dinner and I can't rave about this place enough. This was just as good if not BETTER than the best NYC steakhouse. Not to mention, how gorgeous this hotel is. I'd personally love to stay there AND they are considered a Starwood affiliate, so #points.
What I'm Wearing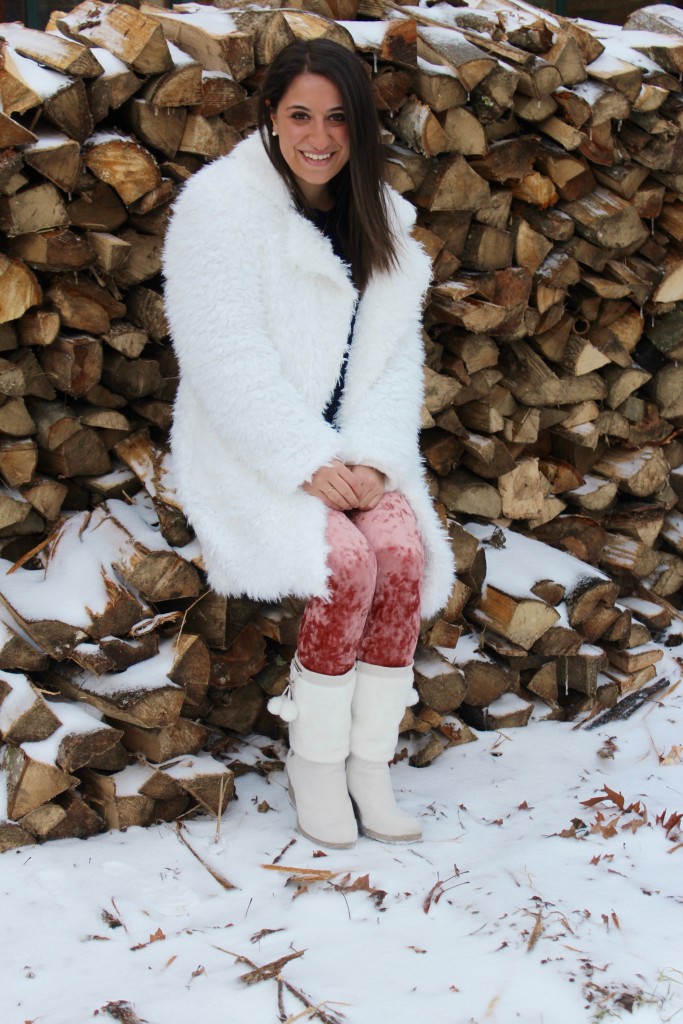 Sweater (ASOS) | Leggings (Aerie)
Coat (Nasty Gal) | Boots (Ralph Lauren)
When I'm in Vermont, I'm in total relaxation mode. Seriously, I don't know what it is but all I can stand are leggings and over-sized sweaters. I think it might be a mix of the cold and unlimited hot chocolate. That being said, I spent the day in my pink velvet leggings and a navy chenille sweater. I know I've raved about these leggings a few times on here (see here and here), but I've been keeping them on repeat over these last few frigid weeks.
As you probably already know, pink & navy is a go-to color combo for me. It works both in summer and winter and can be dressed up or down. I specifically love this ensemble because of the different textures and how well they play together. The chenille and velvet both have a subtle shine to them, making them perfectly coordinated.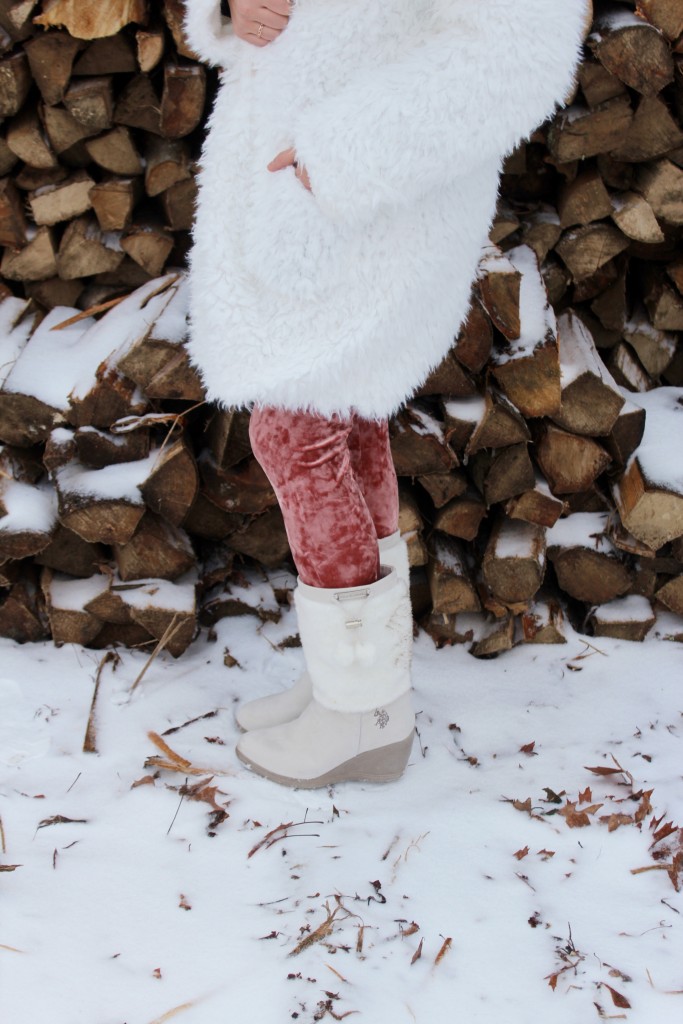 To brave the cold I pulled out this cozy, white, over-sized coat and my white snow boots. If I'm being honest, I never thought I would like this coat. When I first saw it, I thought it would make me look like I was wearing a bath robe, but I was totally wrong. Not only was it warm and totally over-the-top (in the best way possible), it was also pretty lightweight to carry around from store to store. However, I will say that my sister Tiffany totally pulls it off better than I do. 
Not only did I break my usual mold with this coat, I also traded in my L.L. Bean Boots for these white Ralph snow boots. While I'm still 100% a Bean Boot advocate, these are a lot easier to throw on in a rush and give me a little lift. 😉