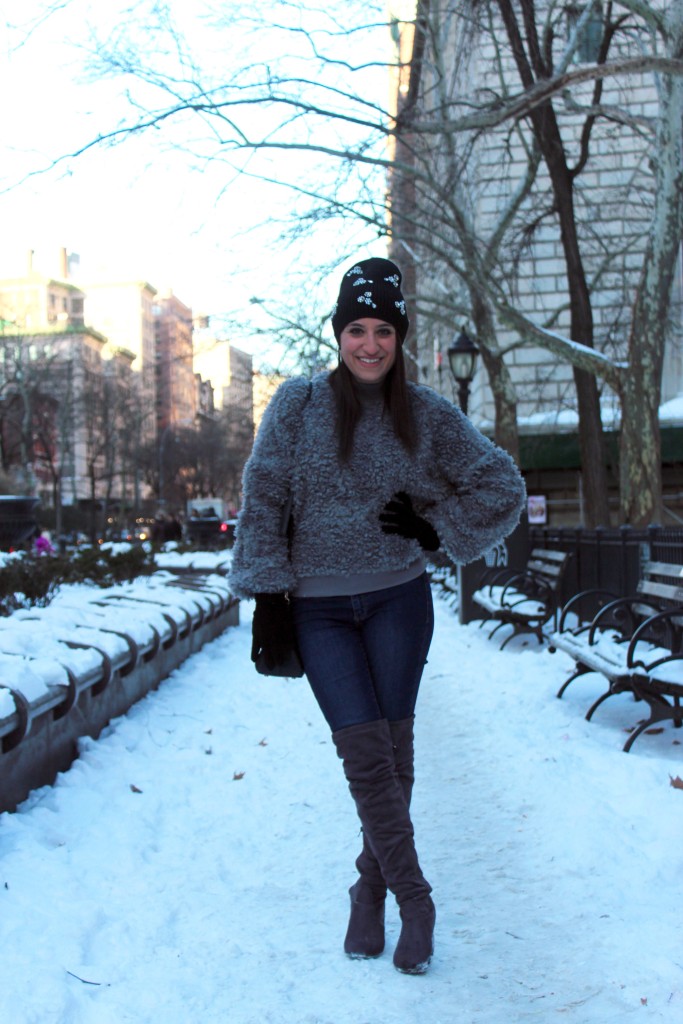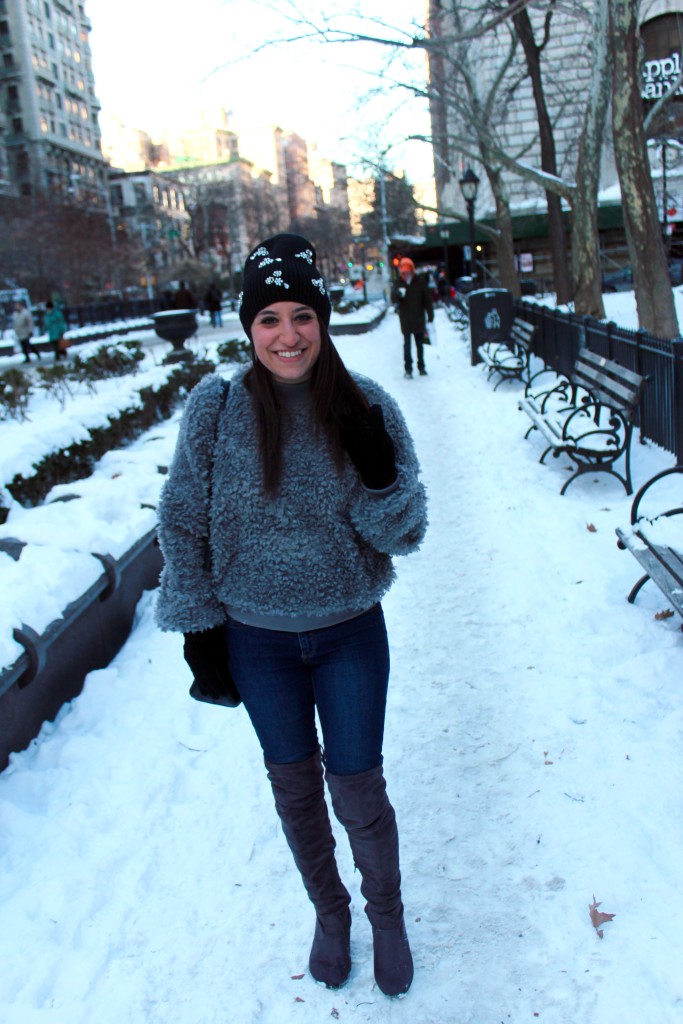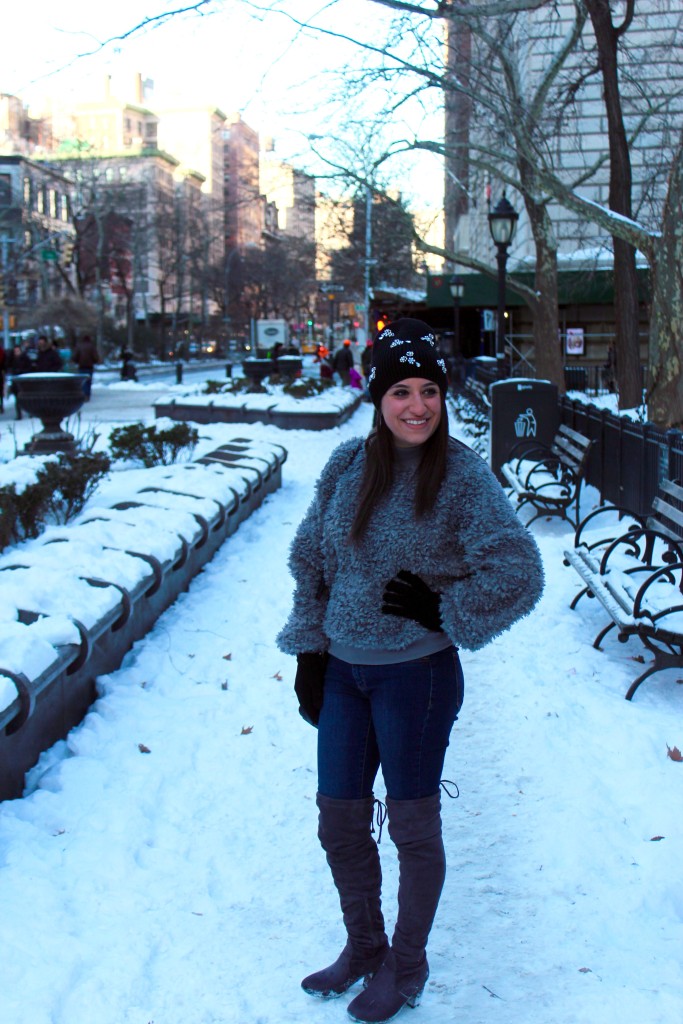 Sweater (Romwe) | Jeans (Gap) | Boots (Amazon) | Bag (Kate Spade) | Hat (Bloomingdales)
Happy Monday, ya'll! I hope everyone successfully escaped the cold this weekend. Since I was meant to be in Florida this weekend (my flight was cancelled on Thursday and it was DEVASTATING), the cold was a bit more chilling than expected. However, it was kinda refreshing to have a free weekend to get organized and run a few errands. We even got a chance to play tourist here in NYC with a trip to The Museum of Natural History (the live butterfly exhibit is SO COOL), so I guess it wasn't too bad of a weekend after all.
When it comes to the winter months, I'm always guilty of hunkering down inside on these ice cold weekends, but I can't tell you how good it feels to wake up and get shit done. Even if that just means a quick Trader Joe's run. Recently, I realized how many of my college weekends were wasted in bed and not exploring the city of Boston. While yes, there was studying to be done and zero to nothing in the bank account, I can't believe how little of the city I experienced in the four years that I was there. Ever since realizing that, I've made a conscious effort to get out of my little studio apartment more often to experience this amazing city that I live in. When you are getting out more often and into these chilly temps, it is hard to dress both warm and well. I hope this gives you a little bit of inspiration.
What I'm Wearing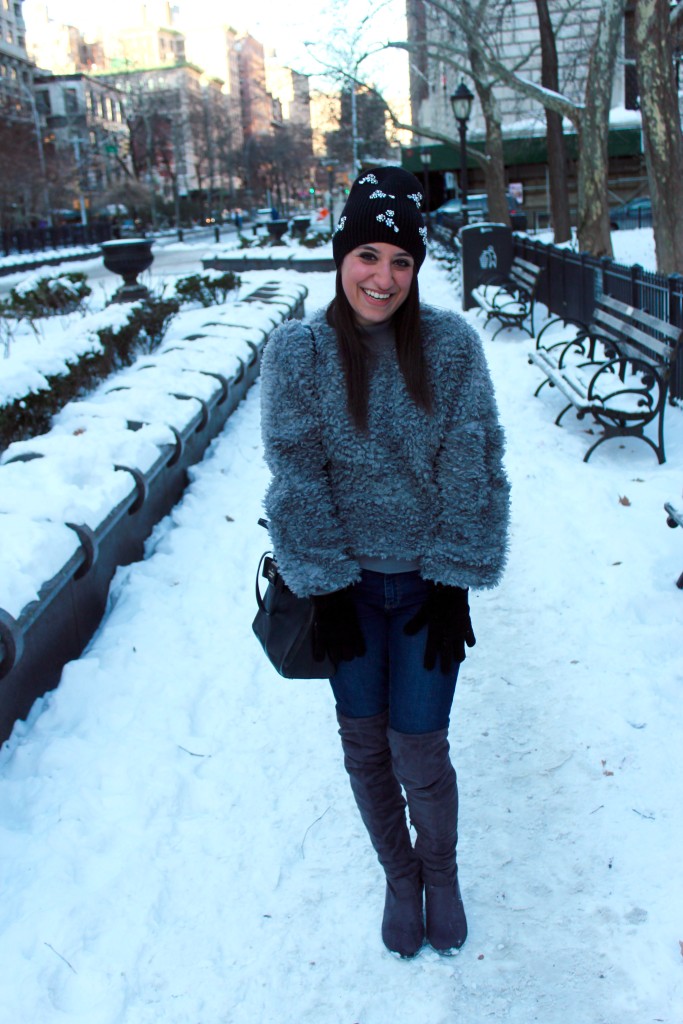 Sweater (Romwe) | Jeans (Gap) | Boots (Amazon) | Bag (Kate Spade) | Hat (Bloomingdales)
Honestly, there is so many things that I love about this outfit that I don't even know where to start. From this amazingly cozy sweater to the iconic over-the-knee boots, this ensemble really an example of sweater weather perfection.
BUT IF I HAVE TO START SOMEWHERE, let's start from the top with this overly bedazzled beanie from Bloomingdales. Unfortunately, I don't think they have it in black anymore, but the red is just as gorgeous. I don't usually wear beanies because I think I have an awkward shaped head (might be because Tom says I look like Marge Simpson in a beanie 😂), but as soon as I saw this baby, I knew I had to have it. Since we all wear a lot of black during the winter, this hat acts as a perfect statement piece to jazz up your winter ensemble.
Regardless, a hat is the number one necessity for a warm and stylish outfits for these winter months. It is crazy, how much heat escapes your body via your head, so why not keep it in with a fashionable beanie?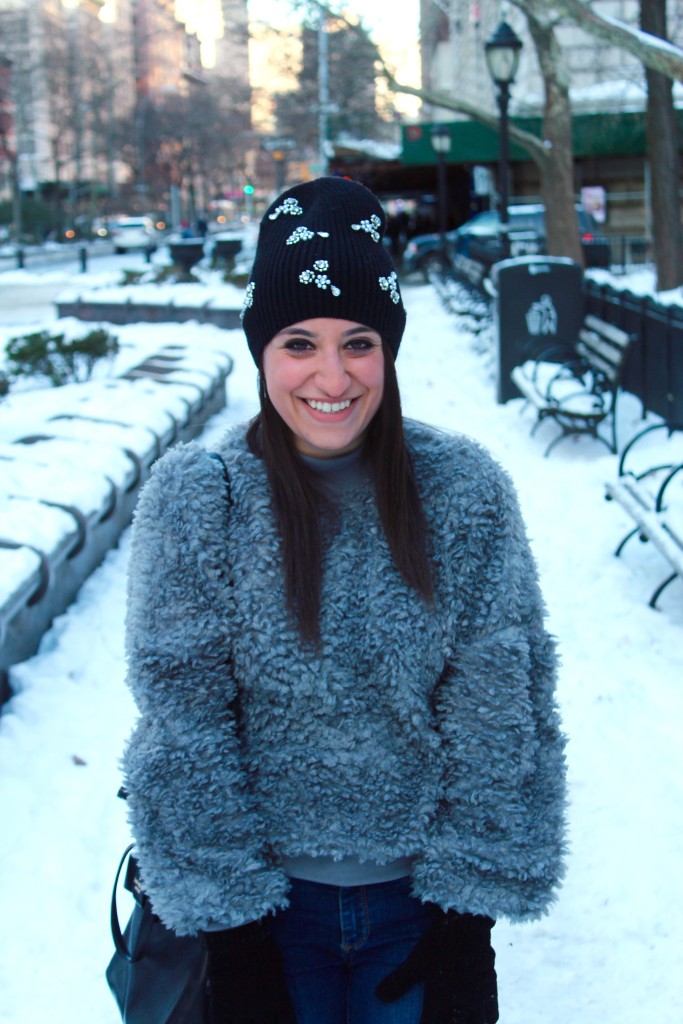 Okay, so now moving on to this amazingly cozy sweater. It is actually so cozy that I wore it TWICE this week. 🙈🙈🙈  If you haven't noticed, It has been ridiculously cold EVERYWHERE, so I needed the warmest thing possible.
I seriously envy all of you ladies who can wear sweater dresses or skirts during the winter, because I just can't take it. I go straight to my sweater drawer all season long, they are super easy to pair with jeans or leggings and definitely the warmest option if you are walking during your commute to work. Recently, I've added a ton of Romwe sweaters to the closet to expand my options each morning. And when I say a ton, I really mean A TON. Romwe's prices are undeniably unbeatable so I stock up each season. I should also mention how Romwe isn't like other low-priced retailers, each sweater, dress, skirt, t-shirt, etc. is impeccable quality and has lasted me multiple seasons.
Not only am I obsessed with the plush texture of this sweater, but I'm also loving the grey slate hue. This time around, I paired it with some black neutrals, but I'm also looking forward to pairing it with some blushes and navys in the near future. Let's be real, I'll probably wear it for a third time in the next week. Also! Obsessed with the fact that this sweater is only $14.99 and actually comes in Pink, too!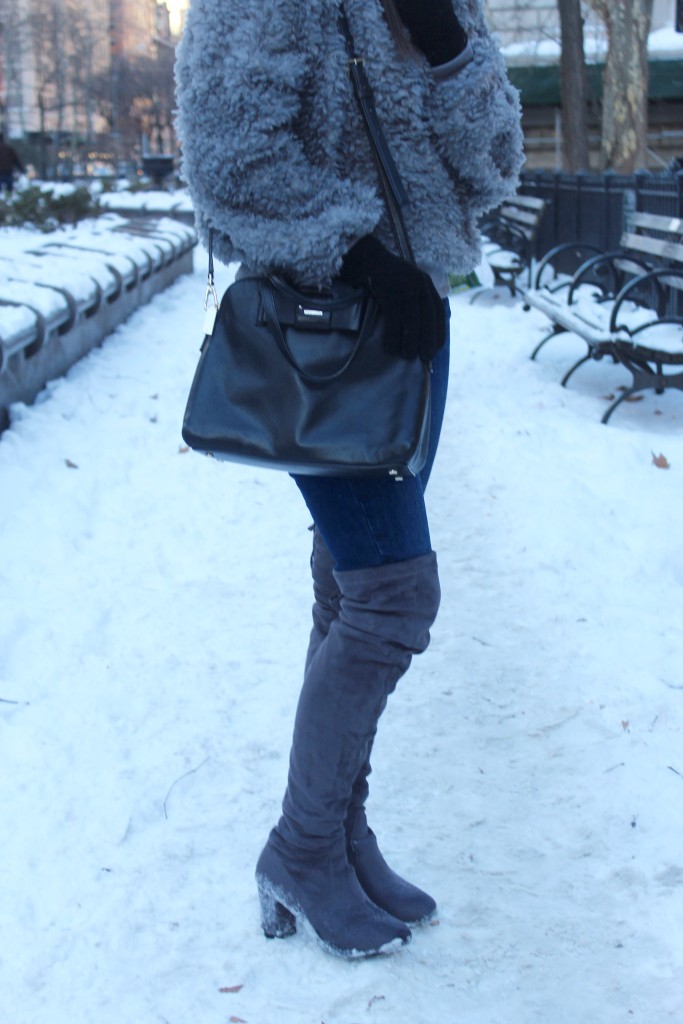 Guys…your mind is about to be BLOWN! Okay, so there are two things that are so crazy that I haven't really wrapped my head around yet. FIRSTLY, Tom gave me these gorgeous pair of over-the-knee boots for Christmas without me even hinting that I wanted a pair in this exact color. He picked them out all on his own! Seriously, SO PROUD!! SECONDLY, he bought them on Amazon and they look pretty identical to these Stewart Weitzman, just a lot more affordable and realistic for basically anyone who needs to walk anywhere….so basically anyone. While they definitely aren't the best option for the snow (I'm a bean boot girl through and through!), but since they aren't too costly you can wear them in the snow guilt-free.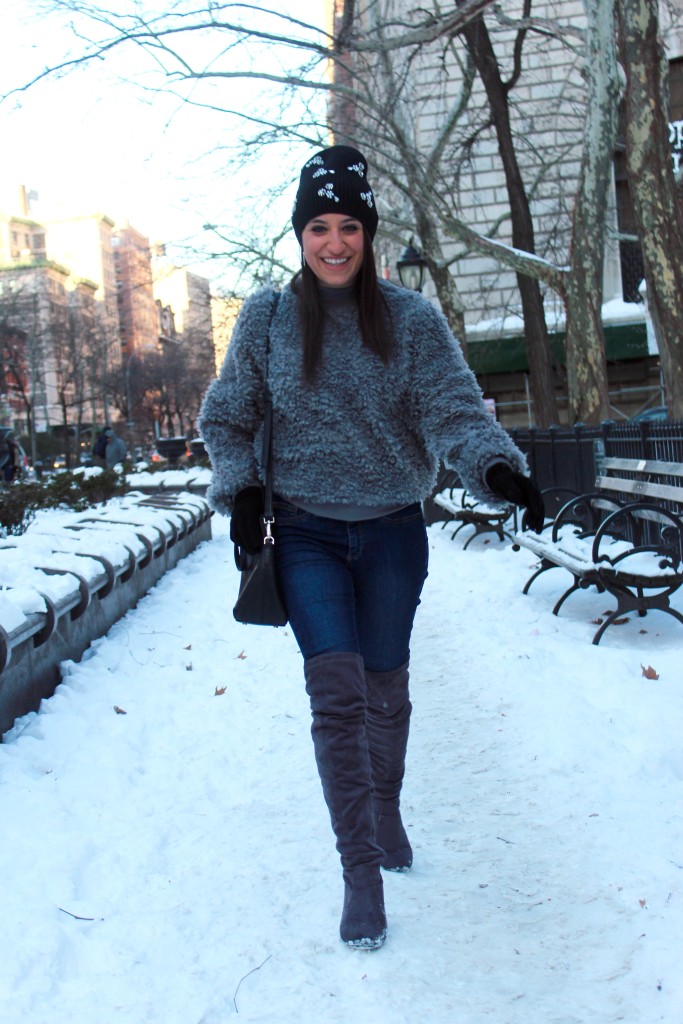 We all know that it is incredibly hard to dress well and warm in the winter, so help a sista out and leave your style inspo in the comments!