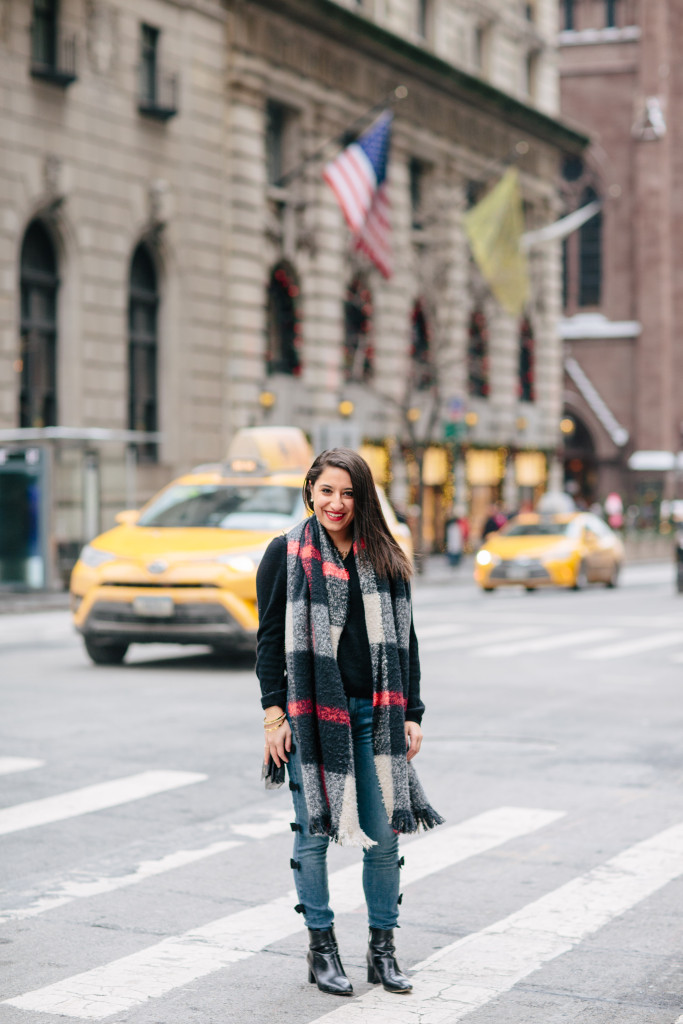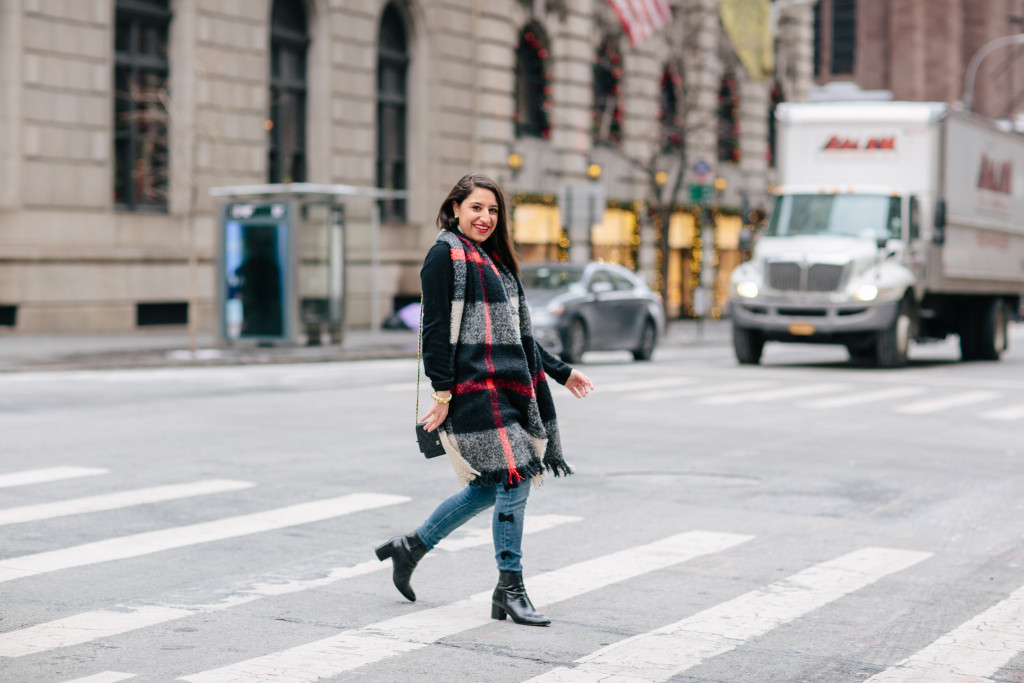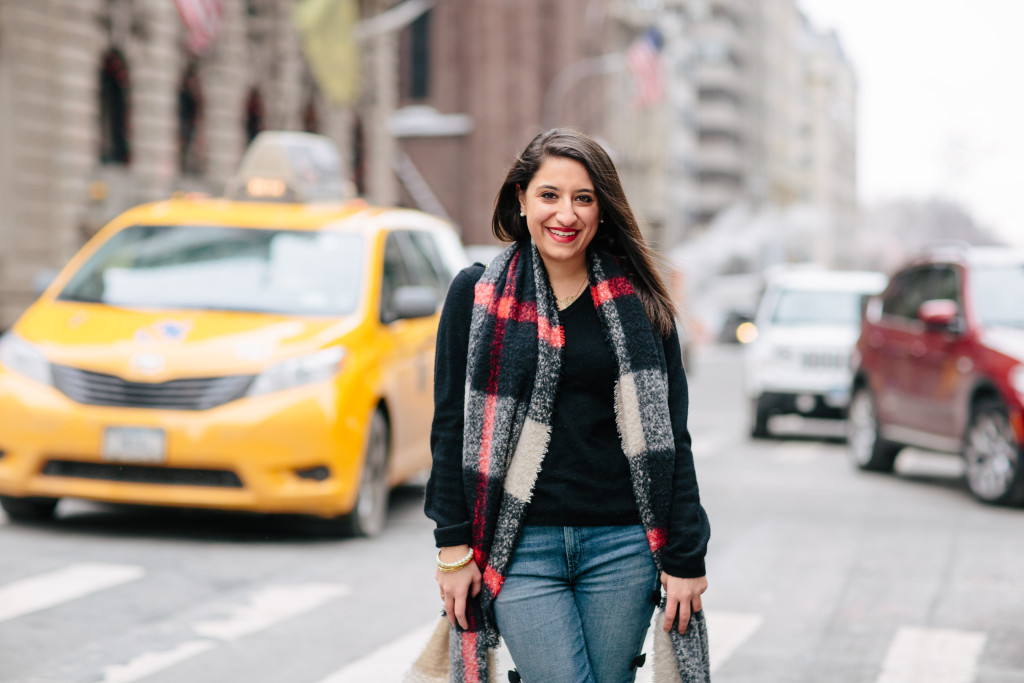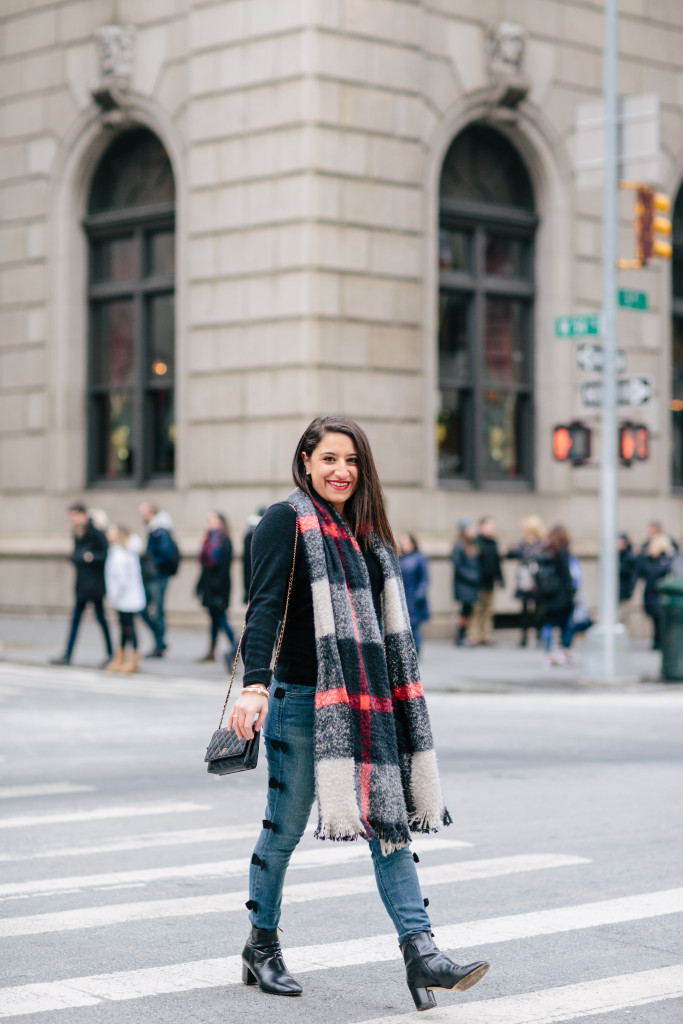 Sweater (Macy's) ON SALE! | Jeans (Anthropologie) | Booties (J.Crew)
Scarf (ThePreppyMAG Boutique) | Bag (Chanel) | Bracelet (Tory Burch)
Hello! Did ya miss me?! Sorry for the silence the past few days while I was celebrating Christmas with my family. If I'm being honest, I intended to get back to blogging yesterday, but my body (& mind) needed some major recharging. Is anyone else majorly exhausted after Christmas?! It is like all of the excitement and festivities finally catch up with you.
Lucky for me, I'll be headed up to Vermont for some rest and relaxation before headed back to the city after the new year. My family (I'm talking my whole 21-person extended family) always heads up to Vermont this week to ring in the new year together. Growing up I was always bummed that I was missing out on NYE with my friends, now it is definitely one of my favorite holiday traditions.
And by the looks of the weather it looks like we'll be spending A LOT of time together. As of now, it is supposed to be below 0 degrees every single day we are there. I'm hoping we get a few hours of skiing each day, but one thing I know for sure is that I'll be wearing my favorite scarfs from ThePreppyMAG Boutique. The one featured here is called 'What You're Wearing To The Park' and was a best seller this holiday season, but we also just restocked in 'What You're Wearing Ice Skating' and 'What You're Wearing Window Shopping.' 
What I'm Wearing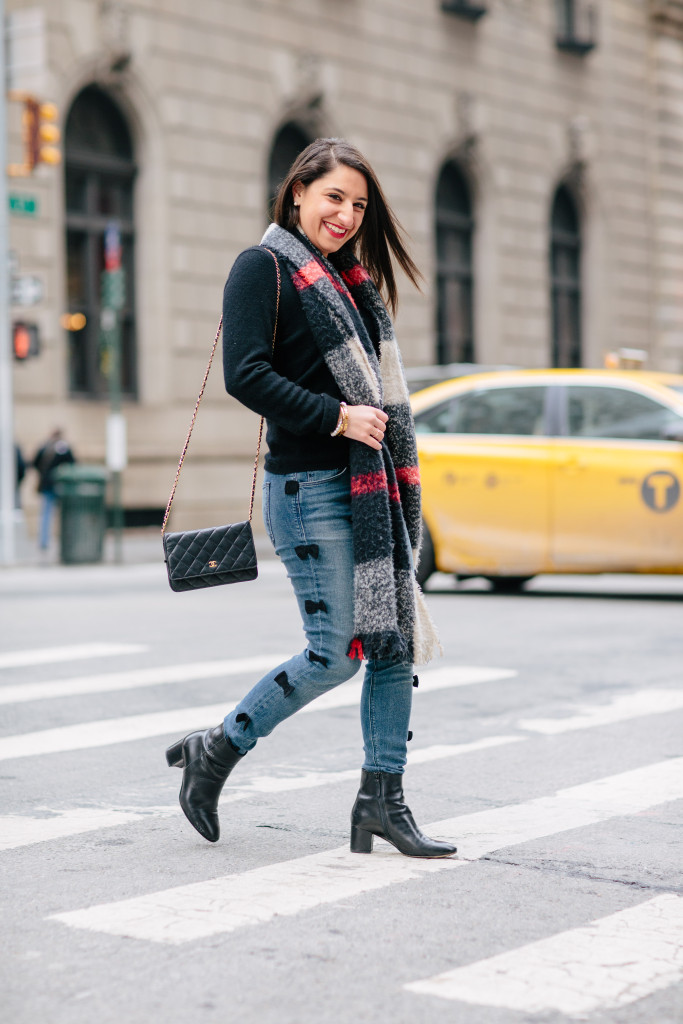 Sweater (Macy's) ON SALE! | Jeans (Anthropologie) | Booties (J.Crew)
Scarf (ThePreppyMAG Boutique) | Bag (Chanel) | Bracelet (Tory Burch)
Guys, how obsessed are you with these jeans?! As soon as I saw them, I knew I had to have them in my closet. And boy, have I worn them to DEATH. They are the perfect addition to any prep-perfect wardrobe. First and foremost, they are super comfortable. In my opinion, they run true-to-size, but definitely have some stretch in them just where you need it.
These simple and sweet bow details are absolutely perfect with a simple black sweater like I'm wearing here or a more embellished blouse like this one. Personally, I like to keep it simple when I have something a little over-the-top like these jeans.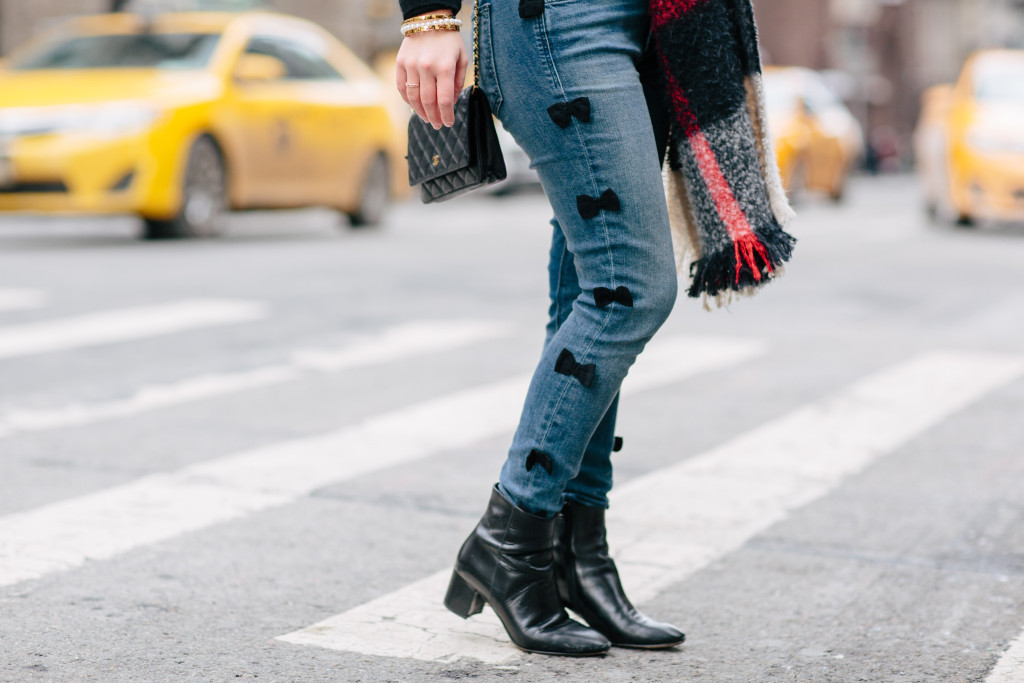 I don't know about you, but I think New York City may be rubbing off on me with my all-black-everything accessorizing (minus my scarf). Since moving to New York, I cannot tell you how much use I get out of my black booties and bag. They have definitely become everyday staples (but, don't worry I'll brighten up come summer).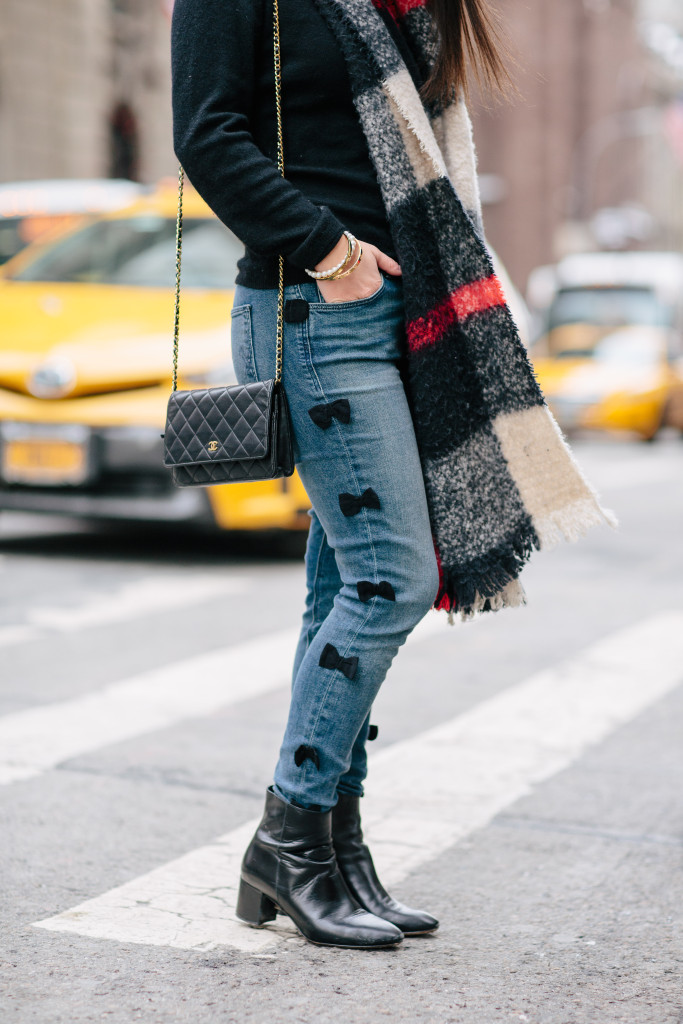 To tie this outfit all together, I threw on my 'What You're Wearing To The Park' scarf from ThePreppyMAG Boutique. Not only did this scarf already sell out once (don't worry, we restocked), but it has also been a go-to of mine all season long. It was perfect for the Christmas season, but I fully intend on wearing it throughout the winter season.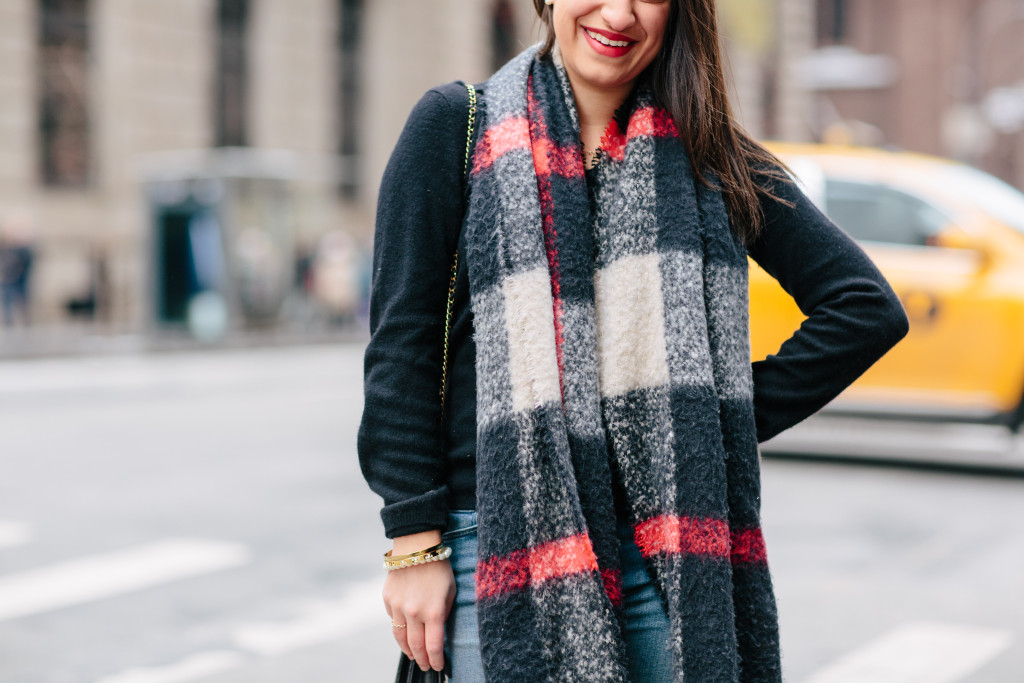 I may be biased, but this is hands-down the most comfortable and softest scarf I own. I'd be lying if I don't use it as a blanket every so often. 🙈  I may have selfishly added two more styles to the boutique, just so I could add more softness to my collection. Buy your own HERE.