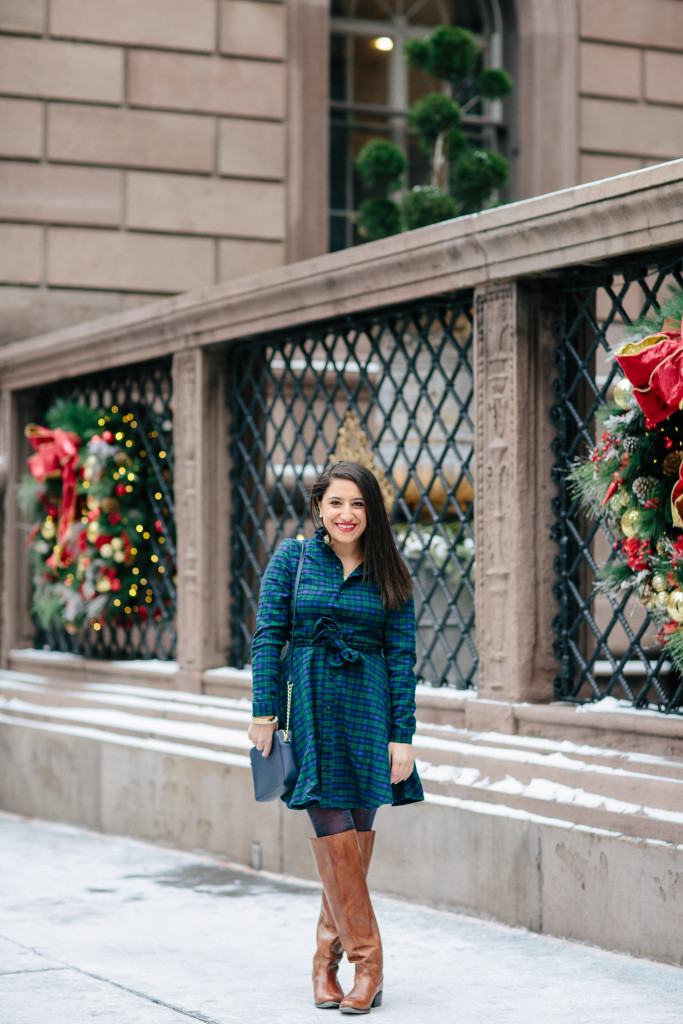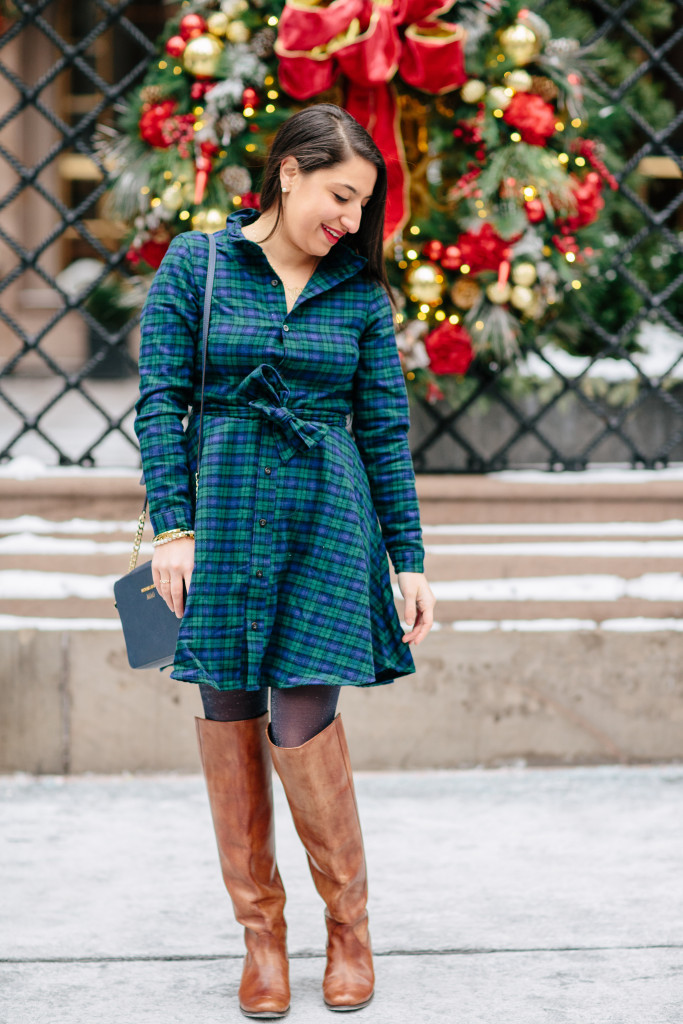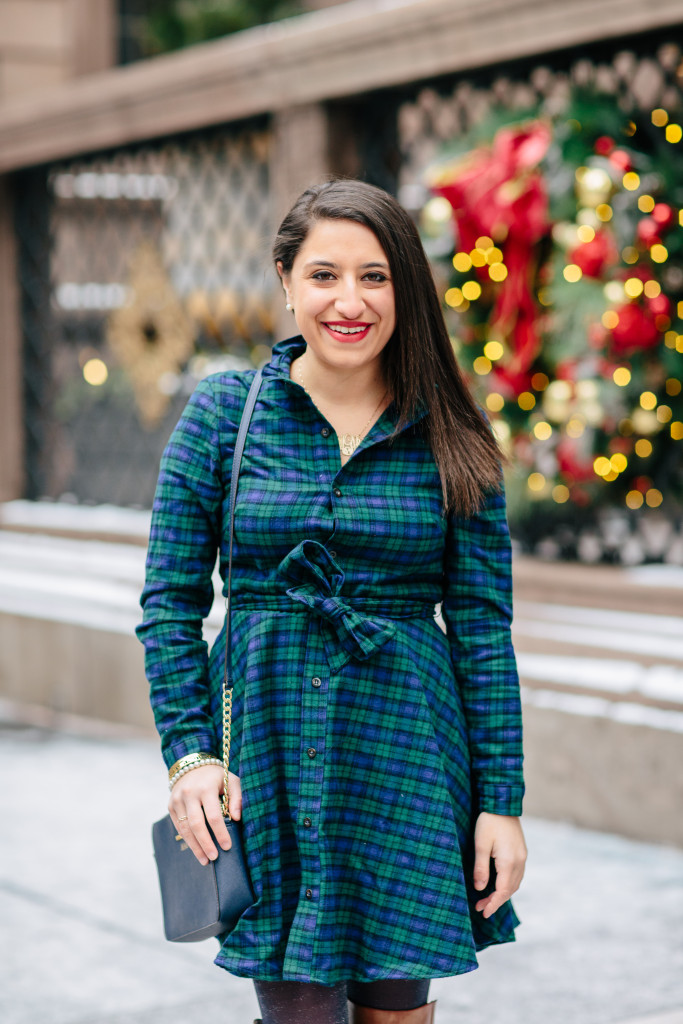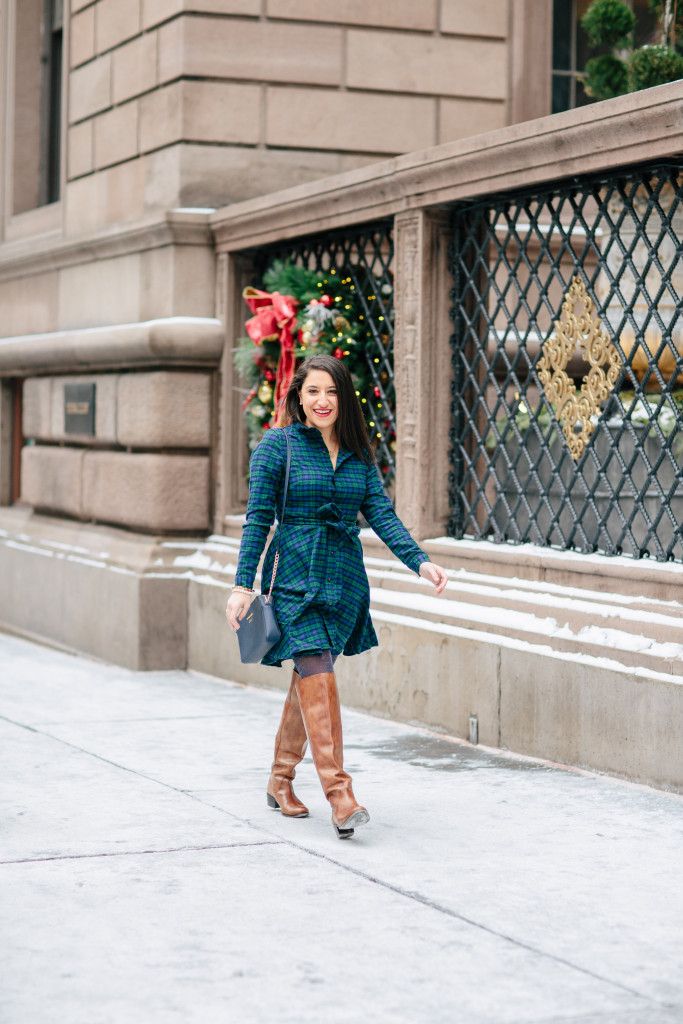 Dress (KJP) | Tights (Anthropologie) | Boots (DSW) | Bag (Michael Kors)
Happy Friday!! I can't believe the last work week of 2017 it here! I seriously never thought we would get here, but after all of the long-nights, hard work and accomplishments it feels kinda good. For the first time, I feel like the next week of vacation is deserved. So, if you are looking for me after today at 3p, I'll be watching Netflix on my couch in my pajamas.
Tonight I'll officially head home for the holiday season and while I'm VERY excited to spend time with my family and be in my parent's home, it feels kinda weird to be leaving my little apartment for a whole week.
I was just telling Tom the other day that this is the first year that New York City started to feel like my home. Even though I've lived here for three years and I grew up right on Long Island, New York City always felt temporary. I would go home on the weekends all of the time and my apartment never really felt like a home. Now, all of that has changed. I have friends who I met here and who are keeping me here. I have my favorite coffee shops. My doormen feel like family and I think my apartment is the cutest most comfortable place in the world. In fact, I purposely made no plans this week so I can spend a little extra time taking in my apartment's Christmas decorations.
I think it is easy for people to visit New York City and think it is cold, fast and dirty. In my mind, this beautiful place is home.
What I'm Wearing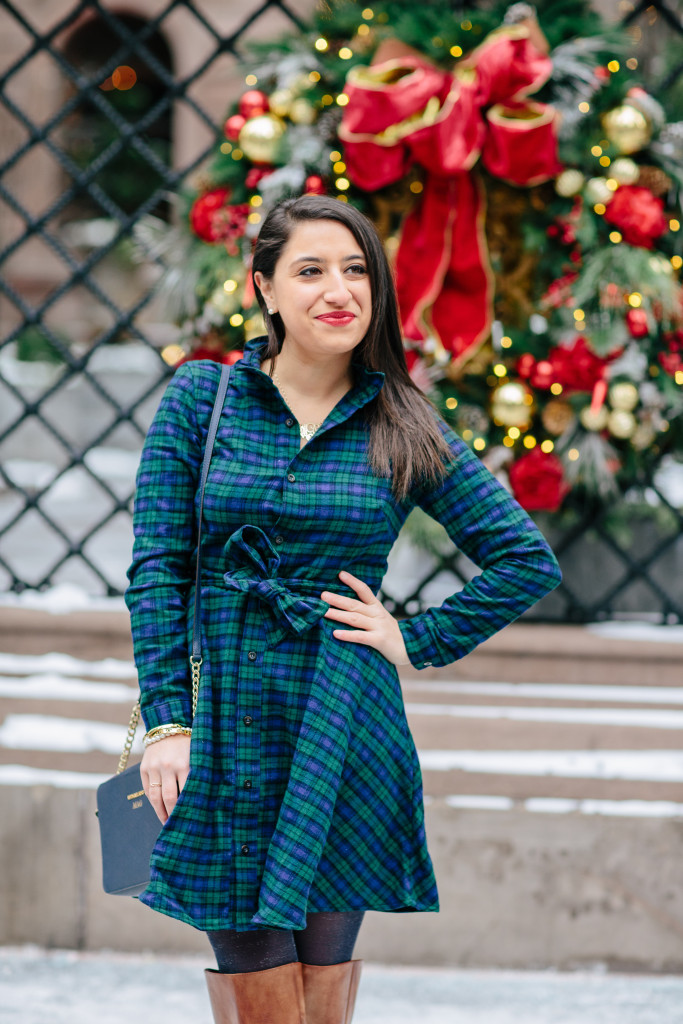 Dress (KJP) | Tights (Anthropologie) | Boots (DSW) | Bag (Michael Kors)
Just like home, this KPJ flannel dress is super comfortable and surprisingly warm for this time of year. Of course, as soon as they launched this collection I bought this dress in all three styles because I was so obsessed. See here and here for the other colors. All are equally beautiful, but what I love about this one is how versatile the colors and pattern are. In this setting it is perfect for the holiday season, but as we move into January this is totally winter appropriate. Making it the perfect companion for me to bring up to Vermont with me. In fact, I wore this guy out in Breckenridge, Colorado earlier this month. 
All colors and patterns aside, I found this dress extremely flattering. I was a little worried about ordering a small, but it was the perfect length, sleeves are perfectly tapered and it fits perfectly with my curves. The one thing I will mention, is that the bust was a little snug on me. If you have bigger boobs than (aka most people), I'd recommend sizing up. 😉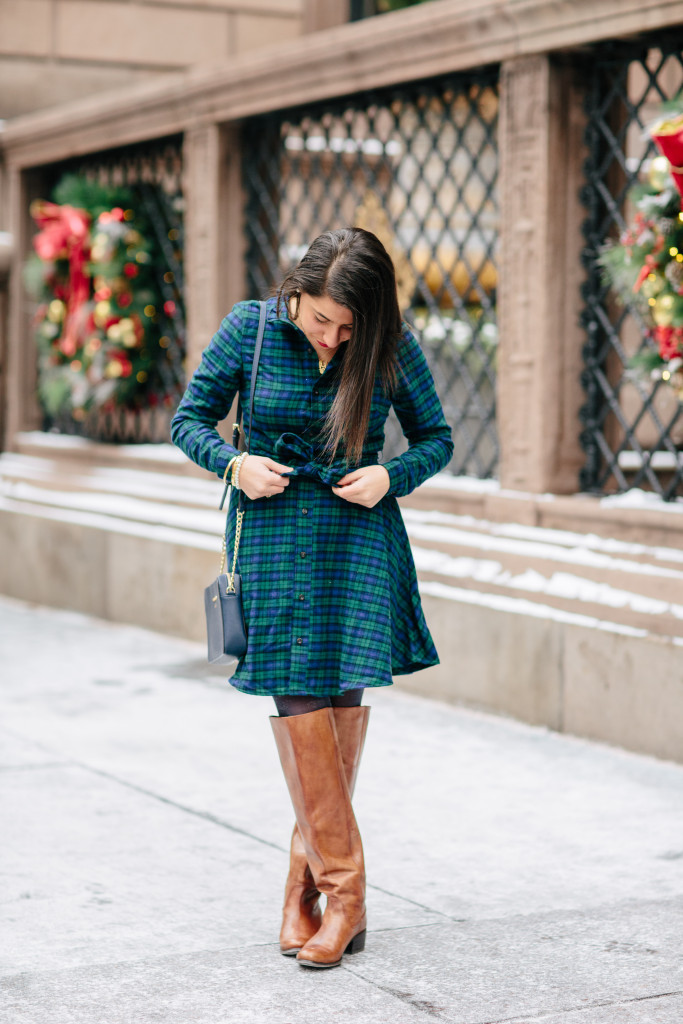 Ya'll know I'm obsessed with a well-placed-bow, which was an immediate draw for me (along with the ruffled collar 😍). The tie on this dress is the perfect length to tie a reasonable size bow without feeling over the top or childish.
Let's talk about these accessories. Navy is basically my neutral all year long, so I knew this was going to be an easy dress to pull together in a snap. Firstly, my Michael Kors monogramed crossbody is a must-have for navy lovers. I can't tell you how many times I've grabbed it over the last year. At least a thousand times, but just estimating! 😂  To match my navy obsession, I found these holiday-ready sparkle tights as a little surprise under my dress. You can barely tell they are there, but when I walk or twirl in a certain way passerby get a glimpse of holiday sparkle. I have a feeling these too will be a repeat offender.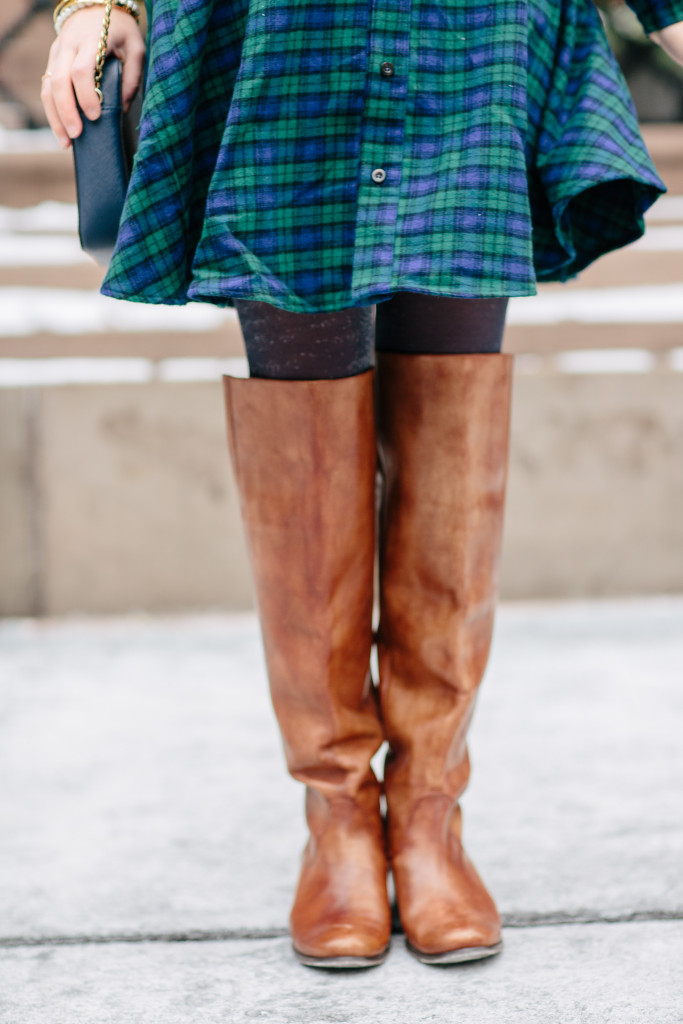 When it comes to shoes, I already know that I will wearing this dress with my Bean Boots most of the time. It is really the only acceptable pair of shoes to wear up in Vermont. BUT, since I was still in NYC, I threw on a pair of DSW riding boots that lighten  up the ensemble and gave it a bit of an equestrian causal look. Definitely something I could get behind.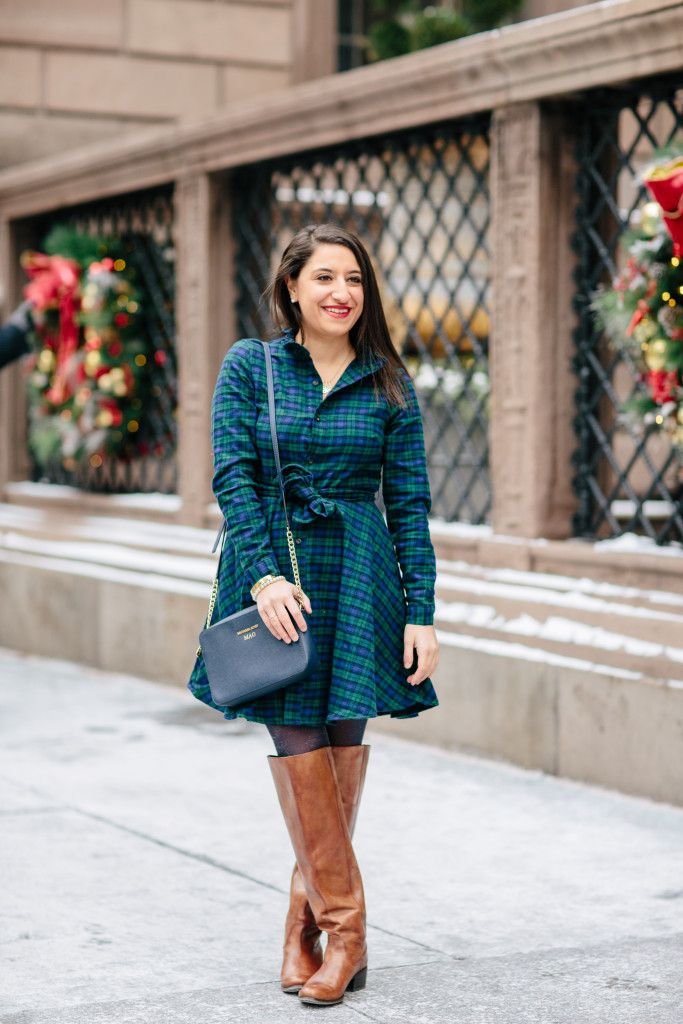 I hope all of you have a very happy holiday over the next few days and enjoy some time off with friends and family. I'll be covering my festivities and travels over on Instagram, so be sure to follow along there to get your daily dose of ThePreppyMAG!