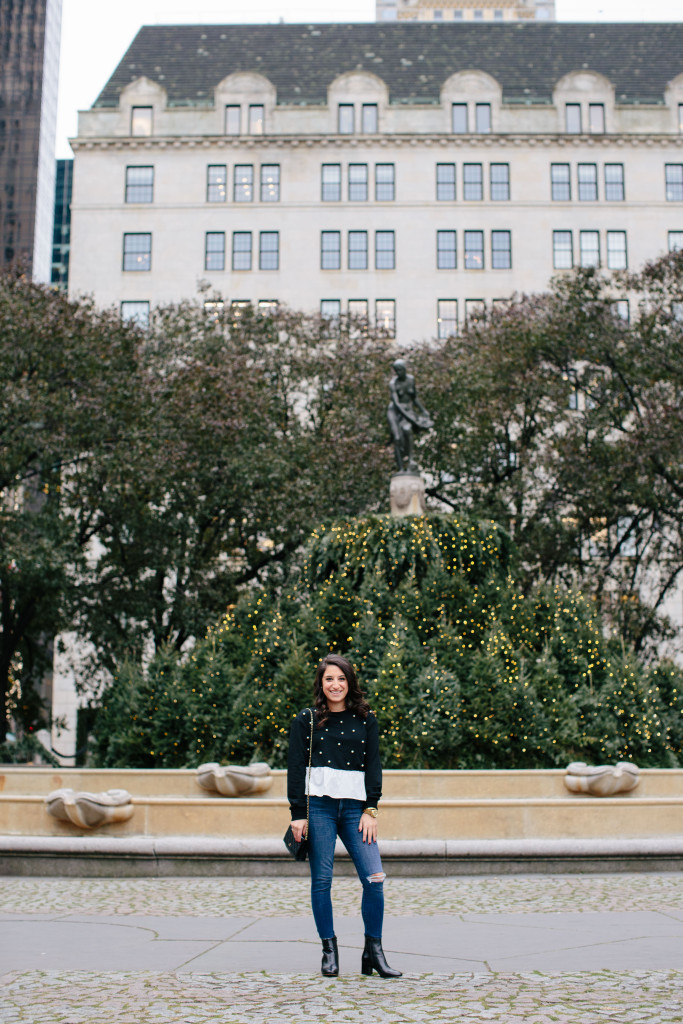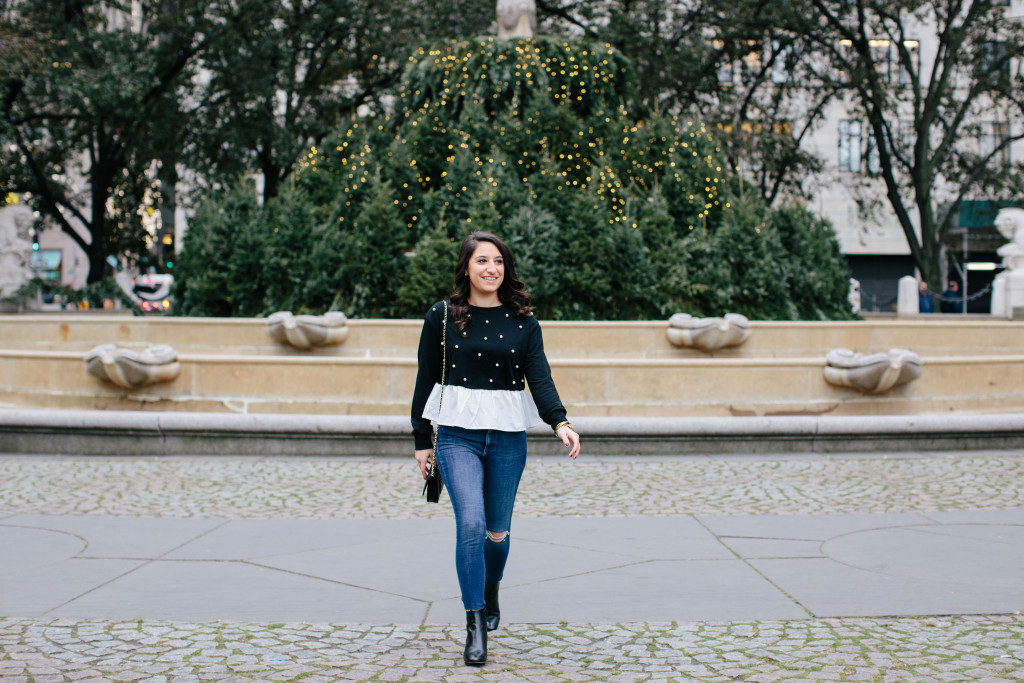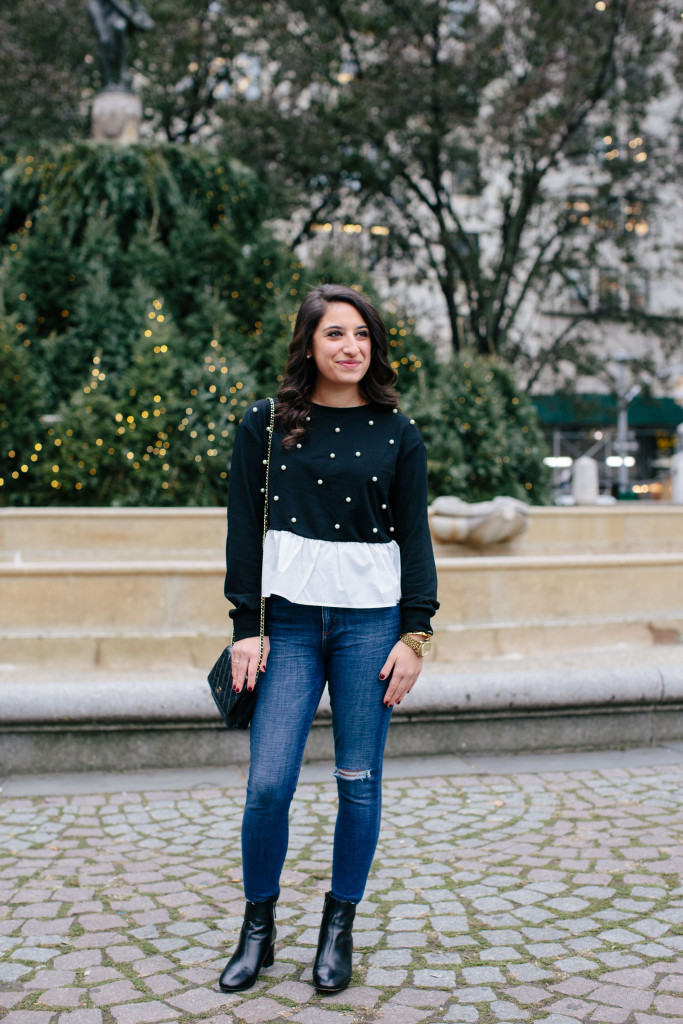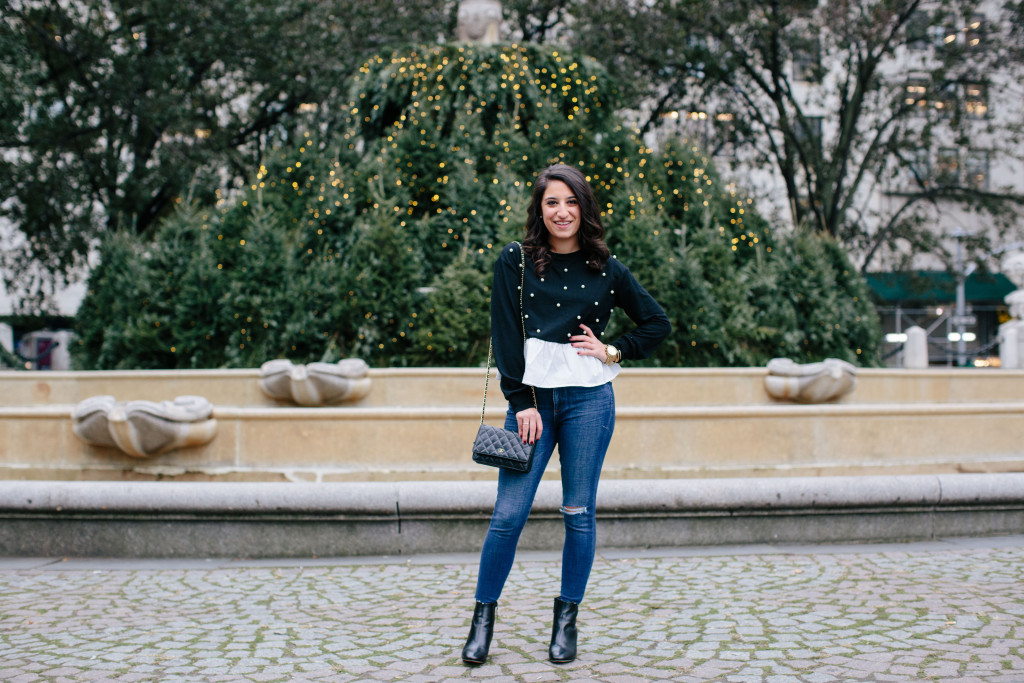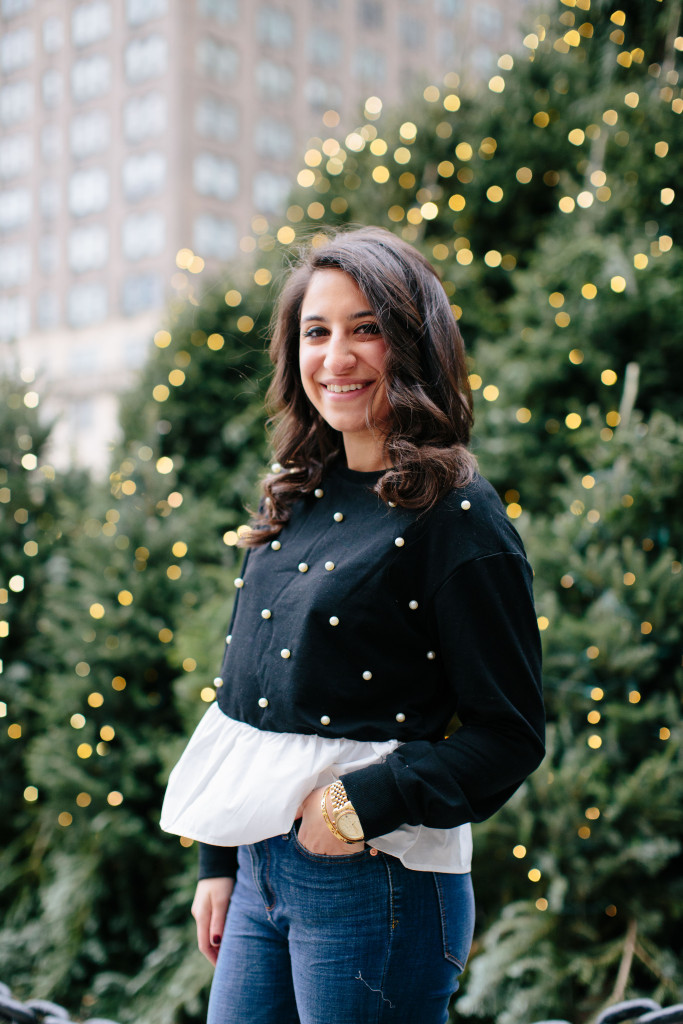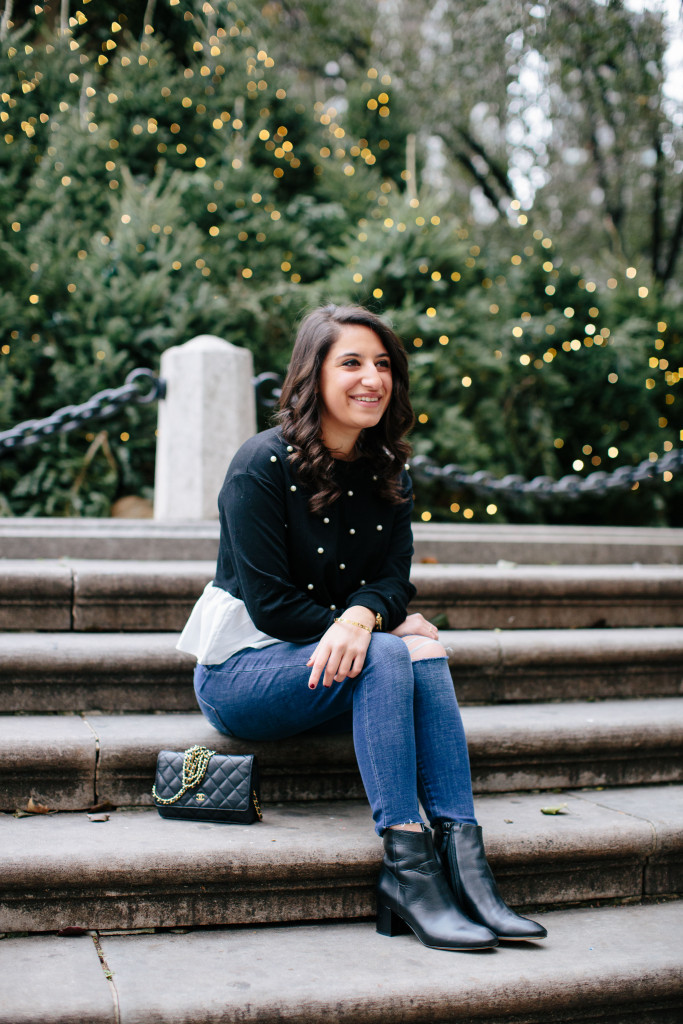 Top (ThePreppyMAG Boutique) | Jeans (Gap) ON SALE! | Booties (J.Crew) | Bag (Chanel)
Hello, hello! Does anyone else feel like we've already been back to work for a week?! Woof! Luckily, I have such a great team at my day job that going back to work is the least stressful part of getting back in the swing of things. It's the pressure to workout, get those christmas decorations up and social gatherings that got me skimping on the sleep. Regardless, these are all amazing things, so I really don't have anything to complain about.
Today also wraps up almost a week-long marathon of sales and spending with the best day of them all. Giving Tuesday! As many of you know, I have specific charities (the Alzheimer's' Association and the Leukemia & Lymphoma Society) that I hold very close to my heart for various reasons. Today, you can donate to these causes (or those that are important to you) in numerous ways. As always, the best way to contribute is by going directly to the cause's website. However, if you are looking to hit two birds at once you can hit up smile.amazon.com, which allows you to shop all of Amazon's website with a percentage of your purchase going to the charity of your choice.
What I'm Wearing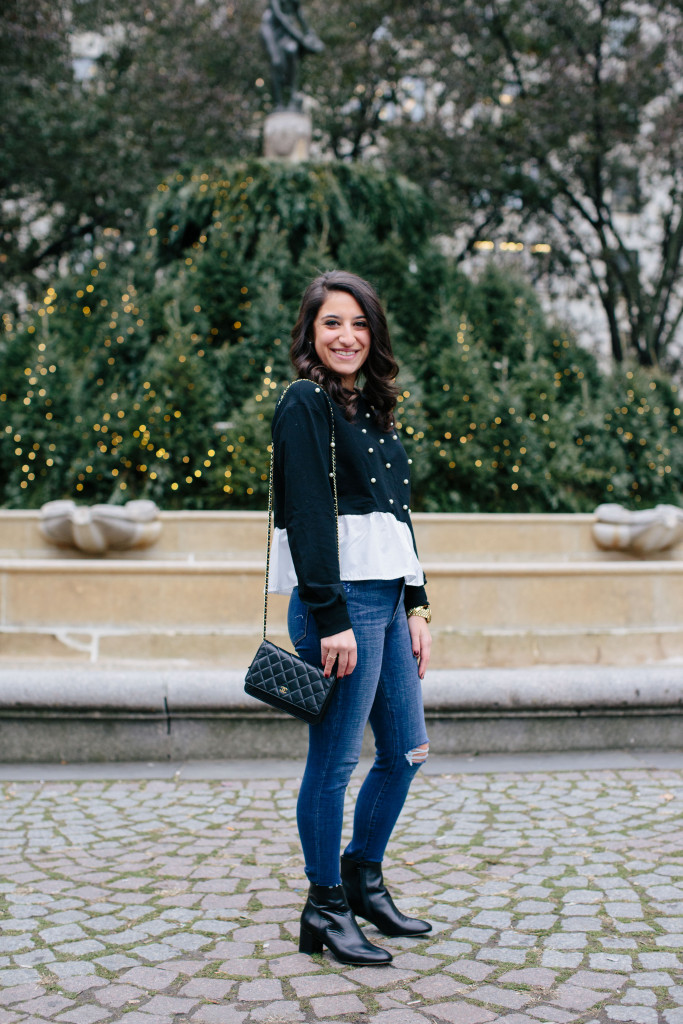 Top (ThePreppyMAG Boutique) | Jeans (Gap) ON SALE! | Booties (J.Crew) | Bag (Chanel)
I know I keep saying this, but this top may ACTUALLY be my favorite of the collection. It is incredibly comfortable and is nice enough to wear to work without worrying about a thing. Besides for the fact that I definitely have a thing for studded pearls this season (see here and here ☺️), the peplum style of this shirt makes it super flattering. It falls perfectly with a pair of high-rise jeans (personally love how the crop shows off your curves a bit), but totally works with a pair of normal jeans as well.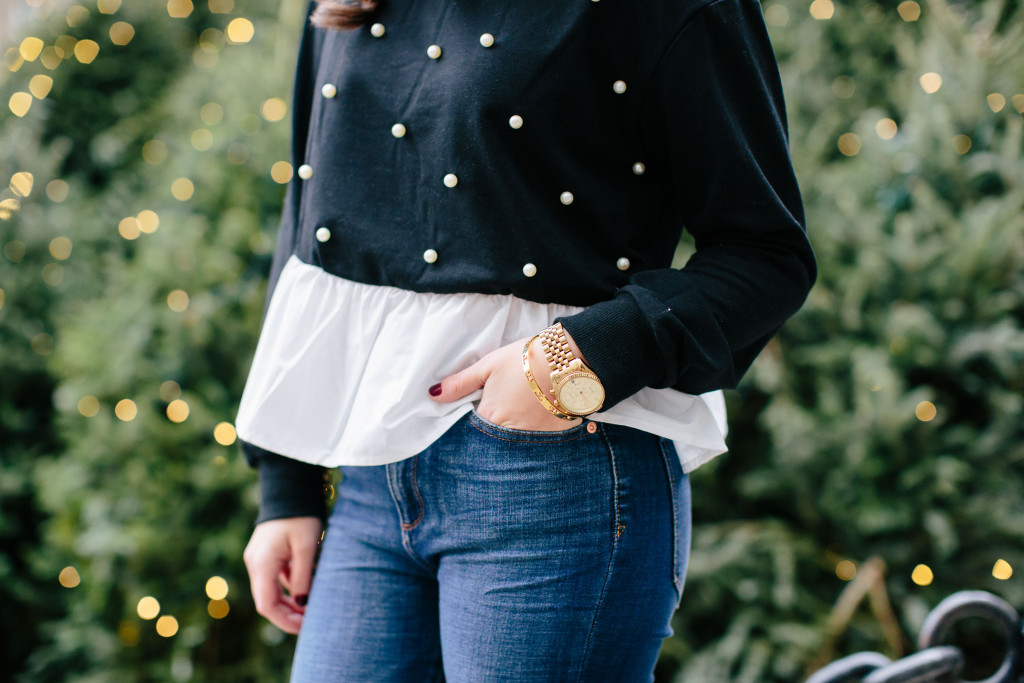 Of course, I spiced up this outfit in classic New Yorker fashion…all-black-everything. My favorite black Chanel bag is seriously an extension of me. I wear it with the fanciest of outfits, but also with leggings and a sweatshirt to brunch (go ahead, judge me). If you are looking to invest in your first (or maybe second or third), I would 100% recommend this bag. It holds anything you can ever need and is super functional. In away, it acts more like a wallet with credit card pockets right within the bag.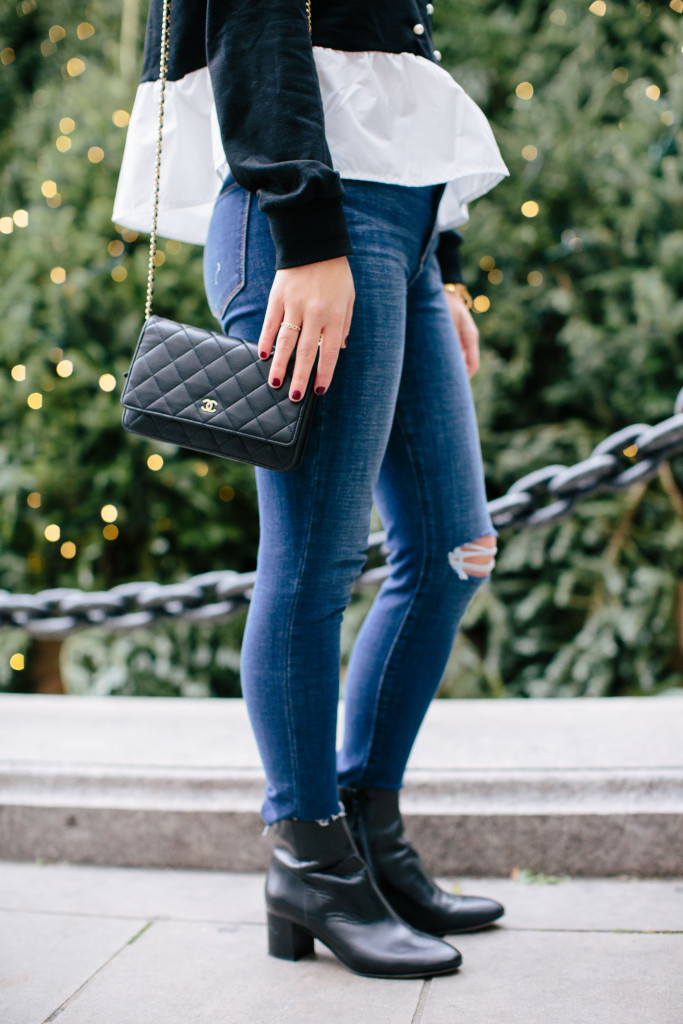 Lastly, I'm obsessed with my new black leather booties from J.Crew. I've worn them with pretty much every outfit since I got them a little over a week ago. I will say that they are taking a bit to break-in, but they whip every outfit into shape. The heel height is super appropriate for work and play and the leather seems to be super durable (*knocks on wood*). With New York's unreliable weather and uneven sidewalks, I was looking for something that would be able to get me through winter with ease and I think these will do the job well!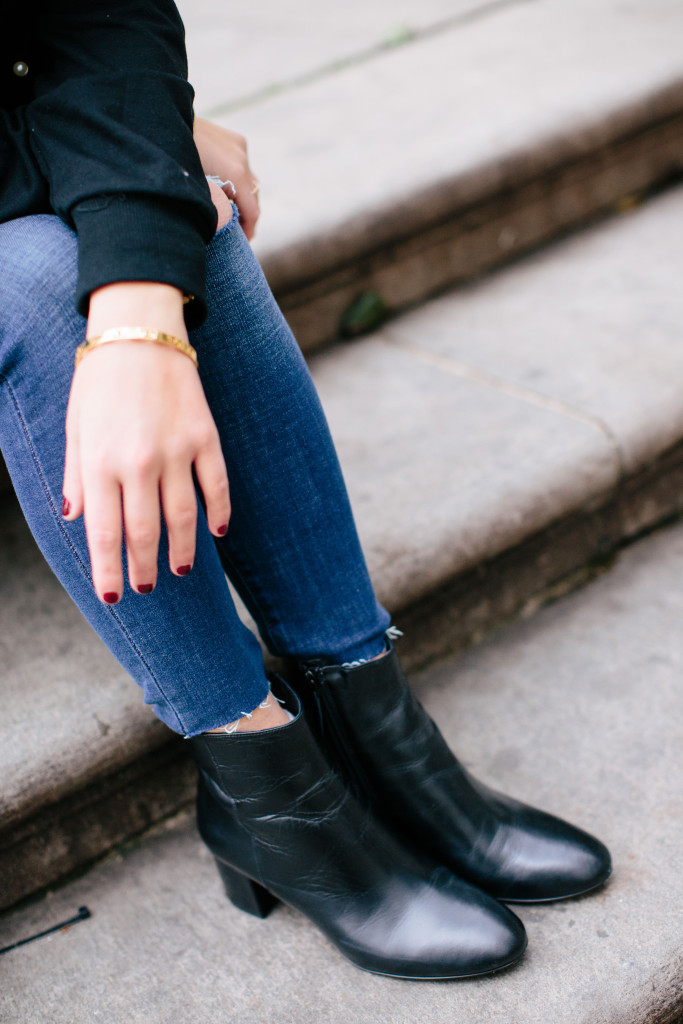 Interested in purchasing this top? Head over to ThePreppyMAG Boutique. Not sure, but have a few questions? E-mail me at thepreppymag@gmail.com or DM me on Instagram.