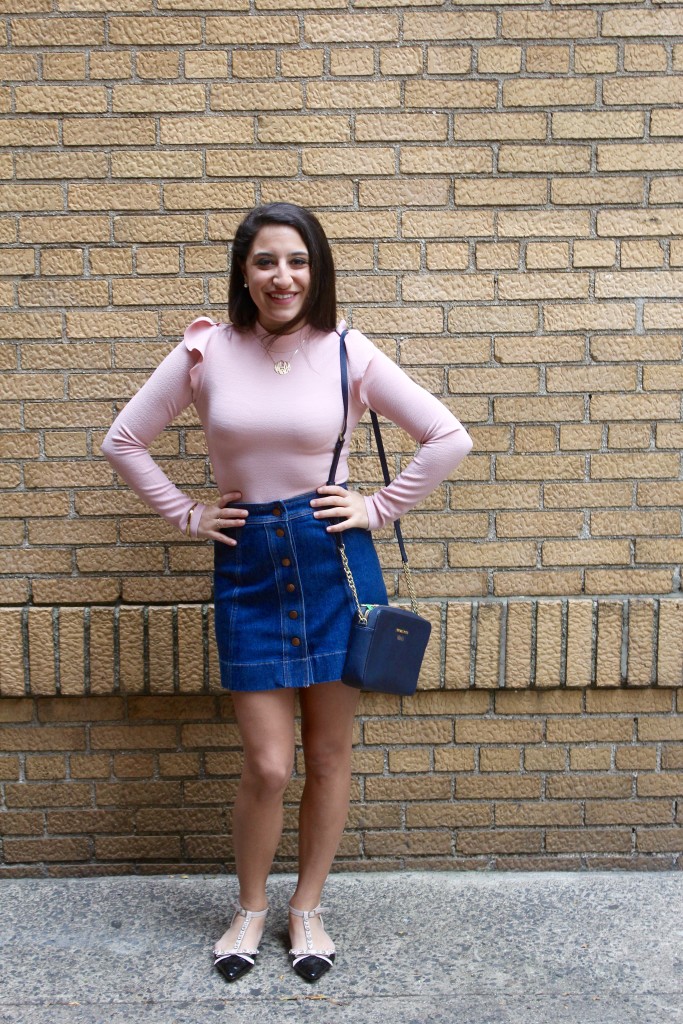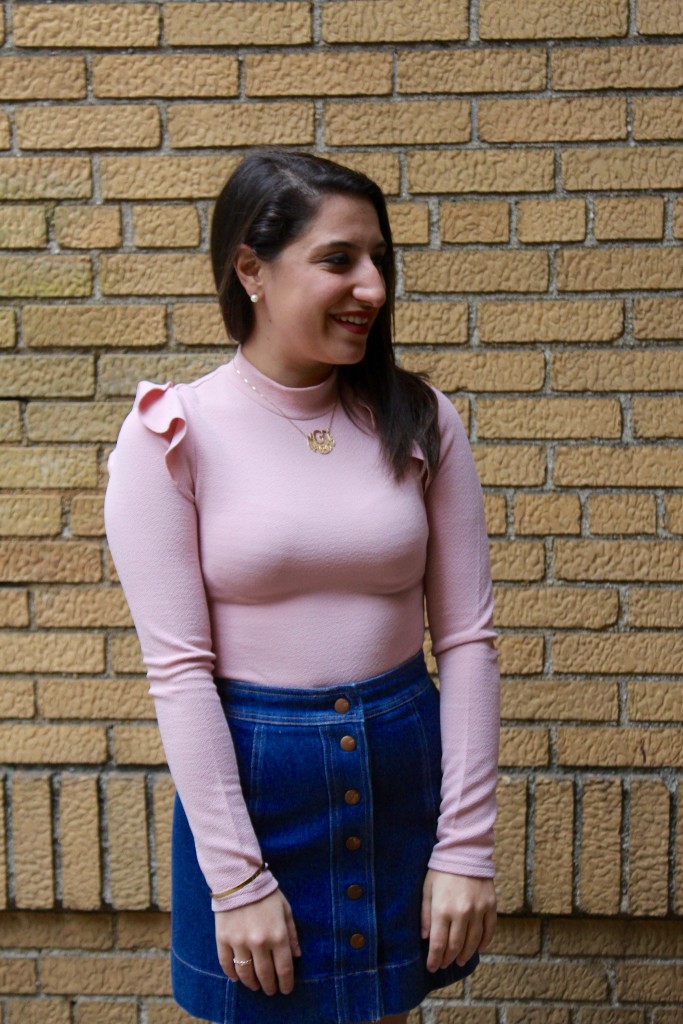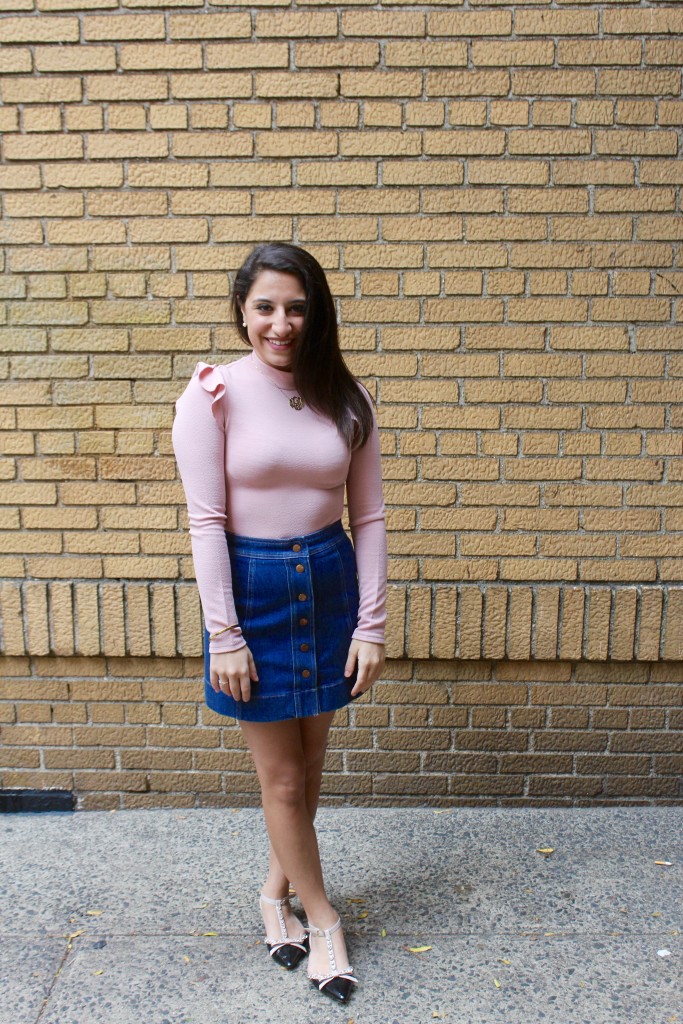 Top (Romwe) | Skirt (Madewell) | Flats (Kate Spade) |
Bracelet (Kate Spade) | Necklace (Marley Lilly)
So, It's been a minute since my last post! Things have been absolutely CRAZY, I'm talking CRAZIER than ever before, I'm SO sorry. BUT, I'm back and ready to hit the ground running with more content, more events and more blog love in general. For starters, I wanted to hear from you! What are you really looking for in ThePreppyMAG?! Is it style inspiration, NYC recommendations, travel guides, or just general life updates? Now that I feel like I'm starting from scratch (again ?), I want to make sure my content is feeling as customized to my readers as possible.
What I'm Wearing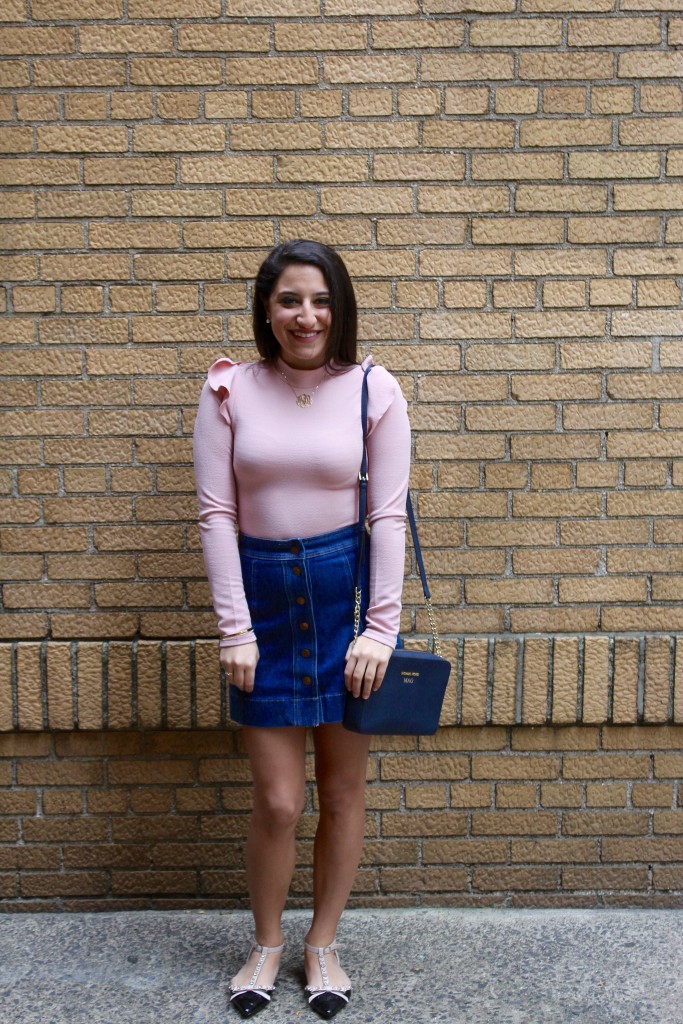 Top (Romwe) | Skirt (Madewell) | Flats (Kate Spade) |
Bracelet (Kate Spade) | Necklace (Marley Lilly)
 I'm so excited to kick things back off with this feminine and preppy ensemble. Romwe sent me this bodysuit a few weeks ago and I could not be more OBSESSED! I've already worn it twice this Fall. Once with this denim skirt from Madewell and another with a pair of high-waisted jeans.
Overall, I already know this is going to be a wardrobe go-to. Not only is it perfect for the transitioning seasons, but I'm also excited to wear it throughout the winter and even into the Spring. There is nothing I love more than a piece that can be worn for almost the entire year! This isn't the only reason this piece is perfect for my wardrobe. I also love how girly and preppy it is.
While the ruffles are subtle, it still acts as a killer statement piece if you are looking for one. Now, what you really want to know. How does it run? Honestly, I was pleasantly surprised that it runs true to size. Bodysuits can be tricky, but order the size that you are use to ordering. It is super stretchy to compensate any places that may be snug, but you don't want to risk the sleeves being too long (as you can see mine are a little baggy).
Lastly, pink & navy is my favorite color combination of ALL TIME! In addition to this denim combo, I'm already planning to pair this bodysuit with this navy tulle skirt in the future!