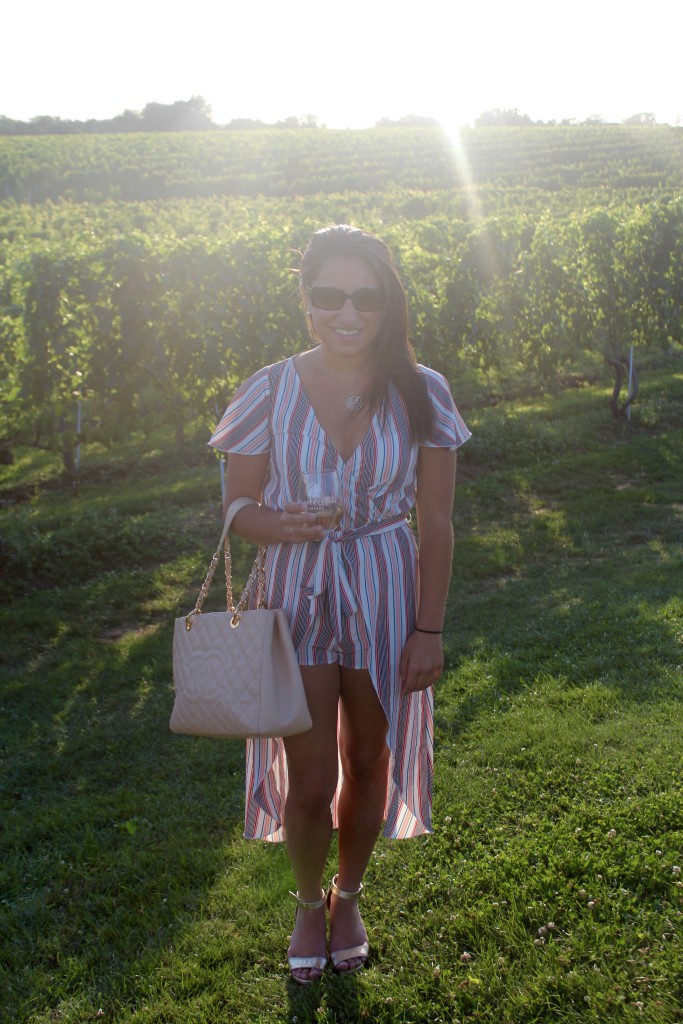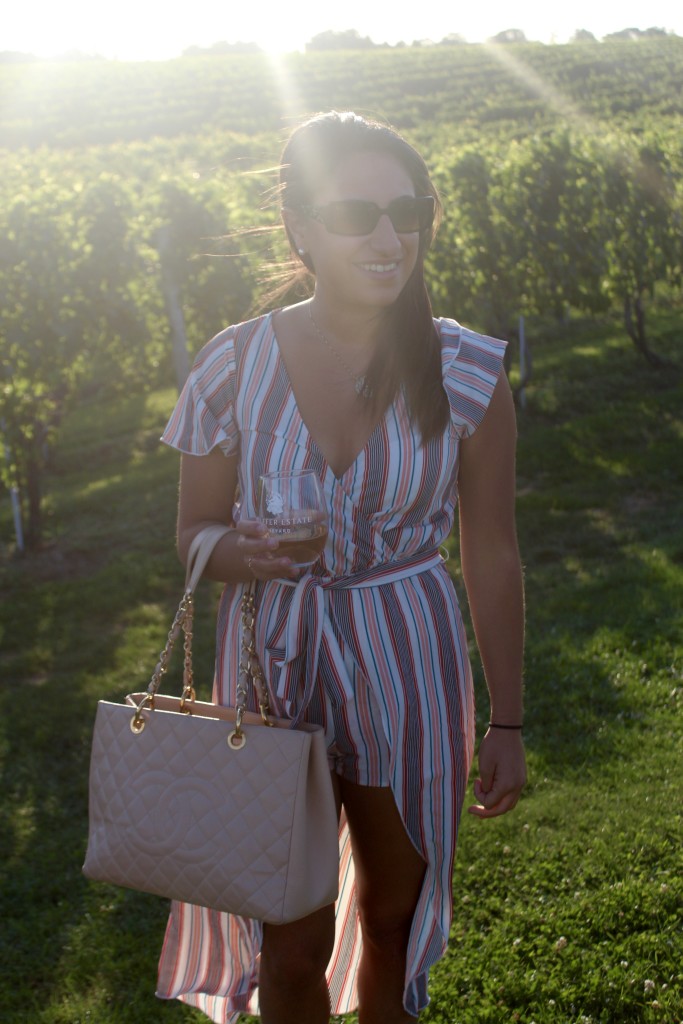 Romper (Nordstrom) SALE | Bag (Chanel) | Sunglasses (Chanel)
 Shoes (Lilly Pulitzer) Necklace (Marley Lilly)
Okay, so these photos are less than amazing, but I just had to share this outfit and the magical night we had at Wolffer Wine Stand this past weekend. So if you can get over the sun glare, keep on reading because you definitely don't want to miss out on this amazing sale!
First things first. If you haven't gotten yourself to the Wolffer Wine Stand this summer, you need to. Every time we go we have a ball and I always kick myself that we didn't go more frequently. The best time to go is around 6:30-7p (earlier if you can manage!) right before the sun is about to set in East Hampton. There is live music, unlimited Summer In A Bottle and lots of memories to be made.
This time around was more fun than usual because everyone in my immediate family is finally over 21 and free to drink at the Wine Stand! This was always something my older brother and I rubbed in my little sister's face. And before that, my older brother and Tom would rub it in my face. So this was a big moment. It was so special to be at the Wine Stand just the five us enjoying each other's company before Tiffany (my little sister) heads back to college.
What I'm Wearing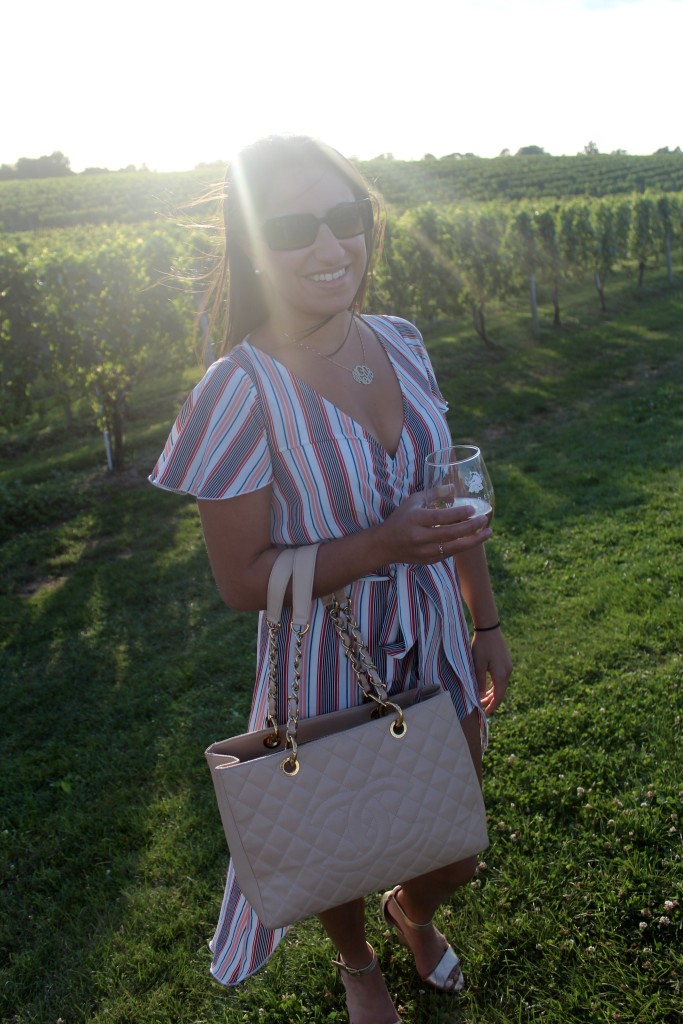 Romper (Nordstrom) SALE | Bag (Chanel) | Sunglasses (Chanel)
 Shoes (Lilly Pulitzer) Necklace (Marley Lilly)
Let's talk about this romper. You need it in your closet and the price is about to go up! It is part romper part maxi dress and is perfect for this chilly summer night. I'm not usually one to wear maxi dresses since I'm so short, but this hybrid of a dress was actually perfect. The length was just right and the shorts still showed off my legs (even though there isn't much to show ?).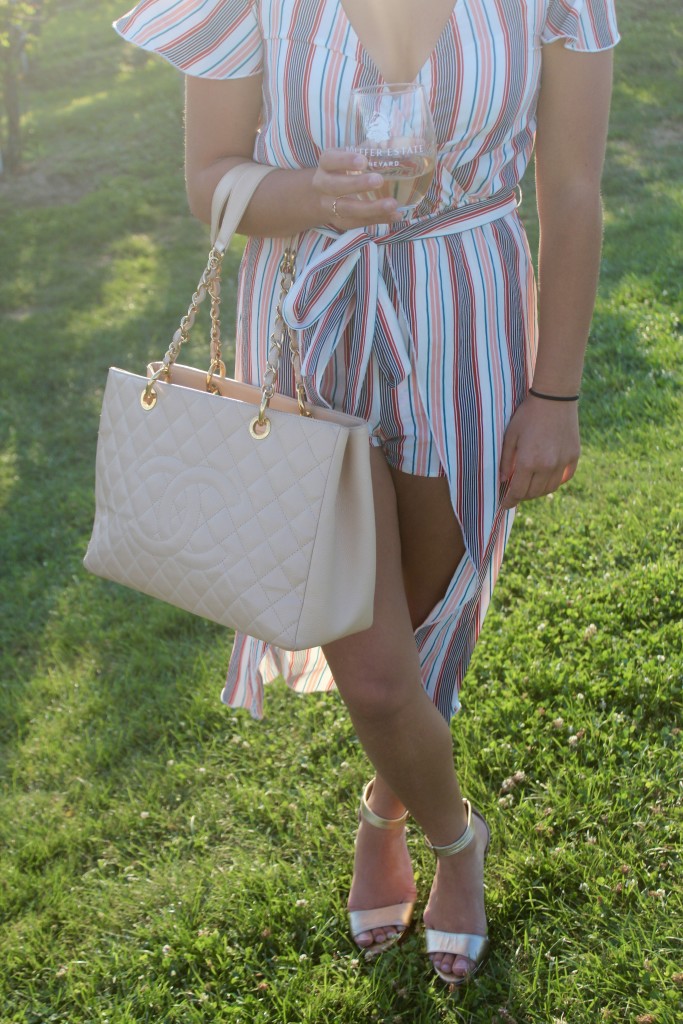 Is it just me or does this color palette give you vacation vibes? During the summer, my wardrobe is full of blue and white, so it was fun to mix it up a little and get a few warmer colors in there. While the colors were vibrant and fun, the cream colored base kept the outfit neutral and perfect for pairing with all of my favorite staples. In this case, I paired it with my mom's ? tan Chanel tote.
On that note, if you are looking to buy a Chanel in the near future I 100% recommend the 'wallet on a chain.' They are compact, simple and everything you need in a classic Chanel bag. BUT, if you want something a little larger and luxurious this is your baby. It is super roomy (I can fit my Canon in there) and it has unlimited pockets. I may just pull the trigger and buy myself one in navy in the near future.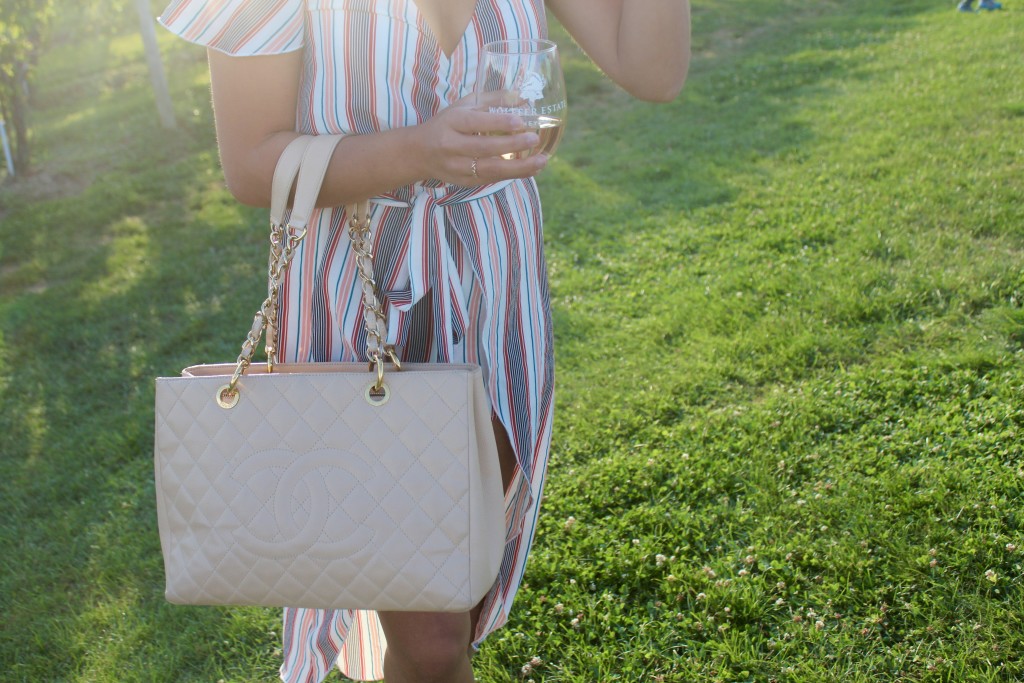 Wolffer Wine Stand is SUPER casual, you can wear jeans, shorts, even roll in right off the beach, BUT there is something about this romper that makes it perfect for a night spent in the vines. It made me feel a little dressed up for Saturday night, provided me with an attached picnic blanket ?, and made me feel as if I was miles away from NYC. What more can I ask for?!