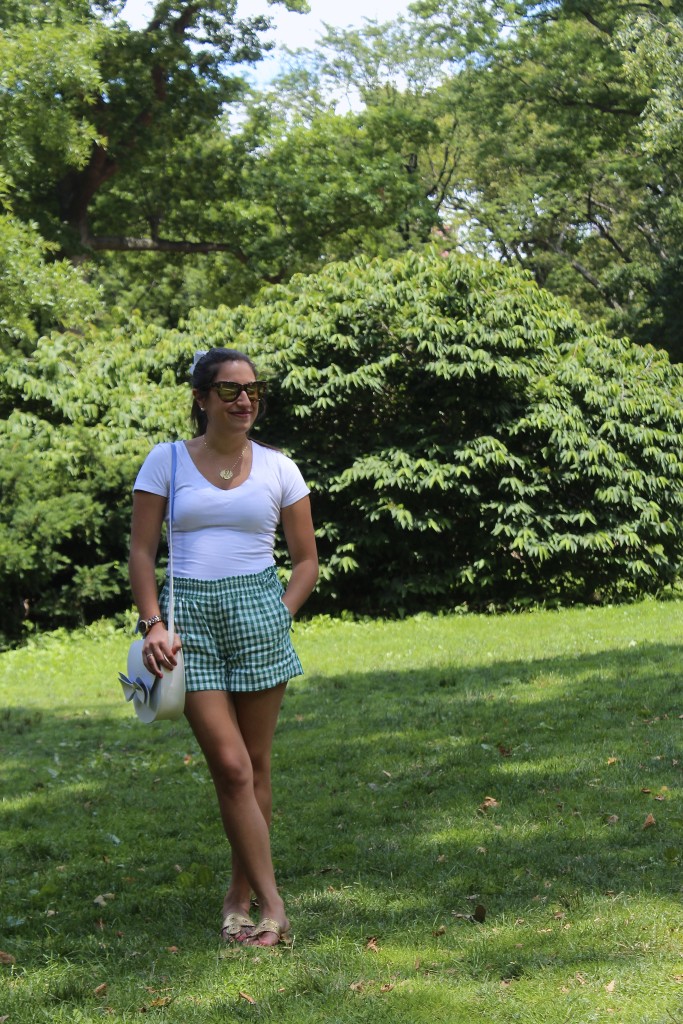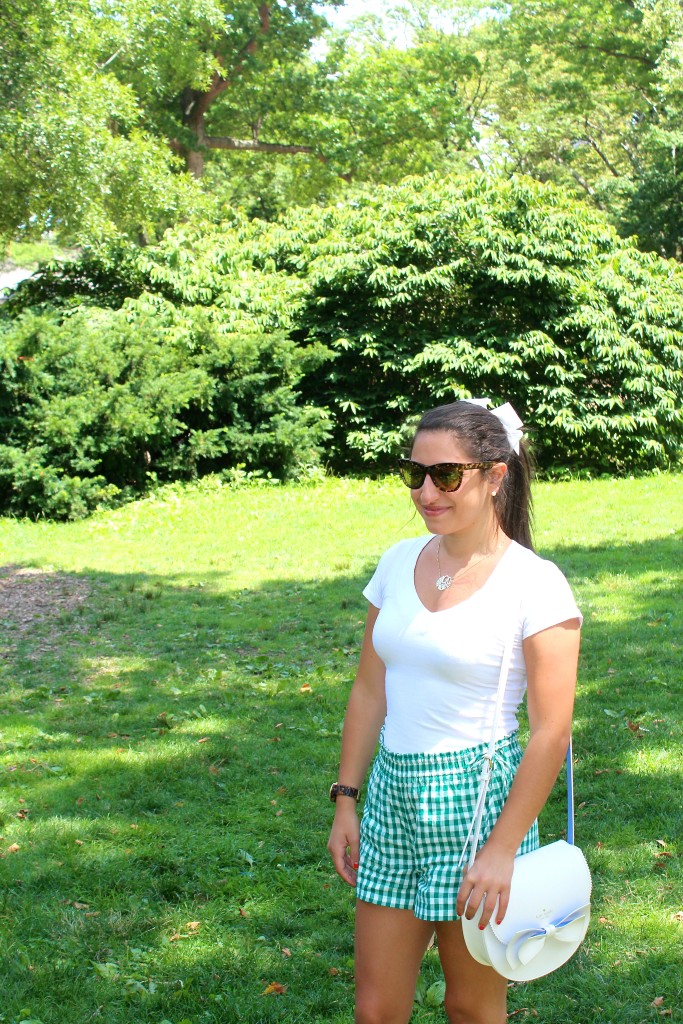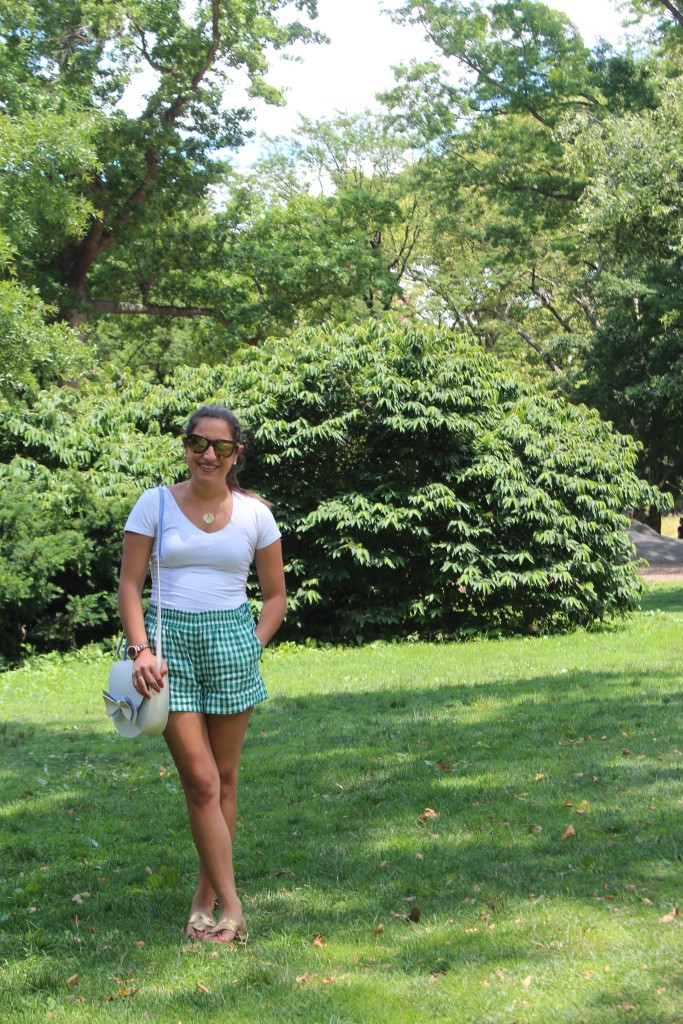 Top (GAP) | Shorts (J.Crew) ON SALE! | Shoes (Jack Rogers)
Bag (Kate Spade) | Sunnies (J.Crew)
Okay, so remember that time I almost moved downtown?! I'm so glad I didn't because I've been L-O-V-I-N-G my mornings in Central Park. This past weekend, Tom and I woke up at a leisurely hour (like never happens!) and headed to Central Park for a little picnic breakfast and it kinda turned into one of those NYC 'pinch-me' moments. Like here I am just having my casual bagel and lox in Central Palr…my twelve-year-old self is definitely in disbelief!
I take so much about this city for granted. For starters that I have this beautiful park basically in my backyard, but also that I five-star dining is the standard, the streets I walk each day are bubbling with culture, I never run out of new things to do/see, I'm constantly meeting new people, the list can go on and on.
As much as I sometimes day dream of what it may be like to live back in my hometown (especially during the summer), living a slower pace, in a bigger space, with family and friends always at arms reach, it is refreshing to take a minute and appreciate all that I have in this amazing city. I tend to always have these realizations during the summer months, so please be sure to ask me how I feel come December. ?
What I'm Wearing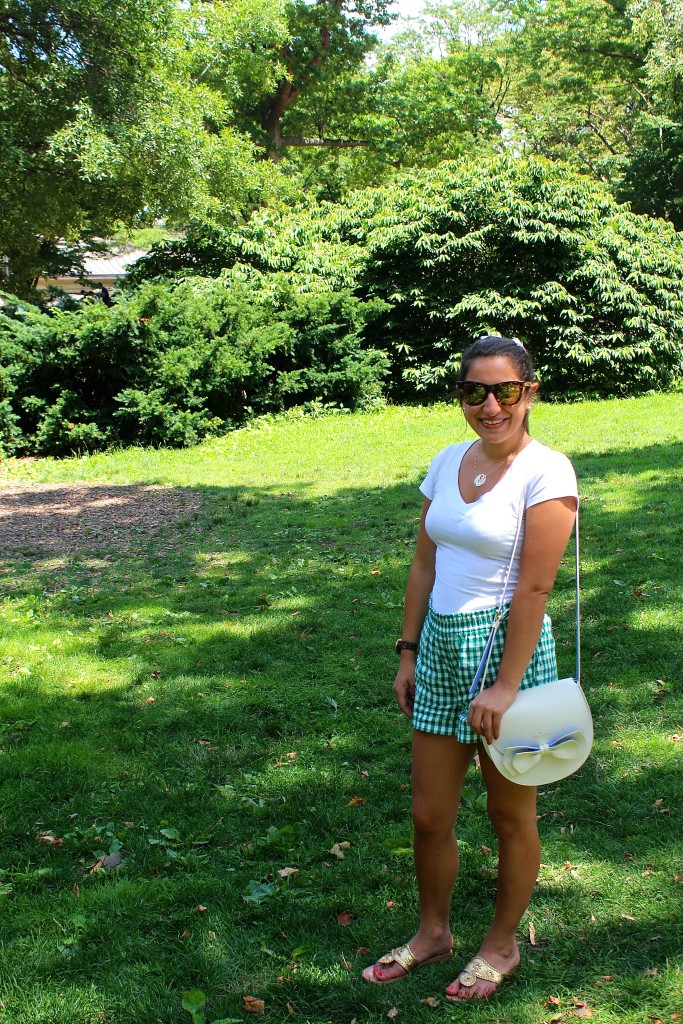 Top (GAP) | Shorts (J.Crew) ON SALE! | Shoes (Jack Rogers)
Bag (Kate Spade) | Sunnies (J.Crew)
First and foremost, these J.Crew gingham shorts are 40% off right now AND I know you need them in your life! I literally threw these shorts on Sunday morning and they elevated my outfit in an instant. As a mentioned, this was a leisurely morning that turned into an afternoon of running chores and getting myself organized for the week to come, so I needed something easy and comfortable. After throwing on this white tee, my hand just gravitated towards these cotton shorts.
You know that I'm all over this gingham pattern. It doesn't take much for me to fall in love with gingham, but these shorts are actually super comfortable. They are cotton, so they are super cool on hot days, but they also include a hidden drawstring waistband. The cinched top is pulled together with two bows on the side that actually act as a drawstring. Okay, so what's the big deal?! They can be as tight or as loose as you want, DUH! I find that normal cinched shorts are either too big or cut you in the wrong places, this is adjustable to your body and comfort.
Enough about the shorts. In true ThePreppyMAG fashion, I kept the rest of this outfit pretty simple. A white tee, my favorite sunglasses and of course, this Kate Spade crossbody that I just can't get enough of! Did I mention that I got it on Zulily?!
How are you prepping this Summer?!