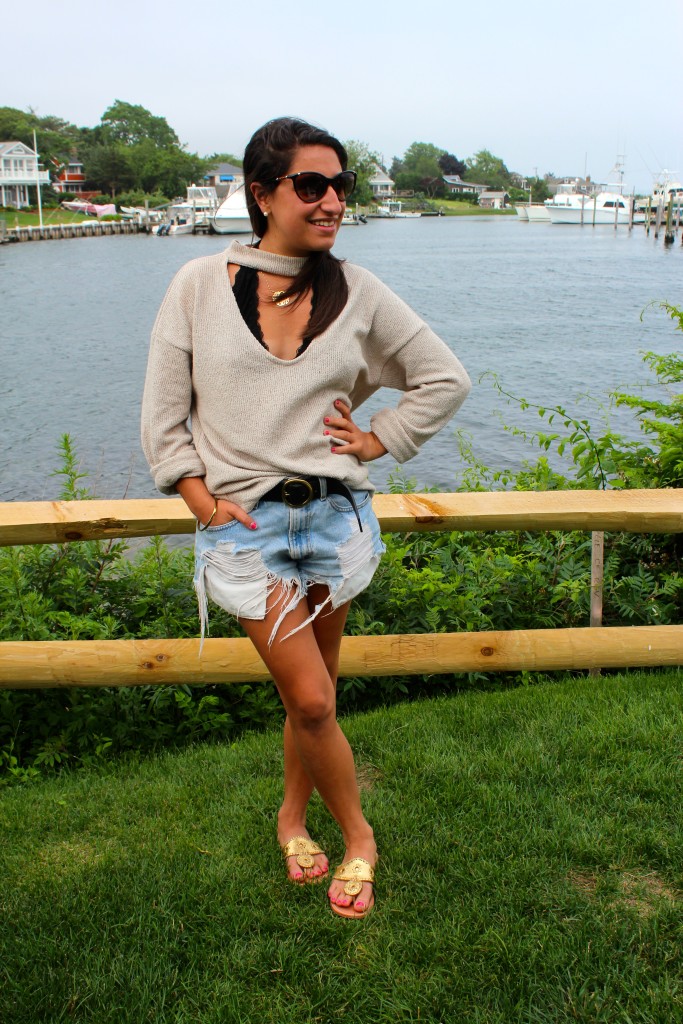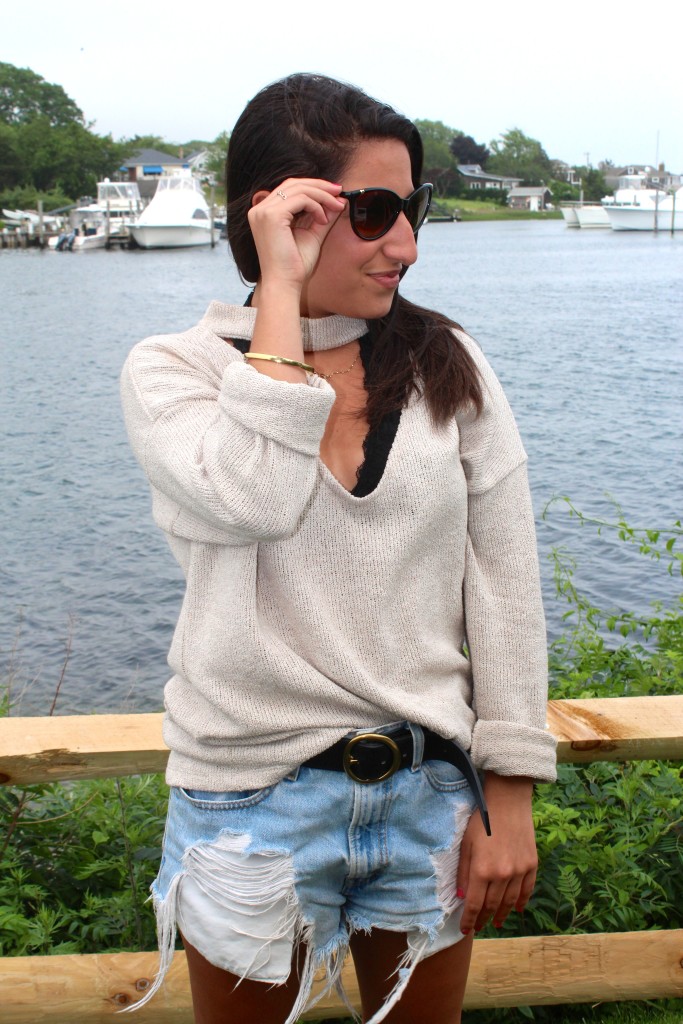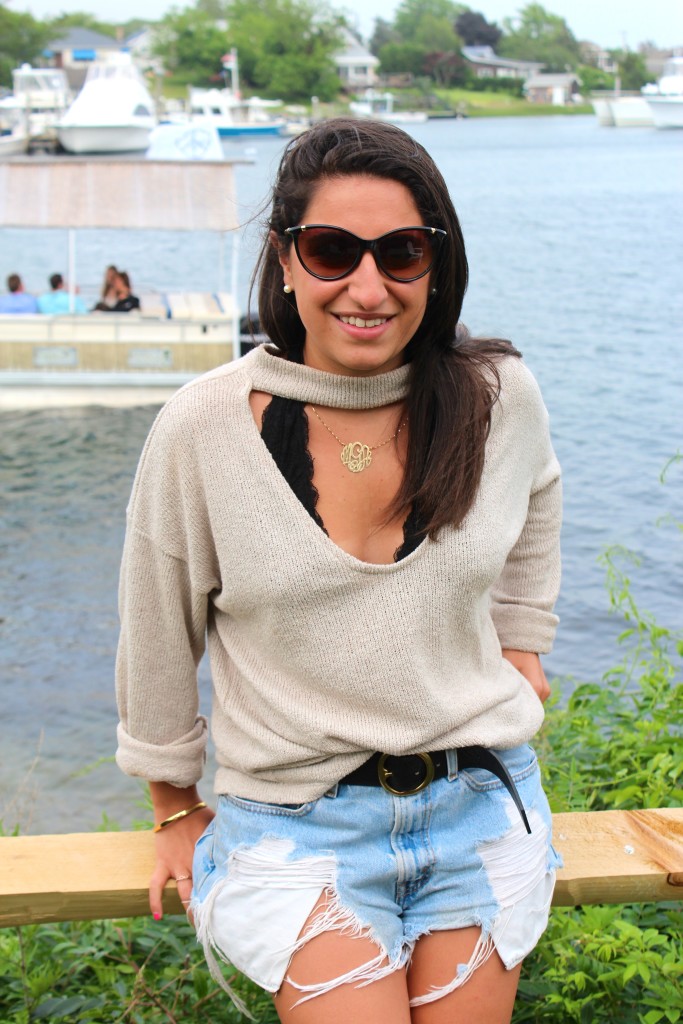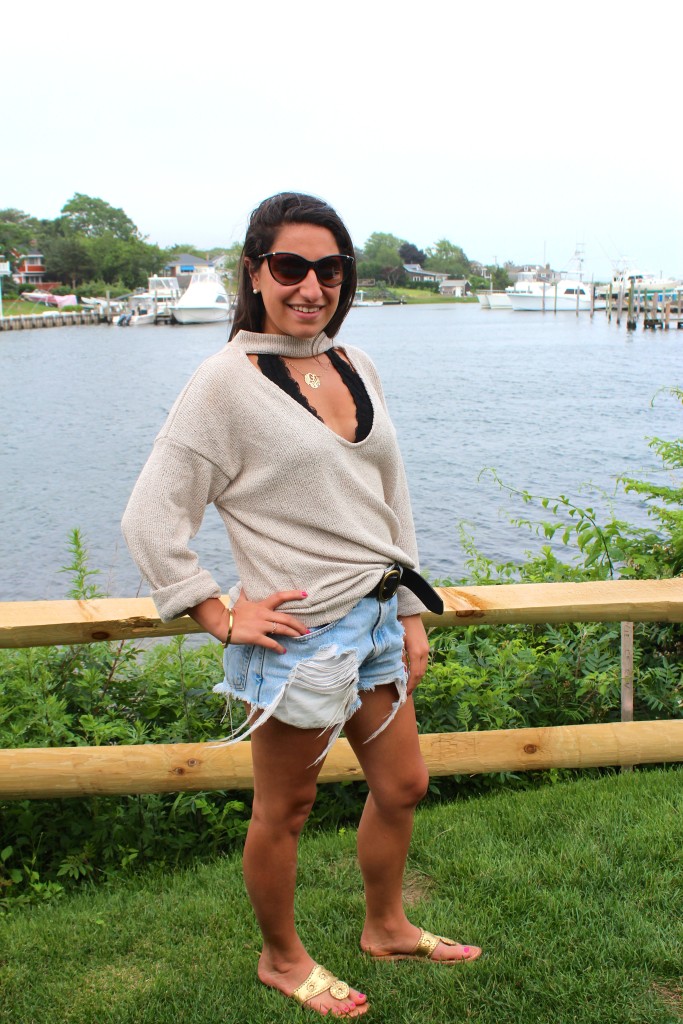 Sweater (Zara) | Shorts (LF Boutique) | Bralette (Urban Outfitters) ON SALE!
Shoes (Jack Rogers) | Sunnies (Michael Kors) | Belt (Mixology)
We are SO close to the weekend! I don't know what it is, but I've been dragging through this week. Work has been great, I've been busy in the evenings, but all I want is a poolside lounge chair STAT.
This outfit was shot at one of my favorite restaurants in the Hamptons called CowFish. It is right on the water and the food is seriously phenomenal. Whether you go for a standard burger or try one of their sushi specials, I PROMISE you will not be disappointed. You know as a foodie, I do not lie about these things. When it comes to drinks, go for the rum punch of the homewrecking, I can seriously drink either of those all night.
Now that the important food details are our out of the way, the location and ambiance of this place is beyond perfect to kickoff the holiday weekend. I mean look at this view. It is right on the Shinnecock Canal and you can arrive either by car or boat. If you are staying in Hampton Bays this is the perfect place to stake out for the entire weekend, but if you headed further east it is a great place to stop along the way. Especially while you wait for some of the traffic to let up.
What I'm Wearing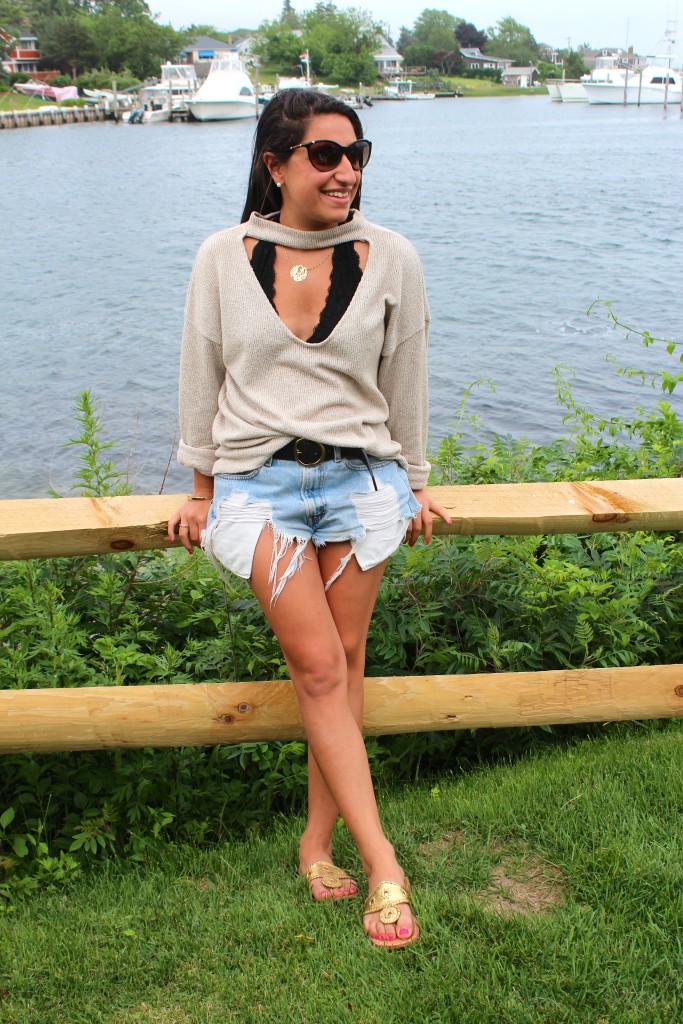 Sweater (Zara) | Shorts (LF Boutique) | Bralette (Urban Outfitters) ON SALE!
Shoes (Jack Rogers) | Sunnies (Michael Kors) | Belt (Mixology)
So this is a look that is different for me. A little edgier and comfortable than my usual preppy and proper signature style. I have to admit, it was inspired by my little sister Tiffany. She always puts together irresistible outfits that I just NEED to have, I don't care if they go against everything else I post on here! I don't know about you, but I'm thinking we have a budding blogger on our hands!
Overall, this summer SCREAMS Southampton in the summer. This was an overcast day and it was the best way to dress. One minute it was cold, the next it was humid and sticky. This sweater was warm, but also really breathable so totally manageable, especially if you are eating or hanging out down by the water or picnicking on the beach. Pairing the sweater with a pair of destroyed shorts makes sure you won't get overheated and keeps the grounded, down-to-earth theme consistent.
This outfit is the perfect thing to wear to lunch or an afternoon of shopping in the Hamptons. A lot of people think they need to dress up or that every place is super buttoned-up, but it is not the case. This is a beach town where everyone works way too hard during the week to enjoy on the weekend, so it is okay to be comfortable!