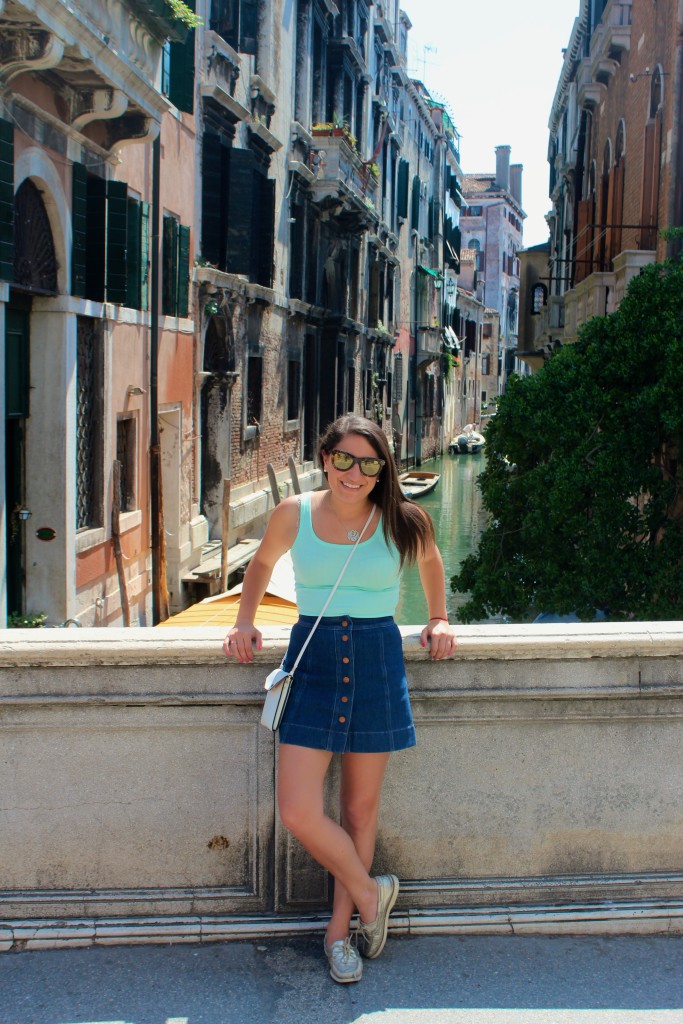 Top (Target) | Skirt (Madewell) | Shoes (Sperry Top-Sider)
Bag (Overstock) | Sunnies (J.Crew)
Hello, hello! It is time for the third installment of my Eurotrip travel guide. I can't believe it has already been a month since we left for our trip and over two weeks since we've been back in the states. In case you missed it, I've already given the lowdown on Croatia and Florence, but this time I'm recapping all of our adventures in Venice, Italy.
Venice was definitely the city I was most looking forward to visiting. I've seen SO many pictures and I couldn't believe such a beautiful place existed. If I've said it once, I've said it a thousand times, I did not have a favorite city during our trip, BUT Venice is definitely one the list for next time.
As usual, below you can find all of the details on where we stayed, what we did, what we ate and what I wore.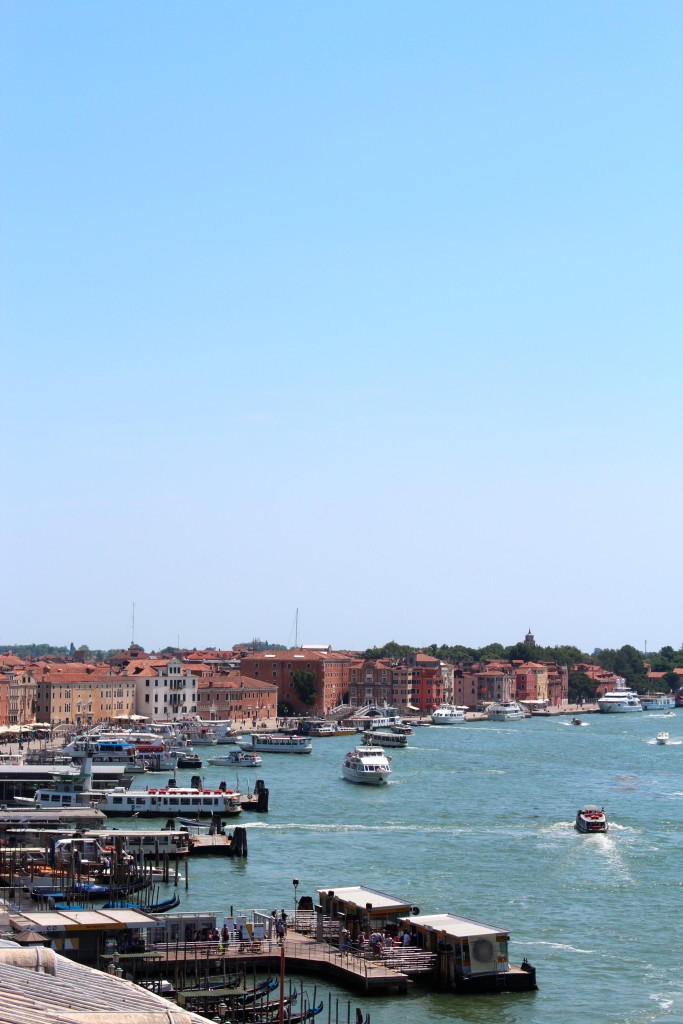 Where We Stayed
Per usual, Tom's parents picked the PERFECT place to stay while in Venice. We stayed at the Ai Reali Hotel which was settled in the quaintest Piazza in all of Italy. It was located almost exactly at the mid-point between the Rialto Bridge and St. Marco's Square, making it the best location. I felt like we were right around the corner from the hotel at all times (even if we felt lost!). This hotel was by far the most decadent and reflected the city's personality in such an amazing way. Our room was decked out in the most gorgeous red and gold wallpaper and we had TWO bathrooms– a total win!
The hotel had a complimentary breakfast each morning that we took COMPLETE advantage of. Except when we didn't realize that housekeeping closed our window shutters and slept right through breakfast. This was midway through our trip and the sleep was definitely needed.
In addition to the perfect location, gorgeous rooms, and complimentary breakfasts there was also a little outside courtyard right off the lobby. This was the best place to escape the crowds for a drink before dinner.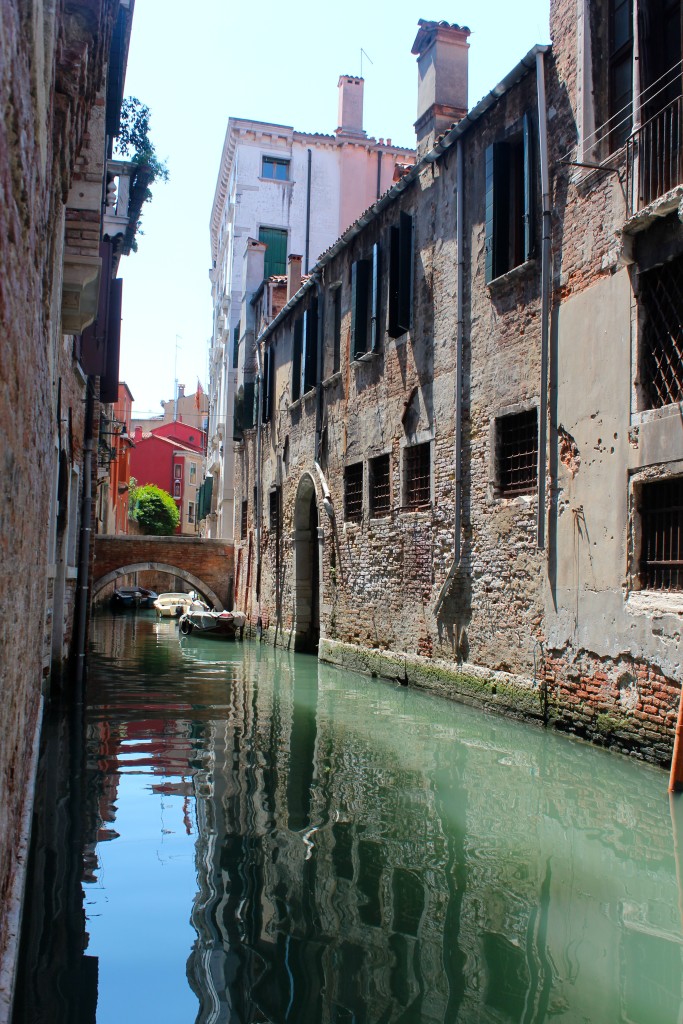 What We Did 
Even though there is a TON to do in Venice, I found this city one of the most relaxing because all you need to do is 'get lost' for a great adventure. When we arrived in Venice in the afternoon we headed right to St. Marco's Square to explore one of Venice's most famous destinations. While wandering we found the most secluded rooftop at the Hotel Gabrielli for an Aperol Spritz before dinner. We were some of the only people on the rooftop and it had views of the entire port. Definitely a hidden gem.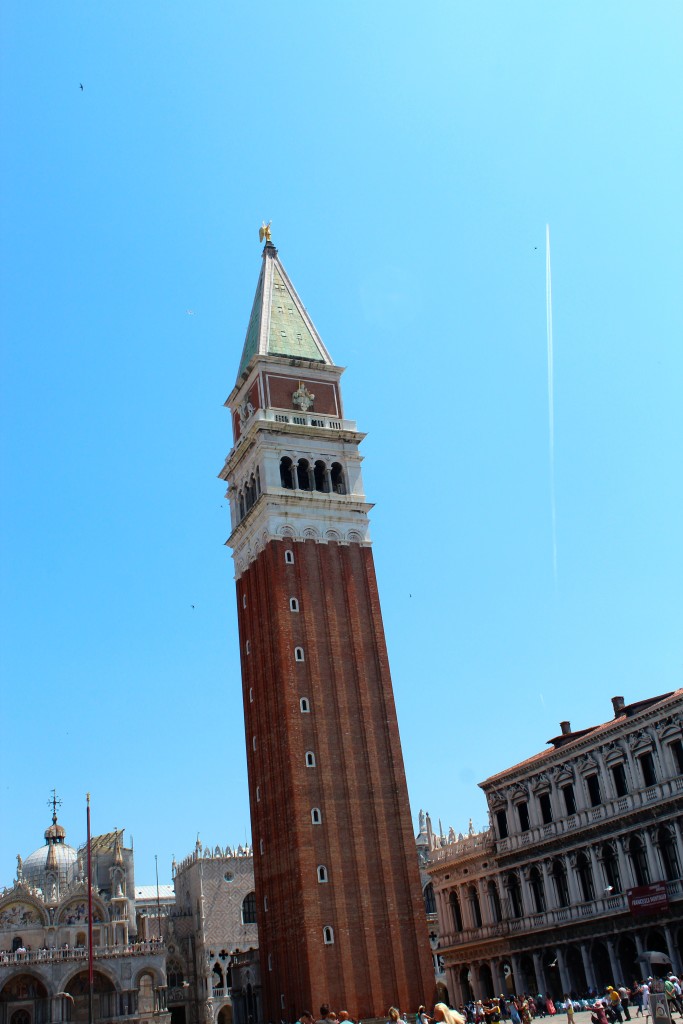 The Hotel Gabrielli is also home to this picturesque courtyard. It was quite and had some gorgeous garden views. It was exactly what you would have imagined an Italian garden to look like.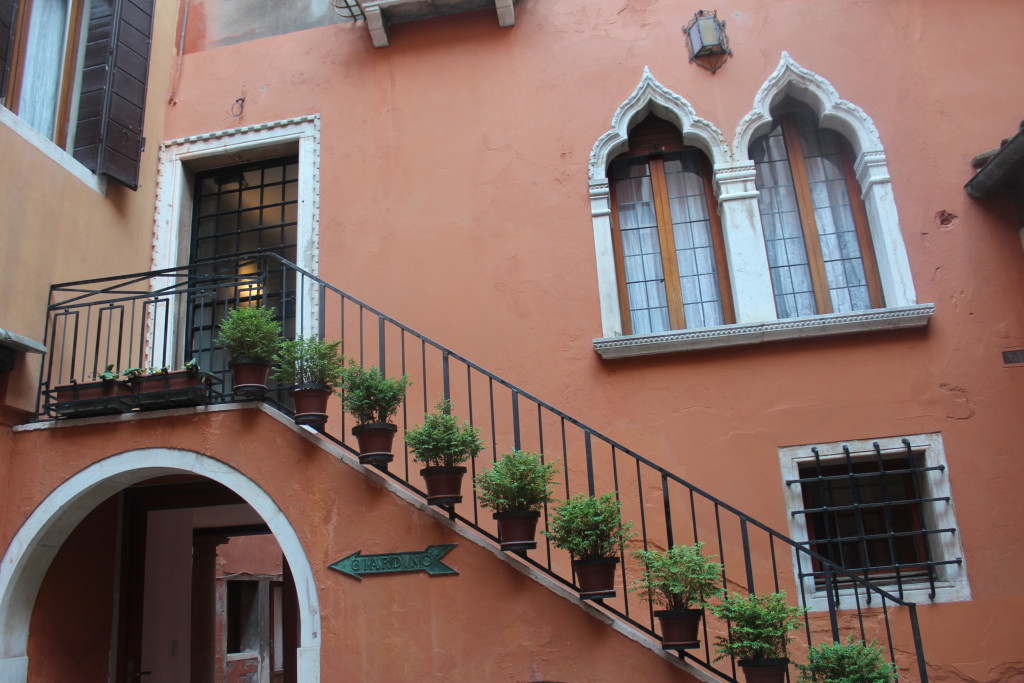 Day two was the day we slept in. ? But when we finally realized it was 10:30 AM we were up and at it and headed to Murano and Burano. They are both islands right off the shore of Venice (but don't be fooled, they take a little a little longer than expected to get to). Murano is famous for its glassware and Burano is famous for its colorful buildings. There is not too much to do in each city other than walking around and getting lost. We had lunch in Murano and did some shopping (this is where I bought my mom, sister and grandma souvenirs) and Burano was spent relaxing with some gelato!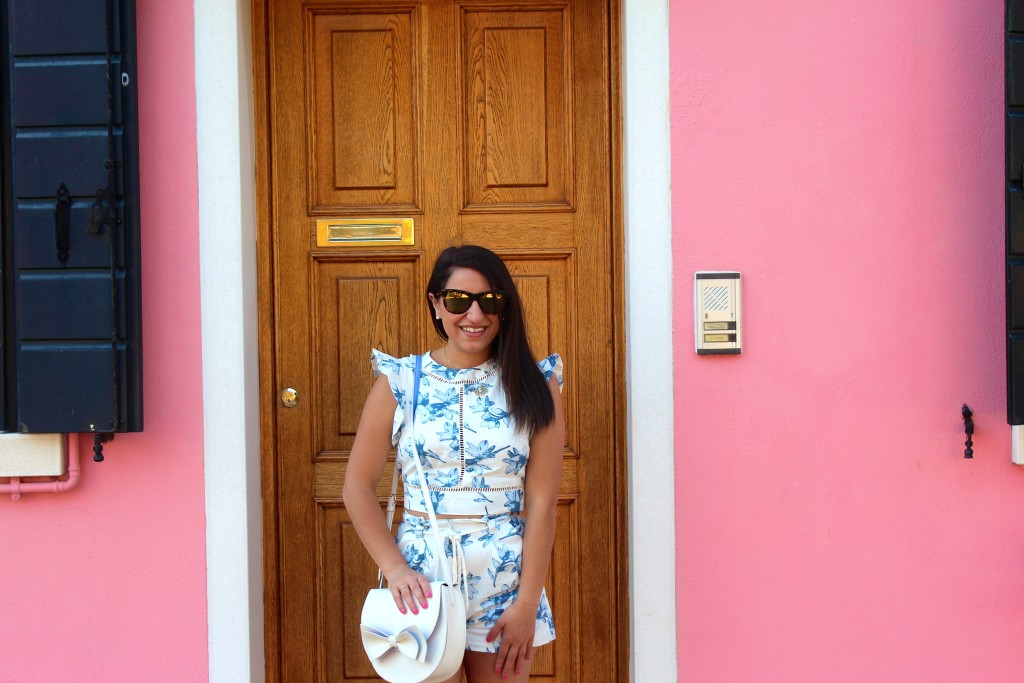 Crop Top Set (Nordstrom) | Bag (Kate Spade) | Shoes (Sperry Top-Sider) | Sunnies (J.Crew)
Day three is when we toured the Palace of the Doge and even walked over the Bridge of Sighs. Out of all of the bridges in Venice, this is the one that is most photographed because it connects the Palace with the prison and prisoners would 'sigh' at their last glance at Venice. Taking this in was truly an incredible experience.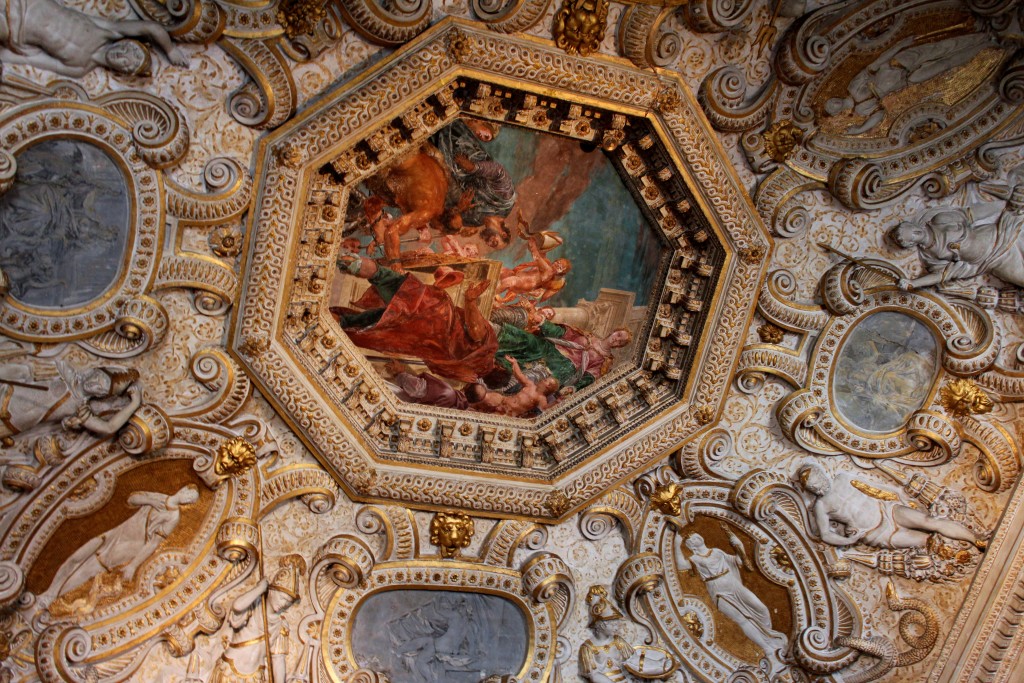 After the palace tour, we literally just got lost in the alleys and canals of Venice. We set off in one direction and just started to walk. We found ourselves in hidden Piazzas and in the 'local' part of town and it was AMAZING! I love seeing how true Venetians live. My favorite was stumbling across an elementary school and watching the Italian kids place futbol, there is literally NOTHING more hilarious than competitive Italian children. Another great find was this waterlogged bookstore called Libreria Acqua Alta. If you are a book lover, you'll definitely want to add this place to list of Venice musts. You will be welcomed with a ton of photo opps. and it is a great place to escape the heat for a little shopping break.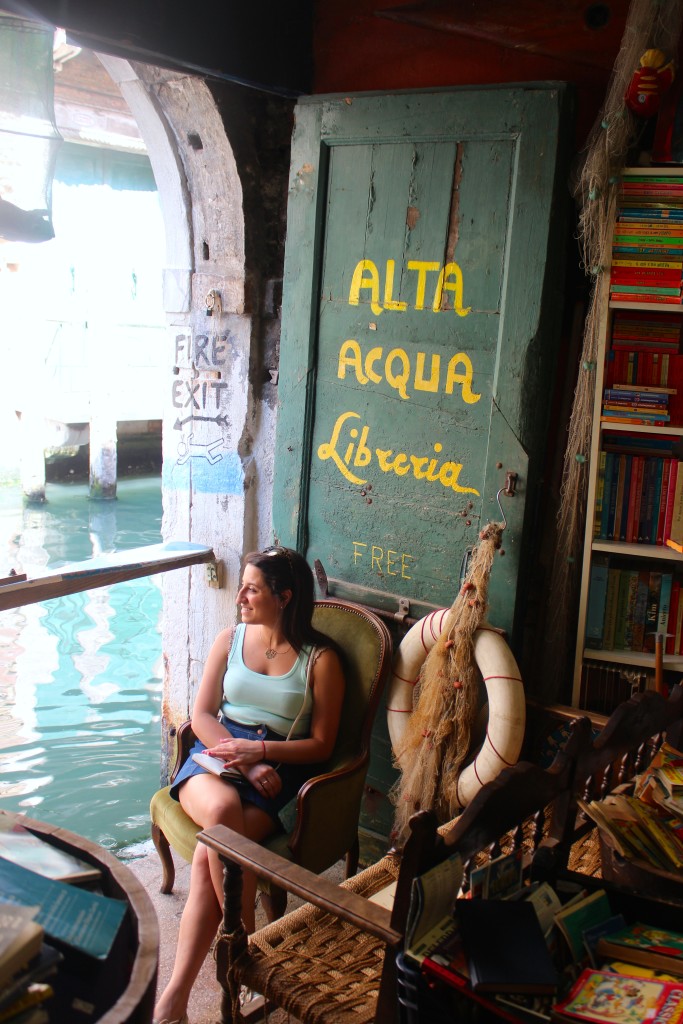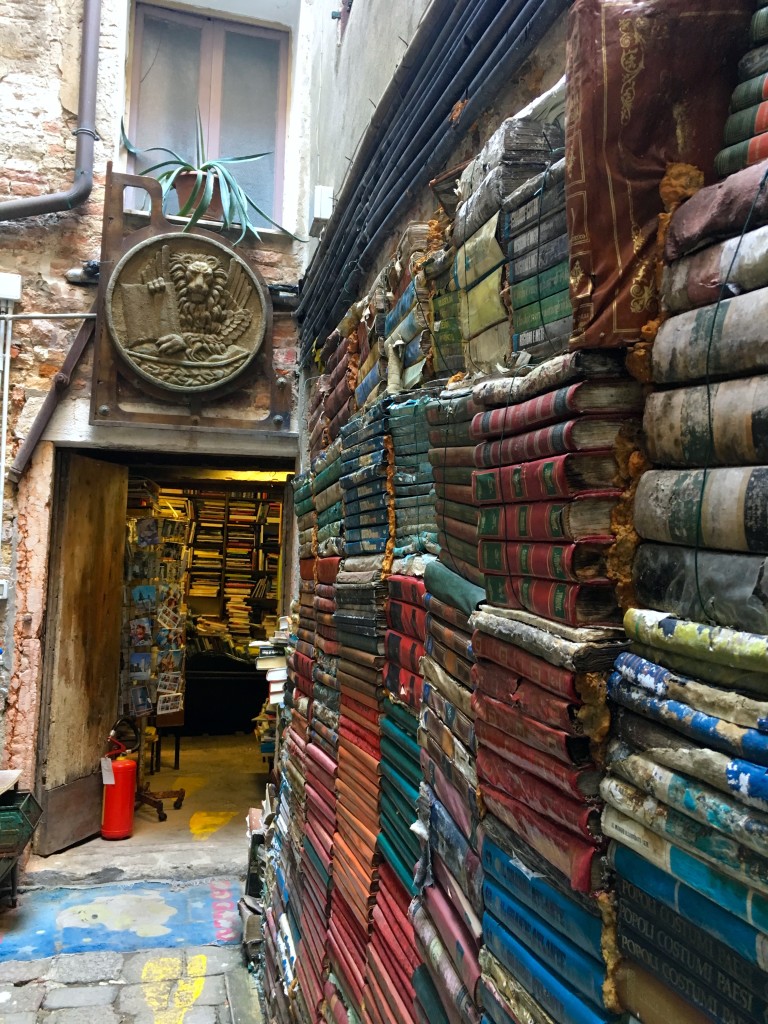 Once we finally found ourselves back to the hotel, we met up with the rest of the group for dinner and ran off for a nighttime gondola ride. Word on the water, nighttime is the best time to go! It was SO romantic and incredibly peaceful. Our Gondolier was a little crazy (literally on his phone the whole time ?), but I don't think anything could ruin this moment for us. It was such a great experience, I didn't even want to ruin it by worrying about photos and trying to get the best shot. Just wanted it to be a memory between Tom and me.
What We Ate
Like the rest of Italy, Venitian food was DELICIOUS. It was everything you love about Italian food plus all the seafood that you can imagine. Our first night in Venice we went to a restaurant called Al Theatro, yet another restaurant settled in the middle of a bustling Piazza. I got a prosciutto pizza and it was ???. Of course, I also couldn't help myself from trying Tom's shrimp appetizer, which was a MUST-HAVE.
Our second day, we had lunch in Murano at a small restaurant called Osteria Acquastanca. I had the Scampi and Tom had the Cuttlefish pasta and we both agreed mine was the way to go! If you are looking for a quick, simple place to eat outside while in Murano this place is a fabulous choice. My favorite part was people watching the people and boats go by. That night we had dinner at  Restaurante Mario Alla Fava. This place was literally a three-second walk away from our hotel and was delicious. I was still pretty full from lunch, but I couldn't not get the seafood pasta and I'm happy I did. It was again, the best choice. I'm starting to think I have a sixth sense where I can pick the best thing on the menu.
On our last day, we kept it pretty simple. For lunch, we stumbled upon an adorable courtyard pizzeria called Al Nono Risorto. Tom and I both shared pizza and a Caprese salad, which in case you haven't heard is the best fuel for Italian exploration. This was a simple meal, but it ended up being so much fun. Tom and I sat there enjoying the food and of course, our Aperol Spritz (this is definitely the city where the addiction started to form).
What I Wore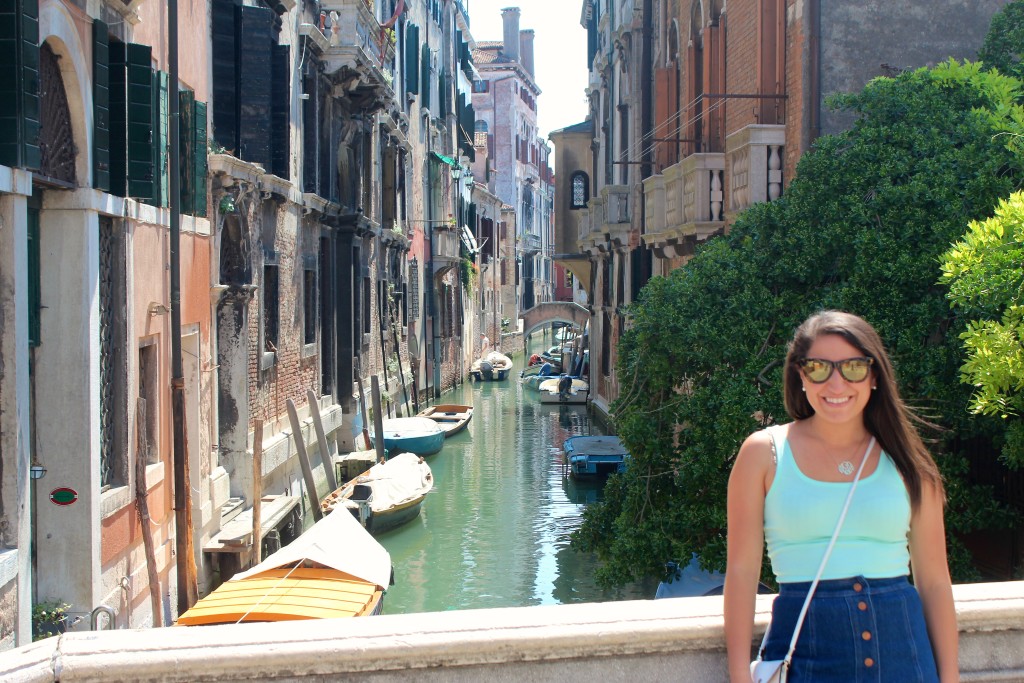 Top (Target) | Skirt (Madewell) | Shoes (Sperry Top-Sider)
Bag (Overstock) | Sunnies (J.Crew)
By this point in the trip, my feet were destroyed and it was heating up, so all I wanted was to be comfortable. Before leaving for my trip, my mom stocked me with a bunch of these solid tank tops from Target. They are only $8 and they came in handy throughout the trip. I paired them with jeans, this skirt, I even wore a few of them to bed when our hotel room got too hot. What I love is that the tank top comes in a variety of different unique colors. I have basics like gray and black, but I also love this aqua and orange hue that came along for the trip as well!
This denim skirt was such a good purchase back in the Fall (And now it's on SALE!). 2017 has been full of different adventures and this skirt has become my travel companion. It is the best way to look put together but feeling really comfortable. I even wore it to Disney World back in March.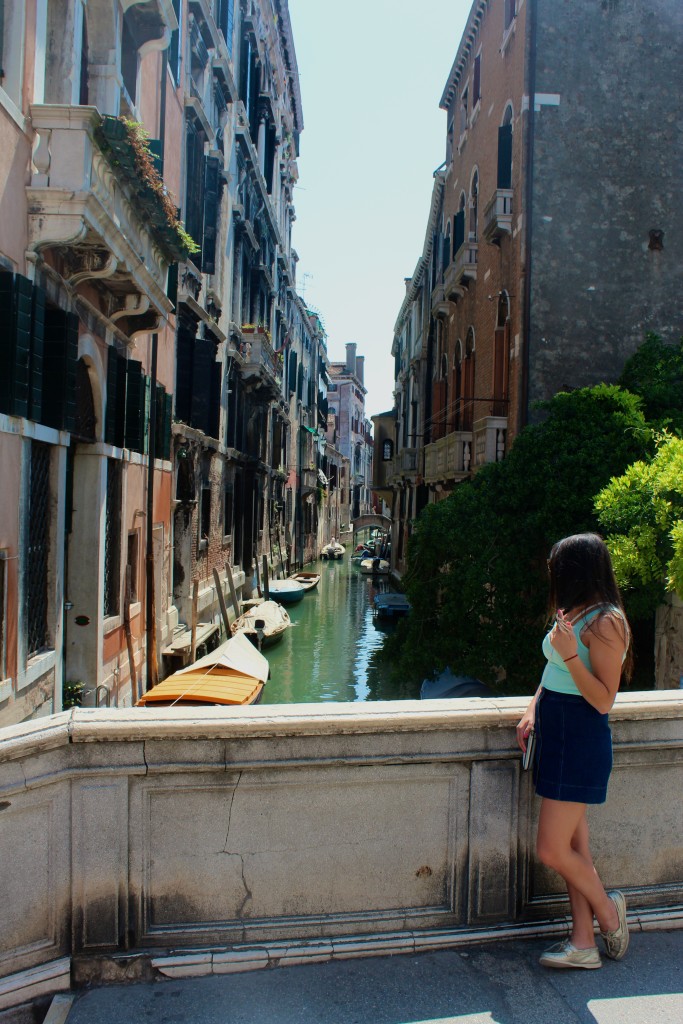 WOOF! That was a lot and if you've made it this far…THANK YOU! I hope you are planning an adventure of your own and I've convinced you to add Venice to the list. I'm really hoping for another Venice trip in the near future, so if you have any of your own Venice travel tips, please leave them in the comments! Ciao!