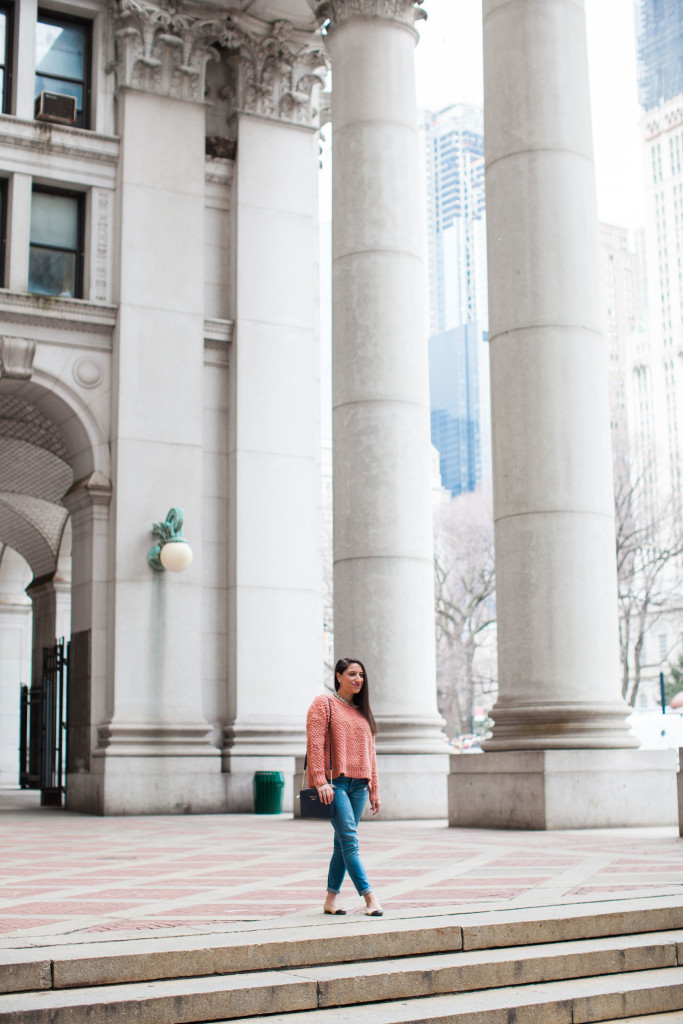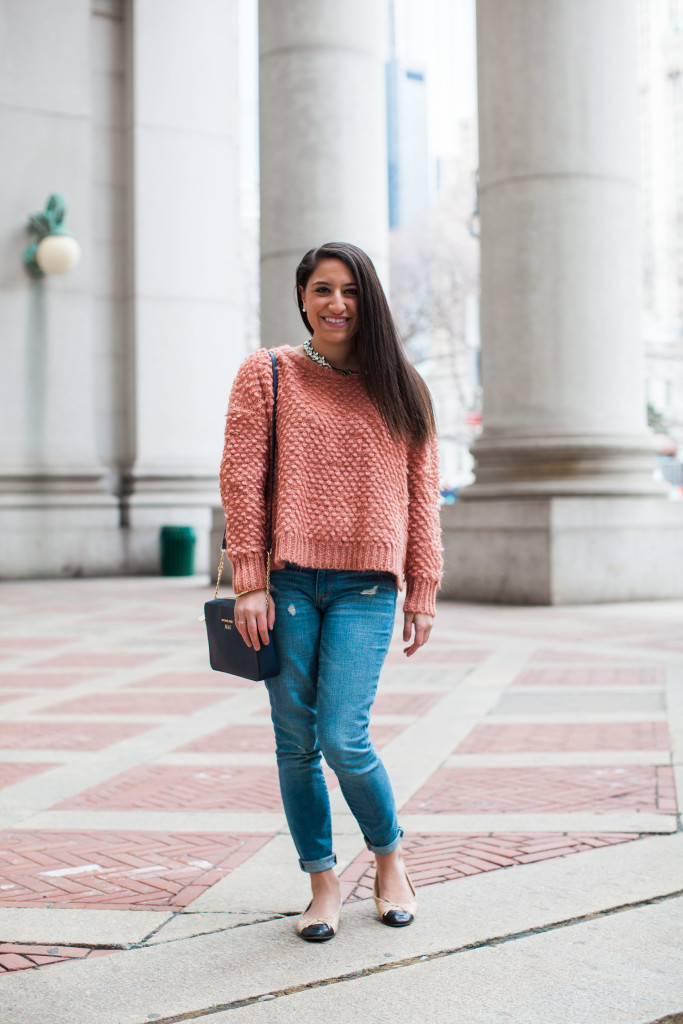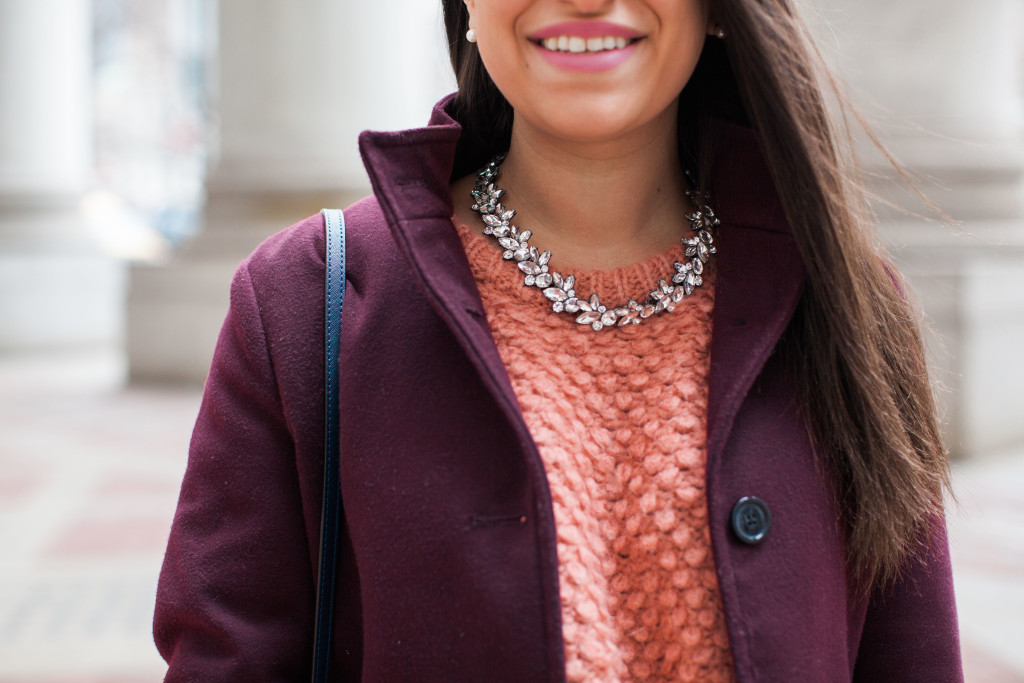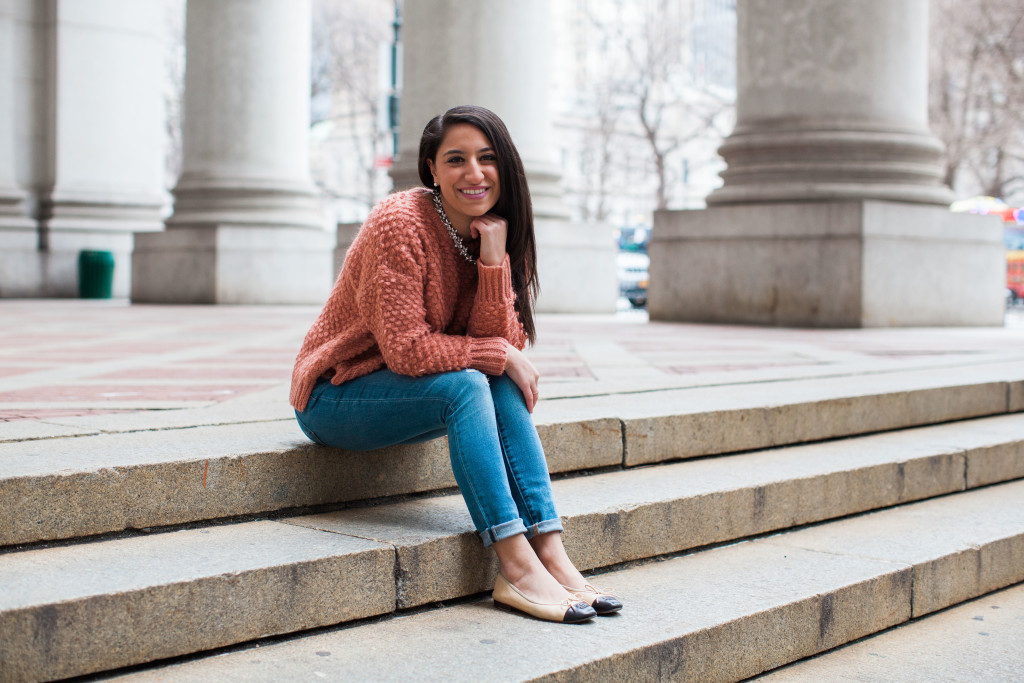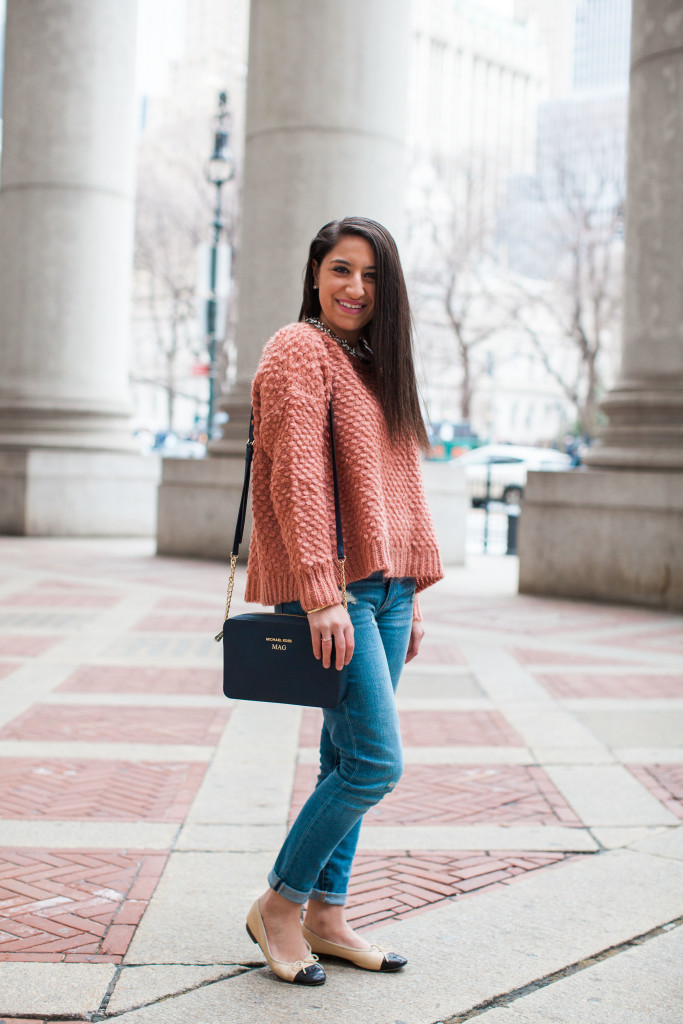 Sweater (Madewell) | Jeans (Gap) | Shoes (Chanel) | Bag (Michael Kors) | Necklace (Happiness Boutique) | Coat (Old Navy)
Valentine's Day is right around the corner and I'm already thinking about what I'll be wearing to celebrate. Even though Valentine's Day is on a Tuesday this year, I always like to dress festively for the office. If you work in a casual environment like I do, this may be a perfect option for you. If you don't, I'll be featuring a few other options later this week.
Trust me, I'm definitely not one to get super serious about Valentine's Day. Tom and I don't even exchange gifts or make a big deal out of it because we think it is stupid that one day is dedicated to love. Like hello, every day should be dedicated to love. Nevertheless, I love the color pink and obsessed with everything heart-shaped, so I'm definitely not complaining about America's fascination.
What I'm Wearing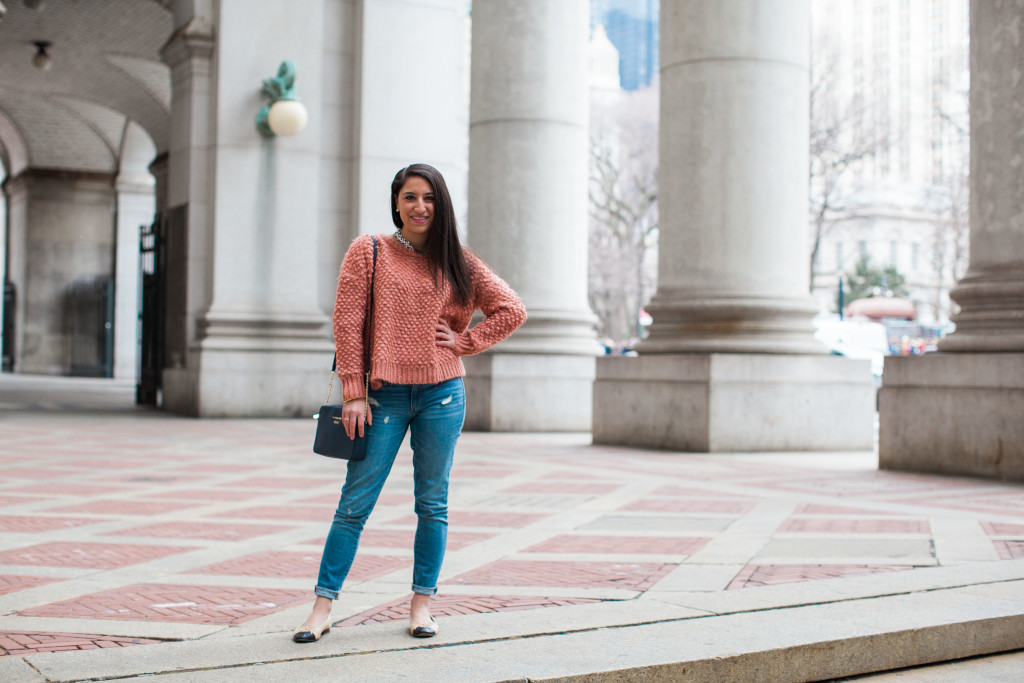 Sweater (Madewell) | Jeans (Gap) | Shoes (Chanel) | Bag (Michael Kors) | Necklace (Happiness Boutique) | Coat (Old Navy)
This over-sized, chunky pink sweater is currently one of my favorite pieces in my closet. I love it on its own, I love it layered, with jeans, with leggings, you name it. It is cozy and perfect for the freezing temps we've been experiencing.
This time, I've paired it with a pair of lightly destroyed jeans and two-toned Chanel flats, making it perfect for the office, brunch with girlfriends, or even the movies with bae. I'm not usually one to wear destroyed jeans, but I think I'm starting to get back into them and this pair from the Gap are SO comfortable. Destroyed jeans make you seem like you didn't spend more than 10 minutes picking out your outfit, even though you know you spent upwards of 45.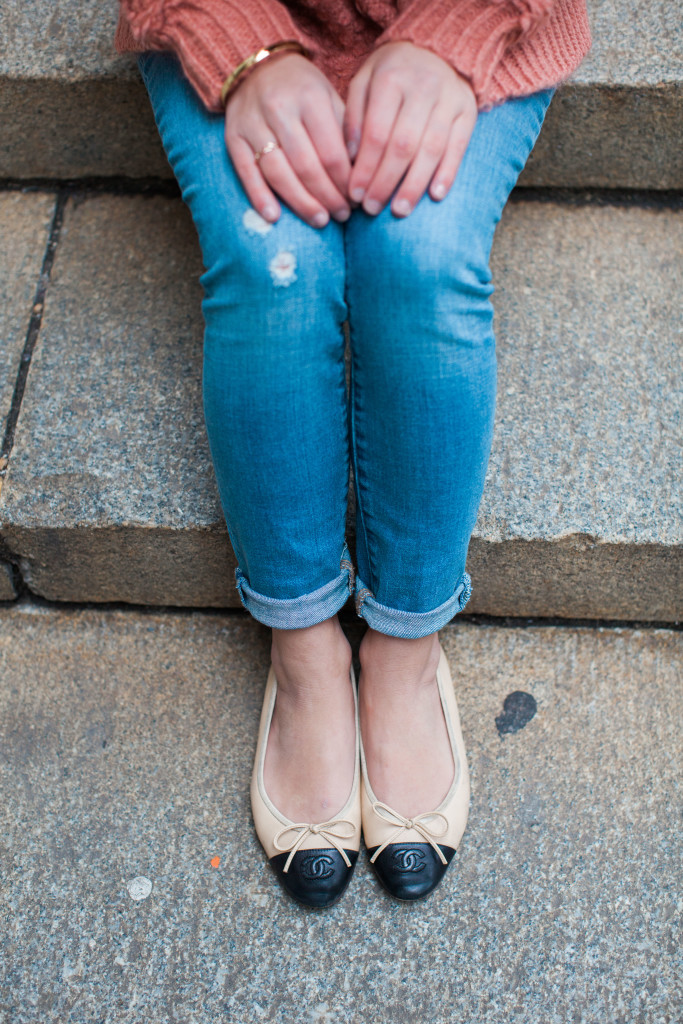 Let's talk about these flats for a second. They are an absolute classic and if you are in the market for a pair of Chanels, this is the sign you've been waiting for…get them. They can be paired pretty much with anything. A classic and elegant LBD or a pair of jeans, they instantly pull your entire outfit together.
The chill is not dying down, so I've been grabbing this burgundy Old Navy coat more and more! I actually scored this baby a few years ago on Black Friday for $30 ?, but it makes me feel like a million bucks!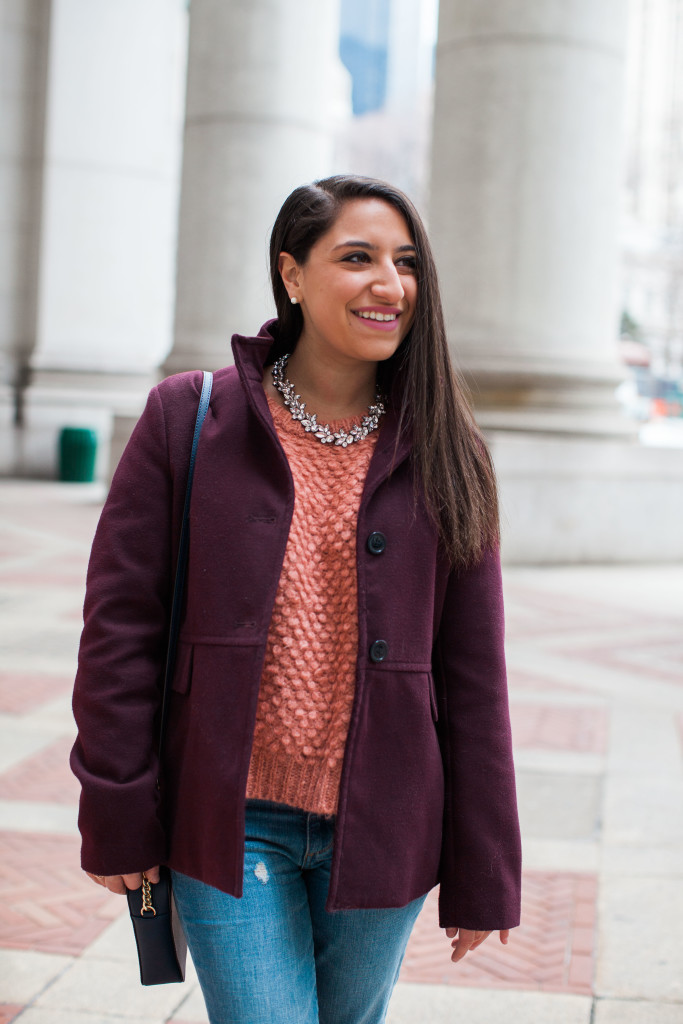 I'm loving the Valentine's Day style inspiration on Instagram and across blogs right now. I'd love to see what you're planning on wearing next week!