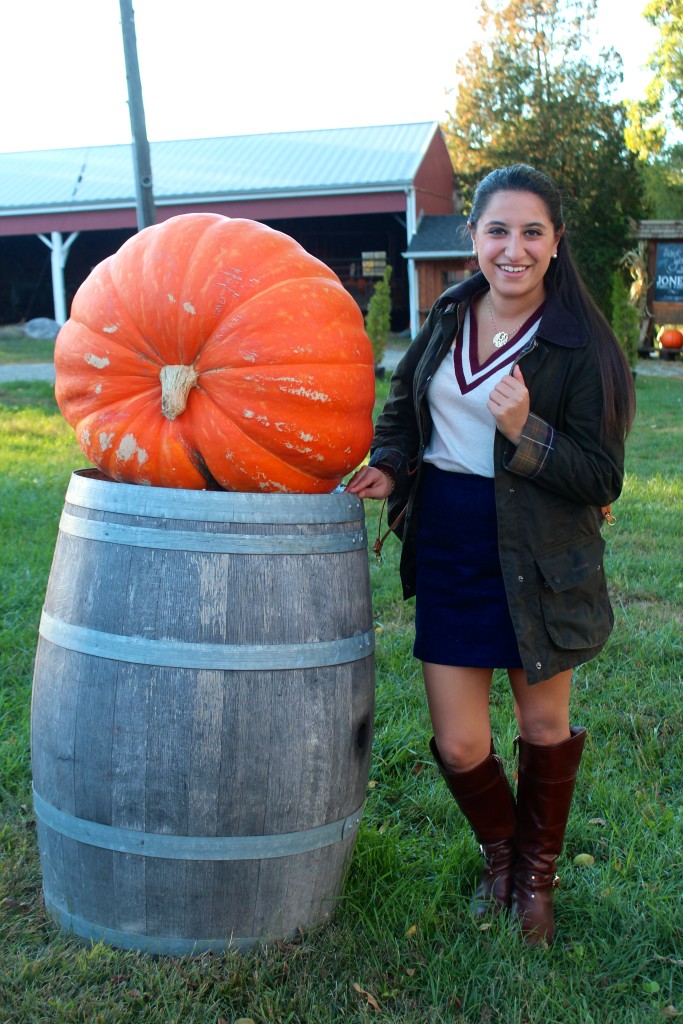 Jacket (Barbour) | Sweater (Old Navy) | Skirt (Old Navy) | Boots (Tory Burch)
Happy October! I have my warm apple pie candle burning and my home is definitely getting cozier. Though the summer seems carefree and easy, I have a tendency to fall (pun intended) into a rut when the days get shorter. Shorter and darker days translate to less work for me, but in reality, it is MORE time to hustle because we have less happy hours and weekend getaways to attend.
To keep me on track and hold myself accountable, I put together 5 goals that I'm dedicating myself to this month.
1| Dedicate more time to the blog. This is a constant goal of mine and was even one of my 2016 New Year's Resolutions. However, with a full-time job and a twenty-something lifestyle, this isn't always as easy as it may seem. However, when I do take the time, stay up those extra few hours, bail on a few happy hours, I am SO much happier because I'm doing something for me. This started as a passion project, so I need to remember to keep persuing that passion. To do this, I want to strive to publish a blog every weekday of the month!
2| Take time to breathe. Over the past few months, I've definitely been burning the candle from both ends. I'm constantly working (on the blog or at my agency), committing to one too many events, overbooking friends, family and the list can go on and on. I LOVE being a busy bee, I always have, but I'm learning as I get older how important it is to take some time to breathe and enjoy some me time. To complete this goal, I want to commit to going to yoga at least once a week AND read at least one new book.
3| Participate in at least two NEW brand collaborations. I already have a few partnerships on the docket for October, but I'd love to expand my horizons and participate in at least two more. Brand collaborations don't only fund ThePreppyMAG, but they also keep me excited about writing this blog. After three years of almost daily content, writers block gets way too real. Brand collaborations keep me engaged and give me an opportunity to share some of the best products and services out there with all of you wonderful people!
4| Eat healthier. As noted before, September was kinda crazy. Long nights and traveling weekends had eating out or ordering in almost every night. Not good for my diet, wallet, and quite frankly my mind. For me, cooking can be like therapy. It means that I'm home early enough to prepare a meal, spend at least 2-3 hours on the blog, and get to bed at a decent hour. I'm committing to cooking a home cooked meal at least one night a week!
5| Get connected. At the end of August, I made a decision to make my blog a bit more professional. The first step in doing this was hiring a professional photographer to take my photo. Although Tom was such a dedicated Instagram Boyfriend, I needed a professional to help take my vision and turn into something beautiful. This is when I hired Allie Provost of Prêt-á-Provost to take my photos. Though this is only one connection, it is great to have allies (pun 100% intended) to understand the highs and lows of blogger. This month, I'd like to make at least one more blogger friend who just gets it.
Nothing like the Fall for some new beginnings. What are your October goals?