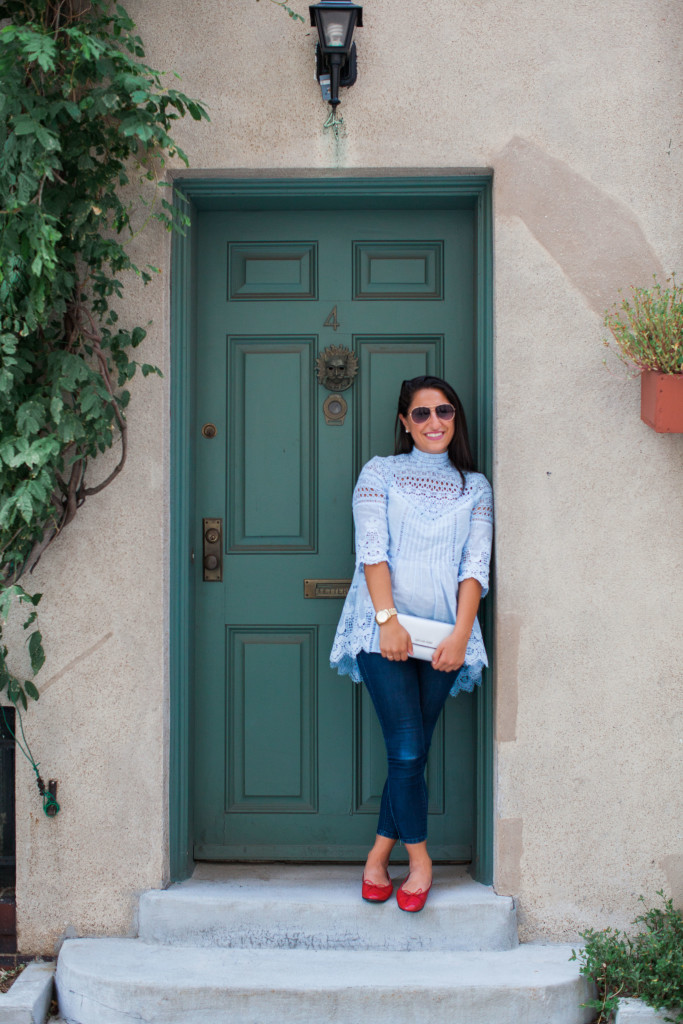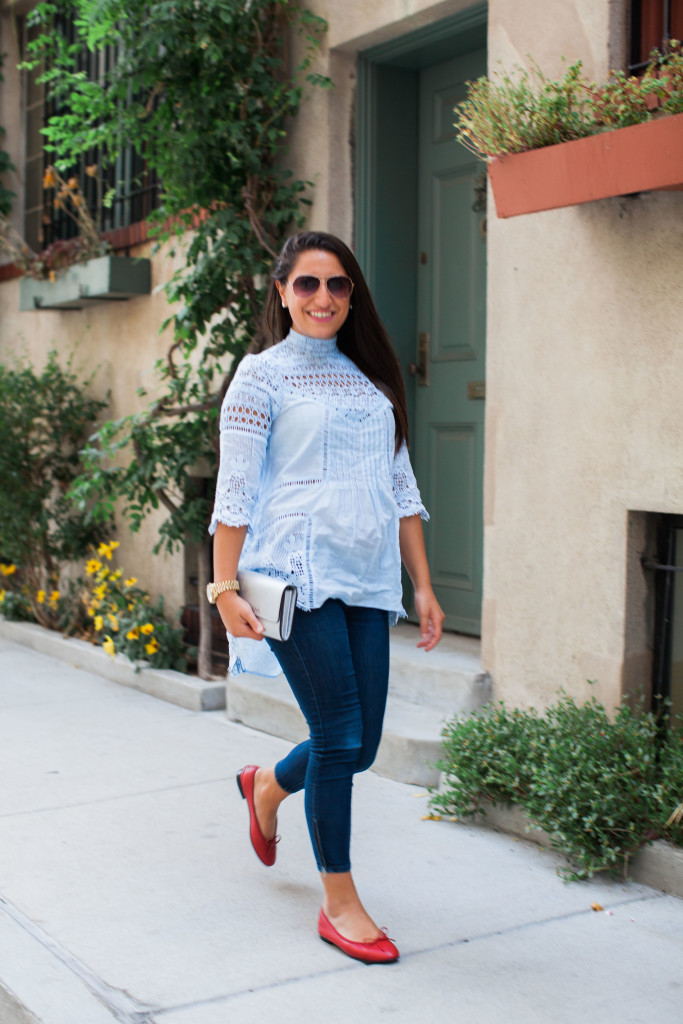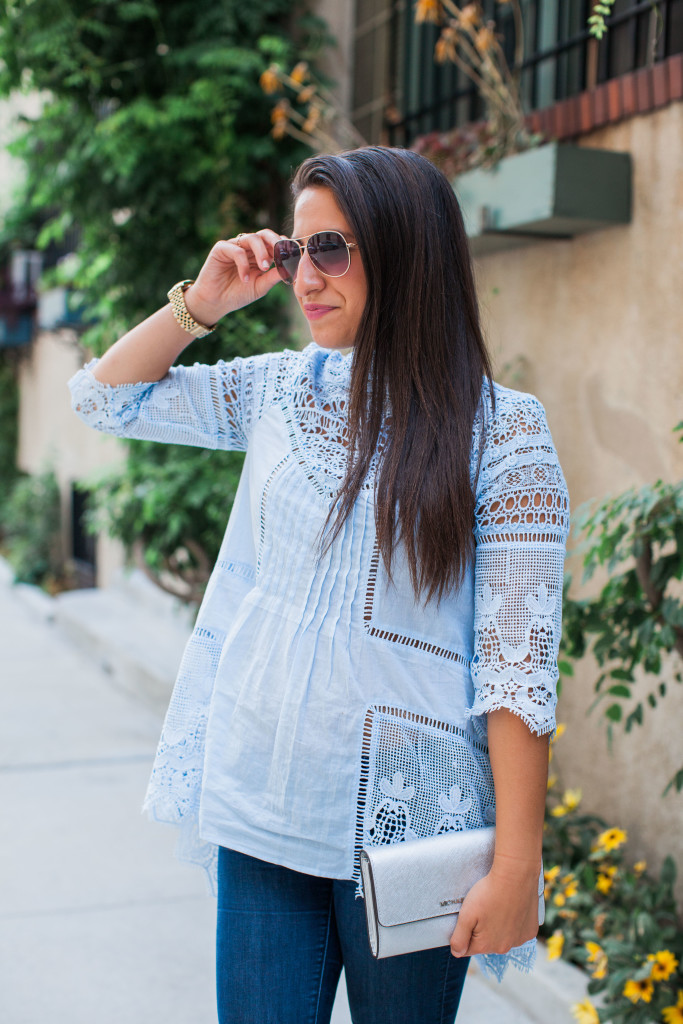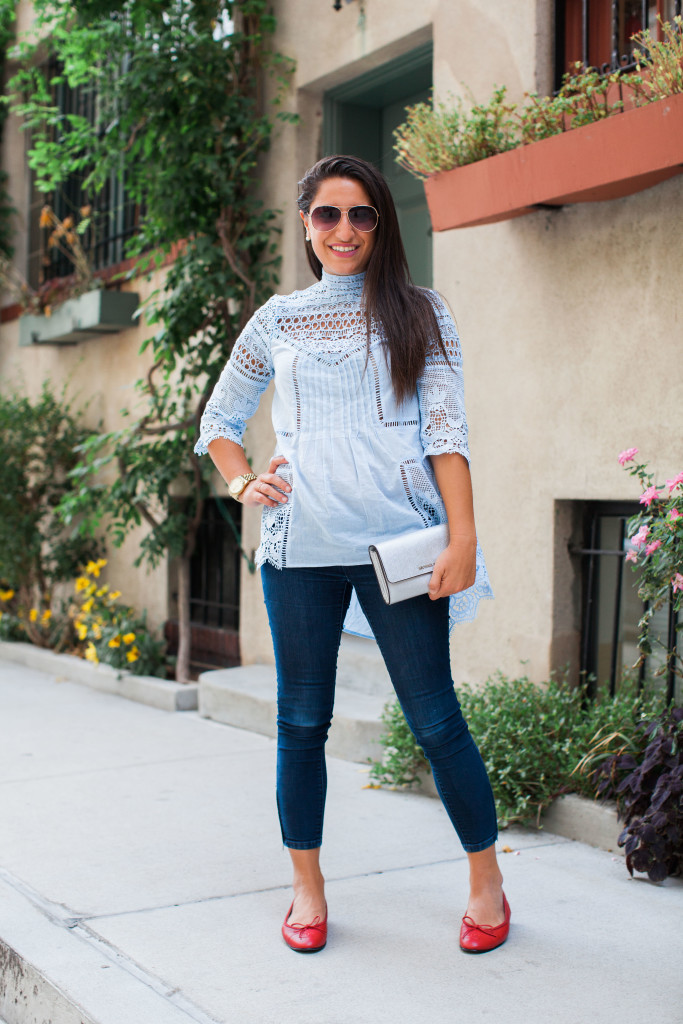 Top (Anthropologie) | Jeans (LOFT) | Flats (Chanel) | Sunnies (J.Crew) | Clutch (Michael Kors) | Watch (Michael Kors)
Back to reality after a dream of a summer. I can't believe this summer has already come and gone, I feel like we were just sprinting for that first train out to the Hamptons on Memorial Day. This summer has certainly been chock-full of busy travel plans and obligations, but I wouldn't change it for the world!
Tom and I have travelled out of NYC every since weekend of the summer, which can be absolutely tiring, but we did it because we realized that we are at a true turning point in our lives. Each weekend brought us a wedding, a shower, a family vacation and we did our best to squeeze every moment out of it. These busy weekends were definitely not easy when our to-do lists were overflowing and the apartment wouldn't clean itself, but it made us realize that this  is was it is like in the "real world." No more countless hours on the beach, no more wasted days by the pool. We had to pack every weekend into what matters most, family.
What I'm Wearing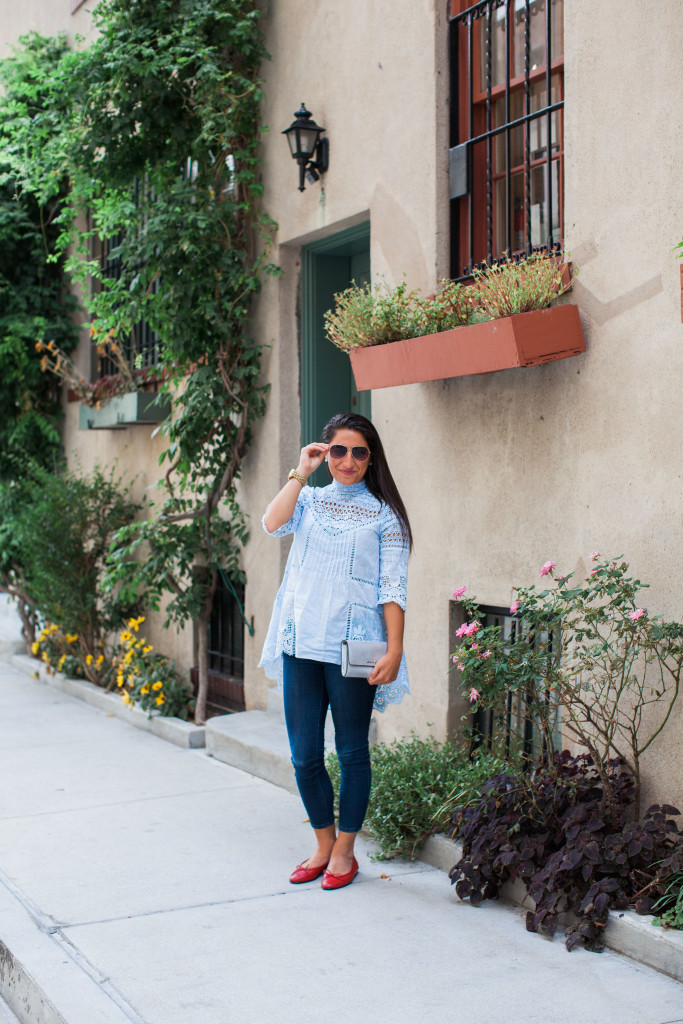 Top (Anthropologie) | Jeans (LOFT) | Flats (Chanel) | Sunnies (J.Crew) | Clutch (Michael Kors) | Watch (Michael Kors)
Labor Day Weekend calls for some red, white and lace! These patriotic colors are some of my favorite in the summer. Perfect for backyard barbeques or a night out on the town. I'm loving this ensemble to transition us into fall. The high neck and longer sleeves make it the perfect piece for cooler nights, but the lace makes it just cool enough for those not-so-coll September days.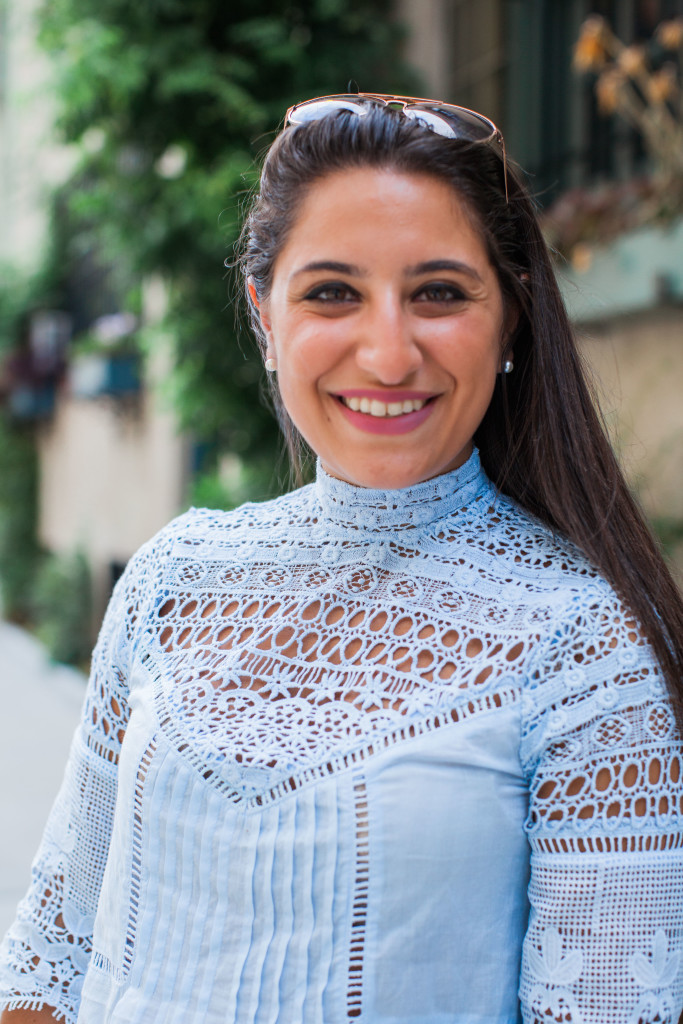 I also can't say enough about the detail in this top. I love how it is simplistic in color, but if you look closely each element of the shirt is designed differently. The flower patterns and the circles are just darling. Look how amazing the back of the shirt is. Those pearled buttons are just the icing on top of this picture perfect cake.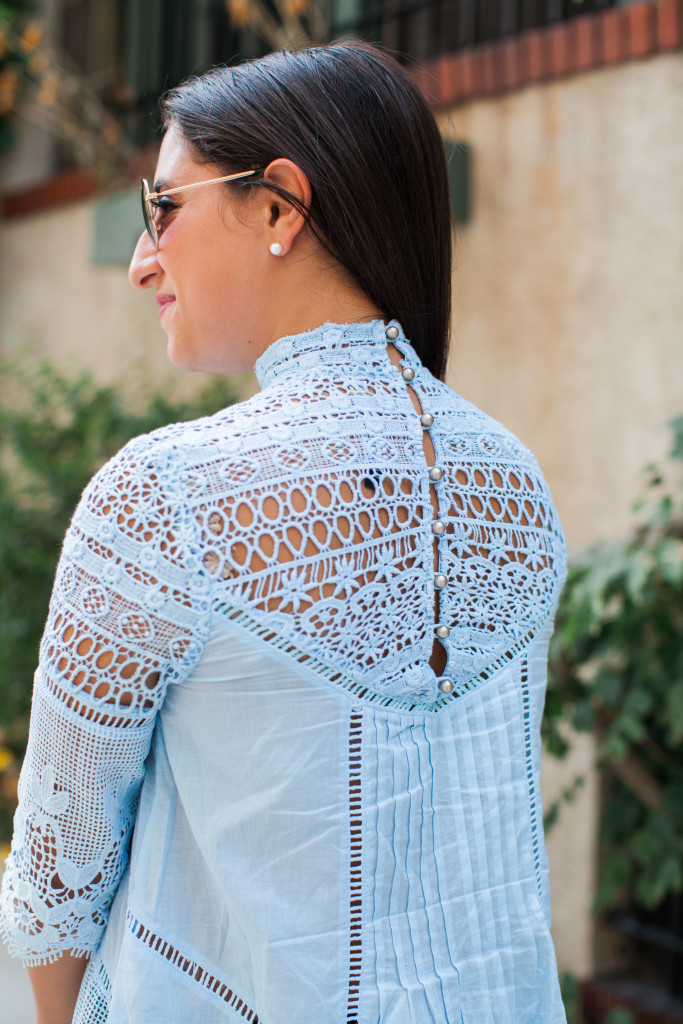 With the summer wrapping up, I had to accessorise with some patriotic flair (trust me, I'll find ways to make it happen in the fall, too!). This seemed like the perfect time to break out my new Chanel flats that I picked up from a consignment shop in the Hamptons called Colette. I was so lucky to find them in my size! To glam it up, I choose my metallic silver Michael Kors clutch to stand in for "white" and I'm so happy I did. Pairing this purse with any outfit, makes it become nighttime appropriate in no time!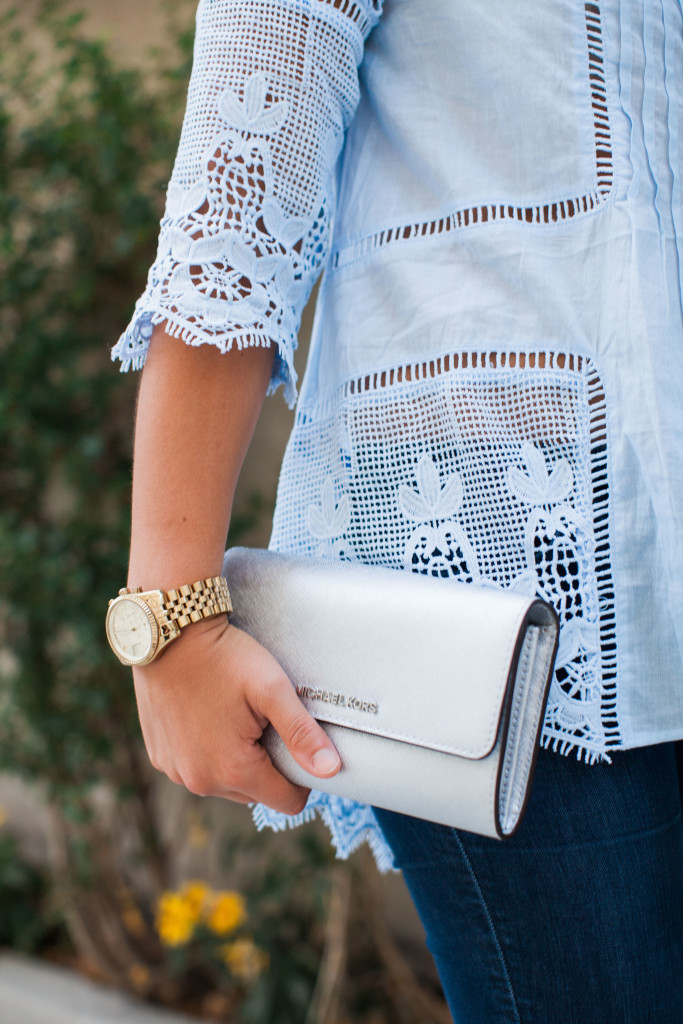 I won't be rushing into Fall to soon! There is no need to put those boots on before we have to here in NYC. I want to live these last few warm days in my favorite pastels for as long as I can. How are you transitioning?