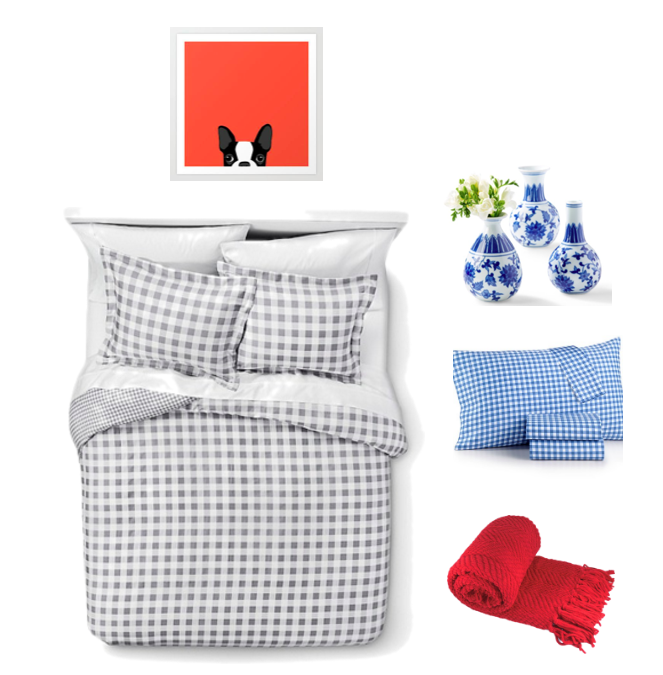 Art (Society Six) | Bedding (Target) | Vases (Design Darling) | Sheets (Charter Club) | Blanket (Amazon)
I'm finally giving in and becoming an adult. Though I've decorated my studio apartment to reflect a mature preppy decor, I haven't touched my bedroom since moving in over a year ago and I'm actually still using my bedding from college! Although I LOVE my Lilly bedding and Tom has been a GREAT sport the last five months, sometimes you just need to give in.
We've decided on a red, white and blue theme because honestly, loving America is one of the only things we can agree on when it comes to decor. I have a preppy, feminine style and he loves plaid, rugged decor….you can obviously see where we disagree.
To be honest, this transition is kind of bittersweet. I've always lived in a bedroom fit for a princess. Growing up I had a canopy that included pink & white stripes covered in bows, if I had my way I would have brought that comforter to college AND New York. In college I always had a Lilly comforter, so this switch to a more gender neutral setting is definitely different. Nevertheless, I'm excited that Tom and I are picking this out together since right now it still feels like my place rather than our place.
This was definitely not an easy process. In fact, it has taken over a month of nightly conversations on which comforter to pick. I'm pretty sure we changed our mind every other day. But, I'm so happy on where we netted out. My favorite being the small nods to things that are special to us, like the Boston Terrier poster that signifies where we met (Boston University). I'm so excited to finally bring this vision to life over the next few weeks Stay tuned for the big reveal!