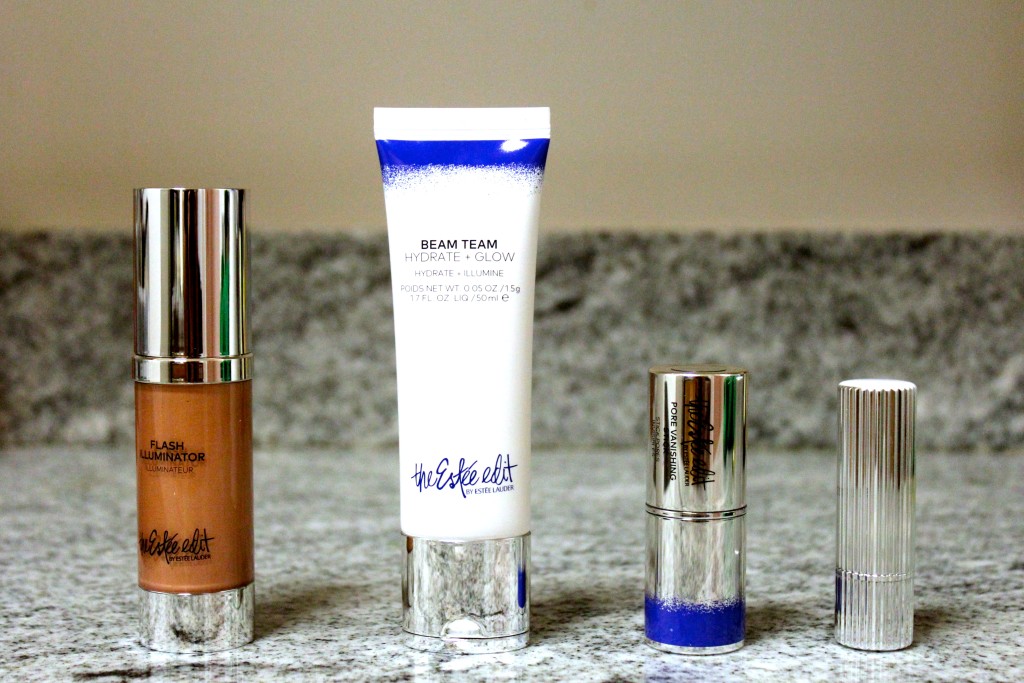 If you've been looking for that naturally dewy look like I have, The Estee Edit has you totally covered. The Estee Edit sent me the above products and I'm already FALLING in LOVE. Usually, my make-up bag contains the basics. Simple foundation, eyeliner, mascara, and blush. Maybe it's my sunkissed skin, but these basics just aren't doing it for me anymore. That said, I'm super psyched to start incorporating these products into my daily beauty routine.
If your summer sun tanning hasn't gone according to planned, you'll love this product. At first glance it is definitely way too dark for me, but I've been using it as a blush to add a subtle glow to my glamorous neutral-look. You can also use it alone for an all-over glow. PRO TIP: Combine with your favorite body lotion for a radient look head to toe.
This 2-in-1 product is perfect for your uneven tan this summer. You can apply either under or over your usual make-up, but I've been using it without any additional supplements. The cream will not only hydrate your skin, but also provide coverage. The cap contains a touch-on shimmer concentrate that can be used for highlighting. This product is perfect for all-natural, no-make days. Seriously can't wait to use this everyday in Cape Cod.
You know that mid-afternoon sheen? I definitely know it way too well during the summer months and this product is helping me battle it. Using this baby to refresh your make mid-day is my favorite way to use it, but you can also use it as a primer to eliminate the look of pores.
The Barest Lip Color in Nude Scene
This shade is WAY to dark for me in the summer (see Snapchat for proof), but I'm looking forward to giving it a try come Fall. The subtle hints of red and bold brown will match perfectly with my neutral layers come Fall.
I'm incorporating the first three products right into my daily beauty routine, follow me on Snapchat (Marie_Goldstein) to see selfies to prove it!