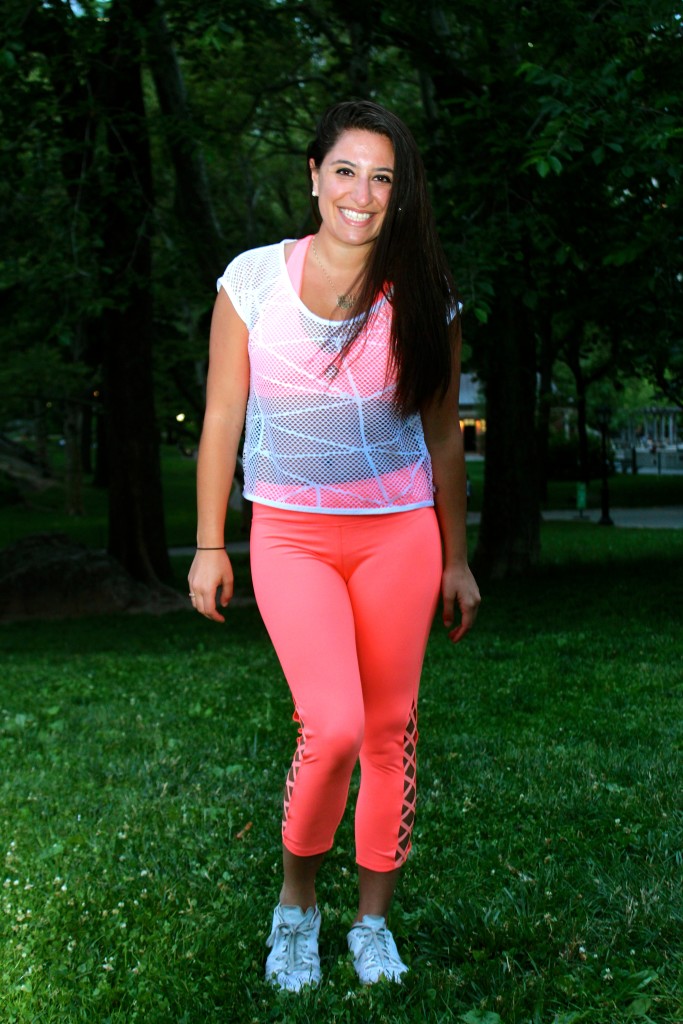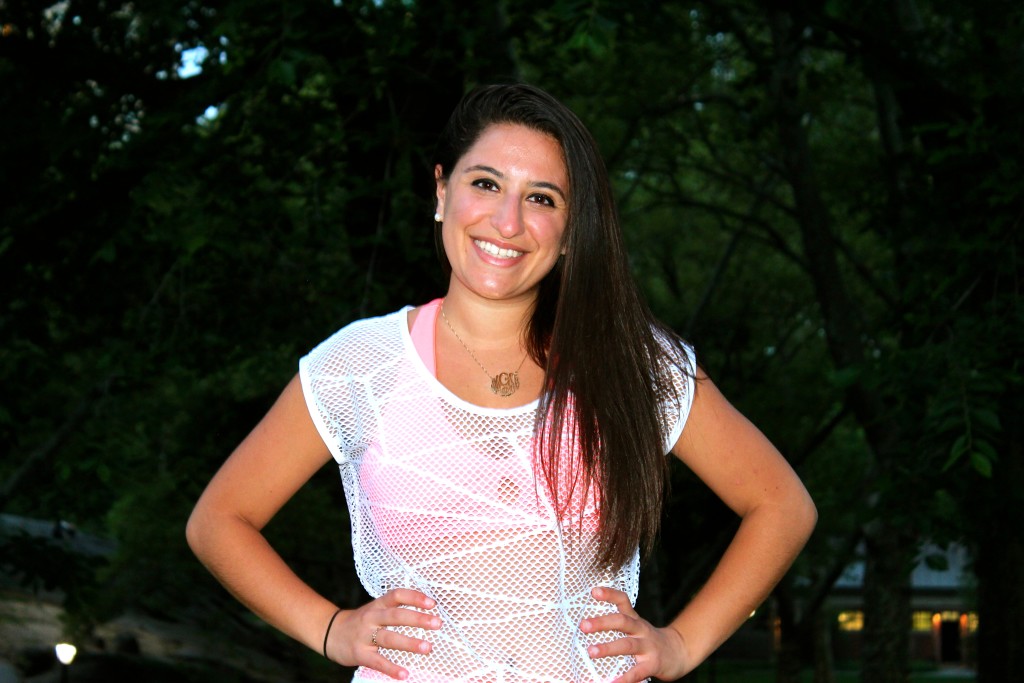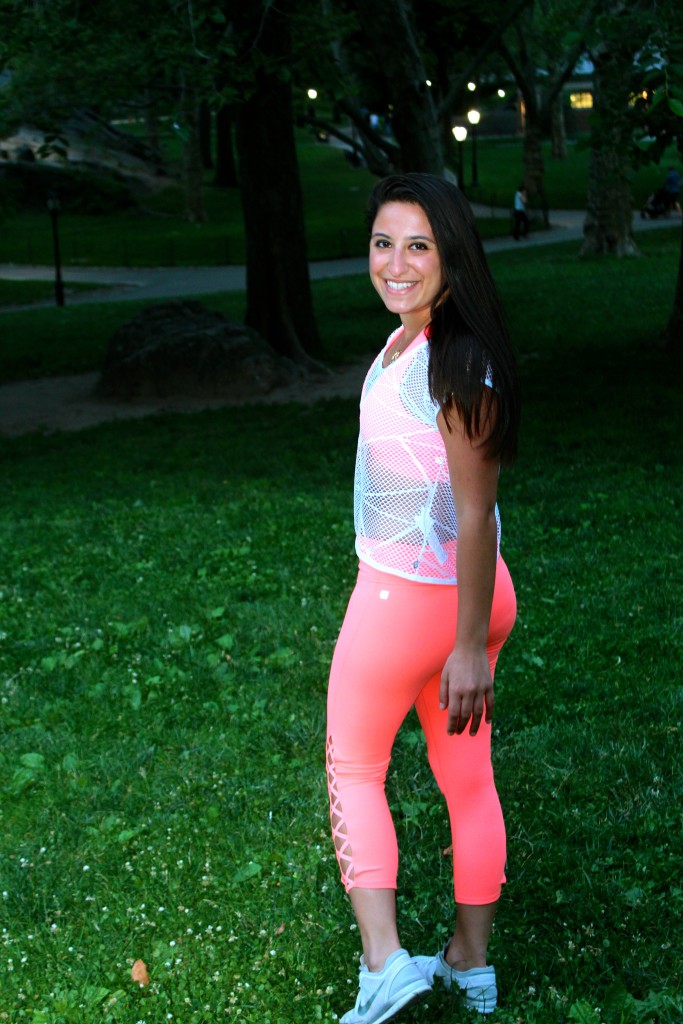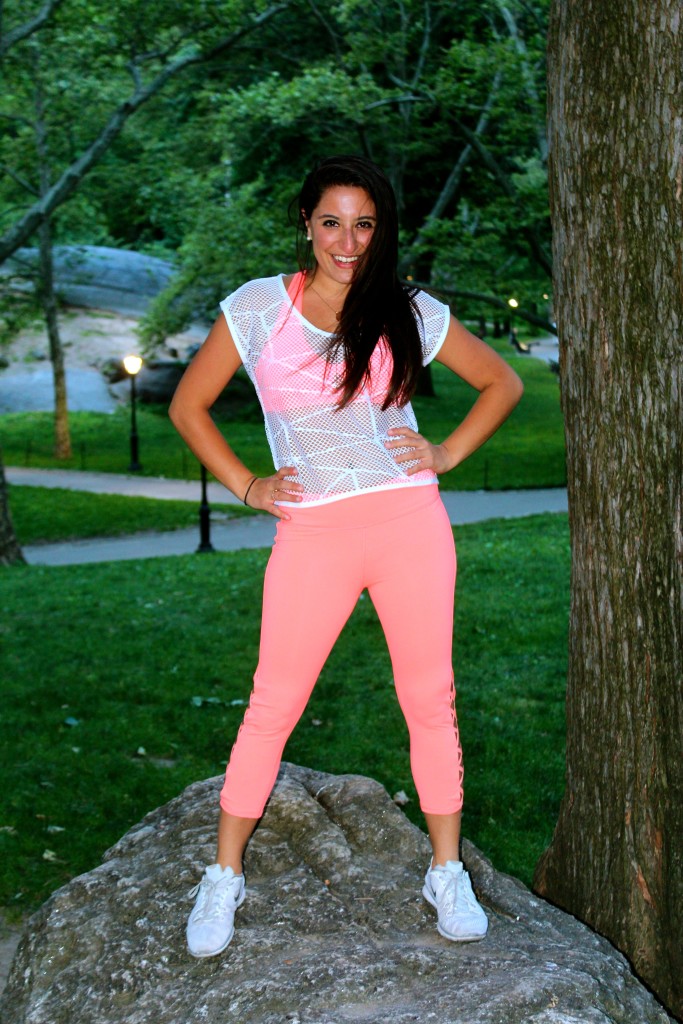 Top (Fabletics) | Sports Bra (Fabletics) | Leggings (Fabletics) | Sneakers (Nike)
Y'all know I'm a huge Fabletics fan. I seriously can't get enough of their comfortable workout clothes and their fabulous lifestyle ensembles. A few weeks ago I immediately ordered this outfit after it had been on backorder. It seemed like the perfect ensemble to spice up my summer workouts.
Fabletics is all about the details if that wasn't extremely obvious from this outfit. The simple twist in my sports bra, the mesh tee and the lattice crisscross up the leggings make Fabletics stand out amongst the millions of other fitness brands out there. I selected this outfit for those darling details and the bright color. I usually stay to blacks and grays when it comes to yoga pants because it is easy to match, but this neon orange really made me excited for summer. Despite the fun-factor of this outfit, it is seriously functional. Firstly, this sports bra may be the most comfortable sports bra I've ever owned. Secondly, we all know that feeling when the sweat starts to seep through our tanks during Soul Cycle, goodbye sweaty belly. Lastly, I could live in these pants. I'm hoping the come out in a few more colors!
I used to be one of those Lululemon-wearing girls who tried desperately hard to believe the $$$ price tag was worth it. Fabletics proved me so, so, so wrong. Not only is Fabletics half the price of Lululemon, the brand is also more comfortable and fashionable for any style-first yogis.
Let's come clean. We all know that us basic bitches wear yoga clothes for much more than Yoga. Fitness clothes are my go-to weekend attire, my shopping ensemble and sometimes even my pajamas. Other than jeans, fitness clothes are the 2nd most worn thing in my closet. If you wear yoga pants as much as I do, you find that you need to make it different sometimes because eventually people will start thinking that you're wearing the same black yoga pants over and over again.