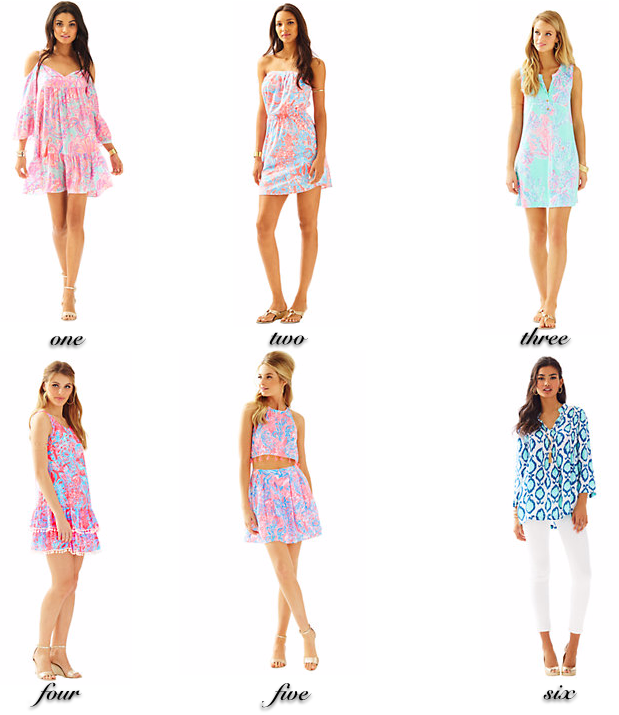 (one) | (two) | (three) | (four) | (five) | (six)
Tis the season for Lilly prints and their new arrivals are definitely not disappointing! Whether you are a girl who loves pinks, greens, or blues there is seriously something for all of you. I'm also loving the new styles Lilly is recently churned out. I've always been one to grab the first shift I see, but their new styles are ADORABLE.
one | Alana Off The Shoulder Dress 
This dress immediately caught my eye when I saw it last week on Lilly's Instagram. It is super whimsical and the print is called "Too Much Bubbly" can it really go wrong?! I know plenty of girls (my little sister included) who LOVE Lilly, but usually sway in the more boho direction. This style & print is perfect for your friends who want to wear Lilly to the next music festival.
two | Windsor Strapless Pull-On Dress
The Windsor is not a new style but the print, "Summer Siren," certainly is and it also comes in "Into The Deep." The Windsor is THE most comfortable Lilly style known to mankind. I bought one three years ago and it still one of my go-to dresses each summer. Perfect to slip on over a bathing suit or even wear to work with some wedges. If you are looking for an all around amazing Lilly, you'll love this baby!
three | Sleeveless Essie Dress
If you are familiar with Lilly's Elsa tops, you are going to be OBSESSED with the Essie Dress. The Essie is built just like an Elsa top– silky, classy and resort-perfect. I love to slip Elsa tops on with a pair of white jeans on chilly summer nights, but now I'm excited to work the style no matter the weather with the Essie. The two prints available are two of my favorite this summer. The minty base of "Fansea" is super different from most of the Lilly prints, so I'll definitely have to add it to my closest and "Barefoot Princess" is just pink overload…so obviously a must-have.
four | Natashia Scoop Neck Dress
Another new style for Lilly! Super casual and fun, this scoop neck dress is perfect for a day of shopping with your girlfriends or a casual date night in the park. I first spotted this style a few months back when Lilly released their 2016 white dress collection and I immediately fell in life. Whether you are a simple little white dress girl or want to spice it up a bit, there is a Natashia dress for you.
five | Selina Halter Top & Skirt Set
I've seriously been raving about this skirt all week! After the success of my Melody Crop Top & Skirt Set during MDW, I seriously want every crop top set Lilly offers. This new a-line skirt style is SO flattering on curvy girls like me, so I need to suck this up as much as possible. This one spices it up a bit with a halter top & pom poms, HOW can I even think about saying no?!
six | Sarasota Tunic
Just like the Elsa top, the Sarasota Tunic is perfect for those chilly summer nights on the beach. With the pair of white jeans you don't go anywhere without, you have an instant outfit. For someone who usually gravitates towards blue prints (blame my brunette head) I'm absolutely obsessed with this print and compared to most it is fairly simple. There is no denying that Lilly can make a crazy statement sometimes, so if you have summer plans that may involve work colleagues, this may be your best option!
I think I'm going home with all six, but which is your favorite?!