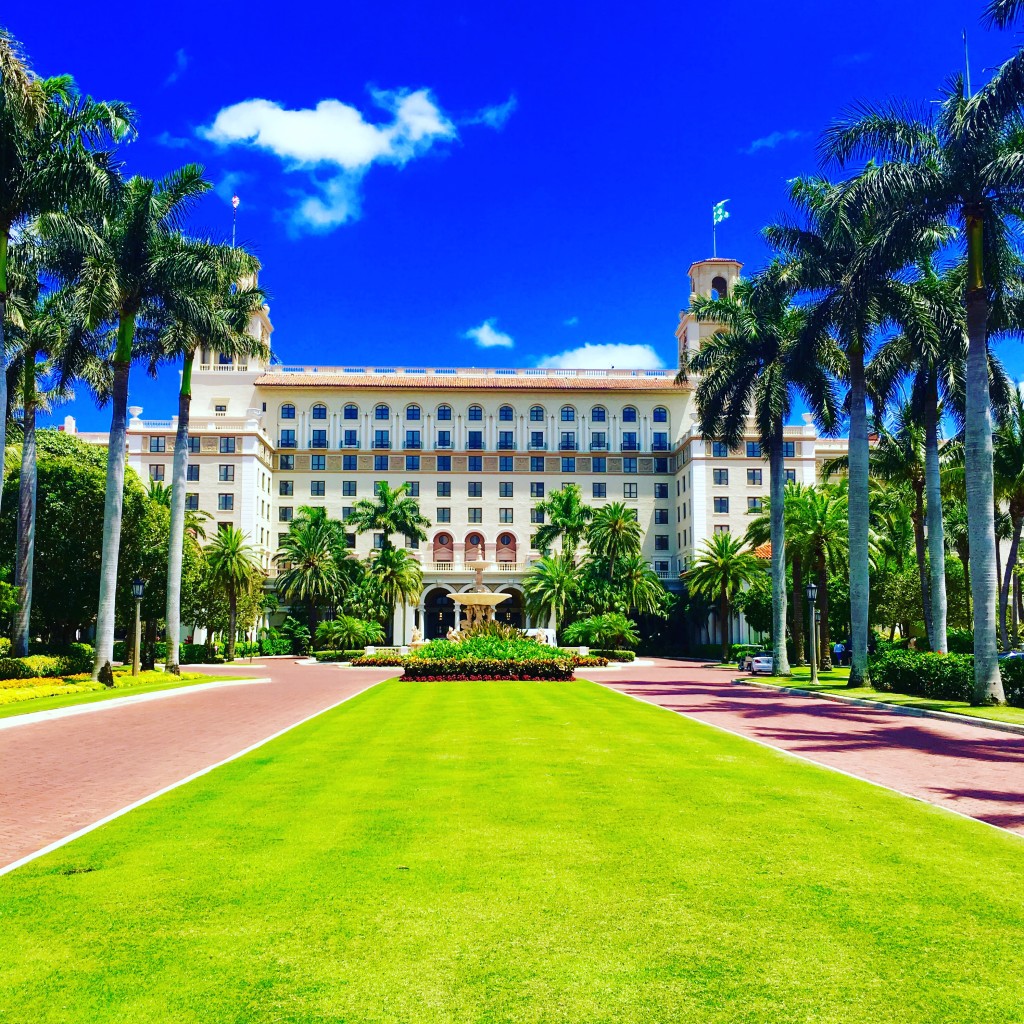 Back in April, my family and I made a quick visit to our favorite place in the world– The Breakers Palm Beach. This place holds a special place in my heart for many reasons. When I think of my memories of The Breakers, I think of togetherness and tradition. My mom has actually visited The Breakers since she was a little girl with her family, so each visit reveals more amazing stories of her visits with my grandparents and aunts. It is also a short drive from where my dad's parents live, so this place simply means family.
During my last visit, I realized that my family follows a pretty traditional schedule each time we visit. This schedule includes A LOT of sun & food. Our two favorite things! Below is the Goldstein Family routine for a long weekend, I hope you enjoy!
Day 1: Leave NYC on the earliest flight out to West Palm Beach airport. Leaving the apartment at 4 AM will be a drag, but when you are sitting at The Beach Club Restaurant breakfast buffet by 9:30 AM you'll be beaming with happiness! After breakfast, we usually spend the day lounging/sleeping by the pool since we are so exhausted. This day of the trip we head directly towards the lounge chairs closest to the pool but facing the beach…talk about views!! We wrap up the pool day early, my mom and I head to the spa for a manicure, and the boys start getting ready for dinner at Testa's with the grandparents. We finish the night with an after dinner drink at either HMF or The Seafood Bar. To be honest, we usually gravitate towards HMF, but this year we were digging The Seafood Bar. I think it was because we were staying in the right tower this year!
Pro Tip: The manicure is worth it. I'm usually so busy before I leave for vacation that I don't have time to get my nails done. The Breakers spa treats you like royalty and you get to keep the nail polish to touch up any smudges that may happen throughout the weekend.
Day 2: Wake up early because the sun is waiting for you! While we all want to sleep in on vacation, this place is too beautiful to miss. This is the day that my brother, dad, and Tom goes golfing. I hear it is an amazing course, but I've never been there long enough to get on it! My mom start the day off with iced coffee at News & Gourmet and a browse through the Lilly Pulitzer store. As a loyal Lilly Lover, I'm well versed in the history that Lilly has on this beautiful island. Yes, I know where she lived. Yes, I know where each print was inspired from. Lilly is just a way of life on the island, so for me this is a no-brainer! After a little shopping, my mom and I make our way to our private beach bungalow. Bungalows include private lounge chairs, bathroom, outdoor shower, TVs, couches, and this year we lucked out and got a hammock! Growing up these bungalows were a MUST. With three kids who all want to different things, it is great to have indoor and outdoor options within an arms reach. I actually think this might be one of my favorite parts of the trip. My mom, sister and I lay out in the sun and catch up and then the boys and the grandparents join us around 3. We stay in the bungalow until cocktail hour, because who doesn't love drinking out of a coconut? For dinner, we head over to Flagler Steakhouse for the MOST delicious steak not only on the island, but in the state of Florida.
Day 3: This day is usually a toss up. At this point we are burnt to a crisp from the sun, so nobody is complaining about a few extra hours of sleep and a visit to grandpa & grandma's. Even though we are staying at this beautiful resort, there is nothing better than visiting the grandparents. By 3 PM we are usually back at the Breakers and in need of our daily dose of beach! Whether it be a walk or a few splashes in the water, the gorgeousness of the pure blue water never seems to amaze me! As our last day winds down, our favorite night begins. This is the night we are feeling extra nostalgic since it is the last night of the trip. The night before we have to go back to normal or back to the NY cold. For dinner, we head to The Italian Restaurant. Even though this is the more "family-focused" restaurant and some may say that my siblings and I have outgrown this place, it is our favorite. It brings back memories of playing in game room for hours on end or begging mom & dad to come outside to the playground. We are always lucky to get our favorite waiter, Kevin, who has a HILARIOUS relationship with my dad. I love how Kevin always remembers him and his craziness. After dinner, we re-explore all of our favorite places in the hotel. We sneak into the gorgeous ballrooms that include gold-leafed ceilings or my brother, Philip, retells the history of the paintings on the wall for the 1 millionth time. The night ends with a stroll along the shore, "The Breakers." This is the single most enchanting place in the world. The lights shine onto the ocean, the ships beam in the distance and the waves crash on the rocks and you naturally count your blessings.
Day 4: Before we head back to reality, we sleep in and get every little bit of relaxation we can absorb. We make any last minute shopping purchases at Lilly, Ralph Lauren, or the gift shop. Seriously buy The Breakers shampoo & conditioner. It is the best product that I've ever used on my hair, it is all natural and makes your hair super silky. After we run down to the beach to take in any last sights (or Instagrams, who are we kidding?), we check out and head back to Testa's for lunch. I usually end the vacation with a lobster roll & some strawberry pie. Before we head back to the airport my dad gives his famous tour of Palm Beach Island. Yes, he uses his tour guide voice. He knows a shocking amazing amount about this island. From where Lilly lived, where the Kennedy's still live, where Donald Trump holds his press conference, and even where the owner of Burger King lives. BUT his true reason for this tour guide (which he is not shy about) is to inspire my siblings and I to work hard every single day. With a lot of hard work my parents were able to bring my family to The Breakers and hard work is the only way we can get there for our future families.