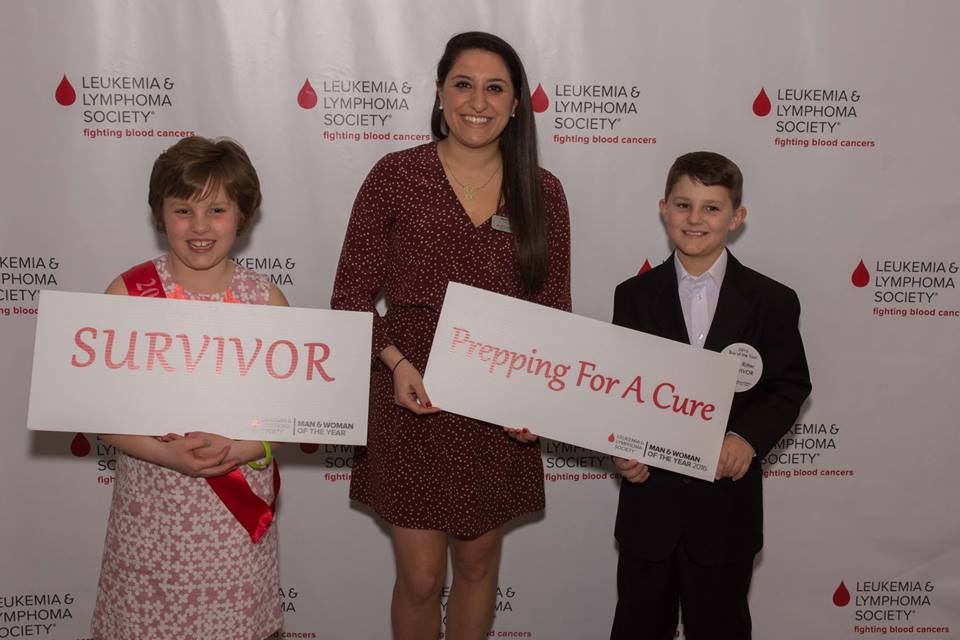 You may have noticed I've been MIA for the past few weeks, but luckily I have one AMAZING excuse. Since March 23rd, I've been working with a team to raise $50,000 for the Leukemia & Lymphoma Society. Back in November, I was nominated for Woman Of The Year for the society and I graciously accepted but this campaign has been hard work!
The Woman Of The Year campaign is fundraising competition where very dollar = 1 vote. To be honest, I'm not concerned with winning but I'm working extremely hard to reach that goal of $50,000.
In my short 23 years of life, I've seen cancer change the lives of too many people that are close to me. I chose to support LLS as they are much different from other foundations. The research and services they fund and support doesn't stop with Leukemia & Lymphoma but benefits all types of cancer and blood disorder research. I became active in LLS in middle school when my best friend Nicole lost her mom, Kathy, to Leukemia and I saw firsthand the effects that cancer can have on a family. It was the first time Cancer ever affected my life, like most of us I thought it was a disease that only affected other people. 
My family is very close— whether you are brothers, sisters, mothers, fathers, aunts, uncles, and even in-laws; when something happens, it happens to us all. Growing up, I experienced the joy of each accomplishment and achievement my family members encountered, but I've also experienced every painful tragedy. 
Last July, my uncle Gary lost his brother, Doug, to Pancreatic Cancer, nearly 20 years after he lost his Dad from the same disease. Doug left his four kids and his wife after fighting relentlessly, doing everything in his power not to miss a beat in his children's lives. As a businessman, president of the Hampton Bays board of education, amazing father, loving husband, and avid fisherman; Doug poured passion into everything he set his mind to. Growing up, Doug was a true friend to my parents and I grew up with his kids as if they were my own cousins and in less than a year their lives were turned upside down. Cancer finally struck my family, and I fully understood the pain and sorrow this disease brings. 
The following September, we lost my cousin Anthony to Stomach Cancer at age 32. Growing up, Anthony acted as an older brother to me, tagging along to our dance recitals, shopping outings, and even family vacations. When Anthony was transferred to Sloan Kettering in New York, I visited often. Each day that I would visit Anthony and we'd talk about the latest celebrity gossip, the trends on the pages of Vogue, and our endless memories together. However, each night I would leave in tears because I saw the pain he was in. Though he remained positive, upbeat, and hilariously comical; he was fighting  harder than the eye could see. Even when he was sick, he never failed to celebrate his friends & family. When we smiled, he smiled. Despite being separated for months at a time while I was in college, he consistently sent me Facebook messages with notes of inspiration, exciting plans for when we'd be reunited, and links to sales at my favorite stores. 
Unfortunately, Anthony and I never got to all of the exciting adventures he had planned for us, Cancer ruined our plans. The traumatic sadness that I felt when Anthony lost his battle to Cancer made me realize that no matter how healthy you are, how much you exercise, how well you eat, how much money you have, your ethnicity, or religion; Cancer does not discriminate. 10 years ago, Anthony just graduated college, he was working in NYC and doing what he loved. 10 years ago, Anthony was just like me. That said, we now need to work together to make sure that this level of pain, sadness, and loss is never experienced by humanity.
I'm not running for Woman of the Year only in memory of Anthony, Doug and Kathy— I'm running for all those past, current, and future that have, are, and will battle this terrible disease. I'm not a doctor, so I thought I couldn't do anything to help but I was so wrong.  Donating as little as $10 helps an LLS-funded researcher grow cells in a lab for a week, to understand how well a new cancer therapy might help but as much as $50,000 funds one full year of vital research to improve the quality of life of current cancer patients undergoing treatment. My team, "Prepping For A Cure" is striving for that $50K to help at least one patent. Please consider making a donation to help us reach our goal of $50K and keep at least one more family intact. 
While I apologize that I've been away from my blogging community, I encourage each and every one of you to use your influencer for the best and spread my mission within your community. If you are interested in donating, please use this link: http://www.mwoy.org/pages/li/li16/mgoldstein.