I know it kinda makes me sound like a mom but I'm the biggest Zulily fan that ever walked the face of the earth. I love a good deal and the unique shops that are featured each week just get me. This week I rounded up my favorites to share with you!
1| Set A Globe Scene. This shop offers unique serving dishes and home decor to make your friends think that you have it all figured out! All it takes is some printed dishes & containers to make you look coordinated.
Water Bottle ($10.99) | Storage Bowls |  Damask Bowls (Under $20!) | Blue & White Dinner Set
How perfect are those little printed storage containers? Perfect for hauling salad dressings or individual servings of hummus back and forth from work! If you are looking for a deal, you can't beat that water bottle or damask bowls.
2| Southern Hospitality. If you are looking for simple, tasteful decorative pieces, this is your shop. From decorative desk organizers to that perfect wastebasket you didn't even know you were missing, this shop has you covered with unbelievably affordable prices.
White Hobnail Jar  ($5.99)|  Navy Desk Organizer (Under $20!) | Bee & Cream Coaster ($11.99) | Gray Umbrella Holder
An umbrella holder is totally one of those things you never think you need until you totally do. Might as well make this the cutest purchase, EVER! If you are looking for a deal, snag that hobnail jar NOW– they have the same one at Target for more than double the price.
3| Your Personal Spring Vacation.Take it from an experienced, Spring Breaker– you need all of these things! Seriously, a tumblr will help you maximize your all inclusive package and a monogramed towel will make you feel like a genius when you realize everyone has the same old white bath towel.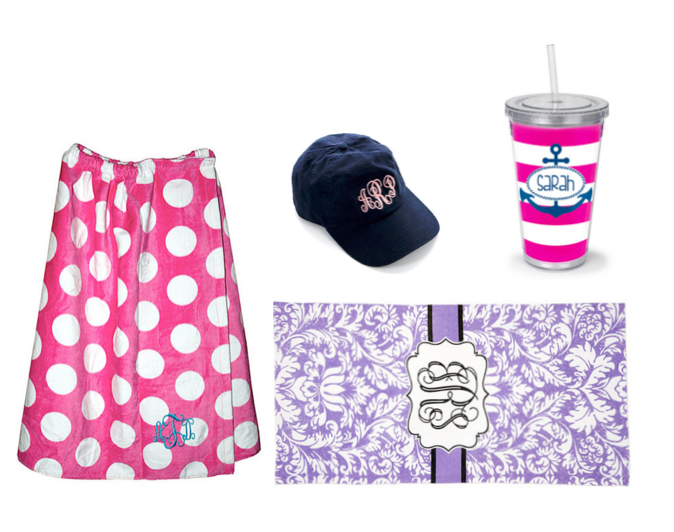 Monogramed Towel Wrap | Monogramed Hat (Under $15!) | Purple Monogramed Beach Towel | Personalized Tumblr
This is the best deal out there for monogrammed accessories. You better take advantage of that hat and Tumblr!
Seriously spending the rest of the day shopping, since these shops are SELLING OUT! What are you buying?!