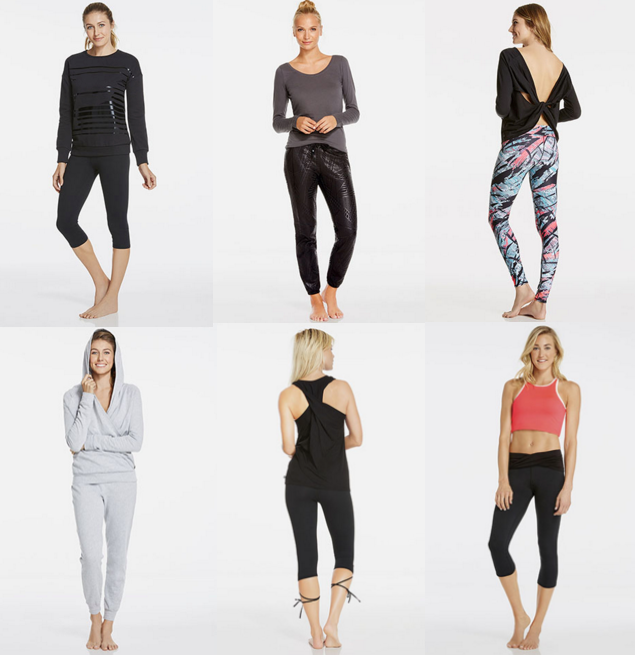 I've been obsessing with Fabletics, Kate Hudson's fitness brand, for over a year now and it seriously keeps getting better and better. As a member, I receive an outfit of my choice starting at $25 and as someone who works out an average amount and spends the rest of her life in leggings/sweats– it is definitely worth it. Whether you are an avid runner, yogi, or just like to lounge around the house; Fabletics will serve up the most comfortable and fashionable options that fit your style and fitness preferences. Fabletics will also pull out some of Kate's favorites, if you are a total fan girl!
I used to be that girl who spent $$$$ at lululemon for the yoga pants that gave the whole studio a show but with Fabletics I never have to worry about such a thing. These outfits are more fashionable than any other line, the most affordable out there, and has incredible quality. Here are a few of my favorites!
1.  Meridian | So simple. Wear this ensemble to your favorite yoga class and break it up by wearing this sweatshirt with a pair of light jeans for a casual weekend brunch.
2. Jojoba | Love the texture of these pants. So different and definitely something you couldn't find anywhere else. Wear these to yoga or your next SoulCycle class.
3. Doris | Fabletics kills it with the unique backs. All of my favorite tops have ornate cutouts that let just the right amount of air in during a crazy workout. Also, this print is amazing. The best way to get noticed while killing the downward facing dog.
4. Hemisphere | The graoufit (gray outfit) you never knew you needed. I already bought this baby and spent all weekend in it!
5. Dasher | How adorable are those little bows? Reminds me of my ballerina tights from back in the day. Wear these babies to those dance classes you pick up here and there. My favorites are at CRUNCH fitness, not too hard but not for a beginner.
6. Eos | Adding a little color to my wardrobe! I definitely can't pull off this crop top now, but it can be a goal, right?!