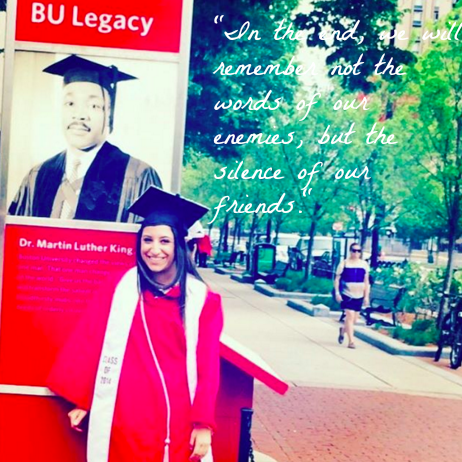 "In the end, we will remember not the words of our enemies, but the silence of our friends." – Martin Luther King Jr.
I know, I know, I'm a little late on celebrating Martin Luther King Jr., but i's the though that counts, right?
Last week, I came across this quote and it really struck me. It made me think about all of the "challenges" I've had in my short 23 years of life and how this simple phrase could not stand more true.
I'm one for standing up for what I believe in and I certainty wear my heart on my sleeve, so I've definitely come across my fair share of disappointments. If you've ever seen me in any sort of leadership position, you've likely heard me say "justice will be served" or something like "not on my watch" but this mentality has been hurtful more often than not. Not hurtful because I didn't get my desired result but because I didn't have my anticipated support.
It's so funny how you can have a army of support behind closed doors but when it comes to conflict, people hide and pretend they have no idea what you are talking about. I've run into this problem in every stage of my life; dealing with a break-up in a small town (cue Sam Hunt song), staying true to my morals as a sorority sister, roommate troubles, plain old girl shit…thankfully nothing at work because #professionalism.
Don't get me wrong, there are definitely good guys out there. Those are the ones who stand up on your behalf, the ones who talk you off the cliff before you are in too deep, and the ones that at least apologize.
It is so easy to think that it is you in these situations and trust me, I've spent way too many hours blaming myself and rethinking all of the different ways I could have said something. Coming across this quote, was comforting for me. It assured me that if Martin Luther King Jr., the single most inspirational and morally sane person there ever was, had these problems then I'm not doing anything wrong at all. I'm staying true to myself and standing up for what I think is right, if Martin Luther King Jr. never did this, where would we be?