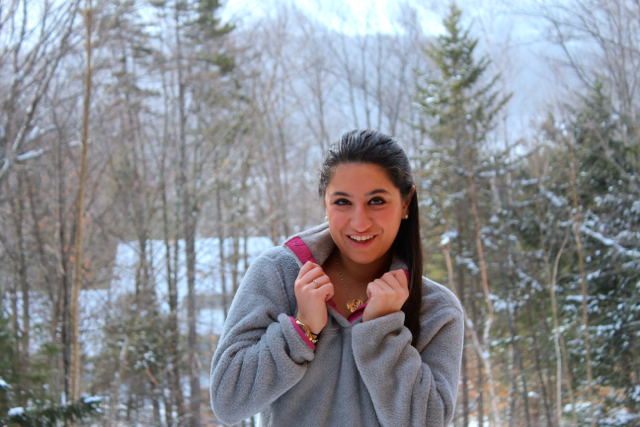 Sweatshirt (Patagonia) | Leggings (SPANX) | Socks (Old Navy) ON SALE! | Boots (L.L. Bean) | Necklace (Marley Lilly) | Watch (Michael Kors)
Woof! Thank god it is already Wednesday, I swear to god this week started with a sprint! As I mentioned yesterday, I spent this past weekend in Vermont, which requires a bit of a road trip, Nothing too serious, only about 3 and half to 4 hours but a road trip none the less. That said, Monday was spent in the car driving back to NYC with the fam.
Traveling used to be a big event for me, I'd spend time the night before putting together the perfect road trip or flight outfit. Now, I'm all about the comfort and simplicity. The number one rule of traveling is being comfortable and to do this, you also need to look put together. I don't know about you, but looking messy makes me feel super uncomfortable (even if I'm wearing my pajamas). Don't get me wrong, there is absolutely, positively ways to make your pajamas look put together. 
This time around, I choose my favorite Patagonia sweatshirt for my ride home. This is the single most comfortable thing I own, so I knew I couldn't go wrong. Not only is it comfortable, but it is crazy warm– in fact, I actually ski in this sweatshirt! This simple sweatshirt was the perfect choice because it achieved both of my criteria: (1) comfy (2) put together. I paired my sweatshirt with my favorite pair of leggings, because I obviously never wear pants anymore and wearing jeans on a long car ride home is basically sanity suicide.
It started to snow on our way home, so I was prepared to hop out of the car at rest stops in my Bean Boots! These were the only shoes I brought to Vermont, a serious record for me. When in VT, these are all you need– warmth, comfort, and durable. Of course, once we got going, these boots came right off and I lounged back in my Old Navy socks.
What do you wear to survive road trips?