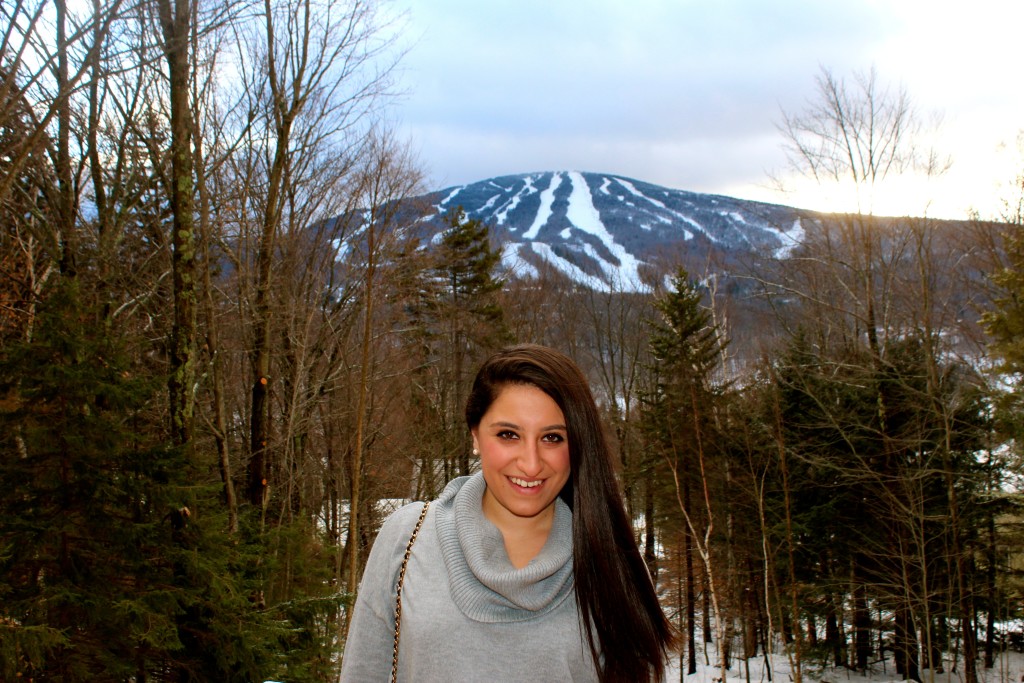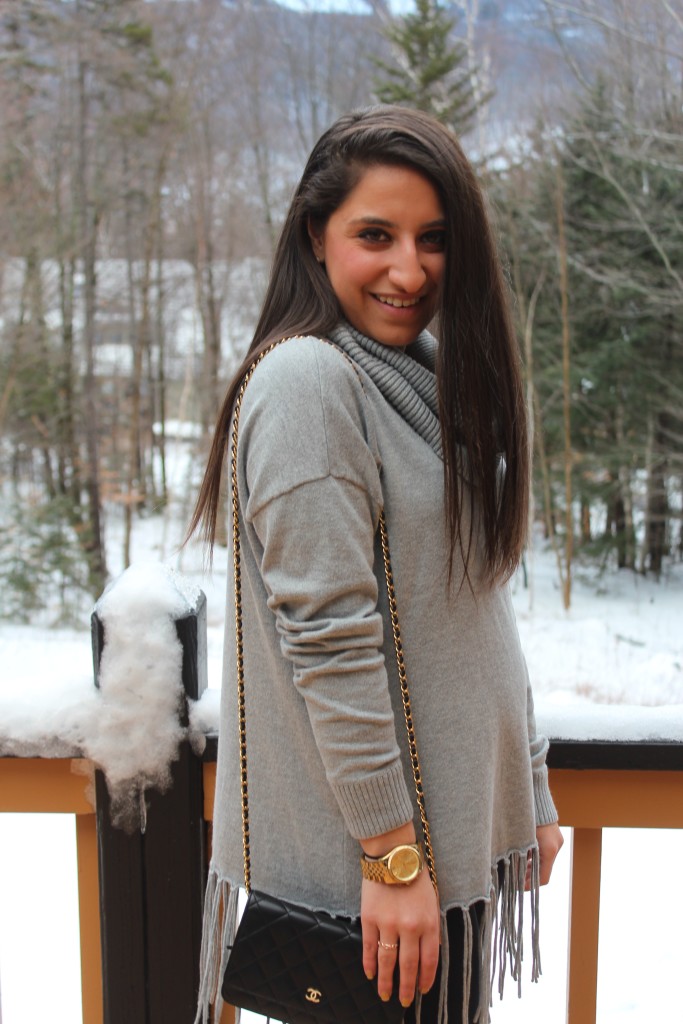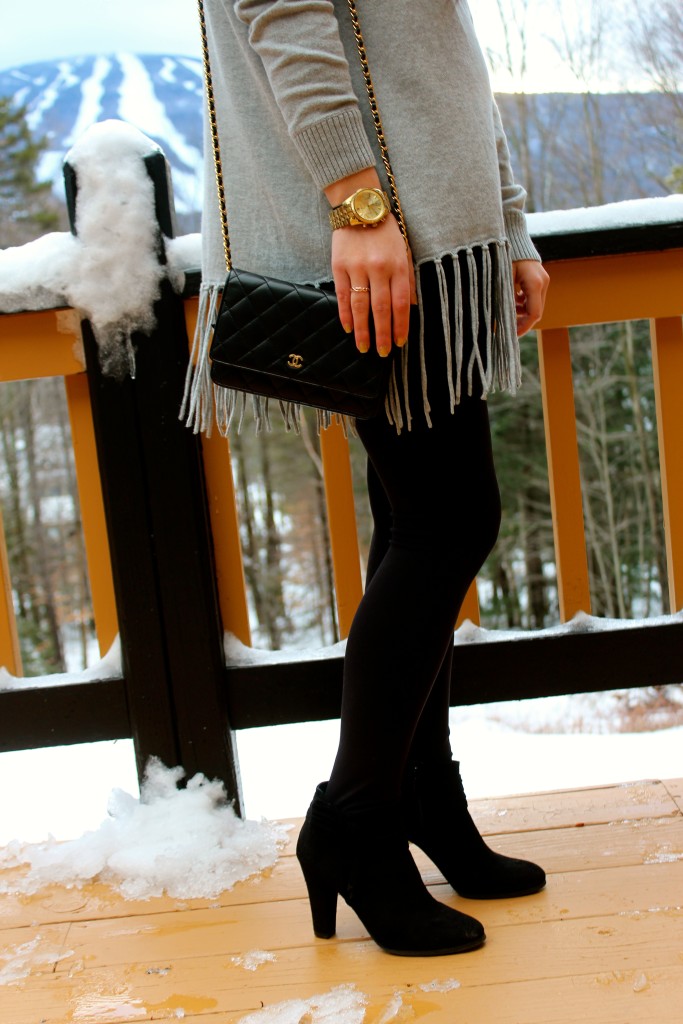 Top ON SALE! (Michael Kors) | Leggings (SPANX) | Shoes (Impo) | Bag (Chanel) | Watch (Michael Kors) | Bracelet (Stella & Dot) | Bangle (Stella & Dot)
It is your first Monday back and it sucks BUT it is also a great opportunity to start new, get motivated, and consider your 2016 goals. This past week was my family's annual reunion (otherwise known as the Cousins Marathon '15) up in Stratton, Vermont and there is nothing like some quality family time to get you thinking of all of your blessings. The time we spend in Stratton is chockfull of love, fun, and support and just what I needed after a stressful and scary year.
One of my favorite events of the week was watching my cousin Brandon perform at the Green Door Pub, located in the basement of Mulligans restaurant. He was absolutely FANTASTIC and a true example of how supportive my family is. We all have the same goal– do everything we can to help one pursue his/her dreams.
I wore this outfit to go watch his performance and it was the coziest and chicest option. In a ski town you never want to overdo it so a sweater and leggings is always the answer. In fact, these booties may have even been too much. With all of that ice and snow, next time I may just slip on a pair of black snow boots! Don't get me wrong though, these super cheap ($40) and stylish booties still have my heart.
The cowl neck on this sweater made it difficult to accessorize so I just threw on my daily set of bracelets and my new Chanel bag, By the way, I think I now know what love is and it is what I have for this bag. It is so classic and perfect for my professional life in the city. It is actually referred to as "a wallet on a chain," as that is literally what it is. You open it up and there are slots for your credit cards and phone but not much room for anything else. For my messy life, this doesn't give me any opportunities to junk this bag up with unnecessary pens or food!
While in Stratton, I'm so lucky to have this amazing view of the mountain right off of our living room. We have explored every nook and cranny of this place and we have settled on our favorites. If you are new to skiing and still need a bit of practice head to the summit and take "Mike's Way" down. This trail wasn't open this past week due to the high temperatures but should be open soon! It is family friendly and the perfect place for some practice. If you have conquered all green trails, give "Black Bear" a whirl. Depending on the day, this trail can be a breeze or a true challenge. If it snowed the night before, expect moguls. If you are an expert, I personally love "Polar Bear". Super steep but still a great time. If you make it down, you'll definitely feel accomplished!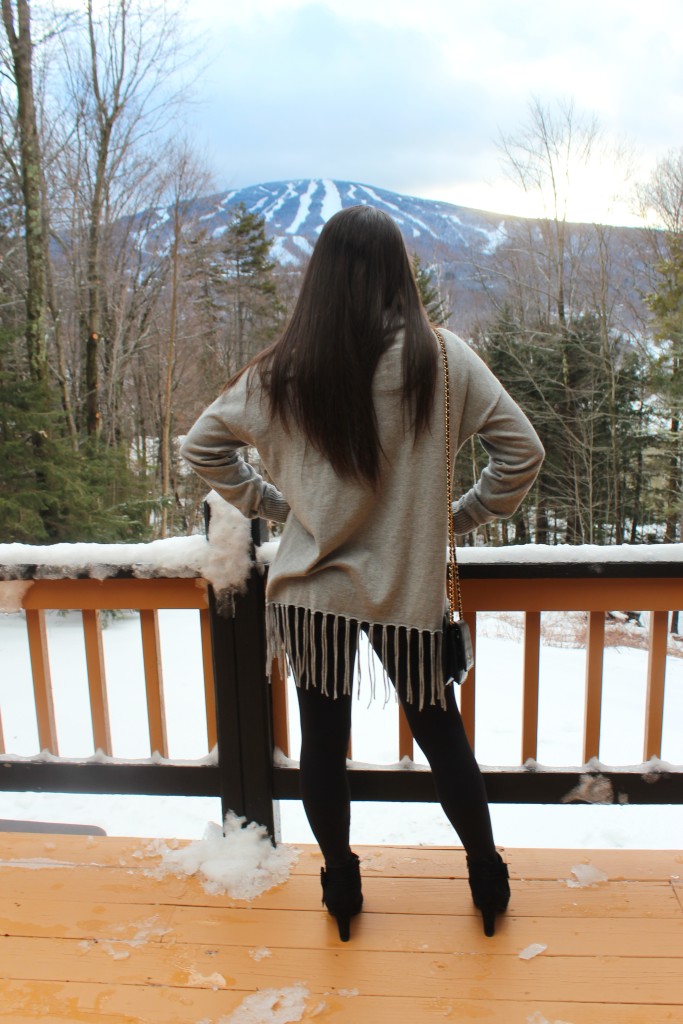 P.S. these SPANX leggings are LIFE CHANGING. Go get them.