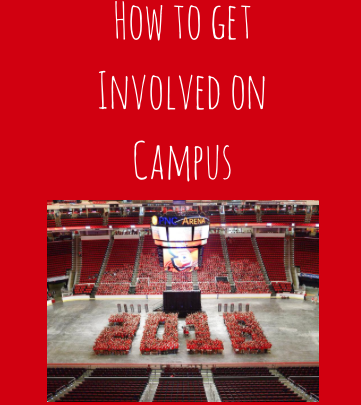 As we start back into a new school year (or maybe your first year on campus!), it's important to make new friends and find people that you can rely on throughout the year. Your old friends are great, of course, but the best part about college is that you're always meeting people! You can really never have too many friends and it's a bonus if they share your interests. The best way to find people like this is to get involved on campus!
Sure, you can meet people in class and maybe even on the bus or in the library, but getting involved with clubs, sororities, club sports, and other organizations is a foolproof way to make friends. You don't have to spend all your time doing homework; get out there and join some activities you like and be social while doing them!
Here are some really fun ways to get involved on campus:
Join a club based on your major
I think being in a club that relates to your major is great for several reasons. You can meet people who are most likely going to be in your classes, you can find people to give you advice on these classes, and you can really relate to them because you all desire to work in the same field. This is not only a way to make friends, but also a resumé booster!
Join a club based on your interests
A great way to take a break from all of the schoolwork is to join a group that is based on an activity. There is a huge variety of these clubs on campus – from languages to hiking to sports – so there's a really high chance that you can find one you like! Take a risk and learn something new through this opportunity as well, you never know what you might like.
Participate in volunteer work
At most schools, there are multiple opportunities to volunteer in the local community throughout the year. If you see a sign-up sheet for one of these, go for it! Giving back to others is a wonderful feeling and you'll be able to meet other people who want to help others. Giving up your Saturday might hurt a little at first, but it's well worth it in the long run!
Join a student committee
Your campus probably has multiple student groups that plan activities for the student body and you might not even be aware that these exist. Talk to someone in student government and hear the options for getting involved. We have groups that plan which movies will be shown at the campus theatre, who will be performing concerts on campus, and when special events will take place around campus. This is the perfect way to make your voice heard and help make sure your campus events are awesome.
Join a sorority
The perfect way to develop a lot of really close relationships (and participate in tons of events throughout the year) is to join a sorority! These groups are constantly doing something on campus – from fundraising to socials or just chapter meetings. There's no way you can't feel involved if you're in a sorority. Just make sure you're able to make the time commitment before joining.
Go to games
Everyone wants to go to the football and basketball games on campus, but less people support the smaller sports like volleyball, soccer, and sometimes even baseball. The best way to show your school spirit and support your fellow students is to cheer them on at their games! You can make fantastic memories at campus sporting events and bond with other enthusiastic fans in the student section.
———
These are only a few of the ways that you can play a bigger role in the student body. Be sure to check out your campus for special activities that might be unique to your school. Don't be afraid to get out there and do things you might not have done in high school. Show your leadership and develop your skills and talents. Get involved with a group that can introduce you to lifelong friends. Just be sure to have fun and make your college experience memorable!