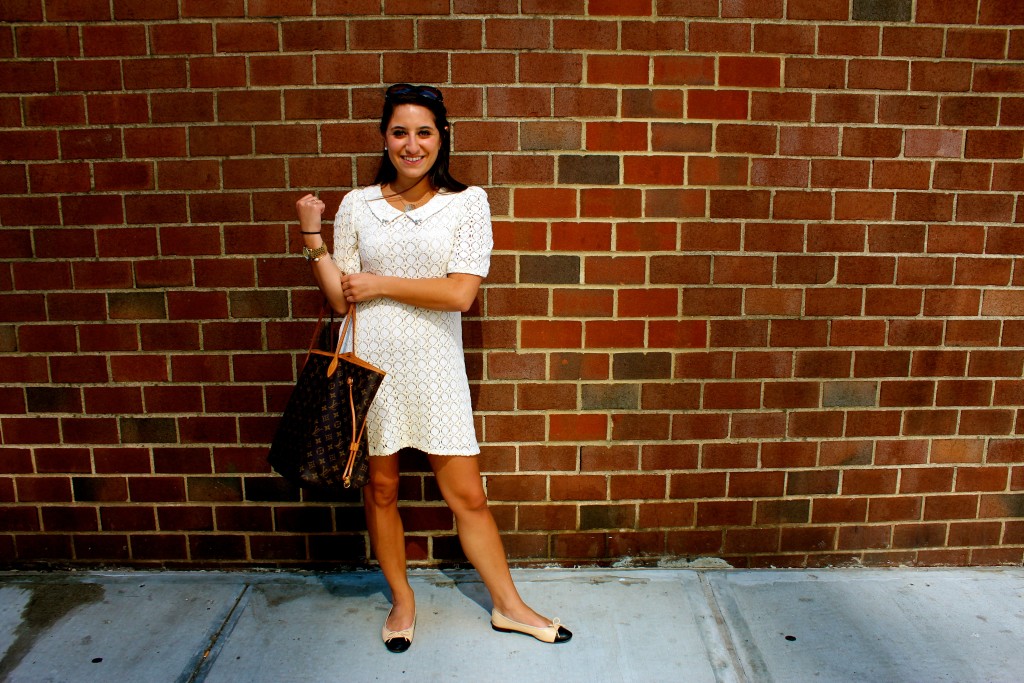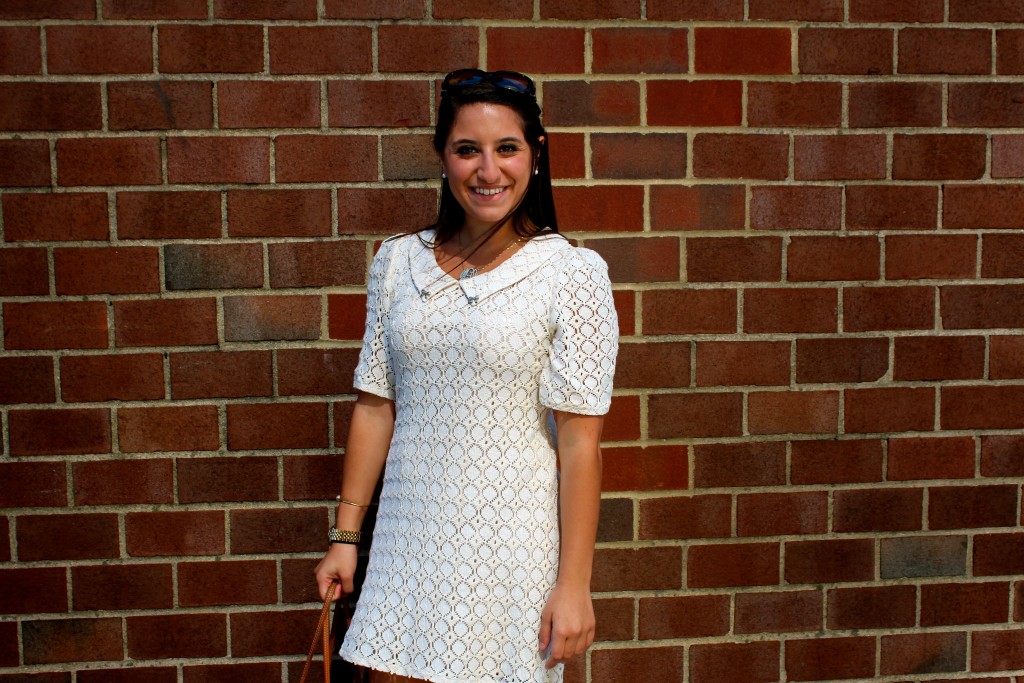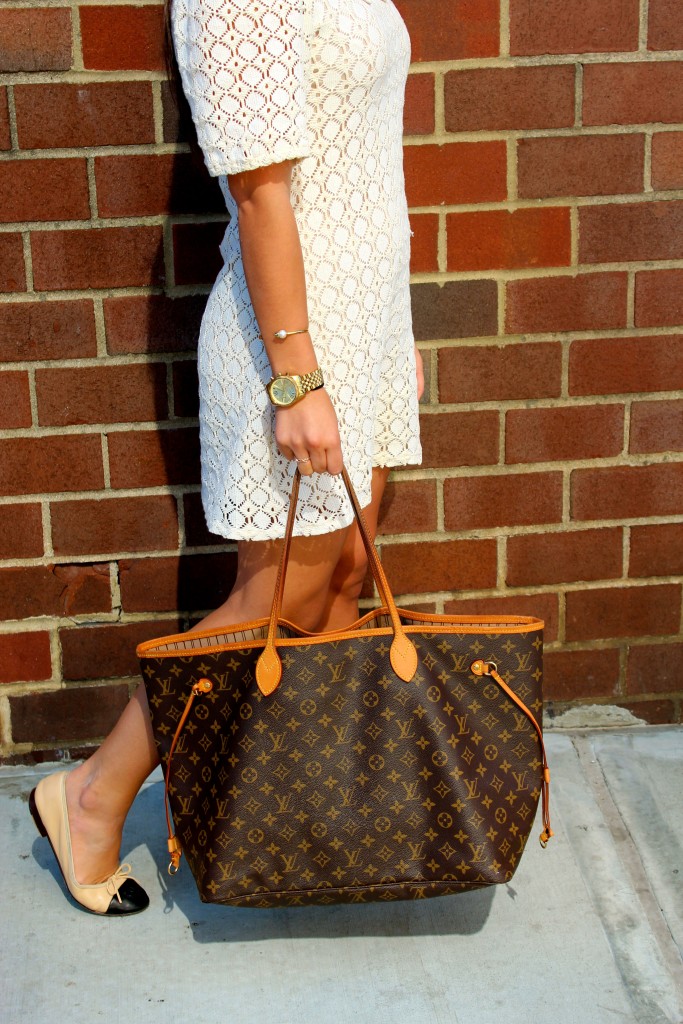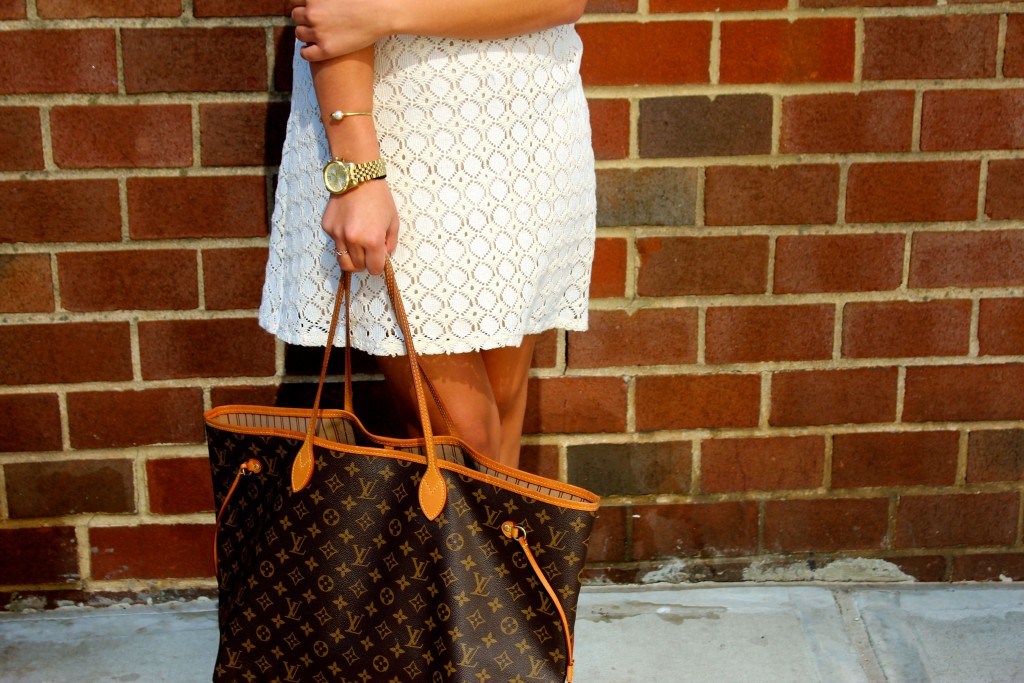 Dress (ModCloth) | Shoes (Chanel) | Bag (Louis Vutton) | Sunnies (Chanel) |
Watch (Michael Kors) | Bracelet (Stella & Dot)
Sometimes your best outfits have been in your closet for years! I've had this dress since sophomore year of college but this was the first time I've worn it in NYC. A sweater dress with a peter pan collar with little gold bow to boot, this is basically my dream dress! With a simple gold metallic slip underneath, it gives the beige sweater dress a little extra glam…a little something to keep up with the fabulous life of NYC.
It's funny how even though I haven't grabbed this dress in a while, this outfit embodies everything I want my life to be here in NYC. Fabulous shoes, a boss lady bag, and Blair Waldorf style. Firstly, let's talk about these shoes. I've had these shoes since my senior year of college and they are SO special to me. All of my Chanel flats are special to me but these are the classic Coco flat, these are the flats those think of when you say Chanel shoes! In fact, Chanel remade them this year in a simple slingback and I'm doing everything in my power not to buy them! Not to mention that Vogue, Elle, Fashionista, and everyone at New York Fashion week deemed them the shoe of the season!
So why did I call my Louis Vuitton a boss lady bag? I wear it all the time, why now? Well I've been trying to mix up in handbag land lately and I've realized that this is the only bag that I can be a true Boss Lady with. This means that it holds my camera for a spur-the-moment photo shoot, my laptop for when I need to bring some work back to the apartment, and my gym clothes for when I need to catch my favorite instructor's ride at SOUL. It makes me feel like a Boss Lady because it helps me get everything done all in a day's work.
While this was my go-to chapter dress in my sorority days, I always thought that it was just a bit too girly/preppy for work. A year ago I did anything to blend right in with the rest of my agency. Don't get me wrong, I've coined a term called "agency chic" that helped me wear that chambray shirt in style. However, recently I've had a new stance on this self consciousness of mine and I call it branding. While some may not take me seriously for wearing this to work at least I'm comfortable and it is a conversation starter when they ask about my preppy style.
Do you have one outfit that encapsulates everything you want to be? I'd love to see it!