Did you know my Stella & Dot trunk show is still open? I am absolutely obsessing over the Stella & Dot statements this summer, and don't even get me started on the latest Fall collection. This week, Emma, my Stella & Dot stylist styled me from head to two in a few of her favorites — and I wanted nothing more to take all these pieces home with me.
I wore one of my favorite Lilly Pulitzer searsucker sundresses because, 1) It's August and its WAY too hot out. & 2) Searsucker is essentially a neutral so I knew it would go with almost everything. I'm happy I wrong!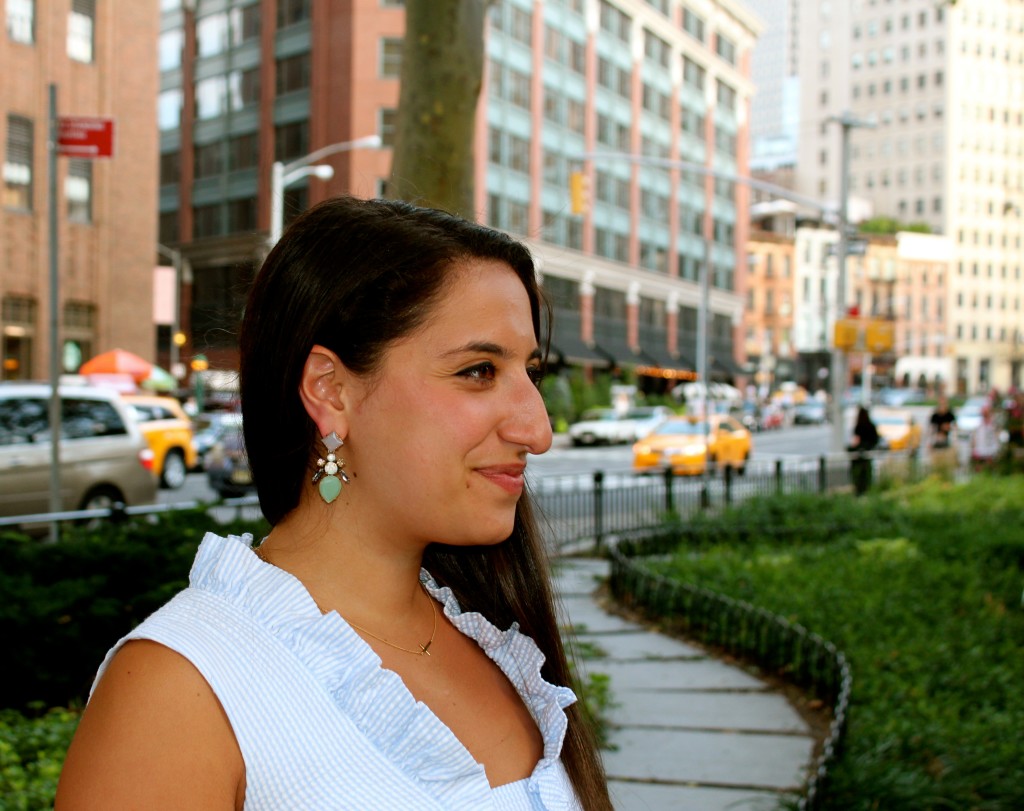 Emma started off with a statement earring, an arm-party, and a simple cross necklace. I'm usually one for the simple pears but these statement earrings brought my outfit to another level! Not only can these earrings dress up this Monday work ensemble, I would love to pair these with a simple white tee and jeans. Perfect for a Saturday of shopping or a casual Friday come Fall.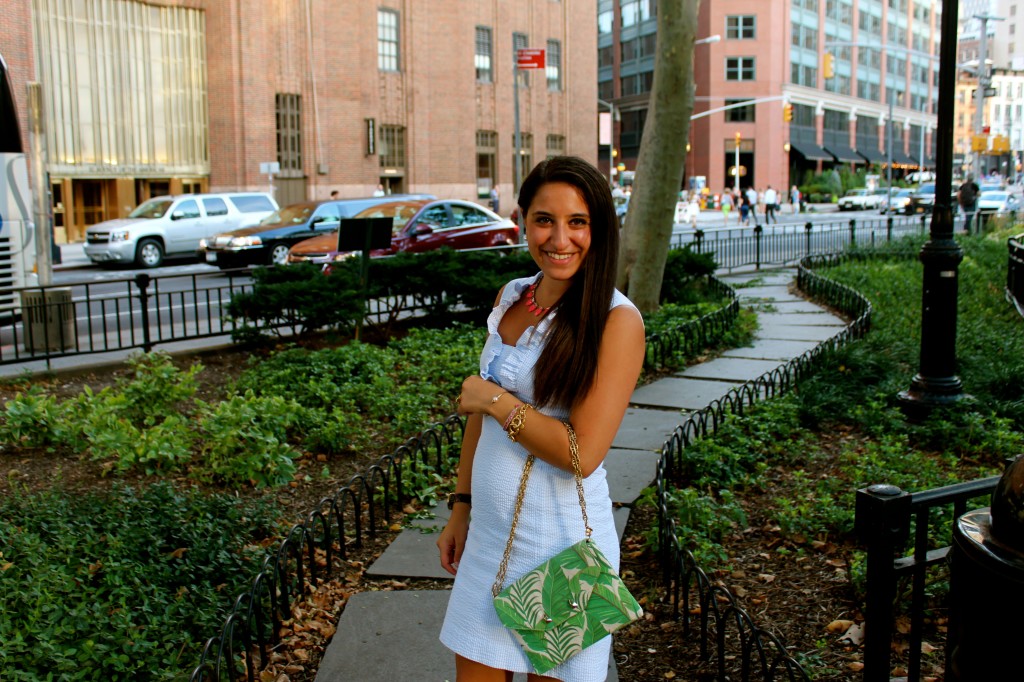 Next up, of course Emma had to style me with green and pink! I love the way the neon pink pops agains the light blue and white, definitely a way to make a statement in this city of black and grey. This bag is a must-have, the metallic gold chain is perfect to go with your gold accessories and the green leaves are perfect for summer pattern pairing.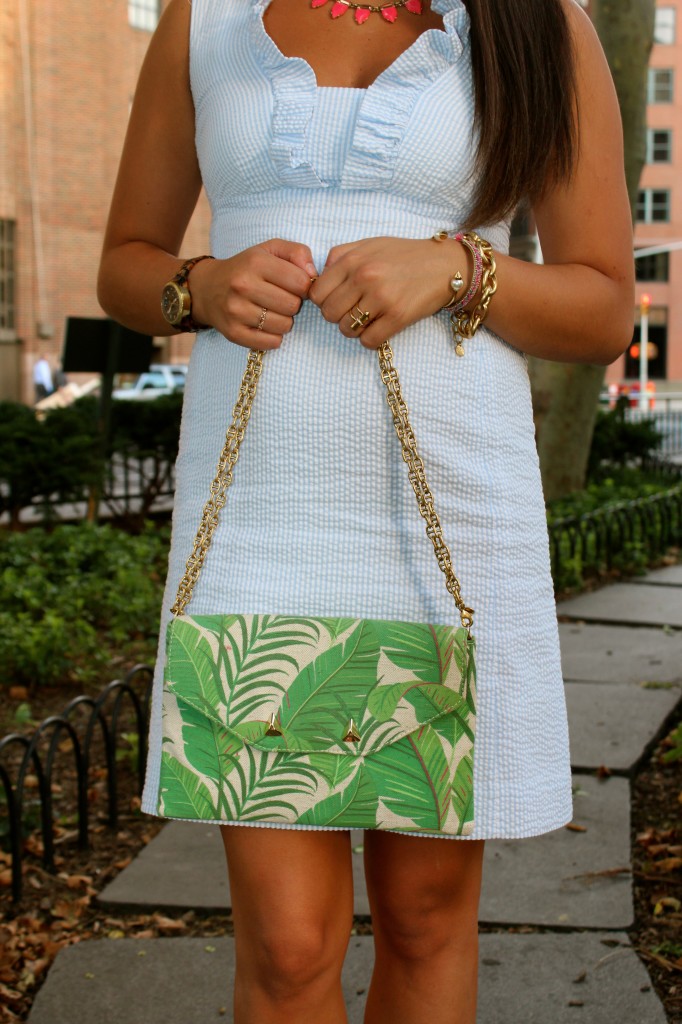 Necklace, Bracelet, Cuff, Pearl Cuff, Ring, Bag
Look at that arm party! I think everyone needs one of those pearl and stud bracelets, it literally goes with every outfit!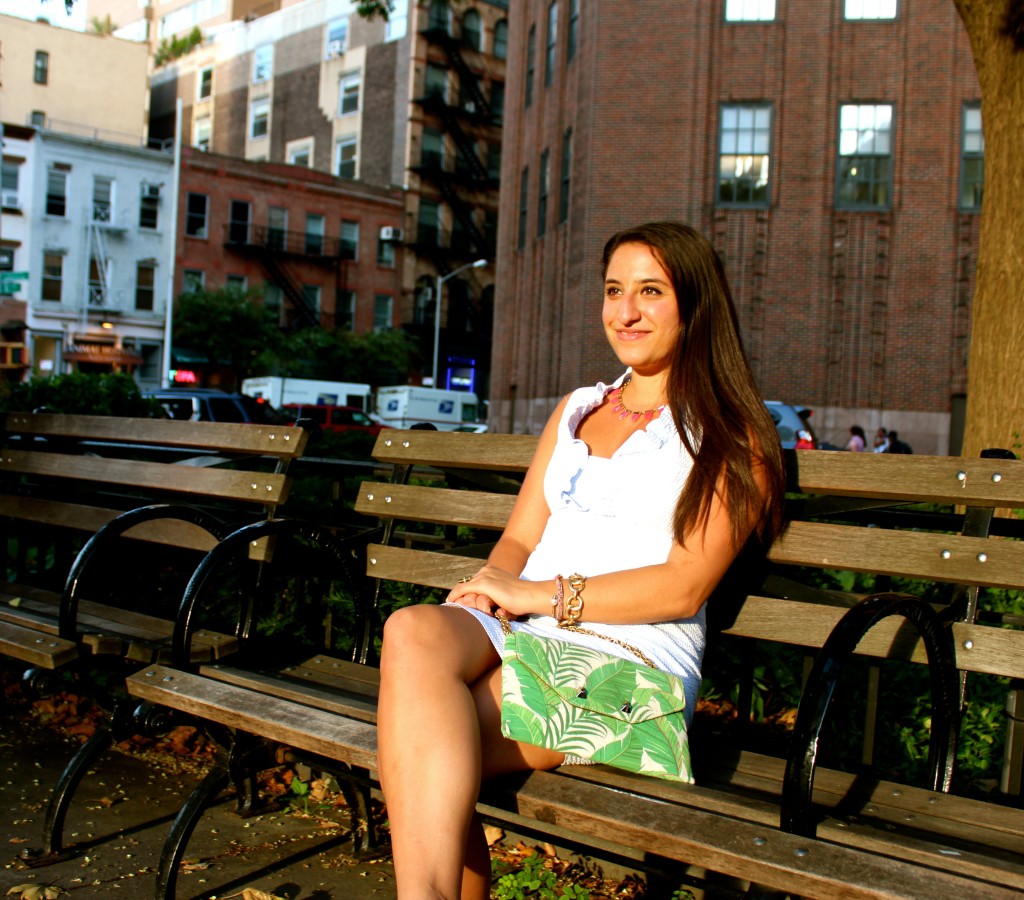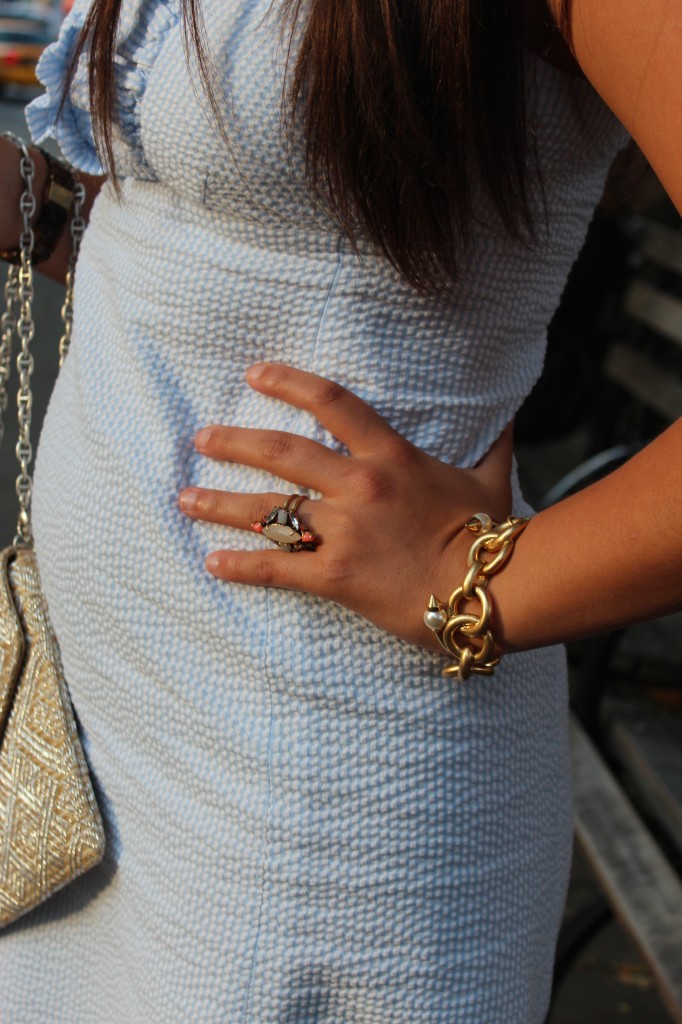 I've been on the prowl for a few statement rings to spice up the end of summer. I'm loving this small pop of coral, it's a small slice of summer to bring to the dreary office.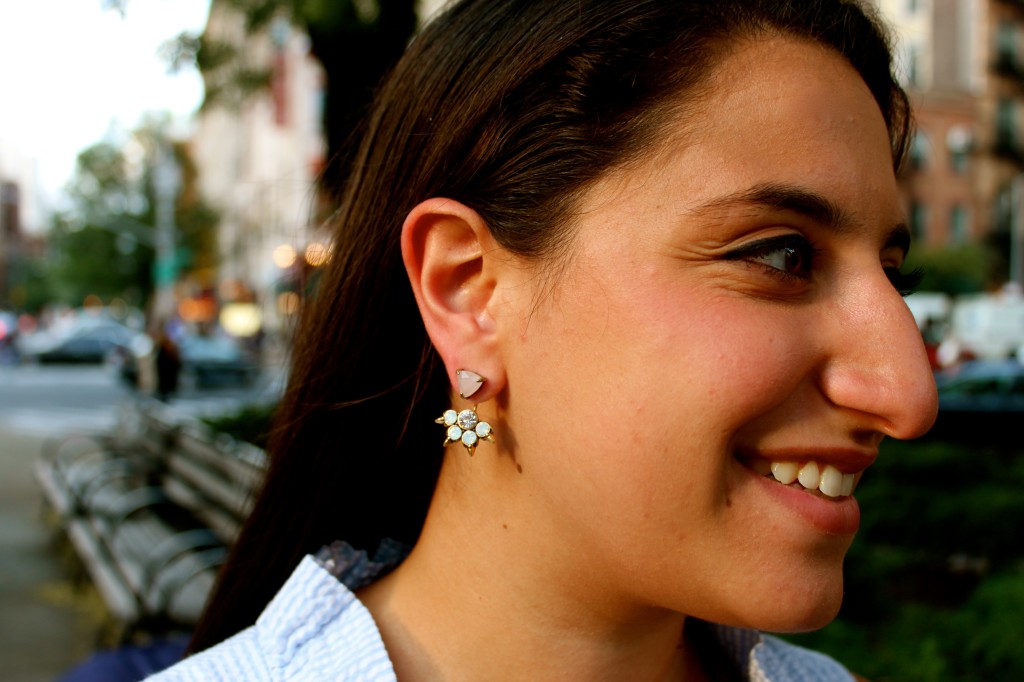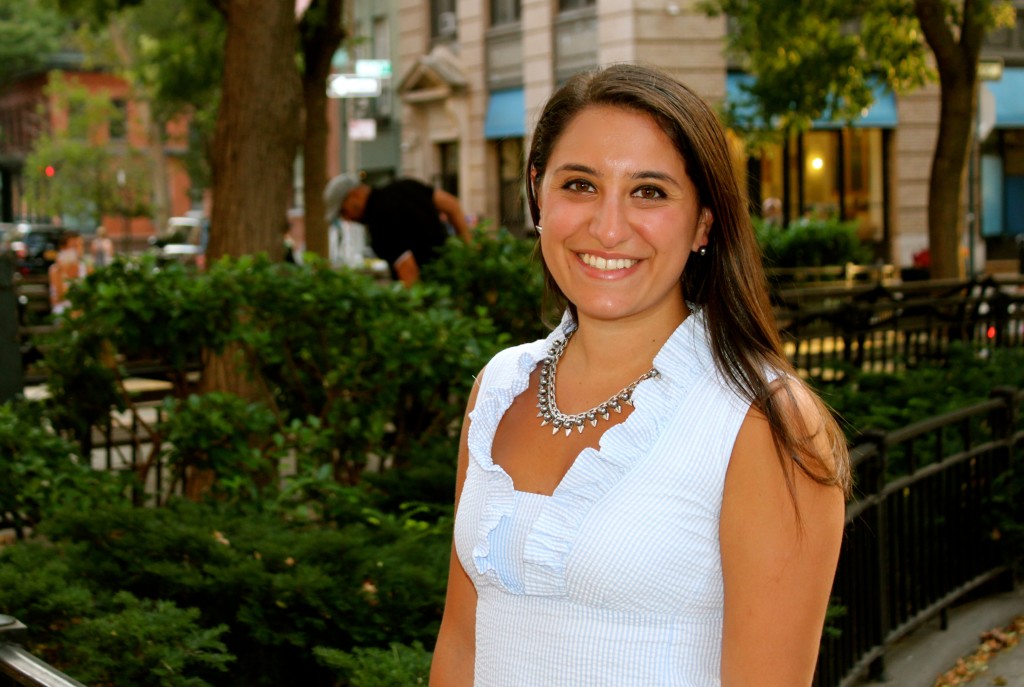 Who said preppy can't be edgy? I love how Emma styled this silver necklace with my preppy ensemble. It not only did me fall back in love with silver but it also taught me hot to diversify my outfits. Just because I dress preppy, doesn't mean that it has to be a theme throughout the entire outfit.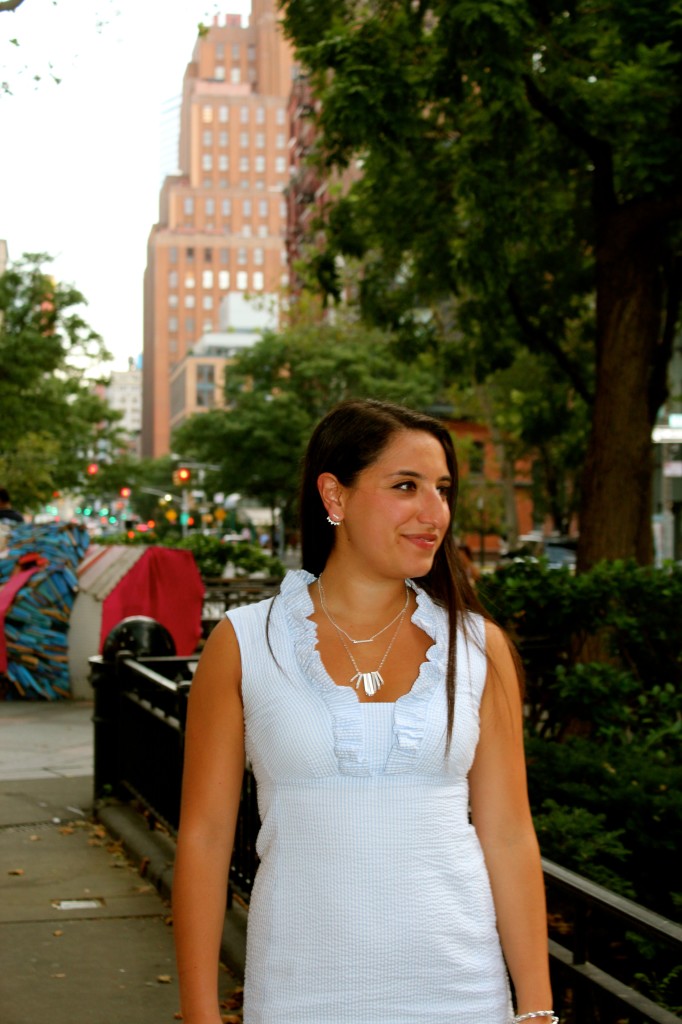 I am SO in love with with every piece that Emma styled on me! Both gold, silver, colorful statements, and delicate studs. I couldn't have asked for a better stylist! I picked my top 5 pieces from my trunk show. What are your favorites?
4. Riviera Ring