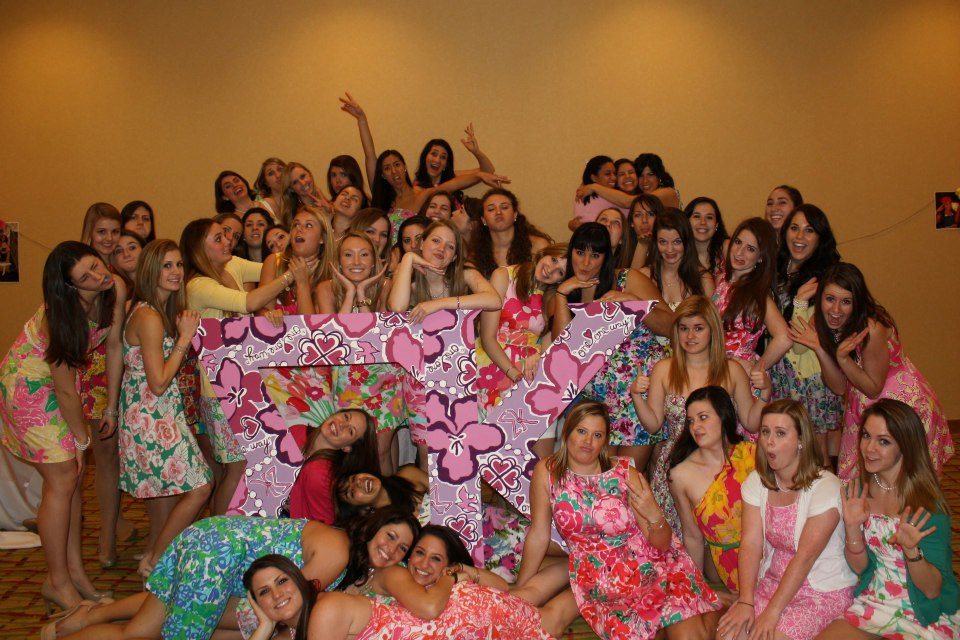 Girls, it is time to put your best high heels forward and take the first step into preparing yourself for sorority recruitment. As summer vacation is still in full swing, it is a perfect time to start looking up what your school has to offer according to Greek life. Once you get the names of each sorority on campus, browse them on the web, an social media so you get to see what sorority best fits you. Most importantly keep a close lookout for sorority recruitment outfits. During recruitment the goal is to dress to impress, wear an outfit that best represents who you are as person or dress unique so you stand out from the rest. Depending on what school you attend, there can be more than a thousand girls going through recruitment so make yourself different and focus on your outfit because making a great first impression during this time is essential.
            At OU, Sorority recruitment is a two-week process that the PNM (potential new member) has to go through; open house day, house tour day, philanthropy night, and preference night. It sounds overwhelming but the processes is trustworthy and taken very seriously by each girl in each chapter. Your job is as a potential new member Is to have fun, be confident, look presentable, and most importantly find your home in the Greek community.
            Open house day/ House tour day:
open house day can be extremely nerve-racking as you wait inline to take your first step into your first sorority house of the day. You check your makeup, reply the lipstick and straighten out your dress. Butterflies will be going crazy in your stomach, as you hear the girls inside the house sing loud and proud the "Go Greek Song" waiting  for your arrival.  These nerves can be demolished if you have the right outfit on, feeling confident will give you confidents.  The Greek organization may provide you with a white t-shirt that has printed "Go Greek" across it, this is distributed out to each PNM because everyone should be on an even playing field.  However, wear the white t-shirt but stand out from the rest, wear a unique bottom such as a flair skirt, or high wasted colored shorts with the white shirt tucked in. These items can be purchased anywhere! My favorites are Tobi, Urban Outiftters, and Nasty Gal.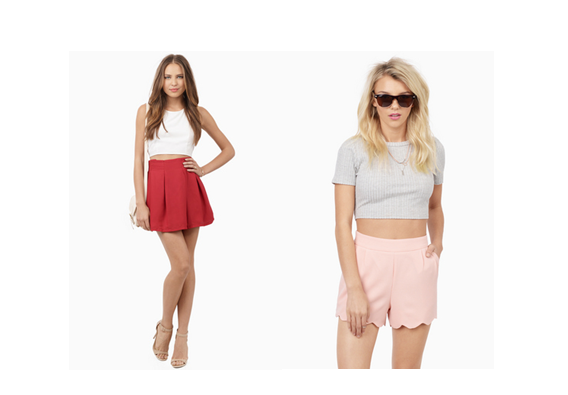 Philanthropy Night:
This night is the one that hits home the most, the best part about being in a sorority is giving back. Each chapter is affiliated with an organization that they raise money for and support. For instance Alpha Xi Delta supports Autism Speaks, Alpha Delta Pi supports the Ronald McDonald House and Chi Omega supports the Make a wish foundation. This night the PNMs should wear a business casual outfit.  For example, a Lilly Pulitzer Michelina Navy Mini Skirt with a Lilly White Belle Haven Tunic blouse is a perfect business casual outfit and don't forget there will be tons of walking to each house tonight so slip on your favorite Jack Rodger flip flops to look shabby chic. Visit KJP.com to accessories this fantastic outfit, my personal favorite is the "Breakfast at Tiffany's" in the KJP Atlantic Pearl collection.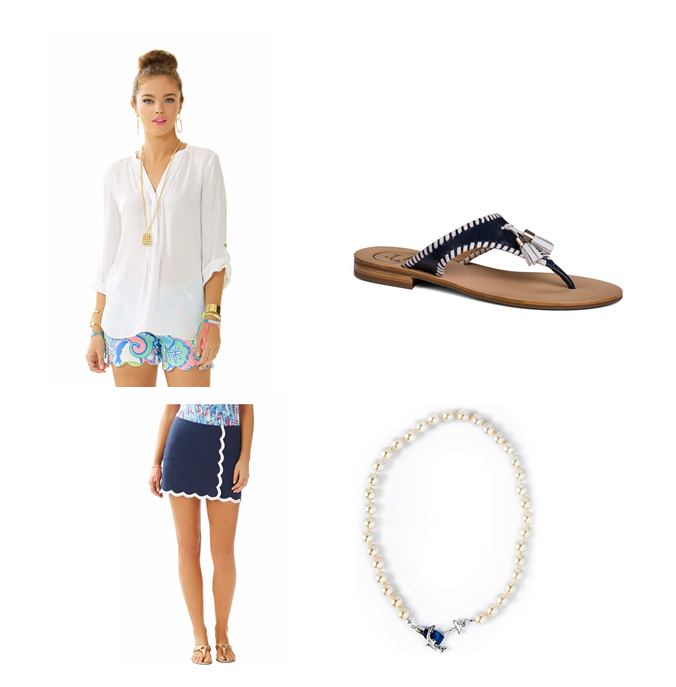 Preference night:
Preference night is the night you will  find your home in the Greek community. This night you will attend your favorite sororities on campus that have asked you back. This night is dress to impress, pull out your favorite cocktail dress and handbags ladies because this is the night you need to look the finest since it is the last impression.  A simple dress with color accents is perfect yet classy touch to make you stand out. White dress from Nasty Gal with matching strap heels from Aldo and statement necklace from Baublebar will make the outfit look complete, check out Marley Lilly and customize a matching clutch to look upright perfect in your preference night outfit.
Advice for all PNMs going through recruitment this year, have faith in the system, be confident, and most importantly have fun because remember you are picking out your life long friends that may become your bridesmaids some day.