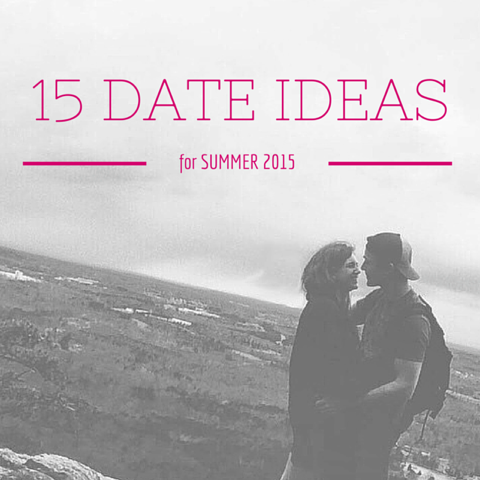 Today marks my one year anniversary with my boyfriend! Over the last twelve months, my boyfriend and I have had to get really creative while thinking about where to go and what to do when we wanted to go on a date, especially since we're two college students. For the upcoming summer season, here are some fun, sometimes cheap, and easy date ideas:
☆ FREE or less than $5
☆☆ from $10-25
☆☆☆ $25 – $50
☆☆☆☆ $50 +
 Hike nearby trails – find one close to you and don't forget to bring water!
 Spend an afternoon at your local art museum when the temperature outside is too hot to stand – find one close to you that's free or super cheap!
 Rent a movie from Redbox for less than $2.00 or find one on Netflix (here's the best 25 for romantics) and make the world's greatest fort out of sheets, chairs, blankets…
☆ Go stargazing. Download an app like SkyView to help you see what's in the skies and where.
☆☆ Go see the new and cute movie everybody's talking about: Inside Out. Watch the trailer here. Its animated and a little goofy, but perfect for a date! I just saw it with my guy last night, actually.
☆☆ Have a picnic! Get some takeout food or make a nice meal and find a park with a shady tree.
☆☆ Pick strawberries, blueberries…who doesn't love sweet and juicy fruit during the summertime? Take the bucket of fruit you picked home and make homemade ice cream.
☆☆ Go camping…in your backyard. I'm serious. Grab a tent or an Eno hammock and set up just a couple of feet away from your back door.
☆☆ Find a food festival and spend the day trying new dishes and getting to know what your crush does and doesn't like on their plate.
☆☆ Go to your state's zoo or aquarium. Don't know where one is? That's okay: here's a list. 
☆☆ Build your own slip n slide, make some mixed drinks, throw on your cute new bathing suit, and spend the afternoon in the backyard.
☆☆☆ Run a 5k! Use this Race Finder to locate a run near you and sign up. Or try a crazy obstacle course! 
☆☆☆ Find a cool restaurant near you using the newest edition of Urbanspoon, zomato, and make reservations for a date night out on the town.
☆☆☆☆ Take a cooking class at Sur La Table and fall in love watching your partner in crime cook. Seriously, though – what can be hotter?
☆☆☆☆ If you're looking for a weekend alone, and you love the outdoors like my boyfriend and I do, use AirBnb to find some pretty crazy places to stay, like a treehouse or even a tipi and get away for the weekend. (Disclaimer: Even if you don't like spending a ton of time outside, AirBnb has the perfect place for you. I swear.)