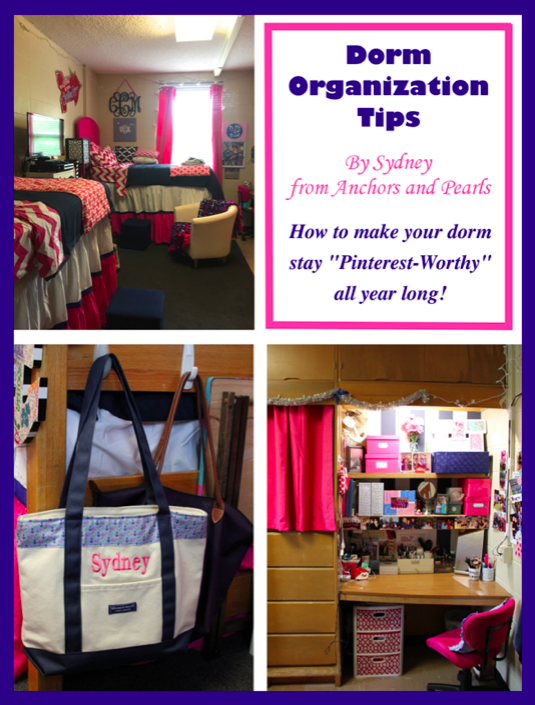 This time last year, my roommate and I had just decided on our colors and I was happily buying anything and everything that looked like it would be cute in our room. I wanted to share what I learned living in a dorm and how I kept it clean and relatively organized all year. The pictures I am sharing are from my dorm last year and they were actually taken halfway through second semester so this is how it looked all year, not just the day we moved in!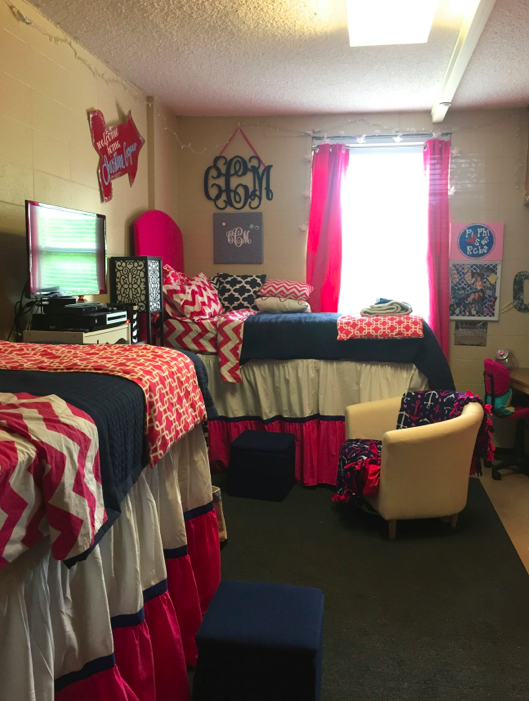 Bed
If you want your room to be clean and organized, it is so important to at least attempt to make your bed everyday. A room with an unmade bed just never seems that clean. Personally I made my bed every single day (though sometimes it was after I came back from class if I was running late in the morning). I always fixed the pillows and pulled the covers up sort of neatly but once every two weeks or so I made sure my bed was really neat and that the sheets and the comforter and everything lined up. Whenever my bed was made I felt way more productive and I felt like my room was much more presentable.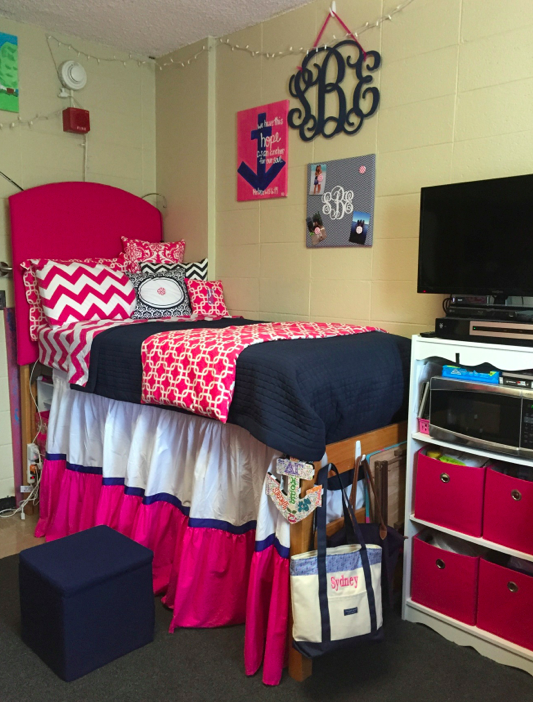 Some people choose to loft their beds and have a sitting area below them, but both my roommate and I lifted our beds to the highest height they would go without being lofted so that we had a ton of storage underneath. It was hidden with bed skirts so while it may not have looked that pretty underneath, no one could see it anyway!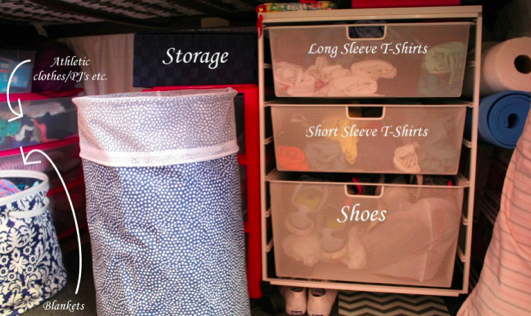 Desk
I have never been good at keeping a desk organized and its clear from the picture that it is still fairly cluttered, though I kept it overflowing with pictures and other things that I loved to make it feel more at home. After we decided on our room colors I started buying any cute storage bin I could find that was pink or blue but in hindsight I wish I would have bought simpler or more practical storage bins because mine didn't really fit well on the shelving I had. The simple bins we had on the shelf under our TV (they were really cheap from target!) ended up being some of my favorite because you could fit a ton of stuff in them and they hid clutter really well!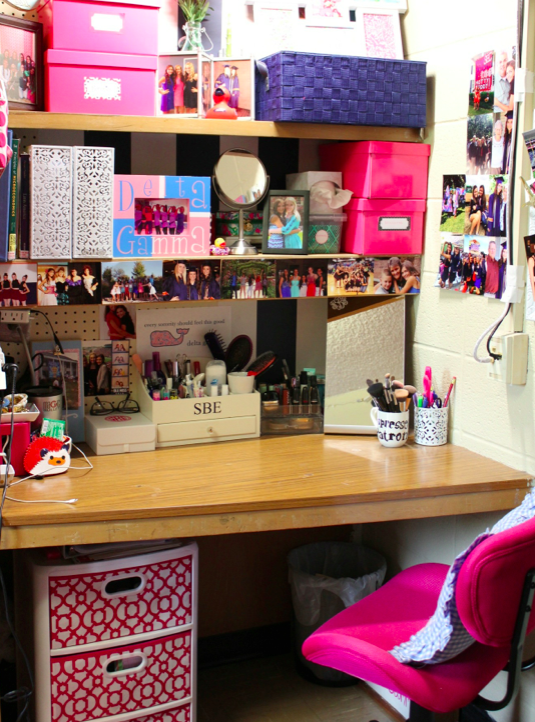 Closet
I love clothes so I really had to be choosy with what I brought to school since we had relatively small closets. I only hung my nice/cute and dressy clothes and I ended up folding all of my T-shirts and everything else to save space. I had a small shoe rack and I had my nicer shoes and boots in my closet but the rest of my shoes were in a bin under my bed. My roommate and I both cut a curtain shorter to hide what would have been an open space above the drawers on one side of the closet to hide all the storage we had behind it and it worked wonders for making the room appear less cluttered.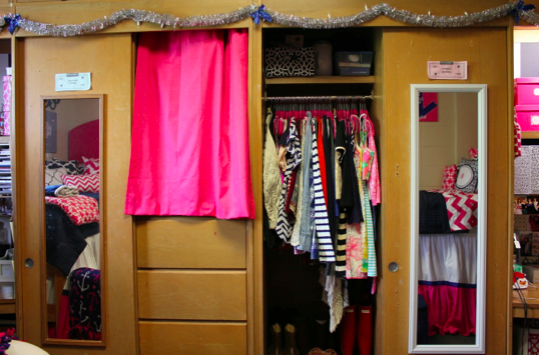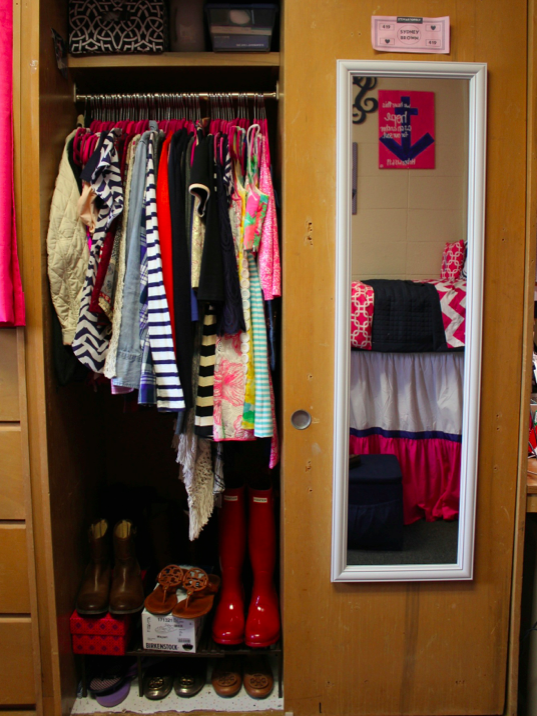 Built-In Storage
Take advantage of any built in storage your room may have. Ours had a TON of storage above the closets and in the closets. I stored everything that I knew I wouldn't need all the time like formal shoes, suitcases and duffle bags, sweatshirts and coats when it wasn't cold, and outfits for sorority swaps/mixers in bins above my closet where I could get to them If I needed them!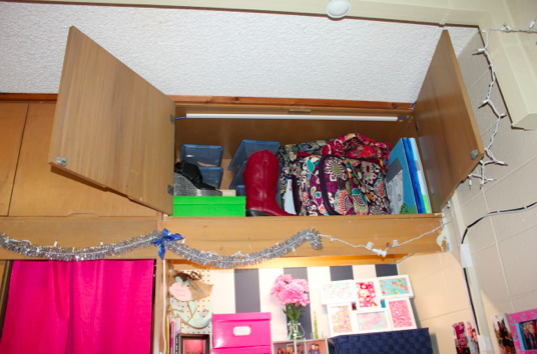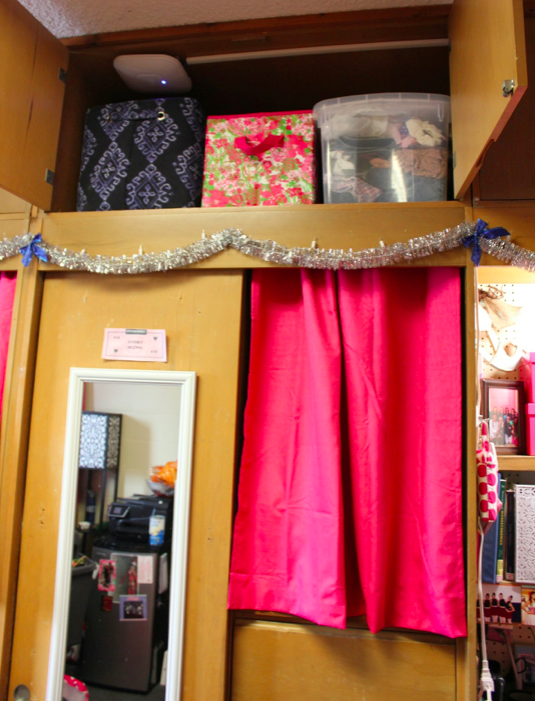 Also, "Command Hooks" are your best friend (if they will stick to the walls—they didn't always stick that well to the brick walls in our room but they stuck to all the wood)! I used them for hanging towels, coats, and various bags and purses, as well as to hang canvases, and other decorations and even Christmas lights (we put them up for Christmas and never took them down because we loved them so much!).