After I graduated college I saw myself start to care a lot more about myself. A little selfish, I know but it is important that you care about yourself more than you care about any other person. What does it mean to take care of yourself? In college it means waking up 30 minutes before your first class, taking a shower once and a while, and making it home in one piece each weekend. When you graduate it means going to the gym, taking time for yourself, finding your passion and taking care of your skin.
In post-grad life you can't take a day off because you're feeling a little crappy and that is why you have to do everything in your power to make sure you feel healthy and confident. That is why I started to use Proactiv+. I have heard people use Proactiv+ since middle school but never thought I needed it because my skin has never been horrible, only a few blemishes every once and a while. However, I realized that it is not only for people with bad skin it is for people who want to look radiant everyday.
Proactiv will your existing perfect complexion look even better than it does and maintain that no matter the time of month ;). Having a small blemish can be earth-shattering if you're not use to it and if you are like me it can rock your confidence a bit. This three step process of exfoliator, pore targeting treatment and hydrator not only helped keep my skin clear but it also helped keep my skin moisturized throughout the last 90 days. Even helped me face that windburn when I was skiing in VT.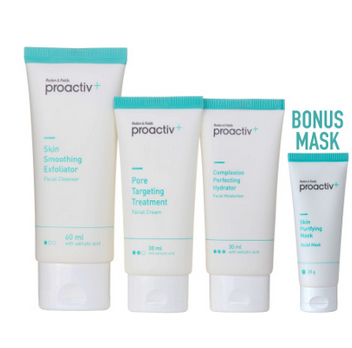 My favorite Proactiv product is the Skin Purifying Mask. I used it at least once a week, usually on sundays to start my week on the right foot. In addition to keeping my face moisturized and refreshed it also made for a perfect spot corrector when things weren't necessarily going my way.
Overall I loved the product and will absolutely keep on using it. It has helped me focus on my skin, something I never really cared about. It has helped me understand the importance of healthy skin and the impact it may have on your overall well being.
How do you take care of your body to feel healthy, confident and beautiful?
*sponsored post