New Year. New You. New Color. Well at the least the first and last are true, right? Along with all of our individual new years resolutions, there is one fashion must-do for 2015. Wear more Marsala!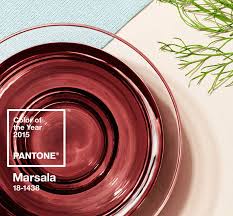 In the beginning of December, Pantone Color Institute announced the earthy and rich brown-red, Marsala, would be named Color of the Year for 2015.  Originally there seemed to be hesitation, especially compared to the 2014 color: Radiant Orchid. Personally, I have fallen in love with it! I think it's a great versatile and complex shade that can be incorporated into anyone's outfit, beauty regimen or even their home.
Why Marsala?
As an always curious PR and retail merchandising student, I wanted to do a little research on how Pantone selects their Color of Year and why Marsala? Pantone put a heavy emphasis on the versatility of Marsala as to why it was selected. They mention that the color appeals equally to both men and women and "encourages color creativity". (Check out the Pantone website for the fabulous Marsala color pairings!) In regards to makeup and other beauty products, Marsala can be found flattering on many different skin tones. Pantone states it as a, "great 'go-to' color for beauty".
How to Wear Marsala 
So far my favorite way to wear Marsala, and incorporate it into my everyday look, is through beauty products. Whether it is a great shade of blush to contour a cheek or a killer shade of nail polish that just pairs perfectly with my leather boots. It is still winter right? Many different retailers have already started to highlight their items and clothing that can be incorporated with the trend.  I've included some pictures of products that I love in the Marsala family. I only see this color growing more popularity throughout the winter season and then being able to transition smoothly into spring and summer florals.