Madison Ave. Collection Clayton Dress
Who else is dying? I know this dress doesn't only have me melting! Although my style is mostly conservative, I'm always looking for new ways to spice it up a little bit and this dress does two things! Firstly, I love the color blocking. In the Fall/Winter I am guilty of wearing solid boring colors since my Lilly's are out of season, so I love new ways of bringing colors into my wardrobe. 2. The bow on the back = LOVE! So adorable!
Now, how do we justify buying this beauty? Think of all of the places you can wear it. I know I could definitely wear this to work. No matter where you work, you can dress it up or down with a pair of flats or tights. If you are still in college, this dress can absolutely work triple time. Wear it with a pair of gold heels for your sorority formal, business pumps for sorority chapter, and a pair of tights and business pumps for an internship interview!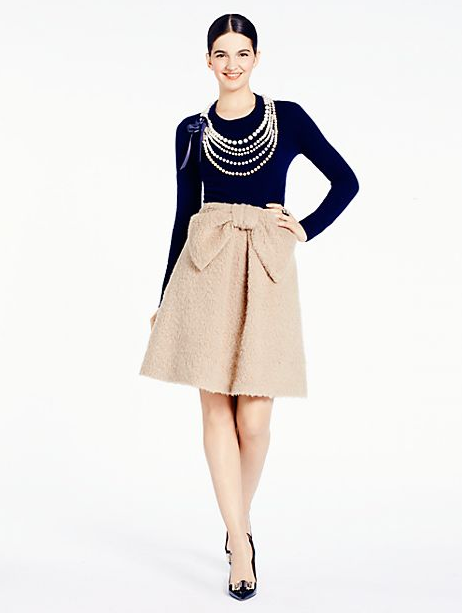 (Top) Maxine Pearl Sweater (Skirt) Lee Bow Skirt
Give me navy & camel or give me death! This is one of my favorite all time color combos, you can wear it anytime of year! I absolutely love ensemble, from the pearls to the bow it is basically all you need to be a classic prepster. What I love about this skirt is that it can definitely serve as a staple in your closet. Even though it has a huge bow on it (don't see a problem there, but some might) this neutral color will ensure that this skirt is a worthwhile investment.
Is anybody seeing a trend here? #BowObsessed! I NEED THIS! With the holidays around the corner I know I can think of a few cocktail parties that I can wear this to. This dress is a perfect mix of simple and sophisticated. I know I always have trouble dressing for holiday parties because you don't want to be too over the top with sparkles but not too casual in an ugly christmas sweater. This solves everything! Just pair with flats and black tights for a more casual holiday look!