Moving into an apartment is a mixture of feeling like Beyoncé and wanting to pull your hair out because you realize you're now an adult… that has to like, pay bills and stuff. But of course once all the unpacking is done, the decorating begins! My design style is throwing a bunch of stuff together and praying it will all look good. I always say to myself I'll wait till I move in before I buy my decor, but I have yet to stick to that motto. I do most of my home shopping at Marshall's or TJ Maxx since it's all so adorable and cheap! Plus I like knowing I'll have a couple quirky things that not many others will have. For my furniture I suggest buying old furniture, or grabbing some from your house, and redoing it! Almost all of my furniture was sanded, repainted and got some fresh hardware as the finishing touch! It's super easy to refinish old furniture, just pick up a sander ($30 at Lowes!) and some paint and voila! You've got yourself a piece of furniture that not only looks good but adds character to your home.
I love DIYing everything. Not only did I DIY most of my furniture, that trunk was my grandaddy's (see what it looked like before here!) but I like to add some DIY art as well! I wanted something motivating to remind me every morning where I'm heading after college. Can you guess where it is? These canvases were super easy to make, but I also sorta cheated because I grabbed my mom's old projector she used to do her bulletin boards as a teacher. If you don't have a projector, simply print out your state outline and either a. free hand (AH! SCARY!) or b. trace it onto your canvas! Or you can go to your local Michael's and find a little portable projector, I promise once you have it you'll find SO many uses for it. This little project definitely reminds me of where I came from, where I'm at and where I'm going… my path! I love how is instantly personalizes my apartment. If you decide to take a whack at your own path canvas, make sure you tag @classysouthblog and #ClassyDIY so I can see!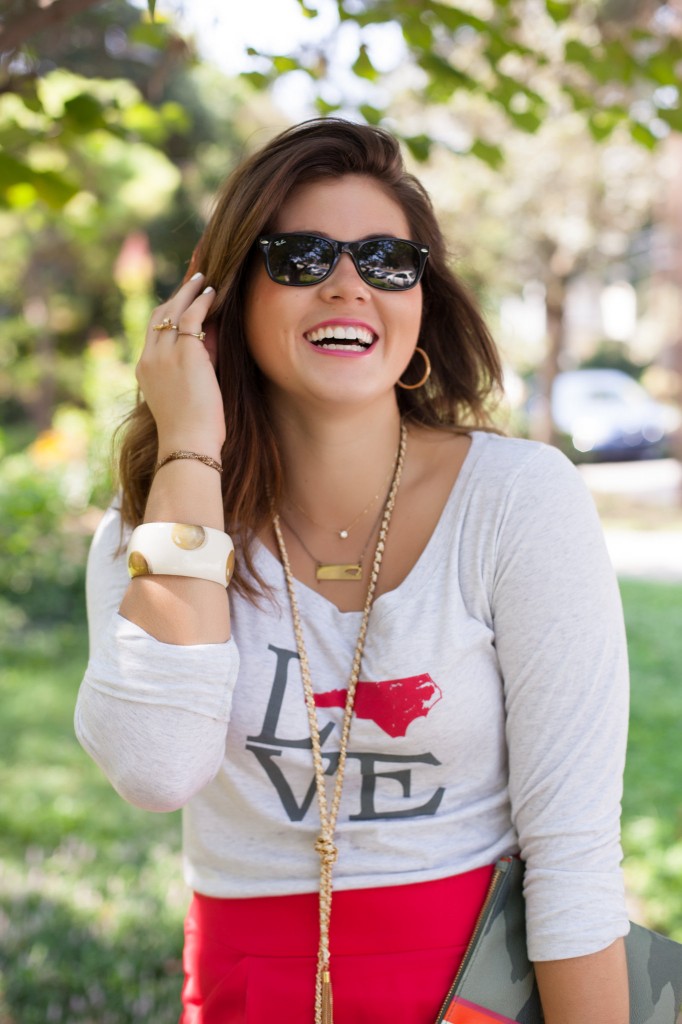 Corbin Bruton is the author of The Classy South, a southern style blog that documents her latest outfits, DIY projects and current clothes cravings! Originally from coastal NC, Corbin loves to include boho, beachy influences in her classic, preppy, southern style. Corbin attends Appalachian State University, nestled near the Blue Ridge Mountains in Boone, NC. Corbin started The Classy South as an outlet for her love of style, but now feels blogging is more of a lifestyle rather than a hobby! Besides blogging, Corbin loves playing volleyball for AppState's Club Volleyball team, babysitting her pug-nephew, coming up with new recipes for tacos (so far the pineapple slaw one is her favorite!) and shopping… of course! You can follow all of Corbin's southern style on ClassySouthBlog.com and follow her at @classysouthblog!