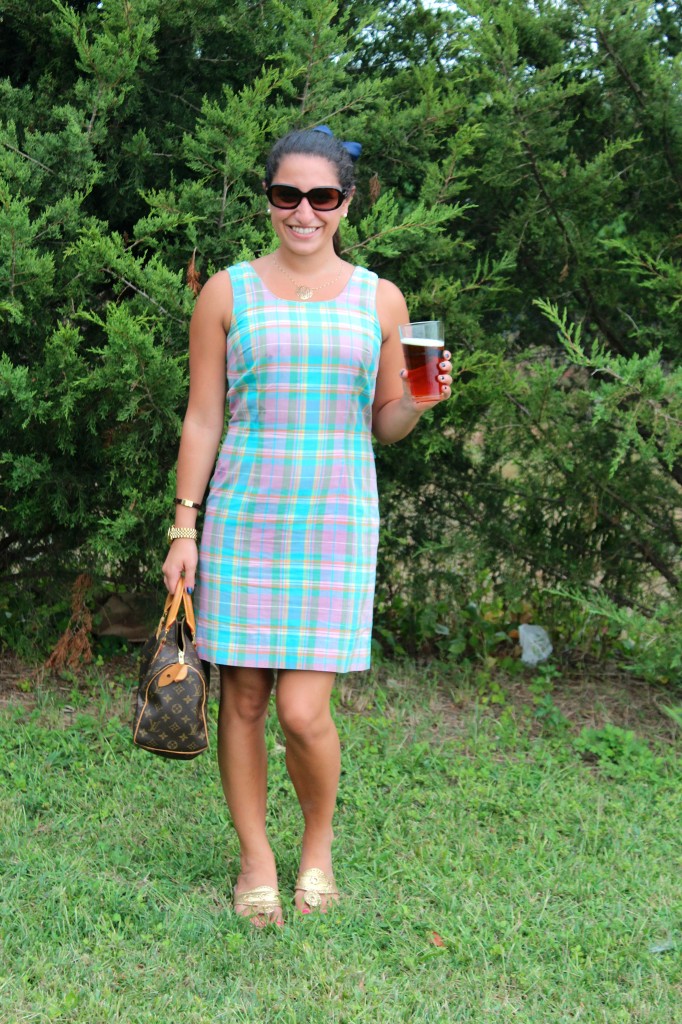 Dress (Lilly Pulitzer/Collette Consignment) Bag (Louis Vuitton) Shoes (Jack Rogers) Watch (Michael Kors) Bracelet (Michael Kors)
Sometimes I forget that I grew up in one of the most beautiful places on this earth! Yes, I'm still talking about Long Island. When people think of Long Island they think of New York City's little sister, the one who doesn't get enough attention if you ask me! Moving into New York City has been a dream of mine since I was like five, seriously ask my family! Now that I live there it makes me appreciate Long Island in an entirely new way! The ocean beaches, the quaint towns, and this weekend the vineyards!
This weekend my high school friends and I (better known as 'The Biddies') set out to celebrate the end of summer/beginning of Fall in Long Island wine country! We were also celebrating Jessie's move to France to be an au pair for a year starting next week! I'm more like mourning than celebrating, but I guess I'll be happy for her for the time being.
This day was one of the best days of the summer by far! Good friends and good drinks all thanks to Long Island! Seriously, I owe my life to this place!
We started off at Baiting Hollow Farm Vineyard where we grabbed a quick lunch, did a few wine tastings, listened to live country music (may or may not have shed a tear when Wagon Wheel played), and tried one of their amazing wine-a-rita's which was my favorite drink of the entire day! This was a great place that I definitely plan on going back to! Next, we made our way to LIV (Long Island Vodka) this is where the the day took a turn for the…..best! This is also where we created the official hashtags of the day, #livinwithmyladies #liv. After we sipped a few different vodkas we needed something a little less intense we we went to Woodside Orchards where we tried 5 differed hard ciders! My favorite was the Cinnamon Apple, literally tasted like liquid apple pie! This was the cutest little place and I can't wait to make another visit come Fall. Going back to wine's we stopped at Jason's Vineyard where I couldn't decide what I loved more the live Billy Joel music of the wine! The staff was the most adorable and this is where I decided that when all my advertising ideas are washed up and I no longer look good in Lilly dress' (god forbid this to happen for at least 100 years) I want to retire and own a vineyard! How cute would that be?! We made our last stop at Greenpoint Harbor Brewing Co. where we finished the night off with some awesome brews and live music!
So, you might be wondering what I'm wearing and I am so so so so excited to share! This dress was the best part of my Labor Day weekend! I found a vintage Lilly at Collette Consignment in Southampton! I always love exploring Collette for the best designer finds! After some research I found that this Lilly was probably made in the late 1980s! I figured this was the best dress to wear for a day at the vineyards. It was cool, definitely in theme and a great way to end the summer season! However, I am so excited to style this dress up for fall! It is just too soon to put to but this baby away! I'm thinking I'll pair it with some riding boots or leather flats and a navy blue schoolboy blazer for Fall!