I am obsessed with summer. I dream of it all year long so this time of year is always super depressing for me. However, when you have new J.Crew new arrivals like these, I have to say…..I'm kinda excited!
I don't know about you but my Fall uniform always has something to do with chambray shirts, leggings, and riding boots. J.Crew always has a way to steal my heart (and my money) this time of year! Here are a few of my favorites!
1. Merino Wool Glen Plaid-Panel Sweater: I may not be gong back to school this year but there is nothing I love more than the classic collegiate look. This sweater is perfect for a Fall Prepster. Pair this with a simple pair of dark wash jeans or a navy skirt and you got an trendy Fall ensemble.
2. Collection Sunray Silk Skirt: I am dying over this gorgeous silk skirt. If you are like me and you tend to overdress to work, this is right up your ally. You can dress it up with a simple sweater or you can dress it down with a chambray shirt like this model displays.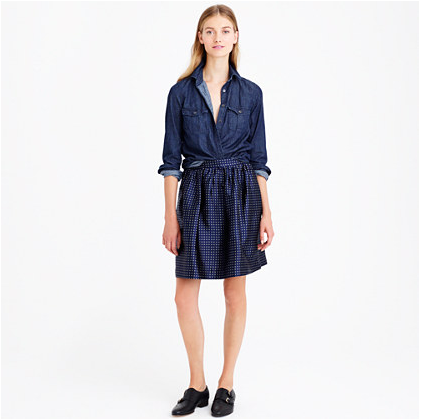 3. Sophie Plaid Loafers: I need these!!! I would totally wear these to death. If you ask me, you can wear these with pretty much anything!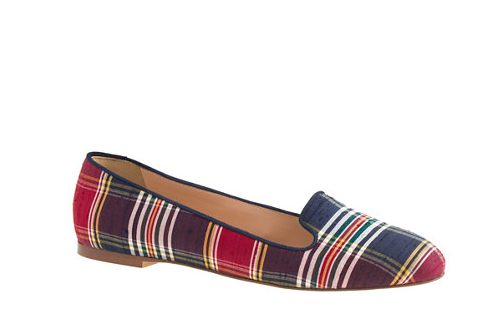 4. Jeweled Raglan Sweatshirt: Give me navy or give me death! Its a sweatshirt with sparkle, need I say anything more?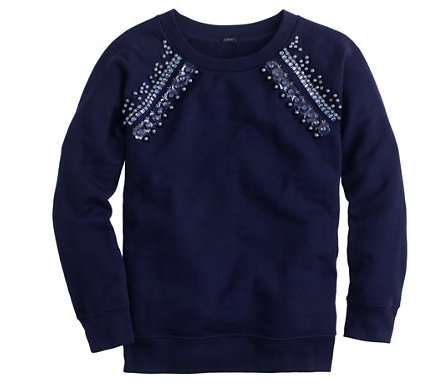 5. Bullion Hearts Shirt: I may have already ordered this one…. Love this elegant shirt to wear with a simple black skirt. I can't wait to wear this soon!