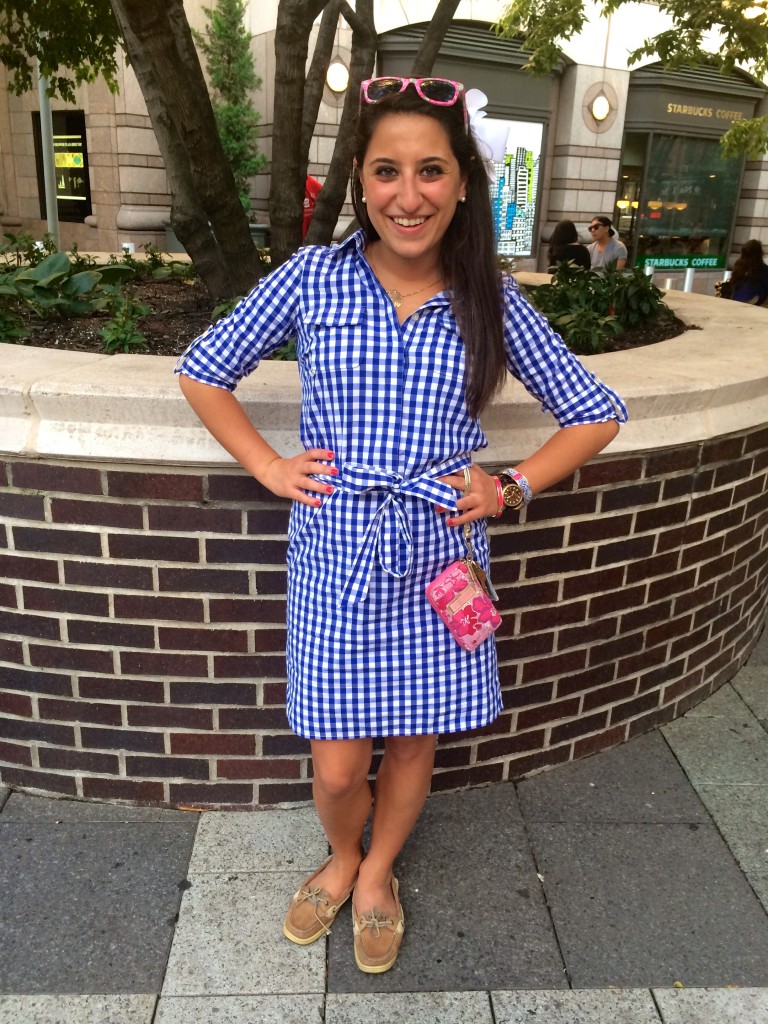 Dress (Vineyard Vines) Wristlet (Lilly Pulitzer) Watch (Michael Kors) Bangles (Lilly Pulitzer) Sunnies (Lilly Pulitzer) Shoes (Sperry Top-Sider)
Starting the week off right is very important to me. When my Monday is bad the rest of my week is ruined, I know I need to work on this. However, starting your week off right all starts with what you wear. It is natural for us to move a little bit slower on Monday and feeling comfortable and confident will help you get a little pep in your step.
I decided on this awesome new dress from Vineyard Vines. This navy blue gingham dress is the perfect summer dress to wear to work. It was comfortable, appropriate, and absolutely adorable!
I choose a few bright pink printed accessories to pair with this classic style. Although this dress is bright and printed it still has a conservative style. This is why I decided to spice it up with a few bright accessories to show that I'm not all business. Firstly, I wore my new Lilly sunglasses (print: First Impressions- ONE OF MY FAVS!). I am loving these fun frames for the summer. Its nice to have a pair that I don't need to stress about. I choose this bangle duo to not only mix and match prints (Oh Cabana Bay) but also because it matches my trending Essie nail color, Watermelon. Even though I always use my Sigma Kappa Lilly wristlet, I thought it should make an appearance in this outfit!
I know it can be sometimes intimidating to wear bright colors and prints to work. However, I have realized that it is all about confidence. The fact that you can wear what you are comfortable in will mean a lot to your employers- as long as it is appropriate. This dress is no doubt a risk, its not black like the rest of the working world. But as long as you feel good, your looking good!