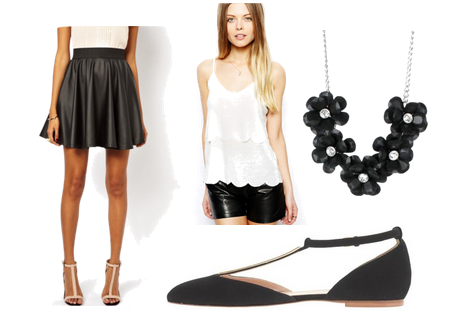 Skirt (ASOS), Tank (ASOS), Flats (J.Crew), Necklace (Target)
This weekend I trekked back to NYC (I just can't get enough) for the Billy Joel concert! As apparent from my lack of photos, I had such an amazing time there was no time for taking pictures because I might miss something. However, I wish I did take a picture for all of you because I am loving this black and white combo!
Since Billy Joel is a little old school I went with a classic black and white ensemble. I knew I would be one of the youngest at the concert so I didn't want to be too scandalous. I paired this ASOS leather skirt with a simple white ASOS scalloped tank. I tucked the bottom scallop into my skirt to make the upper scallop hangover the black skirt to create a nice contrast.
If I were spending the night out on the town I would have worn a nice pair of black pumps but since I was only going to the concert and I am afraid of falling down stadium stairs I chose a simple pair of J.Crew black flats.
Here is a picture of Tom and I having way too much fun! Special thanks to the nice couple who bought us drinks because the appreciated our love for Billy Joel at such a young age!