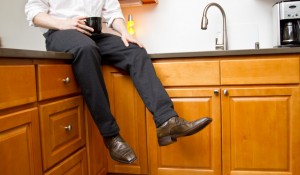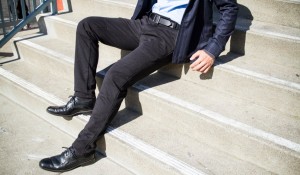 Winter has officially been here for a few weeks now with the recent Polar Vortex that has drifted upon us. For those of you who walk to work, like me, and need to look presentable, check out Betabrand and their Suit-Style Sweatpants. As you can see above, they look almost identical to actual suit pants, only I'm assuming they are 1000x more comfortable. Not only do they have that added comfort, but normal suit pants are extremely thin, making them almost unbearable in the winter months. Right now it looks like they come in a few different styles – black, gray and pinstripe. Save yourself some frostbitten legs and grab a pair of these today!
If you're feel adventurous, you can even match your new pinstripe suit sweatpants with a pinstriped fleece blazer. This 1-2 punch will surely keep you warm, yet lookin fly.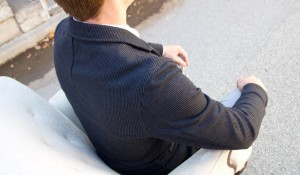 Also, I would just like to give everyone a quick sock update. I've had a bunch of inquiries and comments. I just snagged these 2 pairs off Betabrand. They'll keep your socks insured for up to a year, even if you lose them. Plus, they look pretty damn good.