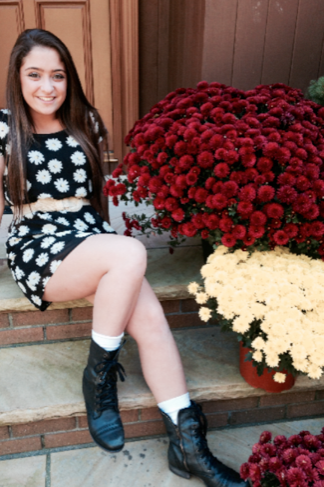 Dress (Urban Outfitters), Belt (Lilly Pulitzer), Boots (Steve Madden)
Look who has perfected Fall Fashion?! Tiffany, never seizes to amaze me with the ensembles that she puts together, I like to think that I taught her everything she knows. However, I have to say that I definitely go to her for fashion advice more than she comes to me! We have been so lucky this season with the fabulous weather that we have been having and Tiffany is taking advantage of our Indian Summer.
One of the most important Fall Fashion rules is to stay season appropriate. Just because we are have 70 degree weather in October doesn't mean you should wear shorts and flip-flops. I think Tiffany did a great job doing this. Pairing this sunflower dress with a pair of combat boots was a great idea. 1. who doesn't love sunflowers in the Fall? We look forward to them all summer! 2. We tend to wear combat boots all winter with our skinny jeans tucked in, use this opportunity to show them off in a different way! I love how she had some white tube socks sticking out of the top to tie in her dress.
Lastly, I know this isn't my typical Prepster look but I must give credit when credit is due and this outfit is too Fall fabulous not to notice. Besides, you better believe that is a Lilly Pulitzer belt tying the entire outfit together!