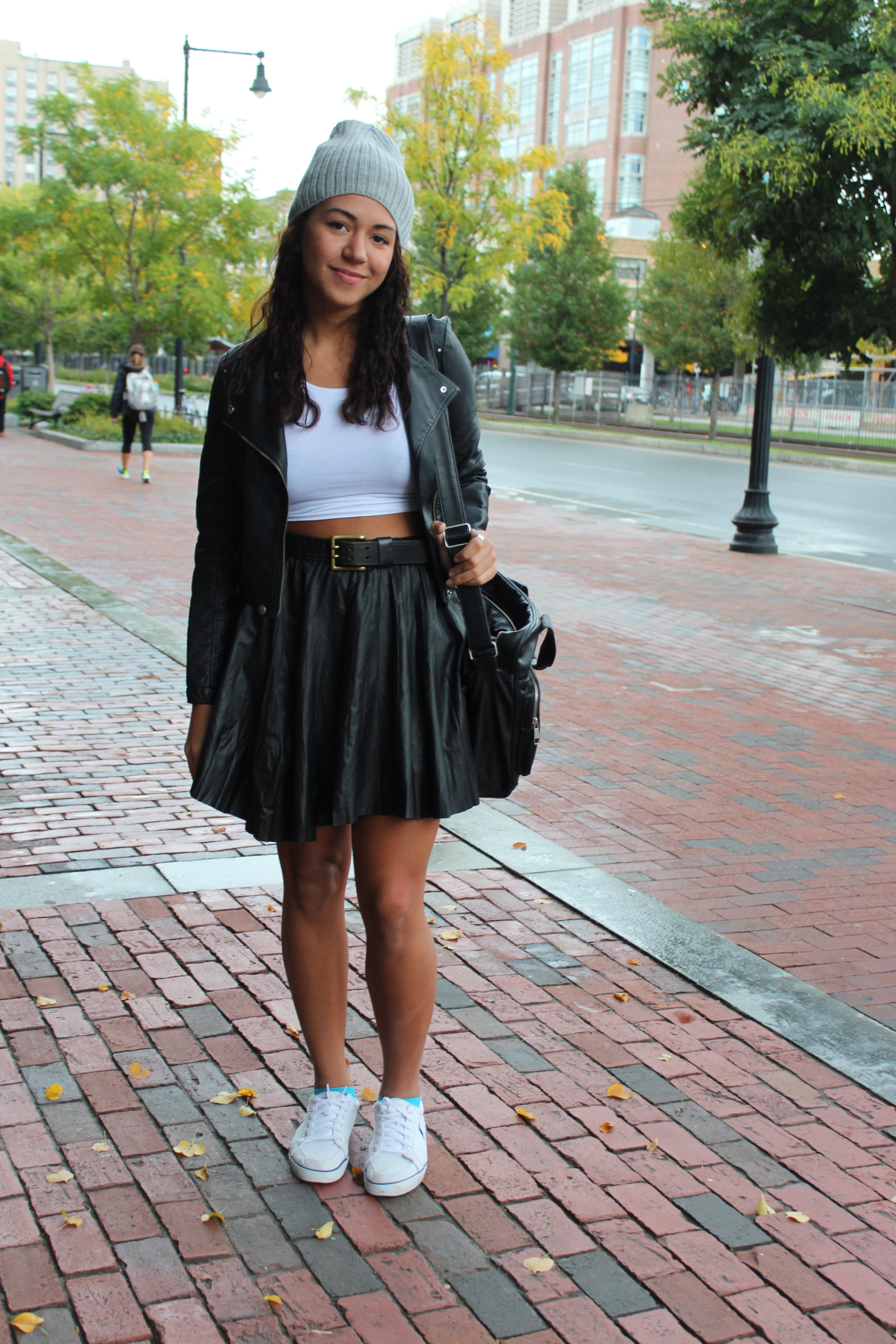 October is here and fall is in full swing in Boston! As much as we are in love with the season change we all know that the cold weather is right around the corner! This Fashionista is gradually incorporating winter accessories into her wardrobe and I must say that this tactic may make the cold weather less of a shock! This Fashionista is definitely one of the best-dressed at Boston University and we should all follow her lead on her blog creativethirst.net.
This beanie pulls the entire outfit together and gives it more of a season appropriate tone. The temperature has been swinging back and fourth in Boston and it is hard to not cross the fine line of dressing for the weather and dressing like it is July. This Fashionista does an amazing job at doing both. Pairing a skirt and a crop top with a wool beanie isn't the most predictable outfit but it definitely works for times like these. Beanies are great for the hipster fashion style and can be used from fall into the spring if it is worn correctly.
As much as I love beanies they are not for everyone but do not miss out on the "hat trend!" There are plenty of different style hats that can suit any fashion style. One style I currently love is the fashionable baseball hat. Yes, you read that correctly. J.Crew has featured three baseball hats that aren't your ordinary Red Sox snapback. The three styles by J.Crew are also very different from each other so you won't feel too guilty buying all three!
As we all know the fashion industry is always a few months early so of course spring is already on our minds. Spring is even more on your mind if you have been busy planning your spring break vacations with your friends! This leads to yet another hat trend, the derby hat. Boston University students don't get many opportunities to buy styles like these so we jump at any little chance we get. Trust me, you are going to want a floppy hat while you are gallivanting on the beach of some tropical island. To make it even more special you can get it monogrammed to get the true "southern belle" effect. Looks like us BU Fashionistas always want what we can't have!
Lastly, we have the beloved fedora. If you love the Jason Mraz look and have a love for maxi dresses this is the look for you. I usually like this look for summer but I think any Fashionista can pull it off for the fall and spring seasons. Fedoras are a great accessory to spice an otherwise simple outfit. Whether it be a black maxi dress or simple jeans and a T-shirt a fedora can be the icing on the cake.
Spotted: J.Crew making a bad hair day look good!