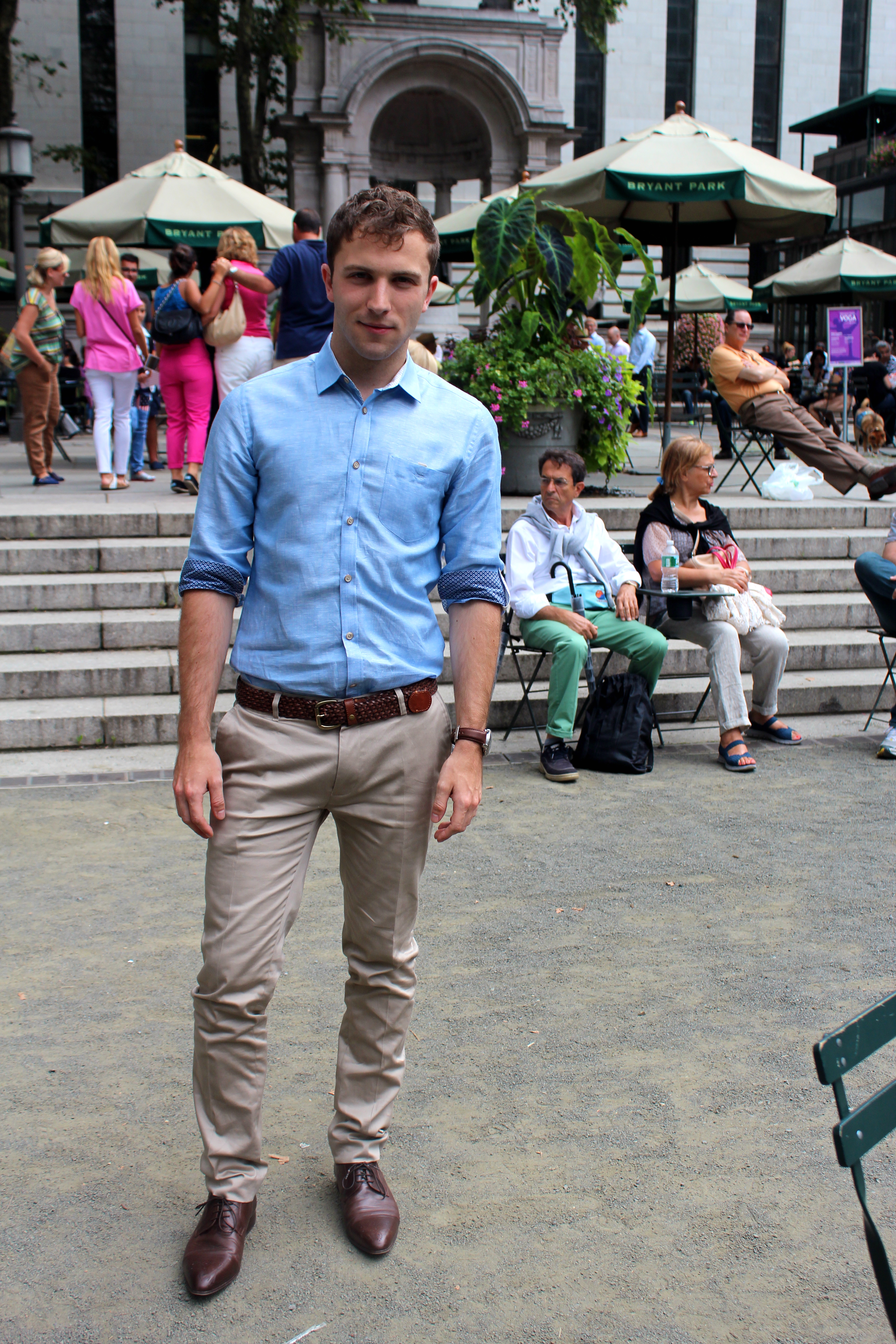 The transition from summer to fall can be tricky. What colors do you wear? Bright hues? Dark hues? Boots? Flats? Until it gets bitter cold it is hard to let go of our beloved summer pieces. Classic leather accessories are always going to be in style and this is a perfect way to transition into fall. This Fashionisto uses traces of leather throughout his ensemble to hint at the impending fall season.
His relaxed business causal look falls perfectly together because of the attention to detail when it comes to the shade of leather he used to accent his outfit. The leather of his Carlo Pazolini shoes,Fossil watch and Ted Baker belt all have a dark chestnut colored tone that gives his look that rustic Ralph Lauren polo look. This outfit not only helps out in the summer-fall transition dilemma but it also works double time come Thursday and Friday nights when you spend a day at the office and meet up with some friends for drinks.
If you are a guy who doesn't usually accessories or know how to accessories leather will be your new bff! That is because these are things you already wear everyday. Making your belt, shoes and watch match with leather shows that you actually tried coordinating your outfit and will definitely score you brownie points with your boss or your girlfriend.
The best part about leather accessories are how easy they are to find and wear with everything! From shoes, belts, watches and even Iphone cases leather accessories are popping up everywhere! Leather accessories for men have been spotted at J.Crew, Banana Republic and Ted Baker so this is an easy, affordable and accessible way to accessorize you outfits.
For women these men's leather accessories are comparable to the leather riding boots that we slip on come October with a pair of leggings or skinny jeans and we all know how much we L-O-V-E our riding boots. So men, if you take any advice from a woman's wardrobe go buy some leather accessories for fall. We promise you won't be disappointed!
Spotted: Looking for a look with more edge? Try hints of black leather throughout your ensemble for a rocker-chic look. Saint Laurent's fall collection has great choices!