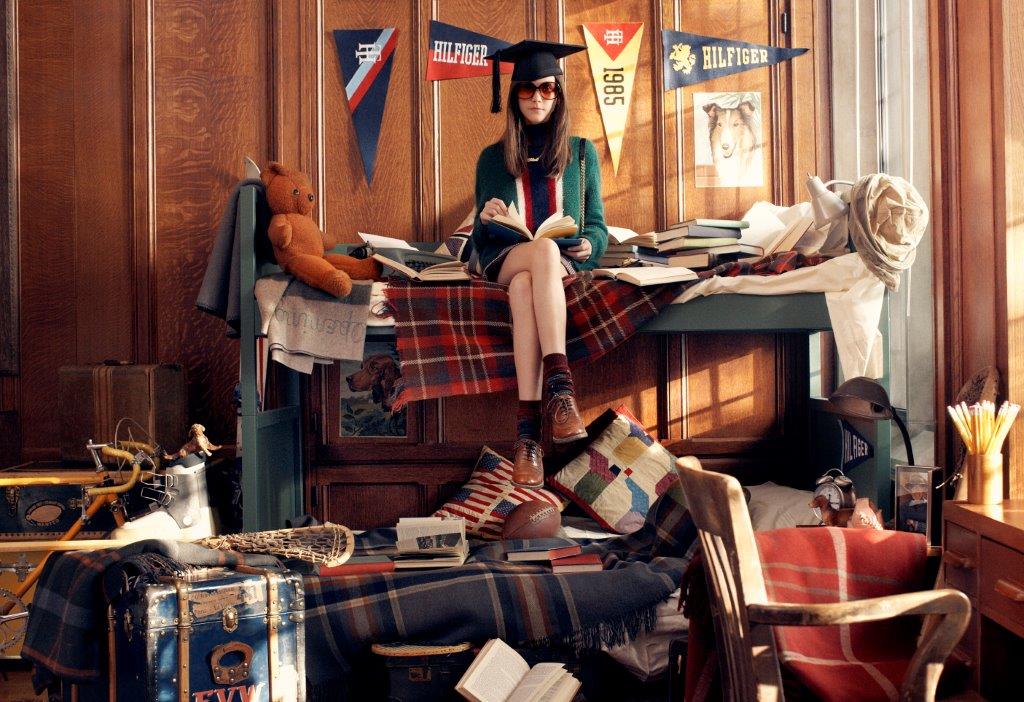 The time has come once again, back to school! For most of my college prepster friends the hometown goodbyes have already been made but for lucky BU terriers we still have one more weekend before classes begin! Like almost everything else in my life back to campus means- an excuse to shop the latest Fall collections!
This year preppy, "Ivy League luxe" look is in! Tommy Hilfiger, Ralph Lauren, C.Wonder, J.Crew are all using collegiate prep campaigns and I can't be more in love! Check out my favorite picks for back to school!!
Back To The Books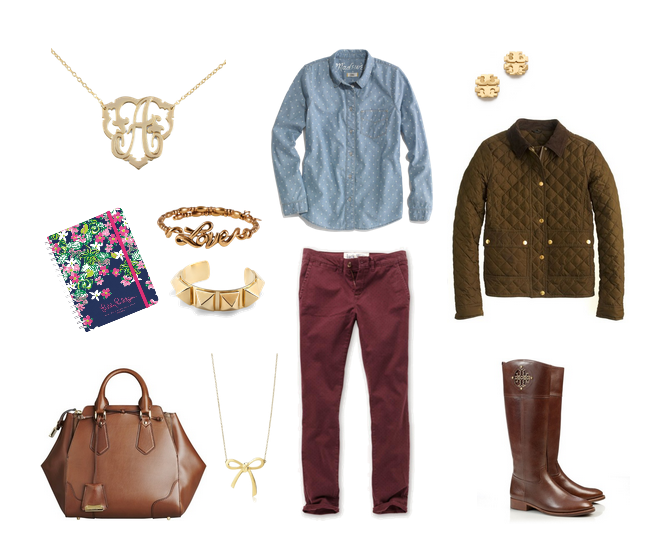 If you go to school in the Northeast or in the best city on earth, lets say Boston this is the perfect outfit to wear to class. In college it is easy to fall into a comfortable slump of sweatpants….DON'T CAVE! IT IS A TRAP! This outfit is just as comfortable as a pair of sweats and I believe when you dress up for class you actually pay attention more. (maybe I'm crazy but I swear it works!) Just remember the higher the grades, the better the job you score, the better the salary, the more pairs of Chanel shoes you can buy yourself! 
Ornate Initial Pendant Necklace $44 (C.Wonder)
Dotted Chambray Boyshirt $88 (Madewell)
Large T Logo Stud Earings $68 (Tory Burch)
Large Agenda $28 (Lilly Pulitzer)
Love Wrap $48 (Alex and Ani)
Pyramid Stud Cuff $58 (C.Wonder)
The Hollingworth Chino $79.50 (Jack Wills)
Quilted Tack Jacket $158 (J.Crew)
Medium Leather Totebag $1,995 (Burberry)
Bow Pendant $800 (Tiffany & Co)
Kieran 45 mm Riding Boots $495 (Tory Burch)
First Chapter Meeting Of The Semester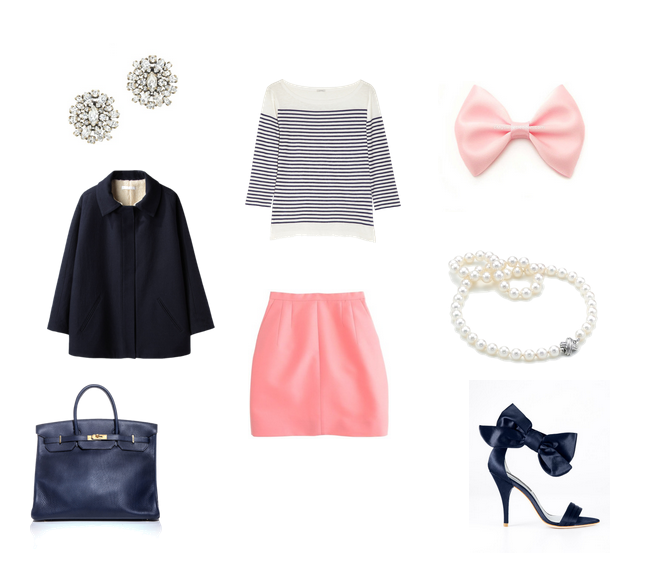 The moment you have been waiting for all summer is finally here! All your sorority sisters in one place so you obviously need to look your best and your classiest. This is pretty much the meeting of destiny! When is the first social? Where is the first philanthropy event? You must be dressed appropriately to hear the destiny of your semester unfold before you! For a Sigma Kappa like myself pearls are always on the agenda so these are a MUST! My sorority is full of unique individuals with different fashion styles so I love looking at our chapter room not only to see the smiling faces of my sisters but also to see their rendition of "Sunday's Best." If you ask any of my sisters, my "Sunday's Best" always includes a Bow! 
Crystal Shimmer Earrings $58 (J.Crew)
Painter Tee $35 (J.Crew)
Small Bow Hairclip $10 (American Apparel)
Helena Blanket Cape $690 (Apiece Apart)
Collection Wool-Silk A-line Skirt $178 (J.Crew)
Pearl Necklace $400 (Tiffany & Co)
Birkin Bag $15,175 (Hermes)
Jackie Bow Sandal $198 (Ann Taylor)
Girls Night In The City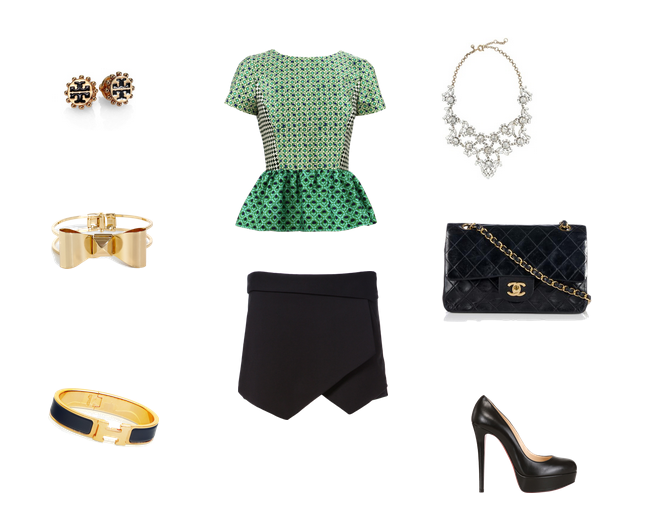 A night out with your high school girlfriends is always a blast but after four months of separation anxiety a night out with your college roomies is just what you need to start your semester off right. To get one thing straight I love themed parties so if your night out calls for a theme go and please dress up because these are the last four years you can do that before being called absolutely ridiculous. If there is no theme then the obvious theme is "FABULOUS." In a city school like BU black is always a good go-to, it gives you an urban dressed up style that can be easily transition from each city-chic destination you find yourself in! 
Walter Earring $78 (Tory Burch)
Short Sleeve Peplum Blouse $690 (Oscar de la Renta)
Crystal Floral Statement Necklace $148 (J.Crew)
Gold Studded Bow Bangal $26 (BaubleBar)
Mini Skort $49.90 (ZARA)
Quilted Leather Shoulder Bag $4,065 (Chanel)
Clic H $610 (Hermes)
Daffodile Pumps $1,075 (Christian Louboutin)